Last Updated on
The Sig Sauer P365 made quite a few waves in its time. This sub-compact, high capacity, 9mm pistol became one of the main contenders for the title of best concealed carry pistol. Five years have passed, but the splendor of this firearm hasn't dimmed one bit. If anything, it only acquired a few versions that brought even more diversity into the game. In this review, we'll take a close look at the baseline P365 model and steal a glance at Sig Sauer P365 X Macro and XL.
Table of Contents
Sig Sauer P365 Overview
Standout Features of the Sig Sauer P365
Sig Sauer P65 X Macro and XL
Performance Review of Sig Sauer P365
Conclusion
FAQs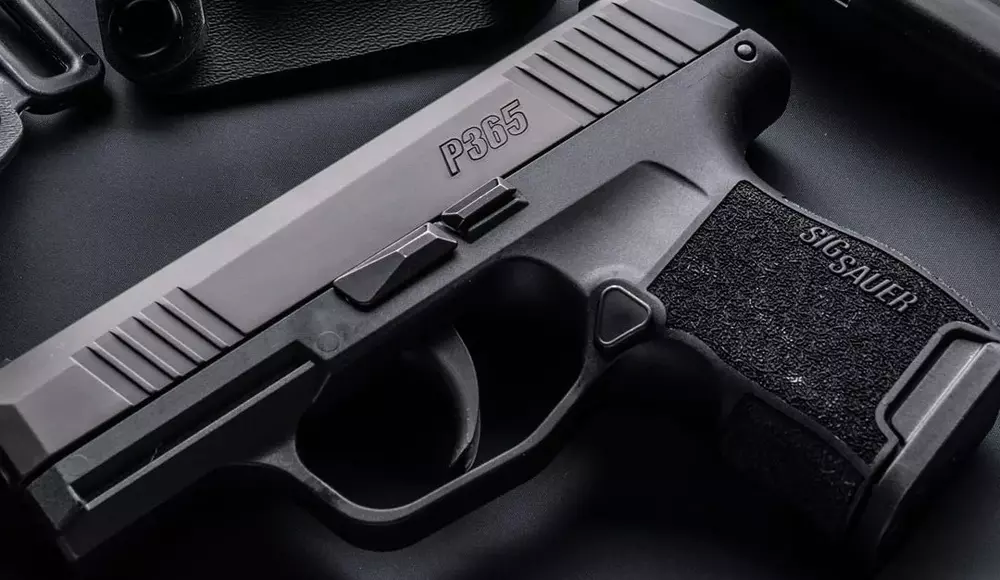 Sig Sauer P365 Overview
The Sig Sauer P365 can be called a phenomenon in the world of everyday carry firearms. A heavyweight that weighs as little as 17 ounces. To say this striker-fired subcompact semi-automatic pistol is tailored for your everyday needs would be an understatement; it's an absolute showstopper.
The P365 was born out of a grand mission: to turn the world of everyday carry on its head. SIG Sauer took the mission very seriously and created nothing less than a game-changer. Decreased capacity is the bane of everyday carry pistols, but this model managed to break the curse. Despite being a little guy, the P365 can hold up to ten rounds (or even more depending on the model).
The P365 may look small, but don't be fooled. This stainless-steel frame striker is a powerhouse! It packs a punch with much less recoil than you'd ever expect from a gun of its size. But the P365 isn't only a performance beast; it's a beauty in looks too. "Effortless to carry and super comfortable," they say. It's got an excellent trigger and superb sights (when they are included) and carries the classic elegance of Sig Sauer pistols in a compact package.
As for caliber choices, the P365 comes in 9mm, the crowd-pleaser of defensive carry, and .380 ACP, a less popular yet still worthy caliber.
And let's not forget popularity. The P365 has won over the hearts of gun enthusiasts far and wide. Its killer combo of compact size, high capacity, and top-notch shooting performance has made it a big name in the concealed carry community. Some even dare to compare it favorably against the Glock 43, another CC bigwig. That's big shoes to fill, so the Sig Sauer P365 only benefits from such a comparison.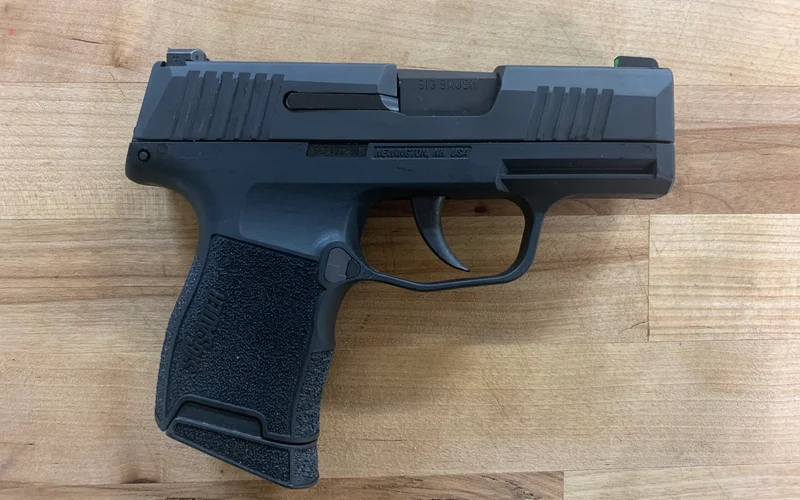 Standout Features of the Sig Sauer P365
Frame
The frame of the Sig Sauer P365 is made of stainless steel. Now, why does this matter? Because stainless steel means strength and durability without being a heavyweight. Having your back without slowing you down is what this frame does. Here I should have mentioned that it makes the gun heavier, but it really doesn't. The Sig Sauer P365 weighs around 20 ounces (give or take a few depending on the model), which is a benchmark in the concealed carry field.
Slide
Next up, the slide. This baby houses the firing mechanism and is treated with a black Nitron finish. It's like giving your pistol a black belt in karate, it's tough, resilient, and looks sleek to boot. The serrations are where they are supposed to be, both front and back part for easier control.
Grip
Now, let's talk about the grip. The grip module is made of polymer, being one of the reasons for the gun's lightweight construction. It also has a little palm swell and is fully textured! This means even when your palms are sweaty, or it's raining cats and dogs, you'll still have a firm grip on your P365.
Firing System
The P365 is a striker-fired pistol. Strikers are known for their reliability and simplicity. It's like having a car that starts every time you turn the key, no fuss, no drama. The short recoil locking system is the brand's proprietary invention, created in 1975 for the Swiss Army. 
Trigger
Speaking of triggers, the P365 has a smooth and consistent pull. Striker pistols are known for their light trigger pull, and Sig Sauer P365 is no exception. 
Recoil Management
Pocket-sized pistols aren't particularly known for friendly recoil, especially if they are chambered in 9mm. The p365, however, tells a different story. With its solid build and despite its compact size, the P365 helps keep the kick under control. It's not going anywhere, of course, but it's quite manageable, especially for a gun of this size. 
Sights
The pistol comes with preinstalled three-dot tritium steel night sights. There is the proprietary rail hiding below the barrel that accepts lasers, lights, and whatever accessory you might want to mount. Some models come with RomeoZero rear sight which spares you the trouble of looking for a red dot.
In a nutshell, the Sig Sauer P229's symphony of components is quite harmonious. Each of them plays its part to create a firearm that's nothing short of amazing. Sure, it has its quirks, but that's what makes all of us special.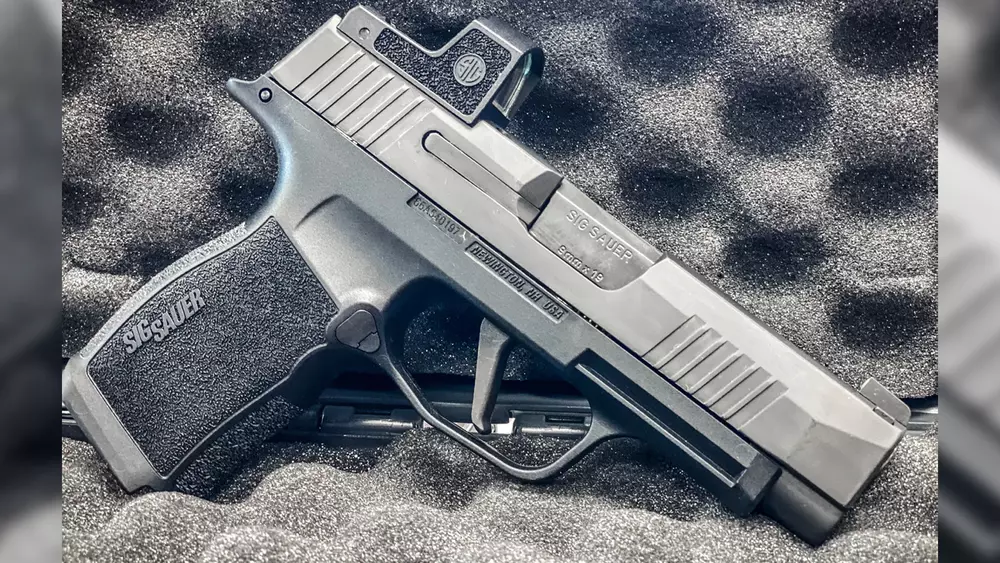 Sig Sauer P65 X Macro and XL
The Sig Sauer P365 is the baseline model that has quite a few alterations. The changes aren't groundbreaking, but they give you more options depending on the preferences you have. Though the variants are plentiful, I'll focus on the two most popular ones: the Sig Sauer P365 XMacro and XL.
Let's start with the P365 X Macro. This is the P365 on steroids! The X Macro version sports bigger dimensions retaining the barrel at 3.1-inch point. The extra space gives you better hold and the larger size makes handling a breeze. That contributes to X Macro's better recoil management. And this very model is the one that can hold as many as 17 rounds! For 4 ounces of weight, you get a bigger gun that's easier to handle and can shoot more rounds. Sounds like a fair trade-off. 
But what about the P365 XL? It also has a larger grip module, features a longer slide and barrel, and can house 12 rounds. It also sports a flat trigger. Slides and frames are interchangeable with those of the standard model, if you prefer one version over the other. The changes aren't that numerous, but if you want a version of the P365 with a longer barrel, this is the best candidate for the job.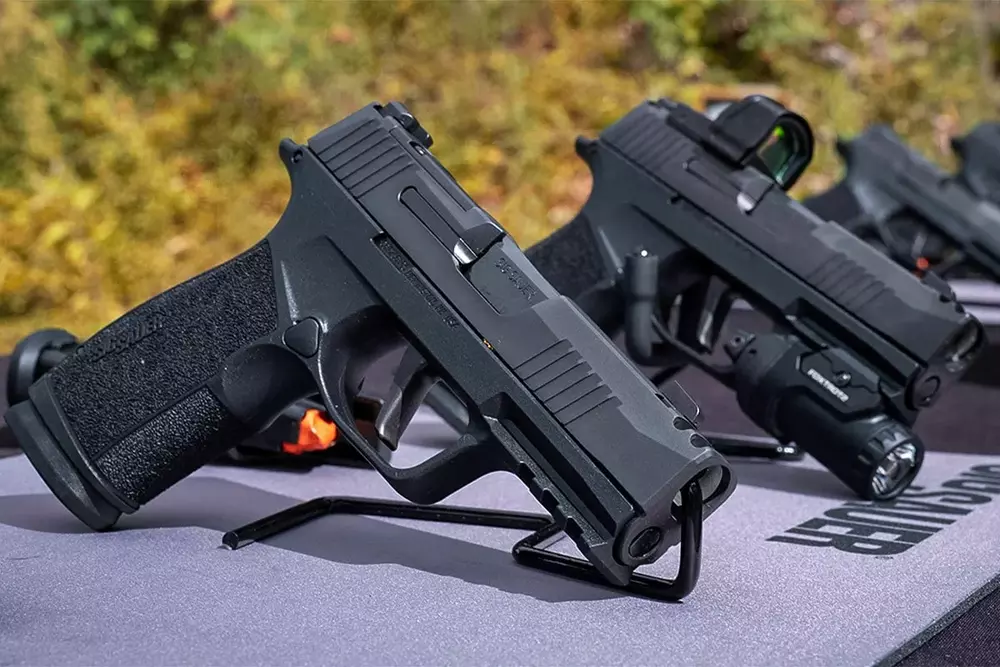 Sig Sauer P365 Performance Review
I took the Standard Sig Sauer P365 and an X Macro to our range in Nort Richland Hills for a test. I was expecting the recoil to spoil all the fun, but luckily, my expectations weren't met. 
Performance
Even though sub-compact guns aren't my first choice, I do have some experience with them so shooting a P365 wasn't a novelty. And let me tell you, this little guy punches way above its weight class. Mostly thanks to the comfortable grip that, paired with the higher undercut, allows to get a good hold of the gun. And with a good hold, recoil becomes less of a problem. I enjoyed shooting the standard version, but the Sig Sauer P365 XMacro just laid more comfortably in my hand. The trigger and sights also contributed to the shooting experience being particularly pleasant. I tried both at 7 and 25 yards, and each time was left nothing short of satisfied.
Reliability
Now, let's talk about reliability. The two guns didn't let me down even once, and they have already been around for some time, those weren't new models. I didn't have them pass the "10,000 round challenge" but from what I can gather from people's reviews, neither model is known for reliability issues.
Value for Money
But here's the million-dollar (or rather an eight-hundred-dollar) question: Is it worth the price tag? The truth is, the P365 is priced solidly compared to other micro 9mms. With its performance and reliability, AND its unprecedented lightweight design, it gives you a bang for your buck that few others can match.
Conclusion
Whether you're an experienced firearms enthusiast or new to the world of concealed carry, the Sig Sauer P365 series offers a wide range of options to suit your needs. From its compact size to its impressive capacity and ease of use, this lineup of handguns sets a high bar in the realm of personal defense weapons. The P365's unique blend of performance, reliability, and value makes it a compelling choice for anyone seeking a dependable concealed-carry firearm.
If Sig Sauer piqued your interest, consider taking a look at other Sig Sauer articles:
FAQs
What is the capacity of the Sig Sauer P365?
The standard Sig Sauer P365 comes with two 10-round magazines, one with a flush fit and the other with an extended finger groove. However, there are also 12-round and 15-round extended magazines available for purchase separately.
Is the Sig Sauer P365 reliable for everyday carry?
Yes, the P365 is extremely reliable and has been designed specifically for everyday concealed carry in mind. It's compact, high-capacity, lightweight and durable – everything that a perfect CC gun should have.
How does the Sig Sauer P365 handle recoil?
Despite its small size, the P365 handles recoil fairly well. The grip design and overall ergonomics of the gun contribute to a more manageable recoil.
Is the SIG P365 better than Glock?
Where Sig Sauer P365 definitely outperforms Glock 43 is round capacity. The standard version features a 10-round magazine, and the X Macro can house as many as 17 in its mag.