Best Sig Sauer Pistols For Sale
Visit Our Store
Sometimes it feels like things would have been so much easier if there were two handgun models to choose from. Not all things per se, but the modern embarrassment of riches compels us to study what the market has to offer lest we be deceived and sold something we might not enjoy using. For better or worse, this is our reality, but despair not, for there are guides who can give you a helping hand on this path of making a choice. We sell firearms, and it is our duty to help people make informed decisions. Today's specialty is Sig Sauer, or to be more precise, one of its pistols – Sig Sauer P320.
Why P320 in particular, you might ask? Well, a handgun that won the contract with the U.S. Army is worth taking a look at, don't you agree? Besides, Sig Sauer has been a long-time big player in the firearm market, having been operating since the middle of the 19th century and producing widely appraised handguns since 1976. And its P320 can boast some innovative state-of-the-art features that made it one of the most sought-after handguns on the market. Wonder what makes it wanted across all the states? Then dive into our article.
Sig Sauer P320 Review
It should be noted that the P320 is no longer a single firearm model but rather a series of handguns united by some common characteristics. And before we get to specific models, we need to highlight those features shared by all P320 family members that made this series a favorite of civilians and the military.
First of all, the P320 is a modular semi-automatic pistol, which means its degree of versatility is incomparably higher than that of a standard handgun. Not only does it come in Full-size, Carry, Compact, and Subcompact variants, but also allows for caliber and grip change with the help of specialized kits. If you were looking for a 4-in-1 pistol, this is the thing you need. You change the caliber or resize the whole gun to fit your hand. Or you can buy a whole new model, after all, who are we to tell you what to do with your firearm? But having the ability to change grip frames is indeed a pleasant bonus.
The second feature that stands out is a striker fire action. Not that it is universally innovative, but it's definitely a new perspective for Sig Sauer in particular. With all the previous handguns being hammer-fired, the introduction of the first striker-fired series is a breath of fresh air for the renowned brand. As you may know, the main difference between these two action types is in construction. Striker-fired firearms are often called hammerless because, well, they don't have a hammer that strikes the firing pin. Instead, striker-fired guns use a spring-loaded firing pin that gets released after the trigger pull, resulting in firing the round. The advantages of a striker-fired action are numerous: such guns have fewer moving parts and more internal safety features ensuring that the gun won't discharge accidentally. The trigger pull is more consistent, smooth, and usually lighter than in hammer-fired handguns, which makes it one of the most pleasant and comfortable triggers among all striker-fired firearms. The production costs are another point in favor of strikers – they are cheaper to make and thus are cheaper to buy. Still, the manufacturer didn't skimp on frame materials, using stainless steel for that genuine feel of a true weapon.
Ergonomics is the third virtue these pistols might attract you with. The gun isn't too bulky and sits comfortably in the hand, with the grip rounded on the sides. It's worth mentioning that the P320 is an ambidextrous handgun, with operating controls designed to be operated from either side. The grip angle is properly adjusted, and the beavertail is ample, to sum it up – the ergonomics are superior. 
Those are the features shared by all the models you'll see on our list. Each of them, however, enjoys its own set of advantages and features you might find appealing or off-putting.
SIG SAUER P320 XFull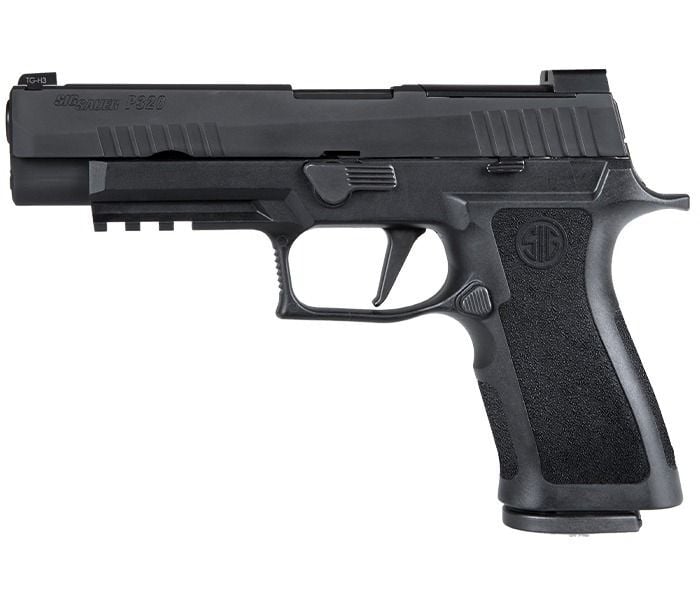 The P320 XFull opens our list with an entry full-model size (as you can see from its name). If you support the concept "size matters", then the two of you will make for a nice pair. With a 4.7" barrel, this pistol is 8.2" long and weighs 29.06 oz. Even though it is a Full-size model, it still allows for concealed carry. An extended beavertail and deep undercut ensure better recoil control and a more comfortable grip. In case you prefer your handguns heavy, the grip module is compatible with grip weights. The P320 XFull comes with preinstalled XRay3 day/ night sights that facilitate target acquisition in all lighting conditions. This model is chambered in standard 9mm and comes with two 17rd magazines.
SIG SAUER P320 XCompact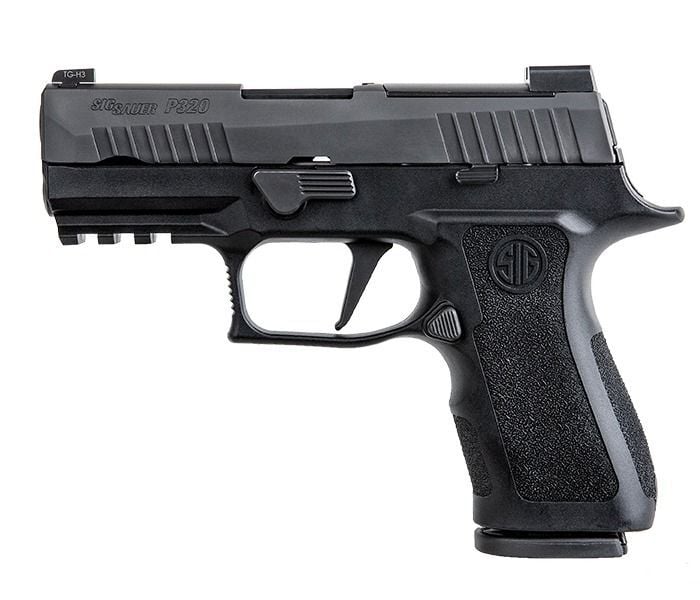 For those who value compactness more than size, Sig Sauer offers their P320 XCompact, the younger sibling of the XFull. The XCompact accommodates Sig Sauers' inherent ergonomics and performance in a smaller body. With the barrel as long as 3.6", the overall length of the pistol doesn't exceed 7". This model features a redesigned polymer grip with a reduced fastback carry cut and a low-profile internal mag well. To improve the recoil control, this pistol took the best from its elder sibling: the extended beavertail and high undercut trigger guard. The barrel features enhanced serrations and mounts the already met XRay3 day/night front sight. This 9mm module pistol can house a 15rd magazine and comes with two of those in one bundle.
SIG SAUER P320 XCARRY SPECTRE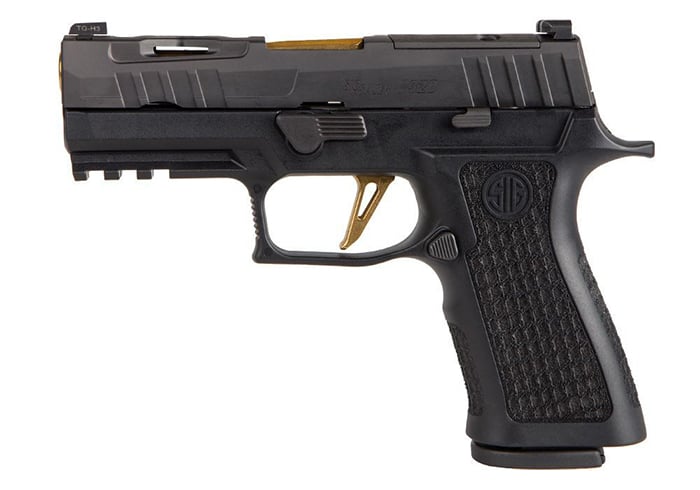 This beauty looks equally fitting in a regular concealed carry holster and some fancy spy-style photo shoot. The XCarry Spectre brings the style of the P320 series to a whole new level, combining notes of opulence with the reliability of a working horse. The grip module is laser engraved with a custom pattern, bringing a more aggressive texture for a better-controlled grip. Slide assembly bears the Spectre x-exclusive pattern engraving, lighting cuts, and serrations. This gun model also features an XSeries flat skeleton trigger in the same TiN Gold finish as the 3.9" barrel. These 27 ozs of style and performance come preinstalled with the P320 series standard XRay3 day/night sights and two 17rd magazines.
SIG SAUER P320 AXG CLASSIC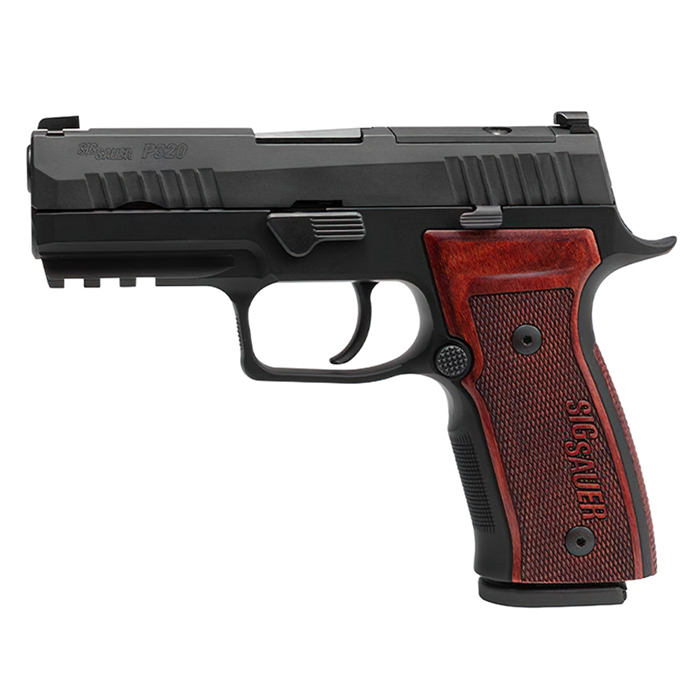 Nothing can crown our top better than the P320 AXG Classic. Combining the SXg metal grip module with custom walnut grips on both the side and rear panels, the AXG Classic continues the P320's tradition of being a pleasure to hold a shoot. Extended beavertail for improved ergonomics, deep undercuts for better grip, and short-reach curved trigger for more comfortable pull – the AXG Classic brings a uniquely refined shooting experience to those who can appreciate it. Featuring the 3.9" barrel, this 31.3 oz pistol comes together with as many as three 17rd steel magazines.