Airsoft Guns For Sale
Visit Our Store
When the word "guns" is mentioned, most people think about firearms that rely on chemical reactions to shoot projectiles. That is understandable since firearms are the most popular type out there. However, it is not the only one. It is not by chance that air guns fall into the same "shooting" category as other firearms in our sporting goods store. Unlike the guns that rely on chemistry, air guns utilize physics to ensure the projectile propulsion. The shot is fired via mechanically compressed air or some other gas. But this is the place where we face another issue. Are Airguns and Airsoft Guns the same? Is one variation of another for soft-natured people? Before we get into reviewing airsoft guns, we want to make sure it is exactly what you look for and that you don't get yourself a BB to play some war game. The final of such a game might be very dramatic and dire.
Airguns vs. Airsoft Guns
First things first, airsoft guns are not some lighter version of air guns that shoot gentle air. Those are two separate types of guns that serve different purposes, have different construction, and even look different. Power, projectile, history – it's easier to say how they are similar than to enumerate all the differences. But no work is too tiring if it's for the sake of safety. Even if this article can redirect one person who was looking for the wrong type of gun, we'll consider our mission fulfilled. So, here is a brief guide to both of the guns mentioned.
Airguns, also known as BB guns, have been around since the end of the 19th century. They got their alternative name from the type of projectiles they shoot: small steel or lead BBs, which can bring quite the damage to anyone they are used against. Though airguns cannot compare in power with firearms, they are nonetheless weapons not to be trifled with. Airguns are usually chambered in 4.5mm or .117, and their penetration power is enough to kill small game. That's right, airguns are often used for pest control and small game hunting, in addition to target practice. If it's powerful enough to kill a squirrel, under the right circumstances it can kill a person, so never underestimate the damage you can inflict on someone with an air gun.
Airsoft guns are a whole different thing. Remember the rule "Never point a gun at anyone unless you want them dead"? Ironically enough, these guns were created specifically to be pointed at other people simply because they aren't able to harm anyone, at least severely. Airsoft guns appeared in the 1970s in Japan as a means of adaptation to the country's strict gun control laws. Shooting enthusiasts wanted to continue pursuing their hobby, and this invented the guns unable to cause significant damage to people. In the 80s, airsoft guns were imported to the UK and have since spread all across the world bringing the game with a corresponding title: Airsoft.
Airsoft guns shoot plastic projectiles, which allows using them for recreational purposes. Quite often airsoft guns are designed to look almost identical to real firearms, to the degree when the only distinguishable difference is the orange tip. Airsoft gun manufacturers focus on aesthetics to give their users the richest experience possible. If all safety measures are complied with, you don't need to worry about harming anyone. But even if you use an airsoft gun up close on an unprotected individual, you are likely to leave as much as a bruise.
To sum it up, airguns are full-fledged weapons that can inflict severe damage if mishandled. Airsoft guns are toy guns that look like real firearms and are used to play war games. If you love shooting and tactical games, but the perspective of being shot with a paintball doesn't seem appealing to you, you should try Airsoft.
Now then, let's say you've decided to acquire your own airsoft gun. Which one should you choose? Is there some undeniably supreme brand or model? Here's the list of some of the best airsoft guns for 2022.
VALKEN ASL KILO AEG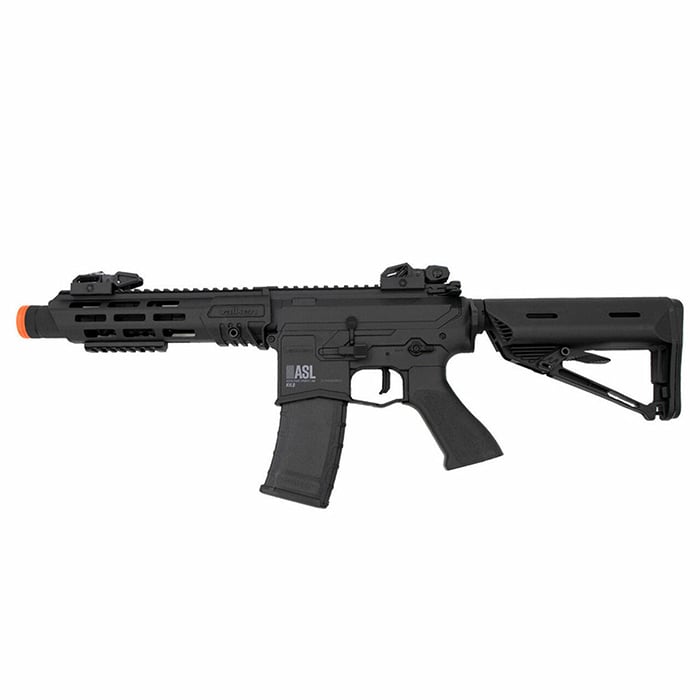 One of the three major brands featured in this review, Valken is the leading manufacturer and supplier of paintball, airsoft, and defense protection gear. Valken ASL Kilo Airsoft Electric Gun is made to shine bright on every course or field you may find yourself on. Ambidextrous fire selector and magazine release make this gun suitable for everyone regardless of their dominant hand. A billet-style receiver and MLOK rail add to the modern look of this AEG. It is also equipped with an anti-reversal latch access port to allow users to unlock the gearbox jams without opening the gearbox itself. The ASL is capable of shooting in both semi-automatic and full-auto mods so that nothing may stop you from scoring the victory. The bundle includes a gun, magazine, mag adapter, cleaning and anti-jamming rod, orange marking tape, and manual.
VALKEN BY HICAPA CO2 Blowback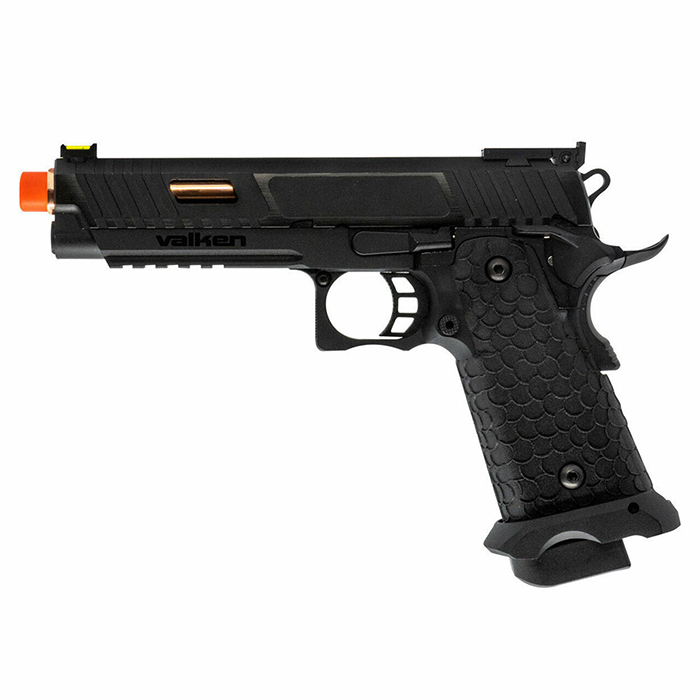 As you can see, our next airsoft gun is actually an airsoft handgun. Valken BY Hicapa CO2 Blackback is an airsoft pistol designed for those who value compactness over feel. This model combines a metal alloy frame with a polymer grip for the perfect balance of weight and feel. The pistol features an under-barrel rail for mounting accessories, in addition to preinstalled metal sights featuring fiber optics. The stippling pattern allows for a more comfortable and slip-resistant grip, while a flared mag well ensures quick reloads. The bundle includes a pistol, magazine, hard case, and manual.
LANCER TACTICAL M4 SD Gen 2 Polymer AEG Tan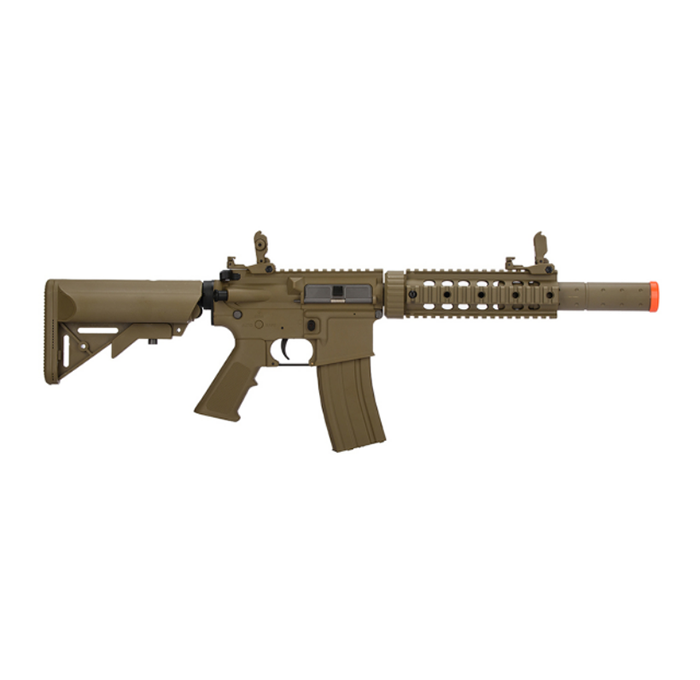 Lancer Tactical has been pursuing the goal of supplying people with affordable yet high-quality airsoft guns since 2012 and has been very successful in its determination. The second generation of the brand's signature M4 is now available on Gritr Sports. This model features lightweight nylon polymer upper and lower receivers and a free float modular rail interface system, which allows for mounting plenty of accessories. The free-float system also allows the user to switch between rails which makes this airsoft rifle extremely versatile. The pre-installed pair of sights assists at target acquisition, while fully adjustable retractable stock increases stability. With a muzzle velocity of 370 FPS and a mag capacity of 300 rounds, Lancer Tactical M4 SD Gen 2 is a perfect weapon for your airsoft matches.
LANCER TACTICAL M4 Gen 2 EVO 10in RIS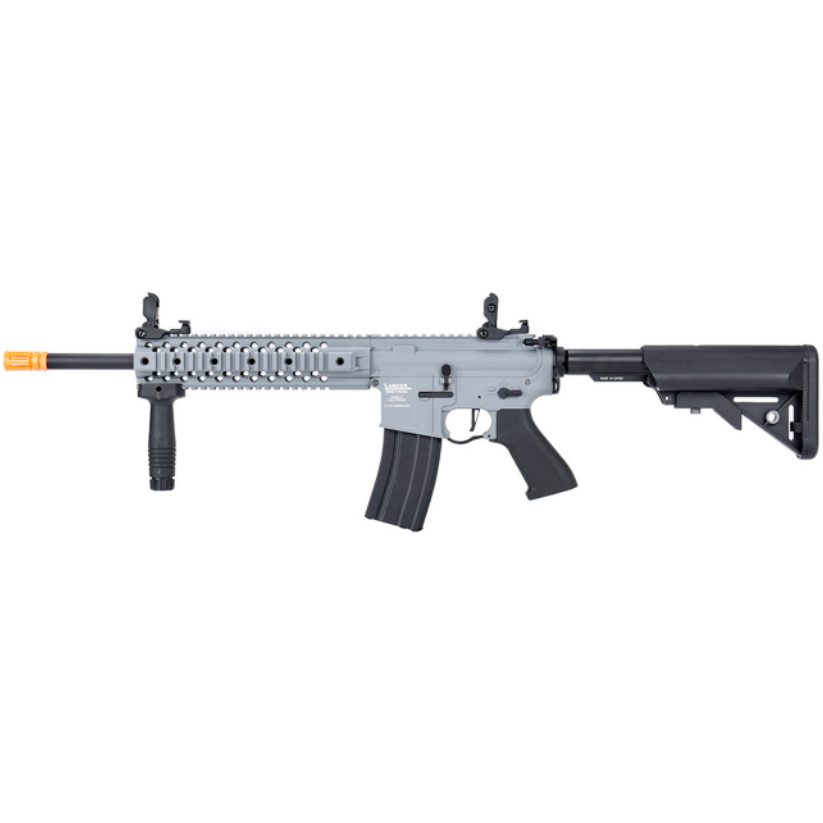 This M4 Gen 2 EVO features a durable metal barrel assembly, one of the features unseen in previous Lancer Tactical models. The internals don't lag behind either: quick change spring system, low-resistance wiring, and high torque motor bring the Gen 2 to a whole new level. Motor grip with positive texturing allows for more comfortable handling. To put in one sentence, a big step ahead for the whole brand.
KWA KM4 SR7 DEVGRU Full Metal RIS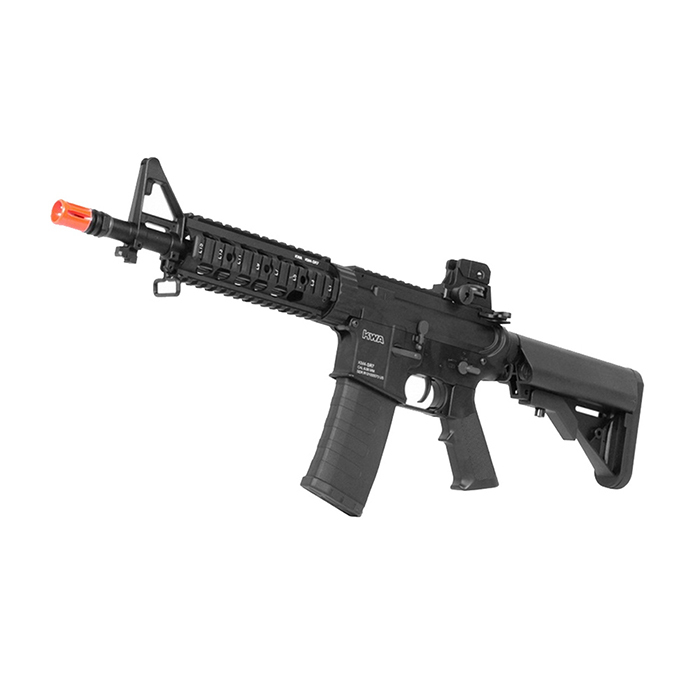 The KWA brand is known as an industry-leading airsoft gun manufacturer with a strong emphasis on consumers and law enforcement agencies. The KWA KM3 SR7 DEVGRU gun features a full metal alloy construction with the proven 2GX gearbox for ultimate robustness and longevity. Adjustable front and rear sights allow for rapid aiming, while the 7" free float rail system provides enough space to mount all sorts of other gun accessories, with several possible setups. The KM4 SR7 is an adaptable weapon that can boast unmatched maneuverability and speed.
KWA VM4A1 AEG 2.5 6mm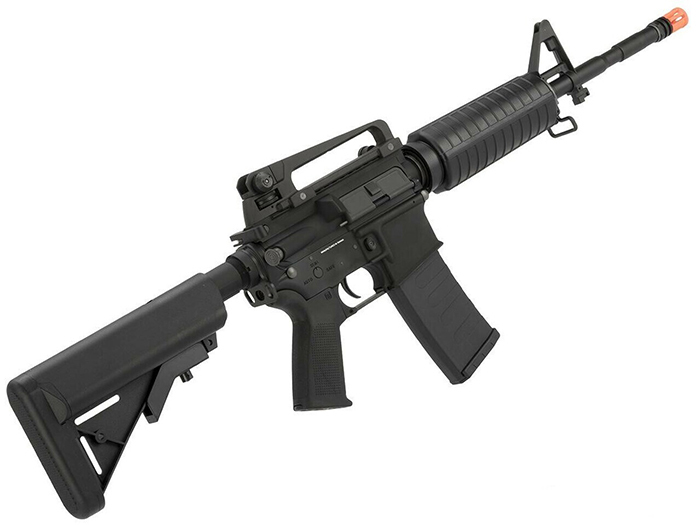 Last but not least, the KWA VM4A1 is one of the most recent additions to the ranks of airsoft electric guns. Brand-new Variable Performance System brings AEG standards to a whole new level. One-piece full metal alloy upper receiver, a new rotary hop up, and a PTS Enhanced Polymer Grip only add to the list of advantages this model possesses. Heavy-duty springs and high-torque motors significantly improve the gun's performance, while functional bolt release allows for swift firing system reactivation. Removable carry handles reveal a 20mm accessory rail, so any of your precious gun attachments are more than welcome to hop on board. High performance and dependability – those are the main advantages of the KWA VM4A1.