Last Updated on
Shooting at extreme ranges is a feat that calls for a dedicated weapon. When there are about 900 yards between you and your target, a regular rifle is likely not to bridge that gap. Long-range rifles are that family of firearms you won't mistake for any other. You could call them the blue whales of the hunting rifle ocean, for there is no gun that can boast their size and configuration. A long-range rifle is the choice of determined hunters and target shooters. In this article, we cover a small group of .300 PRC rifles that excel at shooting from extreme ranges. All rifles covered in this top feature 24-26in barrels and bolt action, as befits a long-range firearm.
     Rifles Reviewed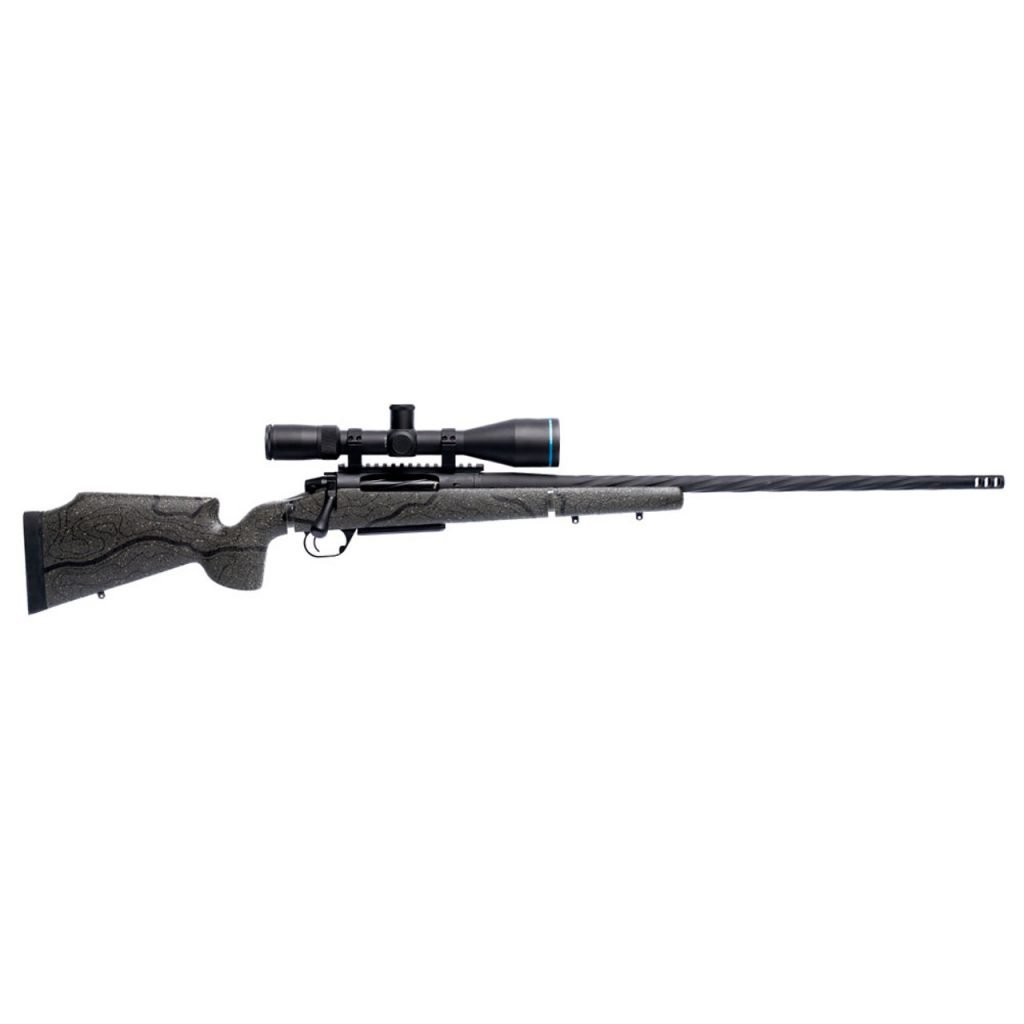 The Best of the West Altopo 300 PRC
The Best of the West has rocked the world of long-range rifles with not a mere firearm but a whole shooting system. The Altopo is a proprietary design that combines a long-range rifle with a rifle scope and allows the user to shoot from distances unimaginable with regular rifles. Every element of this shooting system screams long-range specialization, and since this is exactly what .300 PRC is meant for, the Alopo can be considered a perfect choice for everyone interested in that type of shooting.
Though functioning as a complete system, The Best of the West Altopo can be broken down into separate components. The company took pieces from a wide variety of manufacturers and assembled them into one wondrous item. The rifle stock, for example, bears the mark of McMillan, meaning you can expect durability surpassing that of wood and fiberglass and weight that is likely to catch you off guard. By mixing graphite with tech resin, McMillan got an extremely lightweight material that nonetheless can handle the recoil of a magnum caliber. In short, there are no drawbacks to be found in stock, it's flawless and one of the best features of this shooting system.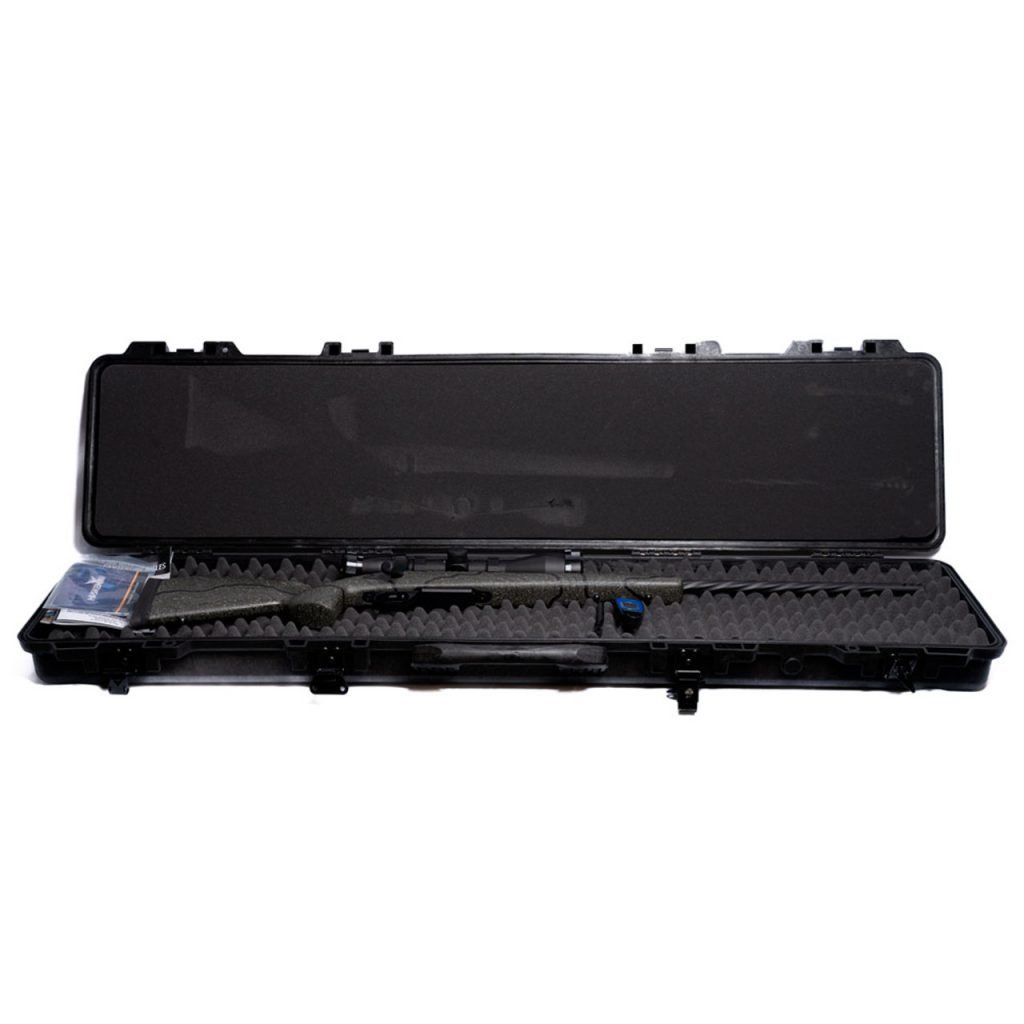 Spoilers alert, there are hardly any drawbacks to this 300 PRC rifle. Honestly, for the price the manufacturer set, making it less than perfect would have been a crime. You might ask which other components contributed to such a price tag, and that question is easy to answer. The action is produced by BigHorn Arms, and a single hand would suffice to count the number of the brand's actions that cost less than a grand. For the money, you get an unprecedentedly polished and well-tuned action that will probably live long enough to see the 50th president of the U.S., and that's a very conservative estimation.
Then, there is the trigger manufactured by TriggerTech. An expert trigger manufacturer, as you can deduce from the name, with proficiency unsurpassed and looked up to. There is also a Blue Diamond Series scope, produced by the Huskemaw brand, known for manufacturing dedicated long-range shooting optics. This particular model, the Blue Diamond 5-20×50, features a proprietary RFBC Turret System, lenses the likes of which you can find only in premium scopes (the Blue Diamond being one of them, of course), glass etched reticle, and a proprietary wind meter. The riflescope mounts on Talley scope rings and is factory-zeroed. 
The shooting system comes in a boyt lockable hard case together with two boxes of factory .300 PRC ammo. It is by no means affordable, but we'll take the liberty to call it a gunsmithing masterpiece. The Best of the West took all the finest pieces and turned them into one beautiful work of art. If you are into custom guns and have deep pockets, then the Best of the West Altpolo will make for a finest addition to your collection.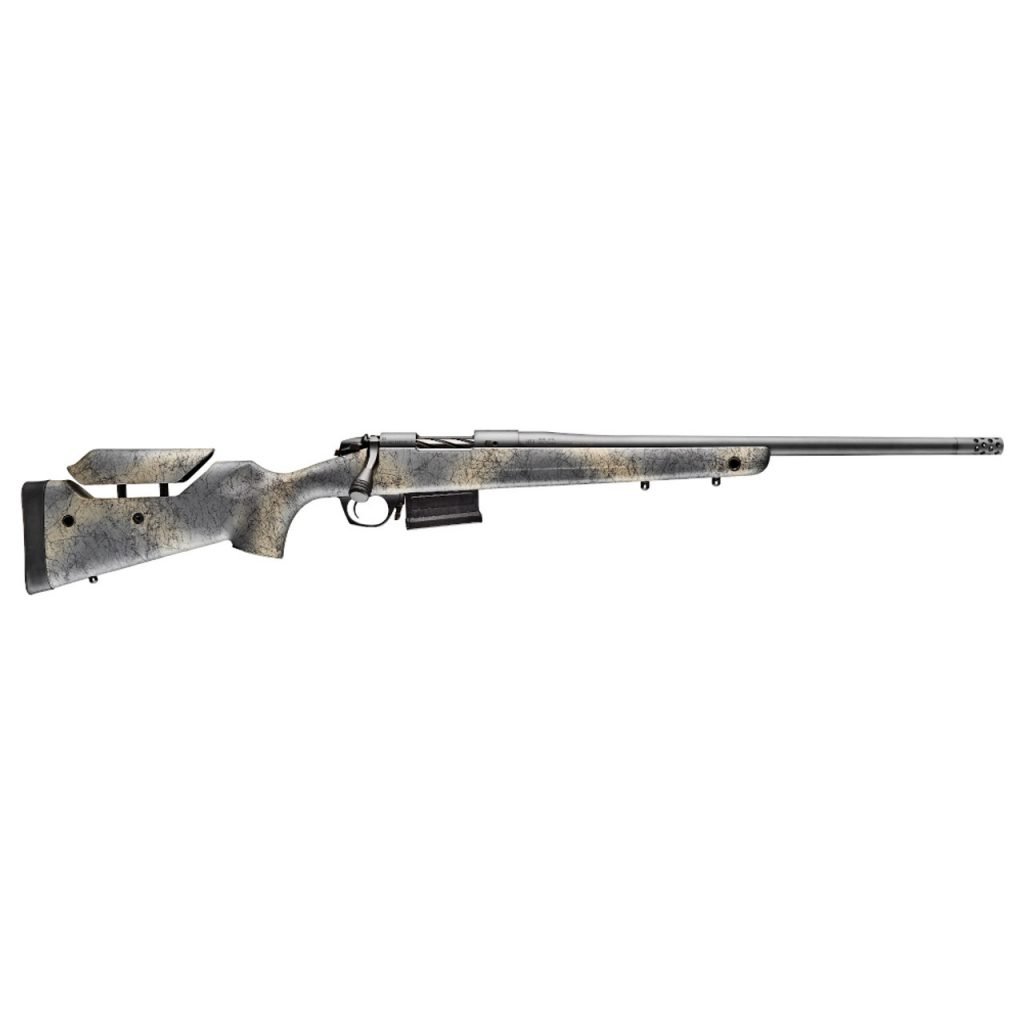 Bergara B-14 Wilderness Terrain 300 PRC
Bergara boasts a reputation as a semi-custom hunting rifle expert, and looking at their B-14 Wilderness Terrain, you understand why. This rifle is a reimagined version of the B-14 HMR whose introduction was quite a newsbreak back in 2016. The Wilderness Terrain addresses the need for rugged hunting rifles that can withstand unforgiving wilderness conditions while blending in with the surroundings. In pursuit of such a rifle, Bergara endowed the new B-14 with a number of features.
First and foremost, we have a camouflaged stock, hand-painted and molded with mini-chassis. That's right, you won't find two identical Bergara B-14 Wilderness Terrain rifles, as all of them have a unique touch. The stock features an adjustable cheek riser that adds more versatility to the rifle and helps the user achieve the optimal head position. All in all, Bergara manufactures great stocks, and this model only proves this claim.
Then, there is action and barrel. Both are cerakoted for improved durability. The proprietary barrel is button cut and threaded, so you can mount brakes and suppressors right away. The 300 PRC rifle comes with a multi-port muzzle break that promises to reduce recoil by 35%. In our honest opinion, omni-directional muzzle breaks are not the most optimal choice when it comes to ultimate recoil management, and they are generally less convenient. Luckily, you are not married to that muzzle break and can get a directional one. The rifle would also benefit immensely from an adjustable length of pull, but it looks like they run out of improvement slots for that particular model.  
The Wilderness Terrain is second in the hierarchy of the B-14 series of rifles, with Premiere occupying the top position. However, calling the Wilderness a mediocre rifle would have been an outrageous understatement. The action cycles perfectly, and the precision is exemplary, to say the least. All Bergara barrels need to be certified by the Spanish government (the brand's country of origin) before being exported. That's a serious level of approval, and maybe one of the reasons why Bergara reached such heights.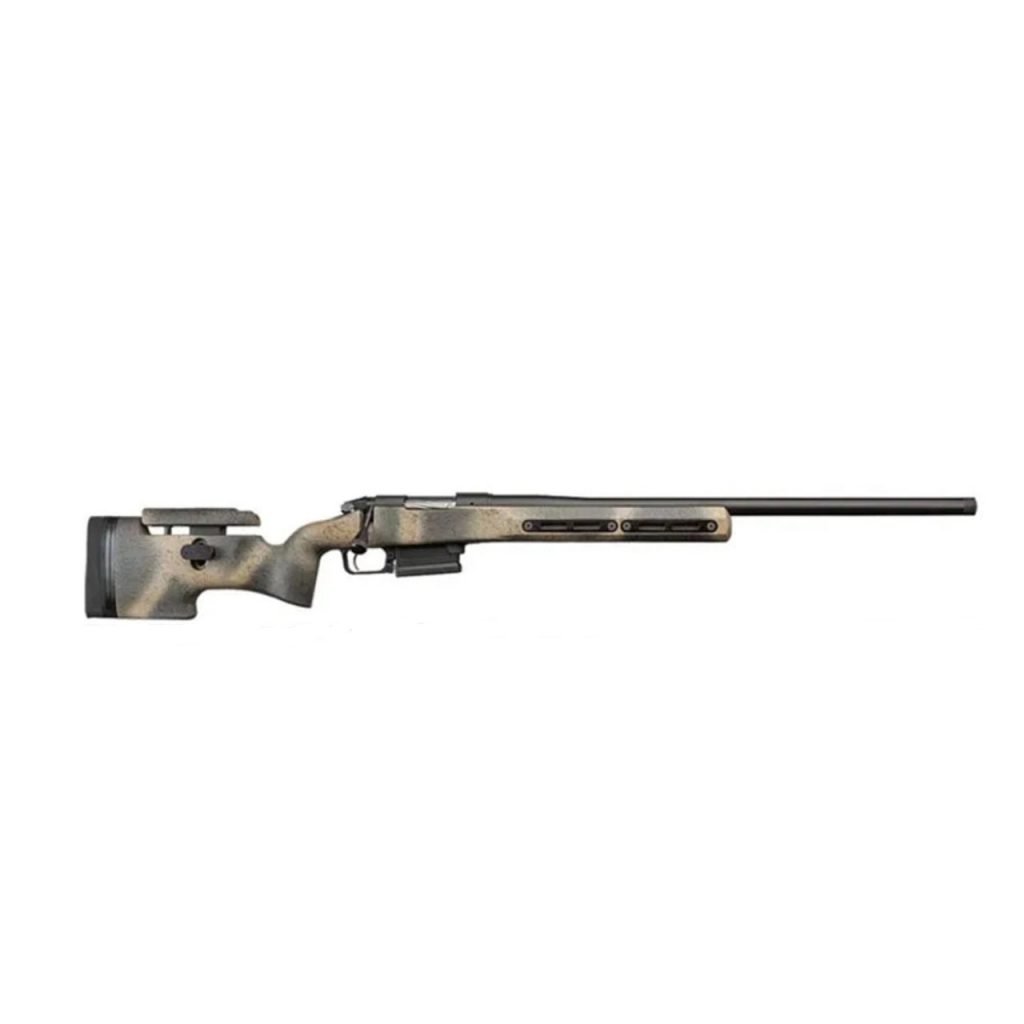 Bergara Premier Ridgeback 300 PRC
You could say that Premier Ridgeback takes everything that is good about the B-14 Wilderness and makes it even better, adding more useful features and filling in the gaps of other models. The first, and for some most significant difference is the place of assembly. The Bergara Premier series is produced at the company's USA factory, using stainless steel barrels manufactured and honed in Spain. In case you prefer rifles assembled in America over anything else, this 300 PRC rifle may pique your interest. 
Bergara rifles are called after the action they utilize, and this model features the proprietary Premier action. It comprises a nonrotating gas shield, a spring-loaded slide plate extractor, and a cone-shaped bolt nose to ensure smooth cartridge feeding. Every piece possible is either cerakoted or nitrided for increased ruggedness. The trigger assembly is manufactured by TriggerTech, so top-notch performance is ensured. The assembly also features a two-position safety system.
One of the most notable changes is a vertical pistol grip. It is usually a question of personal preference and comfort, but pistol grips are generally known as more convenient due to a different angle. Just like with B-14 Wilderness Terrain, the Bergara Premier Ridgeback's stock features an adjustable cheek riser. Unlike its Wilderness relative, the Premier boasts an adjustable length of pull, a feature we welcome with open arms. Bergara also added a handy anti-cant bubble level and a thread protector to the assembly.
In short, all the most notable changes are inside the rifle, with the grip being the only immediately visible one. Bergara Premier Ridgeback lives up to its name and rights the wrongs of the previous models. It offers a custom-level performance at non-custom prices, and such deals are quite rare.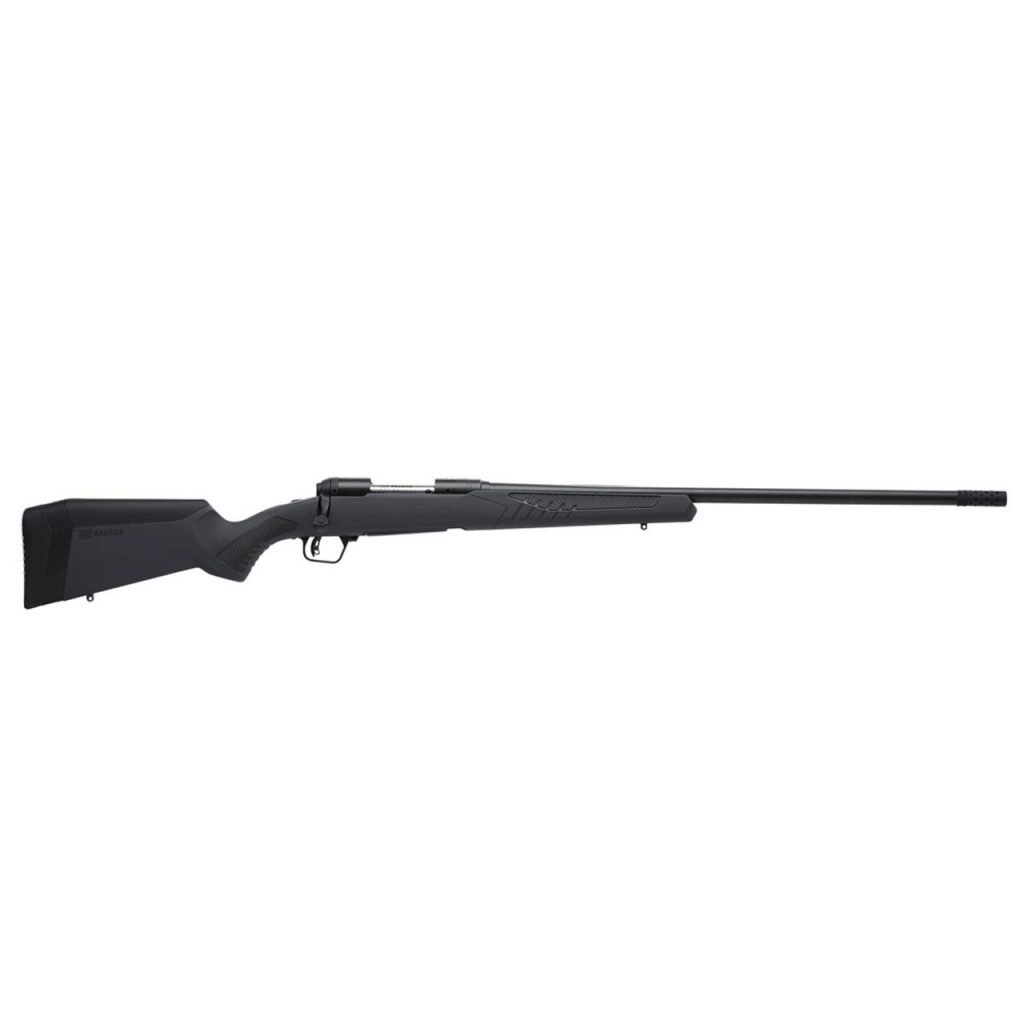 Savage 110 Long Range Hunter 300 PRC
If you have ever been looking for a hunting rifle, the chances are you came across savage products. The brand is particularly known for its numerous rifle series. The Savage 110 Long Range Hunter, as the name very eloquently hints, is the company's take on what a long-range rifle should look like. A take impressive enough to be mentioned in our list. In pursuit of the ultimate extreme-range firearm, never have Savage forgotten for whom they make firearms. The rifle is packed with features that improve the user experience while offering long-range features on par with custom 300 PRC rifles.
The Savage's most notable development, the Accu-Trigger, opens the list of benefits. One of the main advantages of this trigger is its customizability: you can adjust both the weight and length of the trigger pull. The rifle features AccuFit Stock, a renovated version of the brand's proprietary AccuStock, now equipped with a full-length metal rail that secures the action in three dimensions. To counter accuracy issues such a large caliber could provoke, the engineers left a necessary gap between the stock and the barrel. Don't worry, it doesn't feel like a sloppy make – the gap is purely functional and not particularly observable. The stock also features a recoil pad made of thick, soft rubber that effectively absorbs the kick.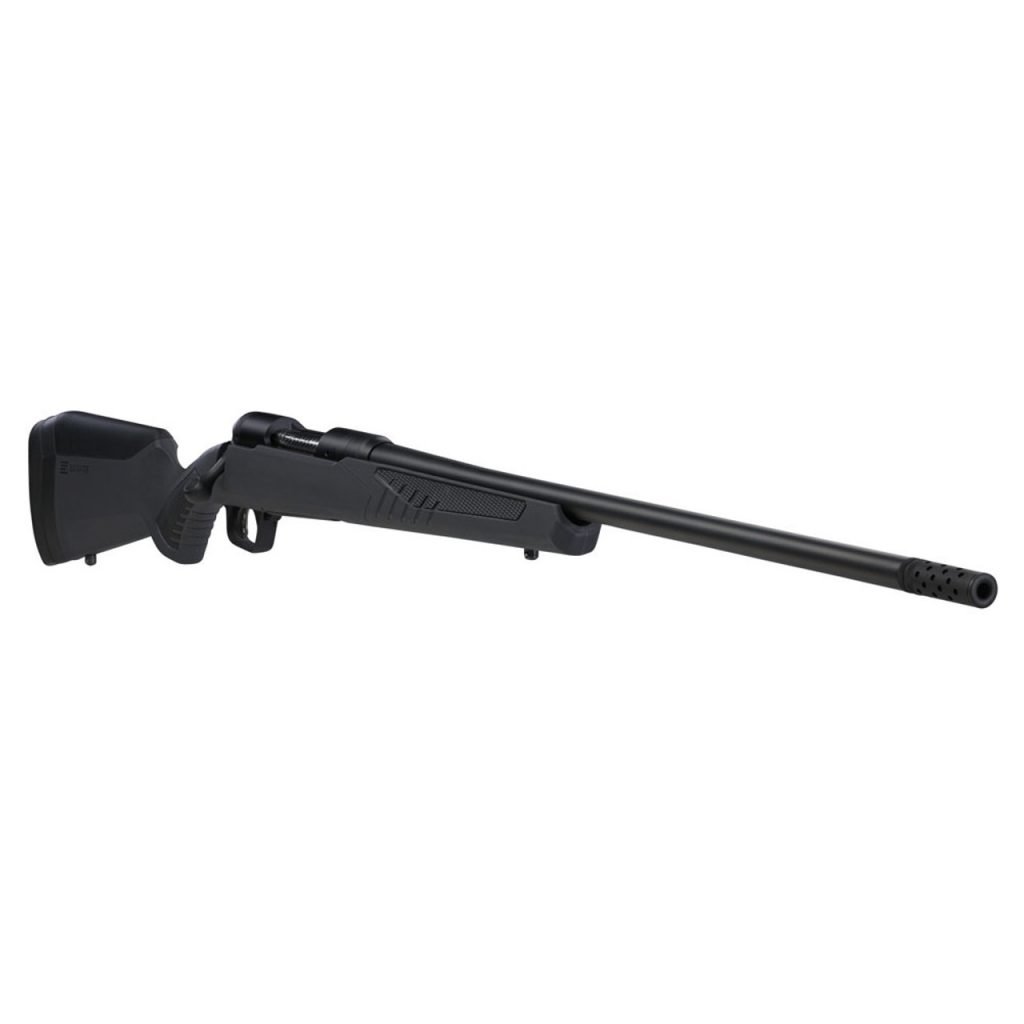 The button-rifled barrel ends in a neat adjustable muzzle break. When we say adjustable, we mean no-tool one-second adjustable. With a single twist of a muzzle, the outer sleeve covers the holes, turning the muzzle break "off". The closed muzzle brake leads to a slightly reduced muzzle flip and more felt recoil.
Savage 110 Long Range Hunter boasts a crisp trigger, an action that cycles with exceptional accuracy, and a comfortable gray synthetic stock. The only thing this rifle lacks to be an absolute delight is a riflescope. That problem, however, is easily solved.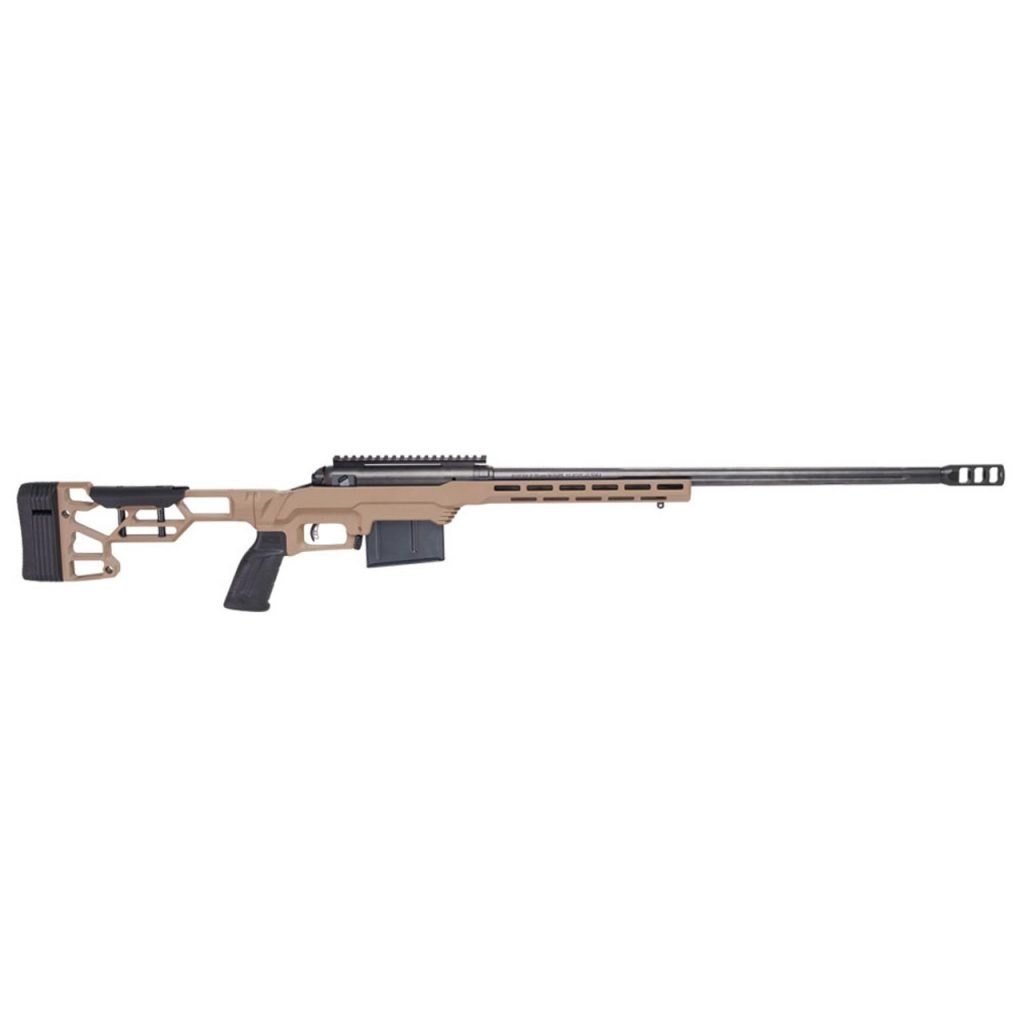 Savage 110 Precision Left Hand 300 PRC
The same good-old Savage 110 blueprinted action in a different wrapper, the Precision series offers a more custom fit than Long Range Hunter. The first thing bound to catch your eye is a chassis-style stock. Manufactured by Modular Driven Technologies, this Light Sniper System chassis offers more adjustability than any one-piece stock ever will. The M-LOK grooves are everywhere: on the sides, at 45 degrees, and below the forestock. The stock itself is skeletonized and can boast an adjustable length of pull and comb height. To adjust the latter, however, you'll need an Allen wrench.
The matte black carbon steel barrel is fluted and threaded 5/8. It is a medium contour barrel and thus can get hot relatively fast. A break every eight rounds would spare this barrel a burn-out and you the headache and potential burns.
The trigger is AccuTrigger, the one we've already seen in Long Range Hunter. As always, this is the brand's own development, it works perfectly and is a pleasure to pull. The length of the pull, by the way, is also adjustable. The rifle comes with an MDT AICS 5-round polymer magazine, and there are mag paddles for the quick magazine release. There is a slight drawback here: the paddles are too far to reach while your hand is still on the grip.
Where are other benefits, you might ask? Well, you know them pretty well already. The same time-tested action, the same no-issues-whatsoever performance, the same accuracy worthy of a best long-range 3oo PRC rifle list. The Savage 110 Precision is a perfect model for those who prefer chassis over conventional stocks.