Last Updated on
Canik is a guest from overseas that has fit right in the American market. A Turkish brand known for its pistol line has gained the favor of many a shooting enthusiast. Canik produces anything from competitive and home defense to concealed carry. Even though there are many models that deserve our close attention, in today's review, we focus on the brand's signature pistol series: Canik TP9.
The Canik TP9 series comprises a wide range of pistols united by quality rather than purpose. You will see handguns designed for competitive shooting and everyday carry. All the handguns featured in this review share some features. They are all polymer-frame striker-fired double-stack pistols chambered in 9mm. They are also optic-ready and need no modification to do their job well. Now, it's high time we got to our Canik TP9 Pistols review.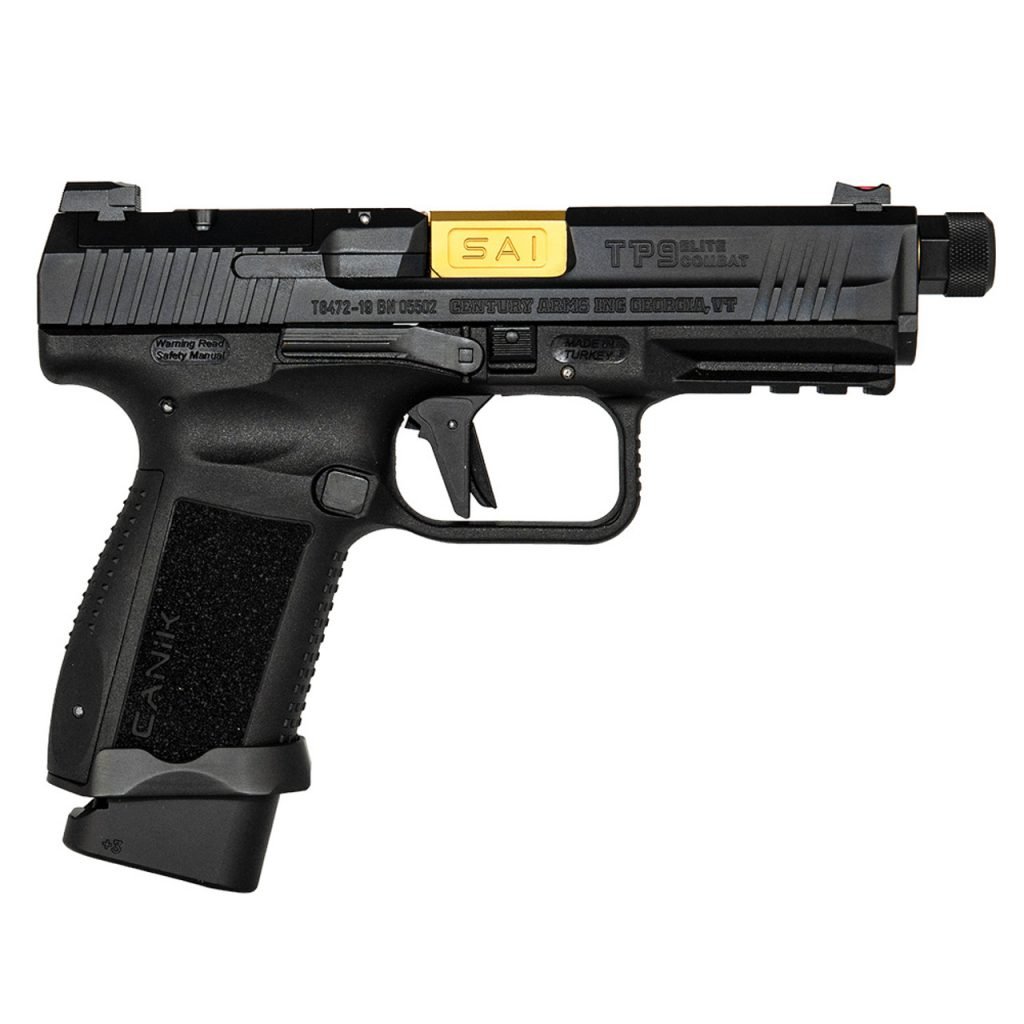 CANIK TP9 Elite Combat Executive
Barrel Length: 4.73″ 
Capacity: 15/ 18
Weight: 25.8
One could call the Canik TP9 Elite Combat Executive the crown of Canik creation, and there will be no arguing about that. Indeed, this model has won the favor of many competitive shooters, and the reasons for that are plenty. All the accessories, features, performance – everything about this pistol screams quality you don't want to miss out on. For the price you pay for the handgun, you also get its worth (or maybe even more) in accessories.
The box contains a set of cleaning tools, a second aluminum magazine (18-round), a backstrap, a wrench, a mounting plate, a retention Kydex holster, a magazine loader, and a smaller box of smaller stuff. There are two fiber optic replacements, a small charging handle, and three magazine release extensions. While some manufacturers throw a single magazine and consider the deal sealed, Canik bathes their customers in accessories. It is not the deciding factor, but it is very satisfying nonetheless. 
The specs are as impressive as the number of accessories that come together with the Canik TP9 Elite Combat Executive. The fluted barrel is produced by Salient Arms, and that means nothing else but marksman-standard accuracy. The barrel is also PVD-coated, which increases its lubricity and durability. The steel rear sights have a clear edge that can catch on anything you might want, allowing for comfortable one-hand operation. The front sight is also made of steel and features fiber optics, for which Cannik provides two replacements. The extended slide lever is ambidextrous and very occasion-proof: the chances of you manipulating it unintentionally are close to zero. There is a full rail for mounting whatever accessories you might want and preinstalled thread protector for the same purposes.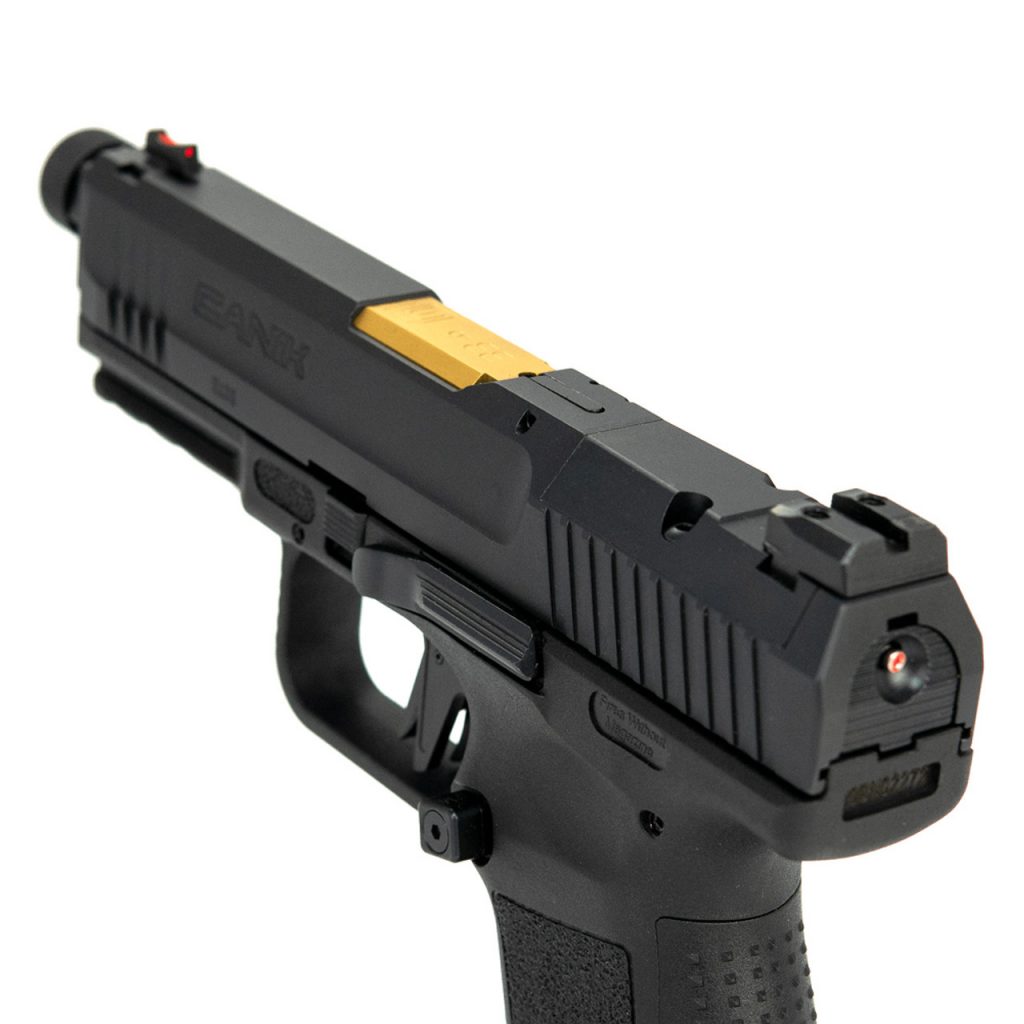 To water down our praise punch, the mounting system is not 100% perfect. Remember that mounting plate we mentioned? You can attach it only by sacrificing the rear sight, which is hardly an optimal tradeoff, considering how good rear sights are. The grip, while being well-angled, is not without its issues either. If you have big hands and use the 18-round extended magazine, you can feel the front of the extension separate from the grip when grabbed with speed. That's because the magwell attaches with the screw from the backside, not the front. However, if you have average or small hands, that won't be an issue. Another debatable drawback is grip texturing. It is fairly smooth, even for those who have no texturing preferences. If you are a fan of more aggressive grips, consider stippling or using grip tape. 
Now let's get to the main advantages and disadvantages. The obvious merit of the Canik TP9 Elite Combat Executive is its outstanding trigger, especially for a polymer handgun. It has a slightest take-up, a satisfying crisp break, and a great reset. It's hard to put it into words, but the trigger alone is enough to fall in love with that handgun. What you might dislike about it, then? The compatibility with aftermarket mags. 
The handgun works flawlessly with proprietary handgun magazines, but if you want something with a greater capacity not produced originally by Canik (though marked as Canik compatible), your shooting experience may turn out not smooth at all. If you are a quick reloader (which is something all of us should strive to achieve), aftermarket mechanical mags may over-insert when loaded with force. As a result, the slide stays locked open, and the gun won't shoot.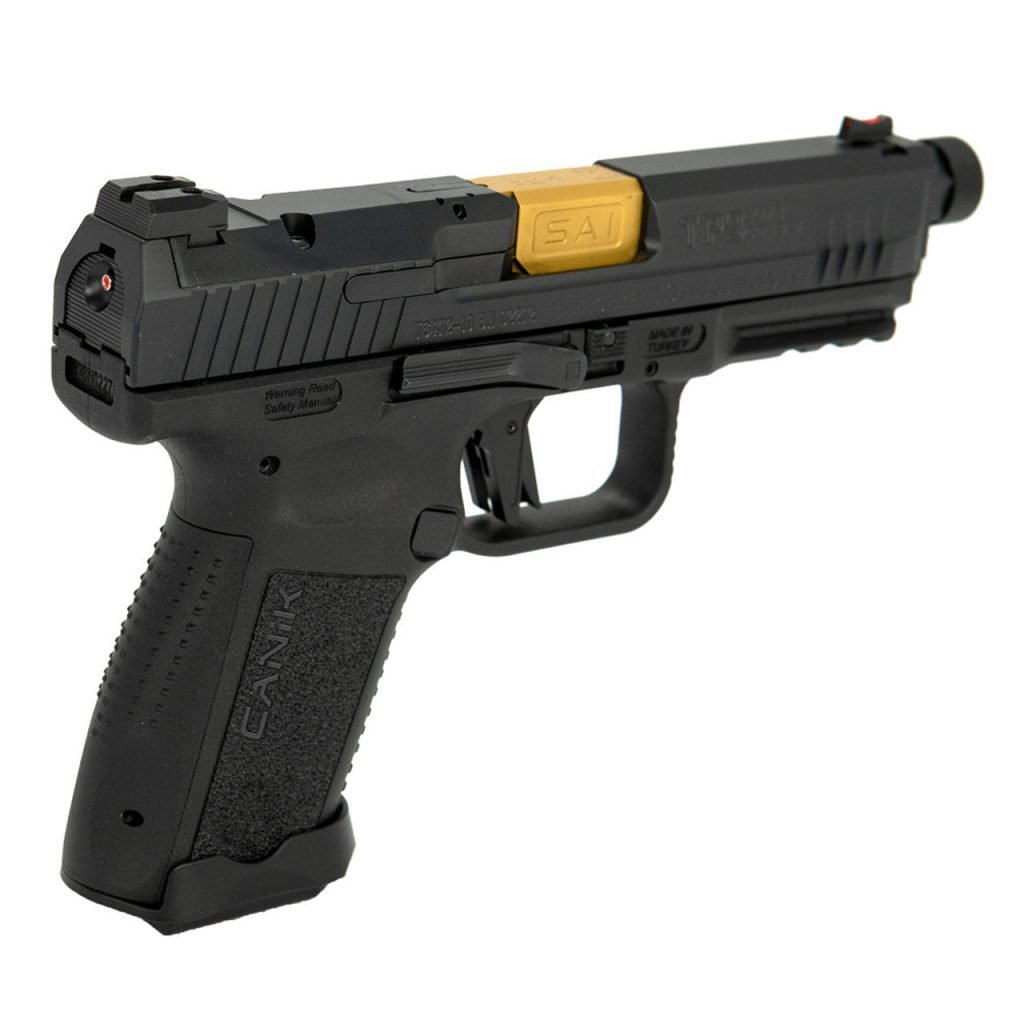 That is an extremely specific drawback that you have all chances to never experience. After all, the issue may arise only with higher-capacity magazines produced by other brands, but we needed to throw that fly in the ointment. Otherwise, our Canik TP9 Elite Combat Executive review would have been too one-sided. 
Other than that, the gun shoots perfectly, is not known for any malfunctions and is packed with features. It's very easy to reassemble if you read the manual in advance (it works differently than other handguns). All in all, getting a Combat Executive is a no-brainer, the issues are tiny, and the benefits are enormous.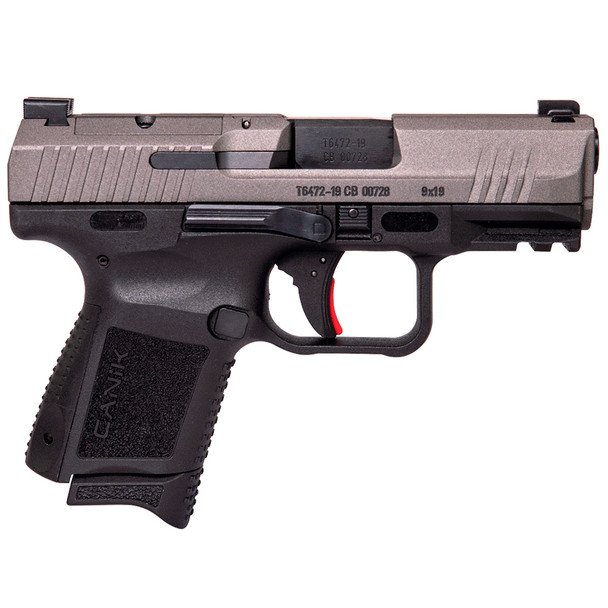 CANIK TP9 Elite SC
Barrel Length: 3.6″
Capacity: 12/ 15
Weight, oz: 24.8
We should probably have placed the cherry on top of that cake instead of feeding it to you at once. Having already seen the ultimate Canik weapon, the only thing left is to compare all the following handguns with the Combat Executive. That's not too bad, necessarily, as they are all (for the most part) TP9 guns and share many features. The Canik TP9 Elite is the brightest example of that claim, as it belongs to the same Elite series.
That is a sub-compact version of the original Canik TP9 Elite handgun designed specifically for comfortable everyday carry. Naturally, the dimensions of the handgun are smaller than those of the full-frame versions, and it is a blessing as much as a burden. It enjoys a properly angled grip, its weight is within the spectrum of optimal, and the caliber is optimal for self-protection. However, there is less space to comfortably place your support hand, so it might be harder to manage the recoil.
This model is also more novice-friendly, as it has both a loaded chamber indicator and a striker status indicator. The proprietary sights perform better than other sights in the segment but are somewhat inferior to those of TP9 Elite. The front piece is a white dot sight that has the potential to glow in the dark if you charge it with a flashlight. What are the chances of you exposing a concealed carry gun to bright light? Not high, so the decision to put phosphorus sight sounds pretty dubious. The front piece is fairly big, and that might affect your accuracy.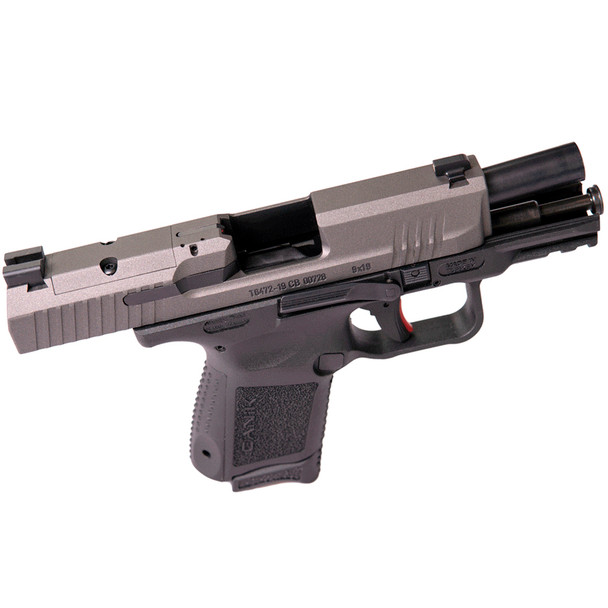 The barrel, though not produced by Salient Arms, is nonetheless a match grade, so you can expect reliable performance from it. The slide is serrated, as in Combat Executive, which makes the press check much easier.
Luckily for all concealed carriers, this pistol retains the feature we love Canik for. The trigger pull is brilliant, with take up, break and reset living up to the highest standards. The model we reviewed earlier, while superior in many aspects, is still not the best choice for concealed carry. Canik TP9 Elite SC, on the other hand, takes the best features of the TP9 Elite series and packs them into a compact frame.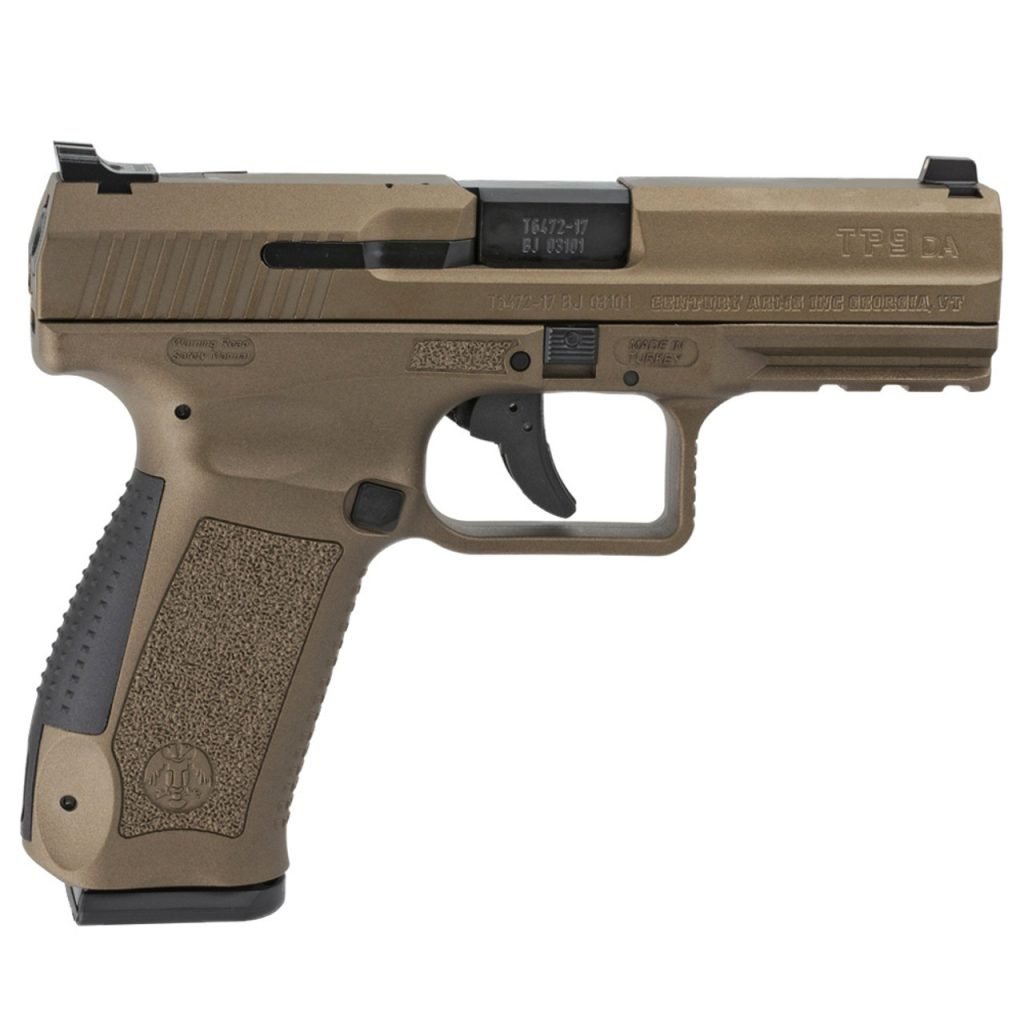 CANIK TP9 DA
Barrel Length: 4.07″
Capacity: 18
Weight, oz: 27.8
What makes Canik TP9DA different from the handguns we've already reviewed, apart from its burnt bronze tan? The double-action design is a novelty unique to this particular model. To be more precise, the trigger can operate in two carrying styles, and such versatility is very convenient. When the striker is cocked, you can move the trigger to its single-action setting. In case you don't want to carry it in this manner, a button on the slide deactivates the single action position.
The single-action trigger, by the way, is as excellent as a trigger could be, on par with the rest of the series. The double-action trigger, on the other hand, feels pretty heavy, maybe even excessively heavy. It's still nothing out of the ordinary for a double-action full-frame pistol but, in comparison with triggers of other Canik models, it appears in a bad light. Of course, you can switch between two modes, so that is hardly a drawback.
You will probably find the rest of the features pretty familiar. The Canik TP9DA features a traditional checkered grip, the front sight is a white dot, which feels more appropriate for a full-frame handgun. It's on the heavier side of the spectrum, which is more of a plus, especially if you plan to use it for range shooting or home defense. This model also features a loaded chamber indicator. Considering the price, Canik TP9 is an excellent choice for those who want to enjoy all the benefits of a Canik pistol and get a budget handgun.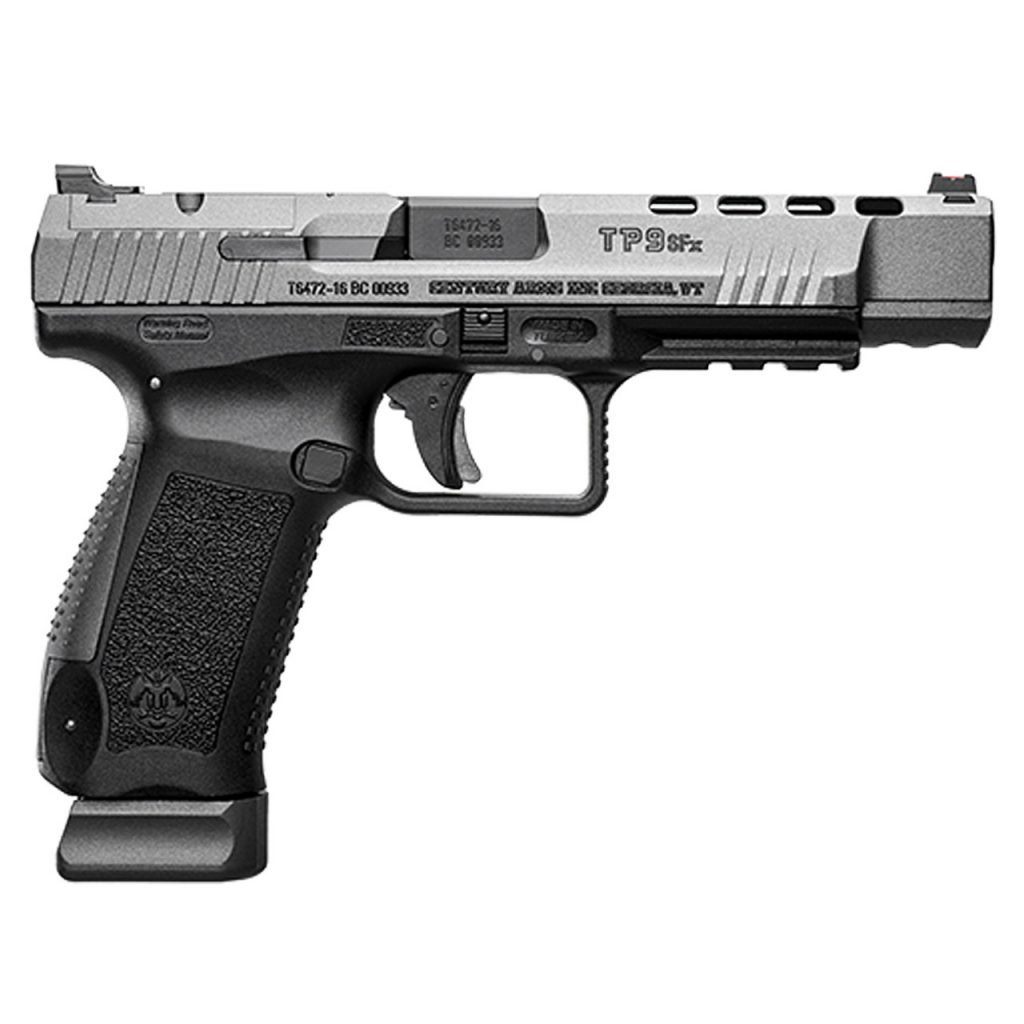 CANIK TP9 SFX
Barrel Length: 5.2″
Capacity: 20
Weight, oz: 29.2
The Canik TP9 SFx was designed as a premium version of the TP9 pistol series, so you can expect to see it sharing many features with another premium-style handgun we've covered in the very beginning. While being a high-value pistol that can do it all, the Canik TP9 SFx somehow manages to remain a budget handgun. It enjoys features you usually see in guns costing four digits, and who doesn't want a value at half (or even more) the price?
The value of this pistol grows even more when you learn it needs no modifications: Canik TP9 SFx is ready to participate in a competition right out of the box. This model features the longest barrel and the greatest round capacity, yet those benefits come at a cost of increased weight. However, 29oz is not that much of a burden, especially when it's 29 ounces of pure handgun bliss.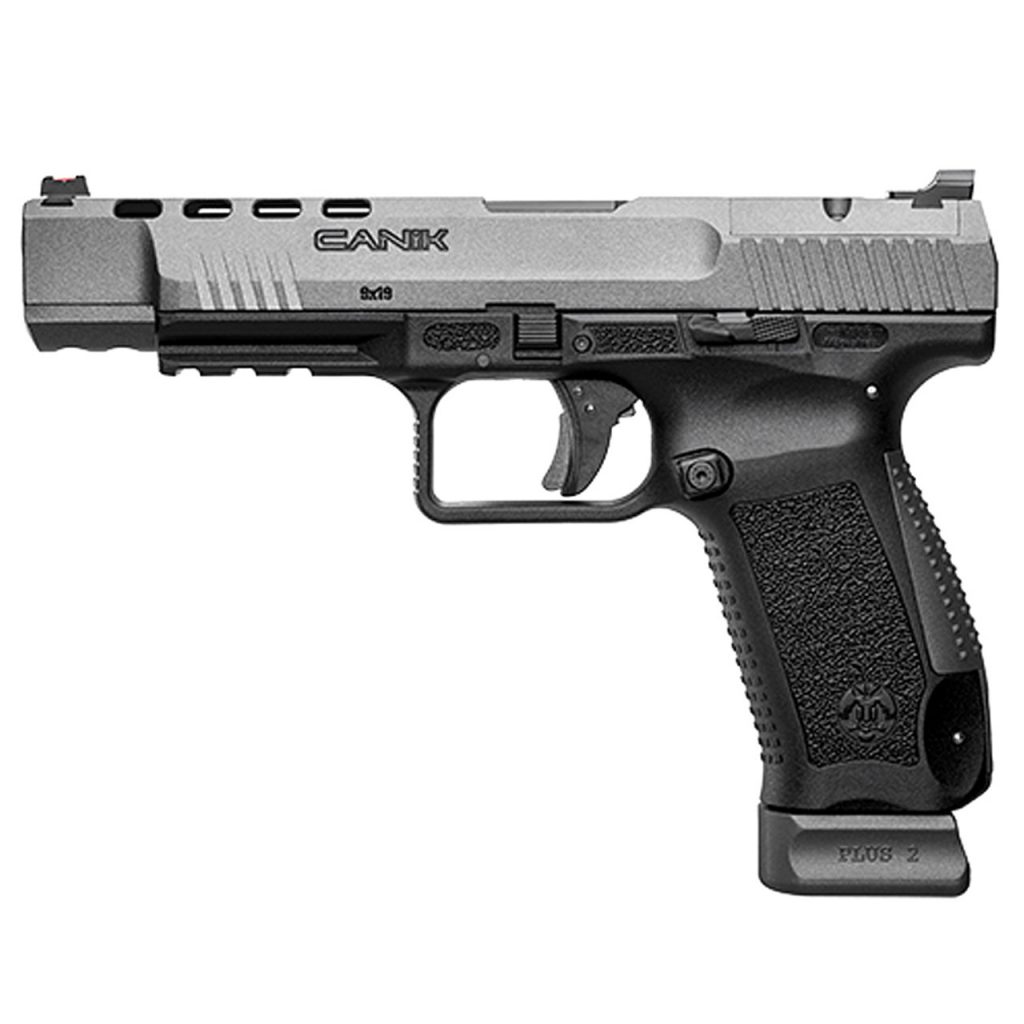 What unites Canik TP9 SFx with the Combat Executive? First, the bundle of presents that come in the same box. It won't be an overstatement to say you'll receive as many accessories buying an SFx as when purchasing the more pricey Canik TP9 Elite Combat Executive. The gun features a similar set of sights, blacked out rear and fiber optic front. The same extended magazine release, serrated slide, ambidextrous cocking lever, and checkered grip. 
The drawbacks are, unsurprisingly, pretty similar as well. The grip lacks aggressive texturing, and some might find it too smooth. Other than that, the Canik TP9 SFx doesn't have any issues, and things you might perceive as uncomfortable are only a matter of choice. Canik is a one-of-a-kind brand that combines high-end features with affordability, and Canik TP9 SFx is a bright example of that. 
Check out our top deals for Guns For Sale.