Last Updated on
There will be no prejudiced "lightweight pistols for smaller hands" stuff in this article. And definitely no picks reasoned by how the pistol looks (although some of them look pretty sleek). If we are to find some of the best handguns for women, we need to take a closer look at how the guns perform. Whereas women are perfectly capable of shooting all firearms, the statistic has it that some models enjoy greater popularity. Many of them are indeed more compact than an average gun, but I'd bet it on them being self-defense oriented. But let's cut to the chase. Here are our picks of the best handguns for women in 2023.
Table of Contents
Best Overall – Sig Sauer P365 XL
Best Glock – Glock 43X
Best Optics Ready – Shadow Systems MR920
Best Full-Size – Colt 1911
Best Micro-Compact – Springfield Armory Hellcat
Choosing Guide
Conclusion
FAQs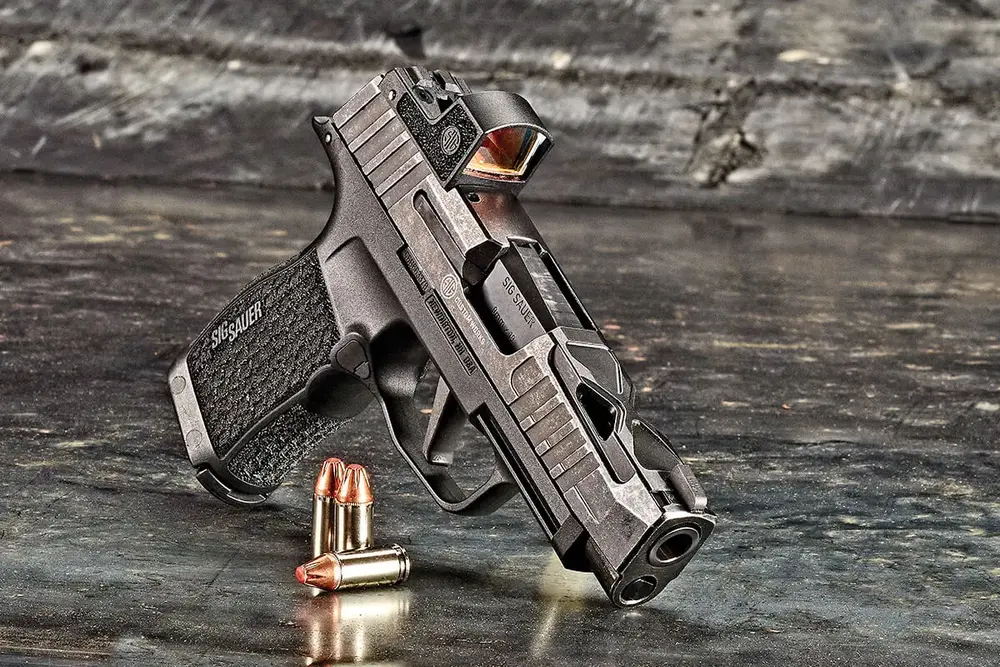 Best Overall – Sig Sauer P365 XL
Navigating through the myriad of handguns can feel like a balancing act. Some pistols might be impressively compact, but they pack a punch that their larger counterparts couldn't dream of. Others may offer the gentlest recoil, but they're far from ideal for concealed carry. Enter the Sig Sauer P365 XL, a harmonious blend of contrasting demands. It's an upgraded iteration of the renowned SIG P35 and is an absolute joy to shoot.
The Sig Sauer P365 XL comes with a 3.7-inch barrel length. That provides a perfect equilibrium between precision and concealability. Typically, a longer barrel brings more accuracy but can be challenging to conceal. The P365 XL masterfully strikes this balance, making it a prime choice for both hidden carry and home defense.
With its striker-fired operation, the P365 XL streamlines the need for a hammer. That results in a sleeker design and reduces the risk of snagging on clothing when drawing – an undeniable advantage for concealed carry. The XSeries trigger is straight and sharp, offering a satisfying pull every time.
When it comes to weight, the Sig Sauer P365 XL tips the scales at roughly 20.7 ounces (when the magazine is empty). That makes it light enough for easy carry, even over prolonged periods. Simultaneously, it's heavy enough to effectively absorb recoil, boosting comfort and control when shooting.
Sig Sauer endowed the P365 XL with a standard 10 rounds round capacity. While this may not be exceptional, it's ample for most shooting applications. This capacity also makes the pistol compliant with California regulations. If desired, you can swap out the magazine for one with a higher capacity.
One of the most noteworthy features of the P365 XL is its ergonomics. Its slim profile and grip design contribute to an enhanced hold and control experience. The grip is also well-textured, so keeping a firm grasp won't be an issue.
Finally, the P365 XL is optics-ready. As ready as one can be, for it comes pre-fitted with a RomeoZero Rear Sight. However, if you prefer a different sight or fancy trying it without one, the rear sight plate is removable. In essence, the P365 XL is as adaptable as they come. A great handgun for women, to cut it short.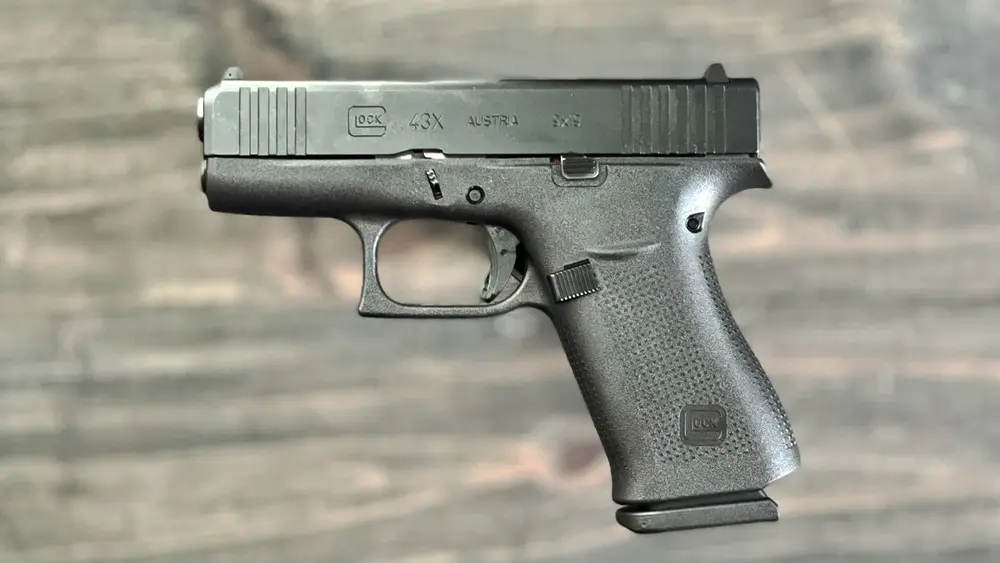 Best Glock – Glock 43X
Rare is a top pistol list that can do without mentioning a Glock. And the reasons for it are apparent – it's a household name in the world of handguns. It's also undoubtedly one of the most popular handguns in the U.S. (if not the most). However, there are dozens of Glock models to choose from, yet we need to pick one. The winner of the day is Glock 43X, and here's why.
Distinctive in its design, the Glock 43X boasts a slim frame that measures just 1.10 inches in width. This slender build is optimal for concealed carry while also offering a comfortable grip.
The compactness of the Glock 43X is further enhanced by its barrel length of 3.41 inches. This shorter barrel contributes to its concealability while simultaneously maintaining a commendable level of accuracy at self-defense ranges.
Weighing approximately 16.4 ounces when empty, the Glock 43X is the lightest pistol on the list. Suitable for all-day carry without imposing undue strain on the user, the pistol maintains sufficient heft for effective recoil management.
As a striker-fired pistol, the Glock 43X provides a consistent and lighter trigger pull compared to its hammer-fired counterparts, at approximately 5.3 pounds. This trigger system is standard among newer generations of Glocks.
In terms of ammunition capacity, the Glock 43X comes with a standard 10-round magazine. However, the availability of aftermarket options such as the Shield Arms magazine allows for expansion to 15 rounds. Mind that the pistol is not compatible with double-stack Glock mags.
To add a fly in the ointment, the pistol features no rail. It's not necessarily a problem, since few concealed carry pistols are equipped with red dots, but to have one than not.
Long story short, Glock 43X is a great concealed carry pistol for women. It enjoys the customizability inherent to all Glock pistols that became classics in their own right, so you can't go wrong with them.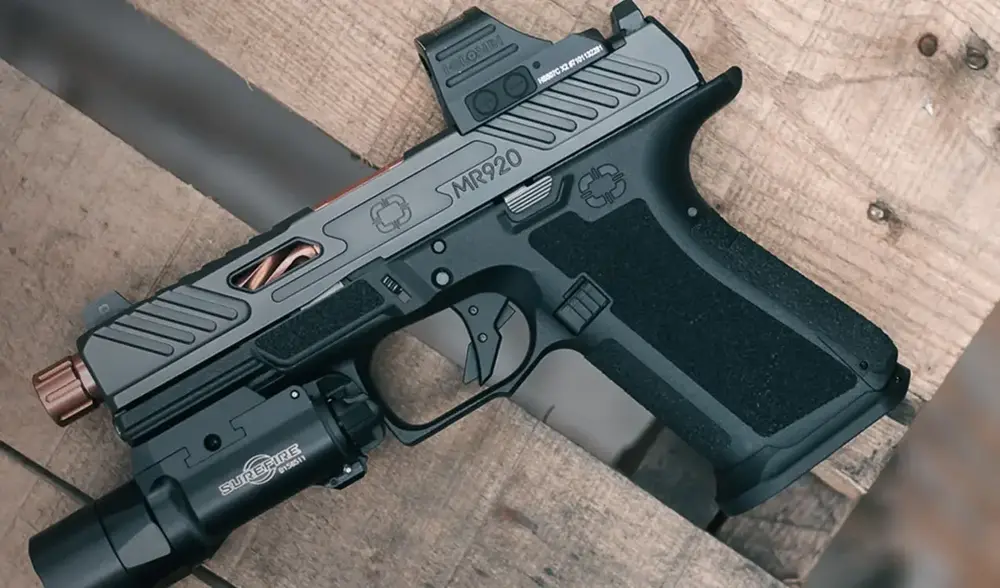 Best Optics Ready – Shadow Systems MR920
Not everyone is a fan of firearm customization. Sometimes, you just want a firearm that needs no further enhancements or modifications. A pistol that's good to go the moment you unpack it. That is exactly what Shadow Systems offers – pistols packed with features other manufacturers would have you install yourself. Of those, the MR920 is a very worthy representative.
The pistol sports a 4.5″ threaded spiral fluted barrel, one of the hallmarks of the Shadow Systems pistol series.
The high-quality trigger system delivers consistency and lighter pull compared to many other models. This consistency can help improve accuracy, especially for less experienced shooters. In terms of weight, the MR920 is another comfortable all-day-carry pistol. It weighs an ounce more than the P365 XL, but this difference is hardly perceivable.
The MR920 comes with a higher magazine capacity of 15 rounds, which is quite a lot when you think of it. The pistol is also compatible with existing G19 magazines. If you have one lying around, you can keep it busy.
But what truly sets the MR920 apart is its optics-ready design. This feature allows you to easily attach a variety of optical sights to the pistol. There are serrations both at the rear and the front, so retrieving a gun will be a piece of cake. The tritium front sights do make the whole picture even more appealing, though.
Long story short, the Shadow Systems MR920 stands out as an excellent optics-ready pistol pick for women. It's packed with features, it's relatively light, has an extended beavertail and is a delight for a trigger.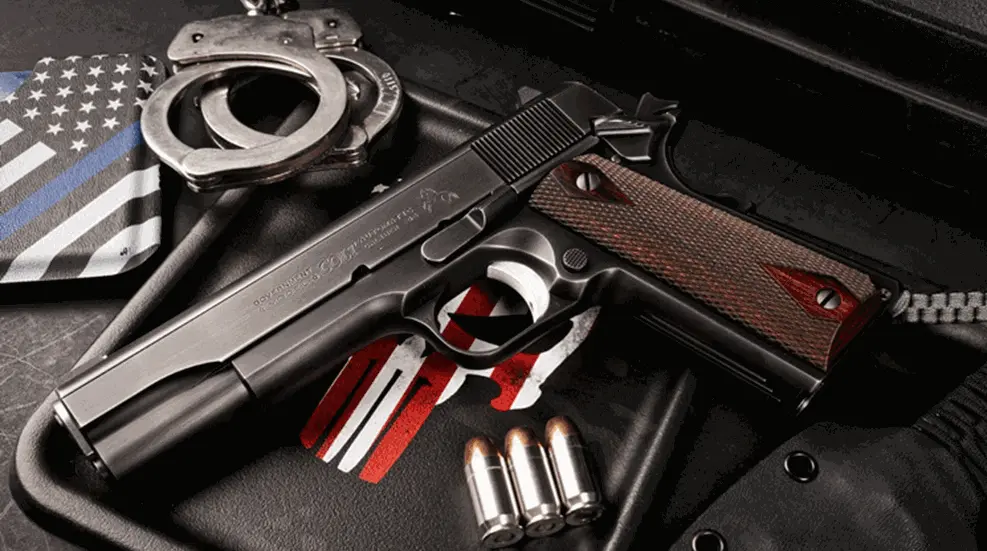 Best Full-Size – Colt 1911
The Colt 1911, with its legacy dating back to the early 20th century, is a classic that has stood the test of time. It's nowhere near being compact or concealable, you don't need necessarily need your pistols to be this way. And Colt 1911, in turn, can grant you the benefits more compact pistols can't.
The Colt 1911 has a notable reputation for reliability. Its design and build quality ensure that it functions consistently, even under heavy use – an essential feature for any firearm. The 1911's single-action trigger provides a clean, crisp break. Its intuitive design also makes it easy to operate, even for those new to firearms.
Thanks to its full-size frame, the Colt 1911 is known for very manageable recoil. That is due in part to its weight, which helps absorb some of the recoil energy, and also its low bore axis, which reduces muzzle flip. The recoil could have been even less manifested, but Colt 1911 is chambered in .45 ACP, which innately produces more torque than a 9mm round.
Keep in mind that this pistol won't go easy on your strength. It weighs 39 ounces which is twice as much as all the pistols we've covered, more or less. But weight shouldn't be an obstacle on your way to using a gun if you set your mind to it.
The Colt 1911 also has an extended beavertail, a feature not found in pistols of similar design. This structure helps shield the web of the shooter's hand from the recoil and potential slide bite. It also provides a comfortable grip that allows for easy and quick handling when shooting. If it doesn't tickle your fancy, you can always replace it.
The good-old Colt isn't an easily concealed gun. But it doesn't try to be one. Its strength lies in a different place. If you are looking for a home-defense pistol for women, rest assured Colt 1911 will serve you well.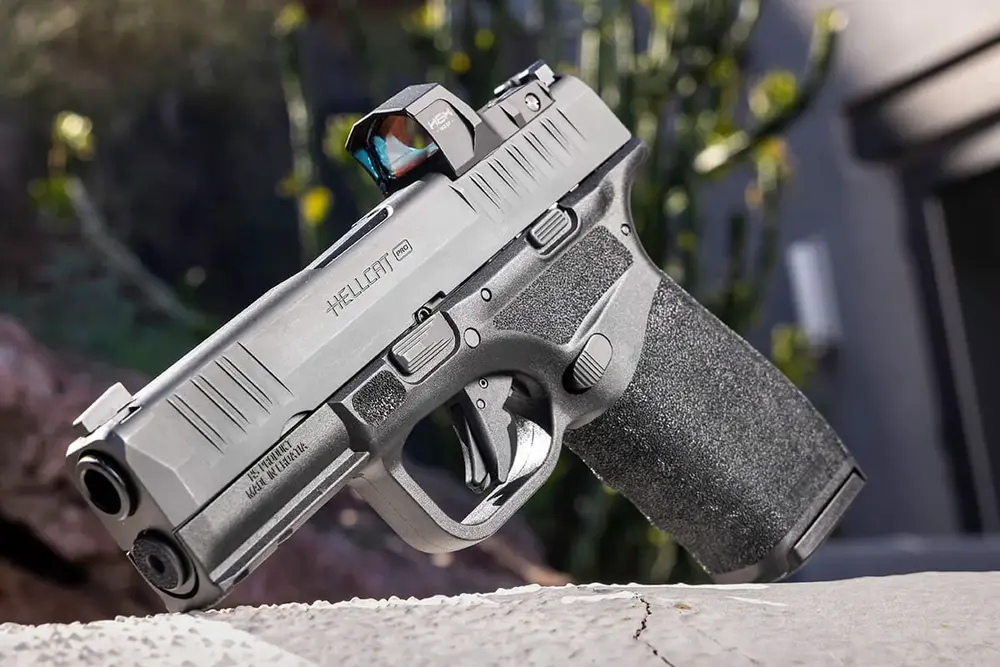 Best Micro-Compact – Springfield Armory Hellcat
In some ways, the Springfield Armory Hellcat is the opposite of the Colt 1911. This kitty is the smallest, highest-capacity micro-compact pistol in the world (one of them for sure). If you prioritize both convenience and performance, we do recommend giving this pistol a chance.
Despite the gun's small size, the recoil is manageable, even if snappy. However, for a pistol of this size and configuration that's still an achievement.
Another standout feature of the Hellcat, as we've already mentioned, is its high capacity. Despite its micro-compact size, it boasts an 11-round flush-fitting magazine, offering more rounds than many other guns in its class.
The Springfield Armory Hellcat is optics-compatible right off the bat. It comes with tritium front and tactical rack U-Notch rear sights. The Hellcat is also offered in an OSP (Optical Sight Pistol) configuration that allows the direct mounting of a red dot optic for a low-profile, co-witnessed setup.
The Hellcat is the epitome of compactness, but size isn't the only feature this Springfielder can boast. The slide sports serrations allow for more comfortable racking, the mag release button is reversible, and the single-action trigger is crisp.
Springfield Armory made a one-of-a-kind firearm that's too good to skip. Its high capacity paired with ultimately compact, optic-ready design and reliable performance makes it an excellent choice for any women shooter.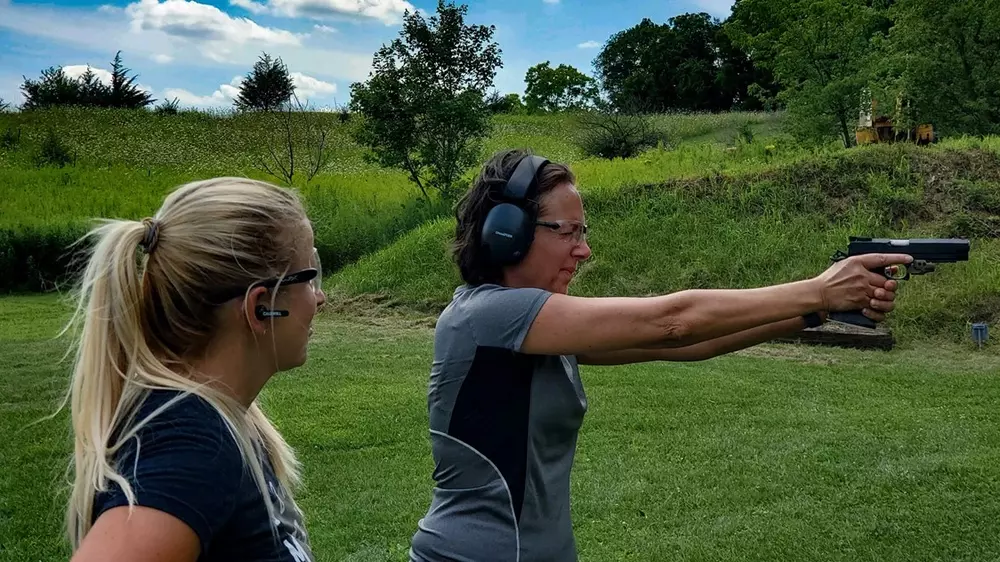 Choosing Guide
Caliber
As you can see, none of the pistols featured in this article are chambered in .22 LR. There is a reason for that. Even though it is a go-to caliber for beginners and plinking, it is inferior to other calibers when it comes to self-defense or competitive shooting. There is no reason why you can't start training with a 9mm if that's the caliber you plan to shoot further on. 
Smaller calibers, like .22LR or .380 ACP, have less recoil and are easier to manage but may not offer the stopping power of larger calibers like 9mm or .45 ACP. Your reasoning should be determined by the purpose of your gun. The list above covers pistols for self- and home defense and training, maybe competitive shooting can be added to the lot. If the caliber's topic piqued your interest, we have an article The Comparison of 22 LR and 9mm for Concealed Carry.
Grip Comfort
Comfort is key when it comes to grip. You want a handgun that feels like an extension of your arm, not a foreign object. Settling for a firearm that doesn't feel natural in your hand might be fraught with complications later on. If a handgun is too big, you'll need to constantly adjust your hands in order to find a comfortable position. Too small – and it would be uncomfortable. You need to aim for the middle ground. Also, extended beavertail is a nice addition that will save your hands from a slide bite. 
Trigger Reach
Trigger reach refers to the distance from the back of the grip to the trigger. The rules here are the same as with grips. If you can only reach the trigger with your fingernail, then the pistol is too big. With the middle part of your finger – too small. You need neither of those. You need the center pad of the finger to be on the trigger.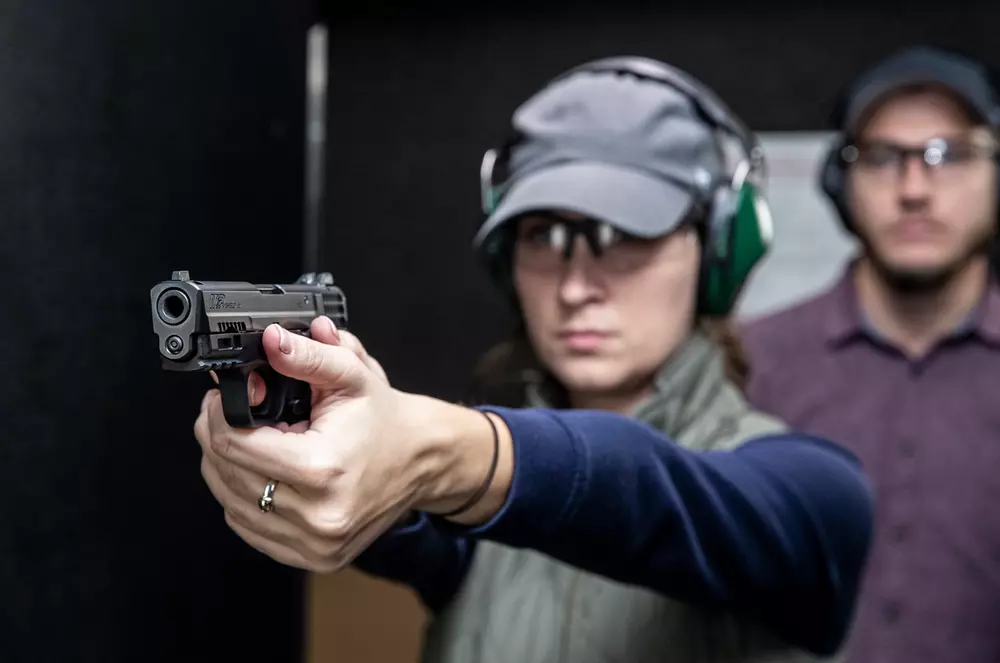 Controls (safety, mag release, decocker)
The location and operation of the firearm's controls are another important consideration. You should be able to easily reach and operate the safety, magazine release, and decocker (if present) without adjusting your grip. Some firearms offer ambidextrous controls, which is a must if you are a left-hander.
Safety Features
All the pistols featured in this article have safety features, even if those were not mentioned. Those are internal safety mechanisms, which don't require you to adjust anything or turn them on.  
Conclusion
No matter which firearm you choose, it's important to be comfortable with the gun before buying it. How can you do that in an online store you may ask? You can't, not in the traditional way. But you can head off to your nearest shooting range and try some of them out. It won't take long for you to get an idea of what works for you and what doesn't. Spend some time getting familiar with the controls and features of a firearm similar to the one you've chosen. With the right knowledge and training, you'll be ready to hit the range in no time. 
FAQs
What is the best self-defense handgun for women?
We chose the SIG Sauer P364 XL as the best handgun for women for a variety of reasons. It boasts an optimal combination of size, grip form and texture, general comfort, safety features and it is chambered in a very versatile caliber, 9mm.
Which handguns are popular among women for concealed carry in 2023?
The majority of pistol models we've covered will make a great fit for concealed carry. Primarily, those are Springfield Armory Hellcat, Glock 43X, Sig Sauer P365 XL and Shadow Systems MR920.
Are smaller handguns more suitable for women?
Whereas smaller handguns are indeed lighter and more comfortable to conceal, their compactness doesn't necessarily mean they will be comfortable to shoot. As a rule, such pistols suffer from more notable muzzle rise and recoil, which hardly contributes to such pistols being the best of options.