Last Updated on
The 1911 pistol's market abounds in models worthy of your attention. The Sig Sauer 1911 might be only one of them, but it's well worth your attention. With its sleek design and reliable performance, it makes for an excellent stop in the 1911 pistols sea. But how does it stack up against other 1911 models? In this article, we'll compare the Sig Sauer 1911 to similar firearms from manufacturers like Smith & Wesson, Springfield Armory and one-and-only Colt to assess differences in performance.
Table of Contents
The Standard of 1911
Sig Sauer 1911 Black Nitron
Smith & Wesson SW1911SC
Springfield Armory 1911 Ronin EMP
Colt 1911 Government
Sig Sauer 1911 Pistol Comparison
   Performance
   Reliability
   Grip Comfort
   Value for Money
Conclusion
FAQs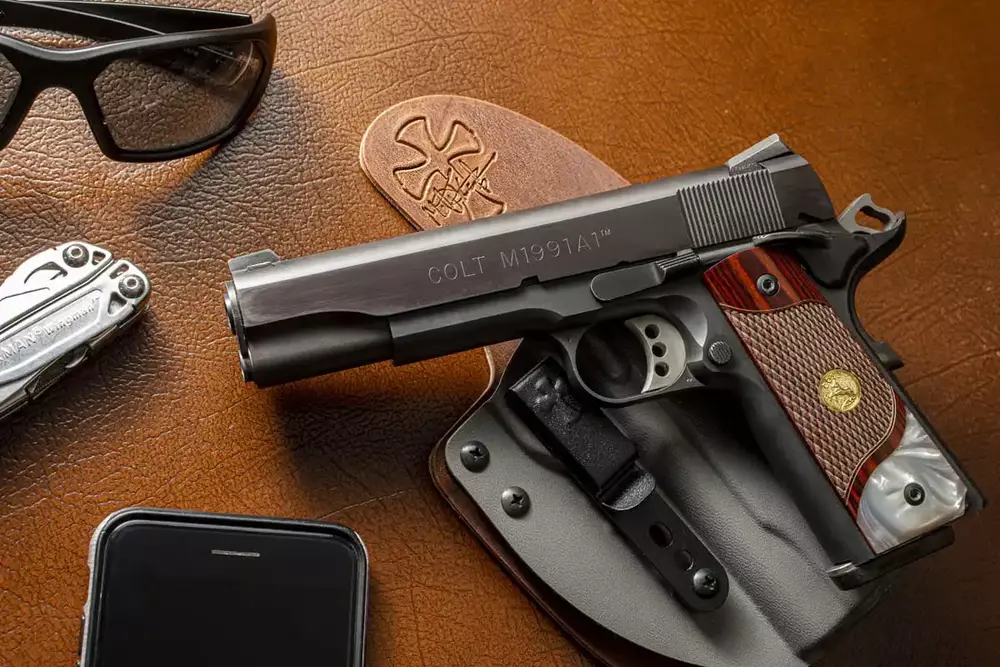 The Standard of 1911
There are features you are quite likely to see in every 1911 model regardless of the manufacturer. It just so happens that the design of this pistol hasn't changed much since its inception in 1911. That's one of the things people tend to appreciate about the whole 1911 line – its standardized nature. If you want a novelty, there is literally a whole other part of the market. But should you be after a time-tested classic that never gets dusty, then 1911 will be nothing but a treat. 
First things first, the action. The majority of 1911s are single-action only pistols, meaning your need to cock the hammer before every shot. One could argue that it's a downside, but the double-action design was established quite some time ago, it's not like 1911 manufacturers aren't aware of it. Rather, it's a deliberate choice, which turns an arguable downside into a signature feature. After all, what you get in return is a light and consistent trigger pull no double-action could give you. Your fire rate won't be as high, but well, nobody's perfect.
Now, onto round capacity. Most 1911 models typically hold seven to eight rounds in the magazine, plus one in the chamber. One of the models you'll see can fit as much as ten rounds. Some might call it lacking, but again, 1911s are not about shooting a 30-round clip in five seconds. 
Size-wise, more often than not, the 1911 is a full-sized pistol. If you are looking for a compact version, well, this handgun family has its own notion of compact. The average barrel length is about 5 inches, the smallest you'll find is 3-3.5 inches. The general size dimensions are around 8.5 inches in overall length, with a height of just over 5 inches, but those can vary depending on the model (not too much, though).
Finally, there is caliber. Following the precepts of John Browning himself, most brands chamber 1911 in .45 ACP. Most, but not all, and not in all models. There are many 1911s in 9mm and 10mm, but most follow the traditional paths.
So, I won't include some of these characteristics in the review lest you should read that every pistol is single-action only. If some of them venture off the beaten path (and some of them will), you'll know about it.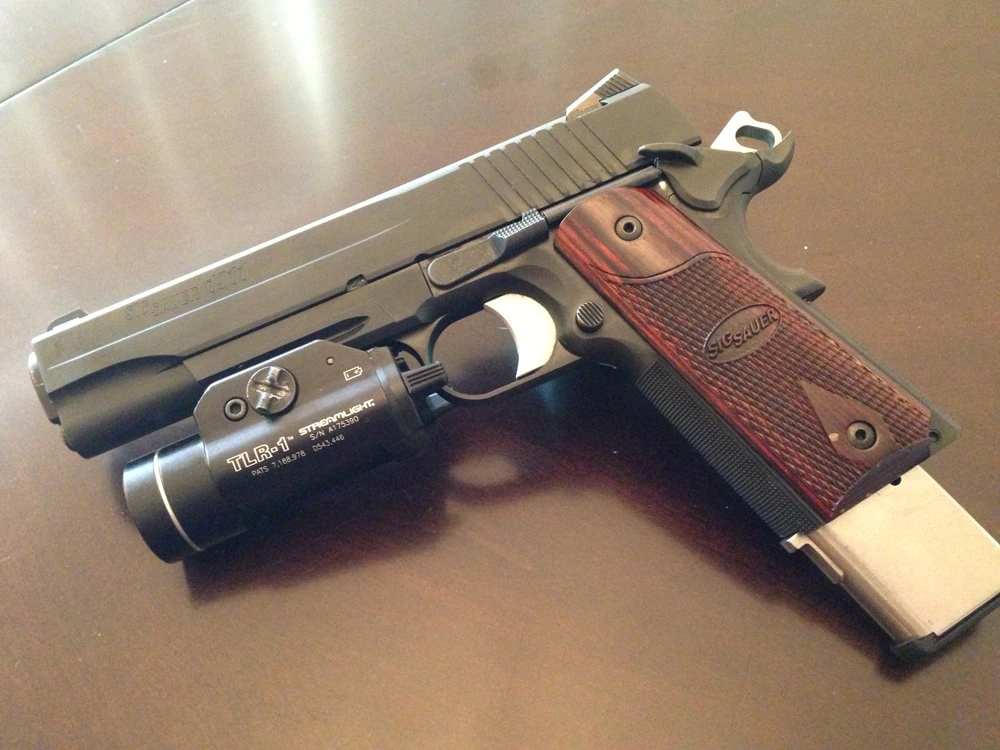 Sig Sauer 1911 Black Nitron
First off, this model is a sight to behold. Its full-size frame and stainless-steel slide are coated with a Black Nitron finish (hence the name), giving it a sleek and polished look that's as formidable as it is beautiful. What's more, the frame features 25-line per inch checkering on the front strap, providing a firm and comfortable grip even in high-pressure situations.
The Sig Sauer 1911 Black Nitron boasts an overall length of 8.7 inches. It is equipped with a beavertail grip safety with speed bump, extended thumb safety, firing pin safety, and hammer intercept notch. It seems Sig Sauer's search for safety took them pretty far – the pistol almost radiates it.
If you appreciate finer details, this model won't leave you wanting. It comes with custom rosewood grips that are not only aesthetically pleasing but also provide excellent front strap checking with a magwell. As befits a 1911, Sig Sauer Black Nitron is chambered in .45 ACP, has a 5-inch barrel and can fit 8 rounds. 
If you are a Sig Sauer fan, check out our reviews on the Sig Sauer P229 and P320 Pistol lines.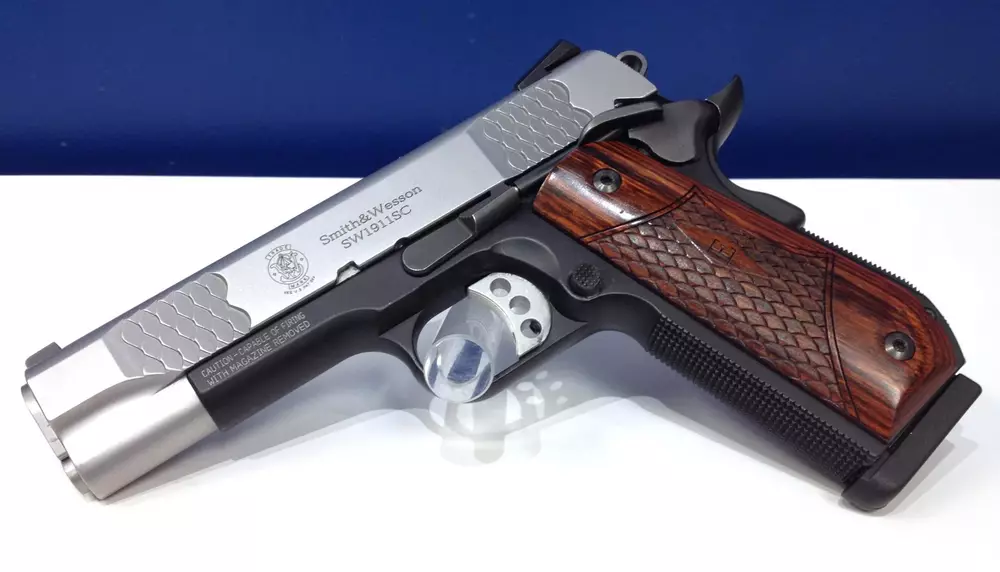 Smith & Wesson SW1911SC
We did't have this model at our shop in North Richland Hills at the moment of writing, but that's no reason not to include it. After all, Smith & Wesson SW1911SC doesn't just walk the talk – it sprints it. Like a bannerman, it carries on the legacy of the original M1911 reminding everyone of one grand firearm that lives through the ages. 
Steering off traditional steel and aluminum, the SW1911Sc boasts a Scandium alloy frame. Scandium, for those not in the know, is a material known for its lightness and strength. So, you're getting a pistol that's both easy to handle and tough as nails.
Fine details didn't find their way around this handgun either. You'll get unique fish scale front and rear slide serrations, paired with a matching engraving on the grip. If you have safety concerns, worry not: grip and thumb safety will make sure the bullet leaves the barrel only when you want it to.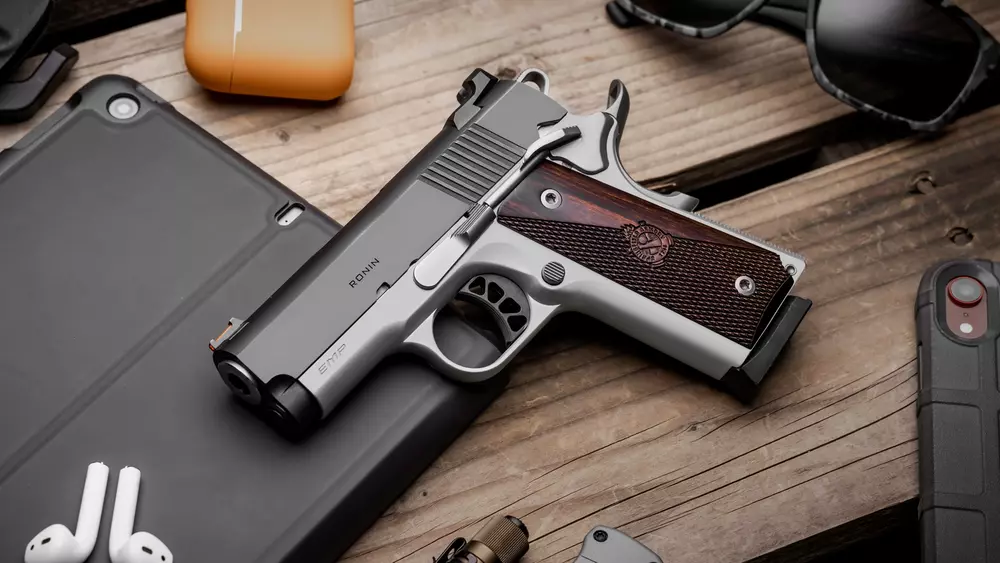 Springfield Armory 1911 Ronin EMP
The little Ronin is a standout in many respects. First and foremost, if you are looking for a compact 1911, this is one of your best bets. Even though there are smaller models, the 1911 Ronin EMP manages to retain the original 1911's essence while bringing something new to the table. 
This guy weighs in at a comfortable 27.5 oz. when empty. That's 1.5 times lighter than the hero of the day, Sig Sauer 1911. Its overall length? A compact 7.6 inches. That lacking inch does contribute to the gun's being more concealable, if we are to use such terms regarding 1911 pistols.
But that's not everything. This model has an impressive capacity of 10+1 in its taller grip frame. That's right, it is the one that was overshadowed in the beginning. You'd think that a smaller pistol should sacrifice some of its round capacity, but Ronin takes those expectations and stomps them hard.
And there's even more to love about this pistol. It's specifically engineered around the 9 mm cartridge, this particular variant at least. Plus, it features a forged stainless steel, match-grade barrel with a fully supported ramp and a 1:16″ RH Twist. That's a mouthful to say and even read, and you probably didn't care about the last part. But, if you want a 1911 chambered in something other than .45 ACP, the Springfield Armory 1911 Ronin EMP is a very worthy contender.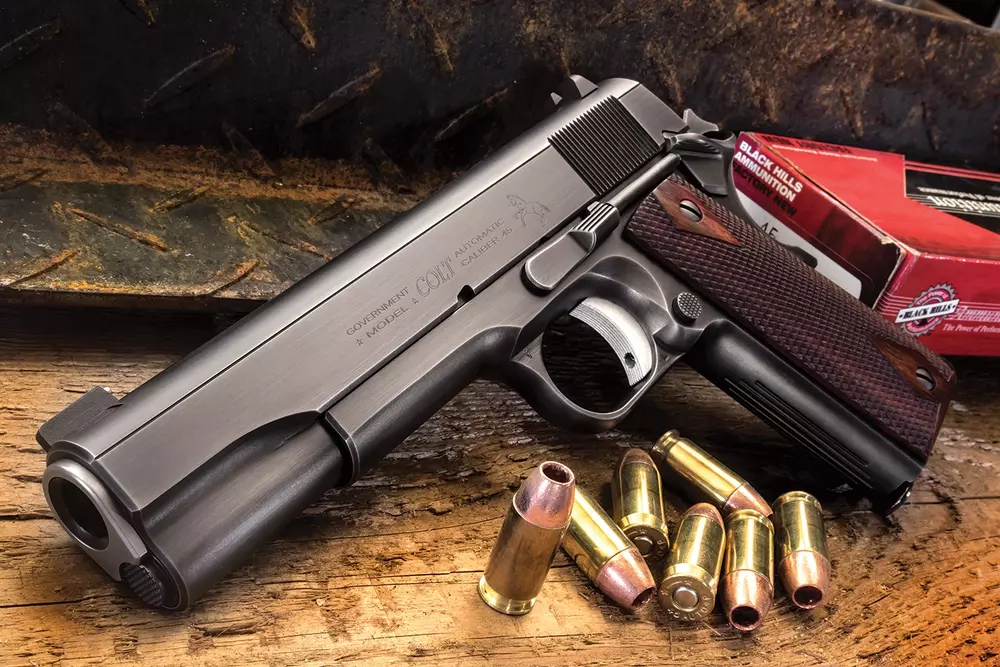 Colt 1911 Government
We couldn't do without the hero of the occasion, could we? The Colt 1911 itself, the progenitor, the first father, the cradle and the beginning of all things. The pistol that set the bar and defined the standard for all the handguns mentioned above. It's his characteristics that we covered in the Standard part of the article. But time takes its toll on everyone, even such an unbending titan as the Colt 1911. How does it look now, more than a century after its appearance?
Not that different, truth be told. The same signature .45 ACP, the same standard-setting 5-inch barrel, the same 7+1 round capacity. In terms of aesthetics, the Colt 1911 Government has a blued finish and double diamond rosewood grips. Strict and weighty, as befits the patriarch of the 1911 family.
In this model, you'll also find lowered and flared ejection port, a three-dot sight and a solid barrel bushing. All these features make it an exemplary competitive weapon. The insides are all original-style parts, so the original charm is preserved.
Sig Sauer 1911 Pistol Comparison
Now, I took the guns (had to borrow SW1911SC from a friend) to one of the finest DFW shooting ranges – Gritr Range. I'll admit I'm biased, but I had everything I needed for a test. They even had a Springfield 1911 Mil-Spec for rental, but I was already loaded. So, here're a few words about how each of the guns performed.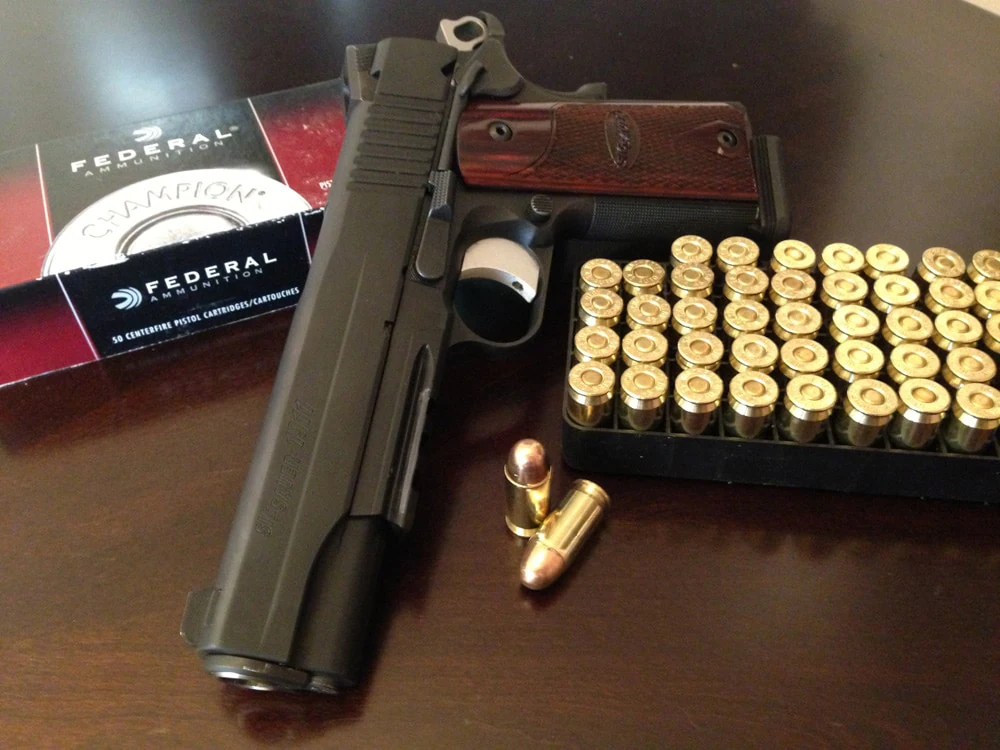 Performance
When it comes to performance, each of these pistols brings something unique to the table.
 The Sig Sauer 1911 Black Nitron weighs more than the rest of the pistols, meaning it absorbs more recoil. If you don't mind pistols that lean on the heavier side (which you probably shouldn't since you are reading this), you'll be able to appreciate Sig Sauer's take on 1911 in its full glory. The recoil was tangibly weaker than in the rest of the .45 ACP pistols. 
The Smith & Wesson SW1911SC is significantly lighter than the Sig Sauer 1911, and it shows. Not uncomfortably so, but I shot one after another and, well, I did feel the difference. It stands to mention that this one would be much more comfortable for everyday wear, this is where its lightweight design truly shines.
The Springfield Armory 1911 Ronin EMP is a tricky one. It is engineered specifically around the 9 mm cartridge, which innately produces less recoil than .45 ACP. At the same time, it weighs almost the same as the SW1911SC. As a result, we get less recoil at almost the same weight. It's not .45 ACP, of course, but 9mm is a round used for literally anything, so it's not that big of a loss.
Lastly, the Colt 1911 Government, our alleged benchmark. It's merely 2 ounces lighter than the Sig Sauer 1911, and I wouldn't say I noticed any difference in recoil. I find Sig Sauer's trigger to be more appealing, but far be it from me to say that Colt's trigger is inferior. It performed as well as it could, I couldn't ask more from a gun.
Reliability
In terms of reliability, all four pistols have proven track records. I encountered nothing but reliable feeding and smooth operation in every handgun. Sorry for such a brief answer, but when something's good, I can't bring myself to write why every one of them shoots as well as they do. Rest assured; they won't let you down when things get dicey.
Grip Comfort
Since there is no using a handgun without holding it first, grip comfort is pivotal for a comprehensive shooting experience. Is there anything that might set these guns apart in terms of grip comfort? There is something. As you can see, each of the pistols has a slightly different grip safety design, though all of them feature memory bumps. The grip panels, all textured, also contribute to the grip being comfortable.
The Sig Sauer 1911 Black Nitron features 25-line per inch checkering on the front strap, which boosts grip stability. The extended beavertail grip safety doesn't feel uncomfortable, necessarily, but I can't say it's the best. The grip panel texturing is nice, slightly akin to that of the Colt 1911. 
With its elegant fish-scale serrations and scaled wood grip panels, the Smith & Wesson SW1911SC luckily didn't inherit fish's slippery nature. Part of the wood grip is textured, and part is plain, so there is a felt contrast I find quite appealing. I'd say the SW1911SC takes the cake for the most comfortable grip safety design. The lower part is the least protruding among all the contenders. 
The Springfield Armory 1911 Ronin EMP sports a taller grip frame and thin-line G-10 grip panels. Both worked well for me. Mind the reduced grip radius – it seems to be intended for concealed carry, so someone with bigger hands might find it lacking.
Finally, there is the Colt 1911 with its double diamond rosewood grips. I think the pattern certainly adds to the gripping surface's comfort. The grip safety is pretty comfortable too, there's no problem with that. 
Value for Money
So, three out of four handguns we've covered will fetch you more than a grand. Is it too much for a 1911? Well, you know what they say, the sky's the limit when it comes to firearms. However, if you are looking for a handgun for a lifetime, what is a thousand bucks? The 1911 platform stood the test of time and if it fetches a hefty sum, well, there's likely to be a good reason for it.
At least that's the case with the models covered in this review. The SW1911 could be a bit easier on the wallet (they all could), but well, I guess scales and night sights do cost extra. I'd say that Sig Sauer 1911 black Nitron and Colt 1911 Government offer the best value for the money. But that doesn't depreciate our little Ronin. For a concealed carry 1911 chambered in 9mm, it offers A LOT. But so do Sig Sauer 1911 and Colt 1911. 
Conclusion
It's been a fine parade; everyone deserves a medal for making it this far. As you can see, all models have something up their sleeves. Whether it's the dependable recoil reduction of the Sig Sauer, the comfortable everyday wear of the SW1911SC, the reduced recoil of the 9mm Ronin EMP, or the iconic charm of the Colt 1911 Government – each of these pistols offers an exceptional blend of performance, reliability, comfort, and value. Sig Sauer's representative was great, if not in everything, then in many aspects. The others didn't lag behind. Which one should you choose? The decision rests with you.
FAQs
What is the main advantage of Sig Sauer 1911?
For me, the biggest advantage of the Sig Sauer 1911 is its recoil absorption. The gun weighs more than other 1911 models, which helps to absorb more of the recoil force. It's a great feature for people who want to shoot .45 ACP without being overwhelmed by the kickback.
Are all 1911 pistols single-action?
Yes, all 1911 pistols, including the Sig Sauer 1911, are single-action handguns. Though some models might be advertised as double-action, all genuine 1911 pistols are single-action.
What is Sig Sauer 1911 best for?
The Sig Sauer 1911 will make for a great home-defense firearm. It's not much of a quick shooter and some people might find it too heavy for concealed carry, but it's a terrific full-size pistol.