Last Updated on
There are dozens of pages in the book bearing the title "Firearm Brands", every one of them tells a story of its own. Successes and failures, glory and oblivion, stories of slowly climbing the recognition ladder or shooting popularity that only took years to achieve. Tales of fellow countrymen and foreign visitors – you won't find two similar pages in that storybook. Today, we'll see what the Chiappa Firearms chapter has to offer. 
The first thing that would catch your eye (if such a book really existed) would probably be the vivid Italian color that permeates every line. The company's headquarters are located in the city of Brescia, Northern Italy. It wasn't somebody's fancy choice, for Chiappa Firearms was founded on these very lands back in 1958 by an enterprising and resourceful Ezechiele Chiappa. The distinctive Italian passion found its manifestation in love for firearms and challenges – a perfect mixture for anyone willing to begin a business. What started as an artisanal workshop called Armi Sport grew into an industrial group that sells its products all over the world. Even though the scale of work has changed dramatically, one thing remains unchanged: the company is still wholly owned by the Chiappa family.
As in every storybook, it's not only plain text and embellished capital letters, there are plenty of colorful pictures as well. But since we are, among other things, a firearm dealing shop, those are the pictures of various goods the company produces. After this brief introduction, it's high time we took a look at what the company has to offer and, to be more specific, what you can find on Gritr Sports.
Firearms
It would have been really funny if Chiappa Firearms had nothing to do with firearms. But they do and quite a lot. Every brand has a specialization, and Chiappa Firearms is no exception. Among the company's target markets are target shooting, Cowboy Action Shooting, reenacting, collecting, and hunting. As you can already imagine, that includes some good old cowboy-style revolvers and long guns (we will even have a look at a single-shot garden gun).
Rifles 
We have two gorgeous representatives of the Chiappa Firearms rifle line covered in this review. The first one is a somewhat Mad Max-looking break-action rifle with a name as cute as one can be.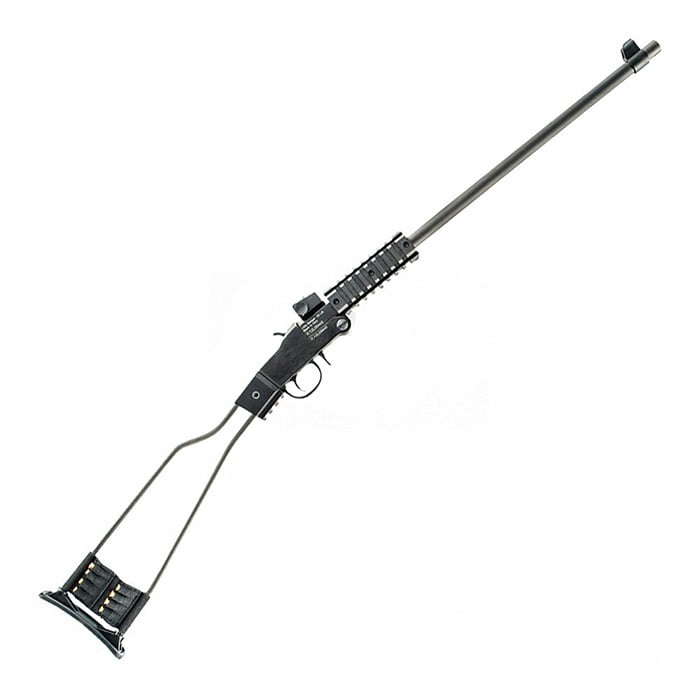 The Chiappa Little Badger is by no means an ordinary rifle you'll see casually hanging above a fireplace. Suffice it to say that it's a single-shot breach-loading rifle that looks like a custom weapon made in post-apocalyptic times. If minimalism was a rifle, it would look like the Little Badger. 
The first thing that catches the eye is the lightweight tube design. Some might think it's only a framework for another rifle, but the Little Badger was meant this way. You won't find a solid wooden stock or regular-looking receiver in this model. But don't you worry, this little fella is as good as any other firearm. At an appropriate distance, of course. 
Another feature that determined the way this rifle is designed is its foldability. That's right, 31 inches long when in its full form, the Little Badger is almost half as long when folded – 16.5 inches. That characteristic makes it the ultimate packable survival gun. Weighing only 2.9 pounds and chambered in .22 LR, this Chiappa rifle would make for a valid choice for potential apocalyptic scenarios. We don't want to jinx anything here, but the world proves that you can never know what happens tomorrow. Let's hope that no meteorites or a zombie apocalypse are waiting for their turn to ravage our poor planet and focus on what we have today. 
Doomsday scenarios aside, the Little Badger is a light, packable gun for emergency uses. The design imposes certain limitations that make this model not your first choice for more regular occasions. You'll have to reload after every shot, and your cheek will have no rest on the wire buttstock. The recoil is intangible, though, if that balances things out for you.
There is an inbuilt adjustable sight that can serve you well for a while, but it's not particularly durable. However, that is not a problem since the forend comprises four Picatinny rails to mount your optics and other accessories. Just remove the rail you wish to use, mount your optics or lights, and install it back. 
If we talk about accuracy, the Chiappa Little Badger is good enough to be a small-game hunting rifle. It can become an excellent garden gun and is a great choice for someone unfamiliar with rifles. The firearm is also quite affordable, so a few drawbacks are tolerable for such a price. Cost, compactness, and low recoil are the biggest advantages of the Little Badger. If you are looking for something more solid, like a semi-automatic rifle, our next character might suit you better.  
Chiappa RAK 20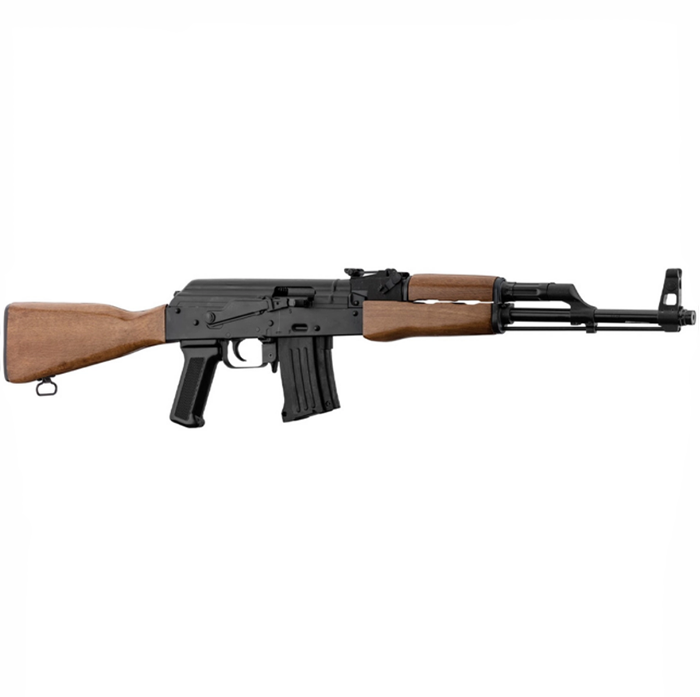 For all the fans of the AK rifles, Chiappa Firearms released its own take on the legendary gun. The new variant is chambered in a more popular and easy-to-shoot .22LR. The reason why you may be interested in the RAK-22 is its duality: while furnished in a traditional AKM setup, the rifle has .22LR guts. You can get more round time with it without spending too much money on the ammo.
The rifle features a metal and wood construction, which adds original hold to the gun and does not make you feel like holding a plastic prop. The barrel is 17.25 inches long and threaded in 14-1 LH, so all your AK-47 muzzle devices (should you have any) will fit perfectly.
The Chiappa RAK-22 can house other AKM furniture sets and is very modifiable. If you own a standard 7.62x39mm model but want to try it in a lighter variant, you can easily do that with some fitting. 
It wouldn't be appropriate to compare the two rifles since the only thing that unites them is the caliber. Both rifles are easy to shoot and will make great options for novice shooters to get acquainted with the world of firearms. The Chiappa RAK-22 is a more traditionally-looking rifle that leaves you more space for modification.
Revolvers
We earlier mentioned cowboy-style firearms, and none of the rifles reviewed look anything like Wild West attributes. That's because there were no revolvers in the previous section. Now it's time for us to have a look at a revolver that stepped out of the western movie.
Chiappa 1873-22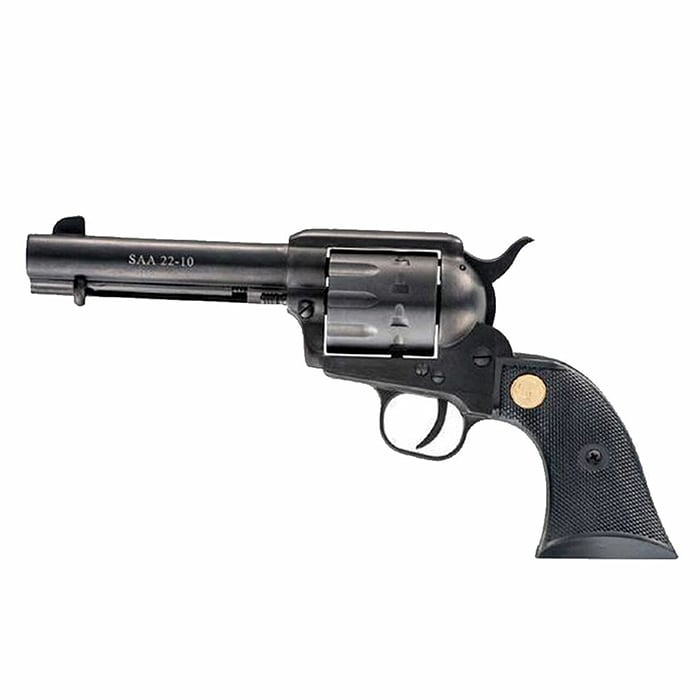 Being the replica of the legendary Colt .45 Peacemaker, Chiappa 1873 is nowhere near its ancestor's price range. Inspired by a timeless classic, the new reincarnation of the Peacemaker is way more affordable. The Chiappa SAA 1873 is one of the manifestations of the American West, part of which keeps living in fine revolvers. 
In the best tradition of showdowns at high-noon, 1873 SAA is a single-action revolver. And since it is chambered in .22LR (maybe there is some pattern to Chiappa caliber choice), the recoil feels like there is none at all. Honestly, the revolver feels good in the hand and is a pleasure to shoot.
The first model of the Chiappa 1873 featured a 6-round cylinder, but modern variants' capacity is higher than that. The model you can see in the picture, for example, is equipped with a 10-round steel cylinder.
Another feature that makes this revolver stand out is its balance and size. Many manufacturers who produce 22 single-action revolvers reduce the handgun's size by 10-20%, which is not the case for the Chiappa 1873-22. To retain the feel from an iconic .45 revolver Chiappa didn't skimp on size or weight.
Single-action revolvers (especially those firing .22LR) are not too good as self-defense guns, but they make for great weapons for shooting range. This one is also pretty economic and definitely not an ammo burner. If you are willing to see the heritage of the Wild West in your firearm, the Chiappa 1873 might be a great choice for you. 
Magazines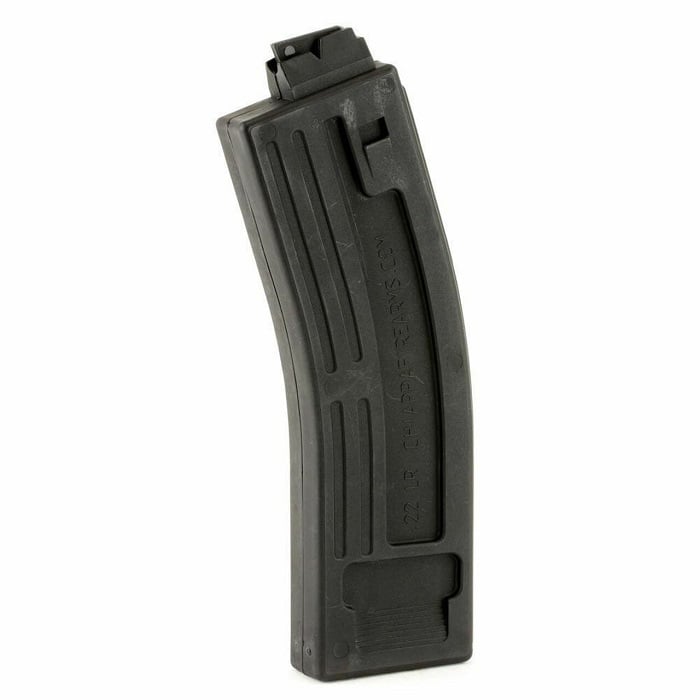 It's only natural for a firearm-producing brand to make magazines matching their guns. We have several magazines of Chiappa Firearms make (most of them are in .22LR, unsurprisingly). They are all of the different capacities, fit for different firearms. There is really not much to say – they store ammunition and have a polymer construction. If you need some, be sure to take a look.