Last Updated on
For several decades now, Sig Sauer has been keeping up with the reputation of a dependable firearm manufacturer. Their pistols not only serve as sidearms for military and law enforcement personnel. Sig Sauer handguns find their application in the hands of many American civilians who need a capable weapon to defend themselves and their loved ones.
By now, Sig Sauer takes fourth place by the volume of guns manufactured. It's so tightly integrated into an American gun market that some shooters may not even know that the company originated in Switzerland.
Sig Sauer History
The original company appeared in 1853 and was named Schweizerische Waggon Fabrik (SWF). It produced rifles under that brand for the next 11 years until it won the competition and was contracted to produce rifles for the government. In 1864, the company was renamed Schweizerische Industrie Gesellschaft (SIG).
In the 20th century, several companies that shared the Sig Sauer brand appeared. The United States of America was a perfect market to set up a firearm manufacturing company. So in 1985, SIG opened a subsidiary named SIGARMS. In 2007, it was renamed SIG Sauer, Inc, and continued organizationally separately from the Swiss-German company, which now has nothing to do with the firearm business.
The company describes itself as "born in Europe, perfected in America" which is dead on. Here it broke new ground and got an opportunity to reach new customers with their specific needs.
After all that, many people may wonder where Sig Sauer guns are made? 100% of Sig Sauer firearms, from pistols to rifles, are designed and produced in the U.S. Moreover, the company makes its own optics and ammunition.
Sig Sauer Handguns
The P210 made in 1947 was the company's first pistol. It was a single-action self-loading semi-automatic handgun chambered in 9mm Luger and 7.65mm Luger cartridges and is considered one of the most accurate handguns ever made. The Swiss military couldn't ignore the existence of such a great pistol and adopted it soon in 1949.
Then the dynasty of Sig pistols proceeded with the P220 model. It was developed in 1975 as a replacement sidearm to phase out the P210. Two years later, Sig sold a modified version of P220 to Browning Arms, which makes it the first Sig handgun that appeared in the U.S.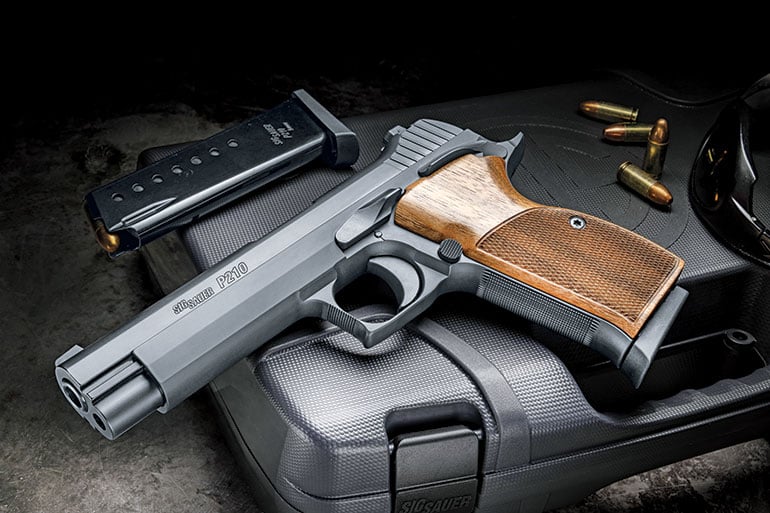 In the 1980s, the U.S. witnessed a surge in popularity of semi-automatic handguns chambered in the 9mm. This prompted the company to come up with new 9mm-chambered designs – P225, P226, and P228.
In 1990, a new cartridge entered the market – the .40 S&W. With new facilities established, Sig Sauer completed its handgun line with P229 chambered in the .40.
Today, P365 and P320 models and their upgraded versions are the best-selling pistols of the company. And in this article, we'll be talking about the P365X, P365XL Spectre Gold, and P320 Classic. We'll discuss their advantages, touch upon a few downsides, make some comparisons, and throw suggestions about their intended uses.
So let's get down to this.
Sig Sauer Pistol Review
P365X
When the original P365 entered the market, it quickly won the hearts of the concealed-carry community. It is a micro-compact EDC pistol with a remarkable 10+1 round capacity. The P365 is 5.8 inches in overall length, 1 inch in overall width, and 4.3 inches in height, and weighs 17.8 ounces. It's a true CCW.
Unfortunately, its small-sized design offers a couple of trade-offs. First of all, the grip. It is too short for people with large hands. The little finger holds to nothing which results in poor recoil control.
That might not be important for the majority of CCW people, but the P365 is not optic ready.
Also, there were complaints about the long-term durability of the P365. Strikers broke, strings gave up, and that's not what you want after firing several hundred or a thousand rounds, especially if you practice a lot.

All these issues were addressed and fixed in the P365X. The overall length and width of the handgun are practically the same, being 6 (vs. 5.8) inches and 1.1 (vs. 1) inches, respectively. What really changed is the length of the grip. Compare 4.8 to 4.3 inches of overall length. A longer grip allows for more pleasant handling and better recoil control.
An extended beavertail of the P365X enhances the handling experience without being a problem when you conceal-carry the handgun inside the waistband. The P365X also features a flat-profile trigger which, as some people consider, resets better than a curved one.
On the stainless steel slide, you see night sights and optic cut for mounting SIG Sauer ROMEOZero micro reflex sight. The rear sights sit on the plate assembly which you can easily take off.
Long story short, P365X is a great EDC handgun with a 10/12/15+1 round capacity. It's small and slim and has flattened controls, which makes it very concealable. For the size of it, the pistol is very accurate at self-defense range. All durability issues of the previous P365 seem to be addressed here.
Pros
Sub-compact handgun with a 10/12/15 mag capacity

Optic ready

A flat-profile trigger that breaks at 90 degrees

Accurate

Dependable
Cons
Small grip (can be a problem for people with big hands)
P365XL Spectre Gold
If you want a handgun that performs with style, this model is designed for you. It's a customized version of the P365XL that features a custom slide with exclusive X-pattern engraving, a grip module with a laser-engraved pattern on all four sides, and a barrel and trigger with TiN gold finishing. TiN is short for titanium nitride. It is harder than standard finishing and ensures increased lubricity, which prolongs the barrel life.
In general, P365XL pistols are a bit bigger than P365X, but they are still considered micro-compact according to the SIG Sauer info. P365XL Spectre Gold is 6.6 inches in length with a barrel length of 3.7 inches (P365X barrel length is 3.1). The overall width is 1.1 inches, and the height is 4.8 inches. A longer barrel of the P365XL Spectre Gold and night sights mounted on the slide give increased accuracy because of the longer sight radius.
P365XL Spectre Gold weighs 20.7 oz and has a 12+1 round capacity. As in the P365X, this model has a small grip that might become a problem for shooters with big hands. The distance from the trigger to the rear side of the grip might be too short for a confident grip, which makes the pistol hard to control.

The trigger is flat-profile and breaks at 90 degrees. The Nitron DLC slide has graduated serrations and features the optic cut compatible with the ROMEOZero reflex sight.
This pistol is made for concealed carry. It's slim, lightweight, and doesn't print. The controls are flattened and very intuitive.
This stylish baby will cost you $1100. Some may consider it expensive and will be right. But if you have some extra money to spend, nobody will dissuade you.
Pros
Compact with 12+1 round capacity

Cool-looking

TiN finishing on the barrel and trigger

Optic ready

Lightweight and slim
Cons
Again, small grip

High price
P320 AXG Classic
SIG Sauer manufactured the P320 AXG Classic pistol for those into classic-look handguns. It's an old-school metal-framed gun, as opposed to the other two featuring polymer frames, and has walnut grip panels and insert as well as the curved trigger.
This pistol is considered compact and has a barrel length of 3.9 inches. Overall length is 7.4 inches, overall width is 1.3 inches. Height equals 5.5 inches.
The grip here perfectly fits big hands making the pistol easy to control. The metal frame gives a more direct recoil which results in faster cycling and recovery. Also, due to the increased mass (31.3 oz), the handgun absorbs recoil better than more lightweight, polymer pistols. All this says about the increased comfort from shooting the P320 AXG Classic.

The P320 AXG Classic also features a more prominent curved beavertail. It gives a better grip, enhances ergonomics, and looks cool. However, it may stick out too much if you plan to conceal-carry a handgun inside the waistband. The controls are enlarged and raised a little bit for easier manipulation.
The P320 AXG Classic has a Picatinny accessory rail, tritium night sight, and an optics-ready slide compatible with Sig's ROMEO1PRO, Leupold's Delta Point Pro, and Trijicon's RMR reflex sights.
This dependable handgun with a 17+1 round capacity may not be the best choice for concealed carry but works great as a pistol for home defense or tactical activities (given the modularity of the system). It costs $1200.
Pros
Aluminum frame

Optic ready

17+1 round capacity

Classic design
Cons
Now you can make an informed decision on which Sig Sauer pistol suits you best. For more Sig Sauer handguns, visit our site. Gritr Sports also carries Sig rifles, ammo, optics, firearm parts, and accessories.