Last Updated on
In the world of tactical rifles, the Sig Sauer MPX earned a unique place for itself. It took two years for the submachine gun to reach the general public in its altered form, but the essence of the firearm remained the same. With its innovative design and exceptional features, it has won over many firearm enthusiasts and professionals alike. This review explores its compact variant – the Sig Sauer MPX K. And we are talking about the semi-auto-only version, naturally. 
Table of Contents
Overview of the Sig Sauer MPX K
Features of Sig Sauer MPX
Sig Sauer MPX K in Action
Sig Sauer MPX K vs. Copperhead
Conclusion
FAQs
Overview of the Sig Sauer MPX K
The Sig Sauer MPX was a revolutionary offering in the realm of 9mm submachine guns, specifically engineered to set a new benchmark in its category. A brainchild of the esteemed Swiss-German manufacturer SIG Sauer, this cutting-edge firearm has successfully established a unique niche for itself due to its modernity and versatility. Few models reflect Sig Sauer's reputation for excellence and innovation in firearm design the same way the MPX K does.
The design of the MPX K incorporates an innovative gas-operated, short-stroke piston system. This unique system significantly contributes to its unrivaled performance and dependability, even under the most challenging conditions. Additionally, the firearm sports AR-style controls, facilitating effortless transition and operation.
The Sig Sauer MPX K enjoys widespread acclaim among gun enthusiasts and professionals alike. Its popularity is largely due to its exceptional reliability, minimal recoil, and suitable barrel length for suppressor attachment. The firearm's accuracy has been consistently commended, and the platform is often characterized as user-friendly and intuitive to shoot.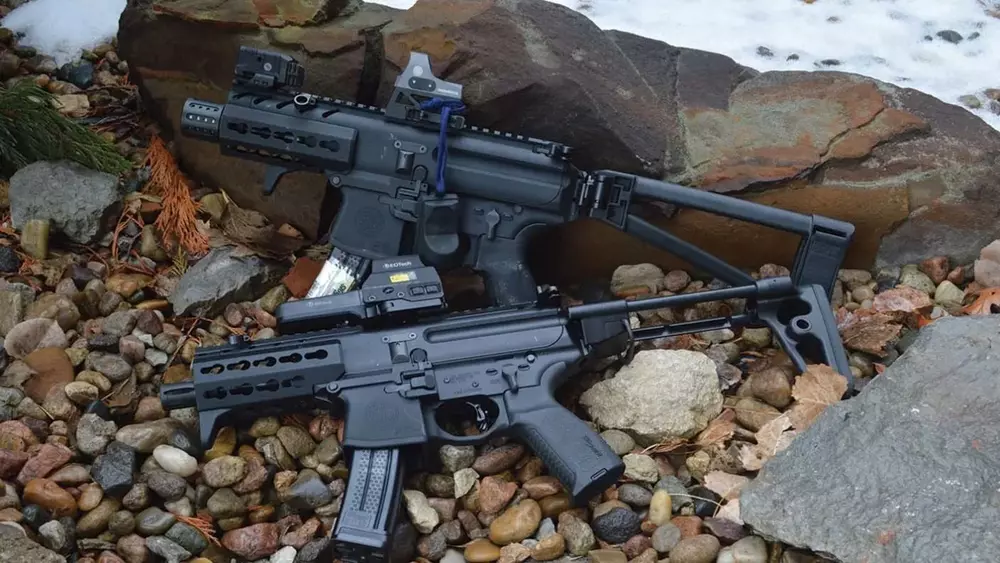 Deep Dive into the Features of Sig Sauer MPX
Safety Features
The Sig Sauer MPX is equipped with a fully ambidextrous safety selector, which is easily accessible for both left and right-handed users. This feature ensures maximum safety while handling the firearm.
Trigger
The MPX K comes with an ultra-fast Timney single-stage trigger that provides a clean, crisp pull. This contributes to the overall accuracy of the firearm and allows for quick follow-up shots.
Pistol Grip
The pistol grip was co-designed by Timney and SIG, offering the reliability and performance that Timney is renowned for. The standard grip on the MPX K resembles a traditional AR-15-style pistol grip, making it familiar and comfortable for anyone who has ever held an AR-15. Some users have even opted to customize their grips, with Magpul's K2+ emerging as a popular choice. Regardless of individual modifications, the MPX K's grip design contributes significantly to its ease of use, providing a secure hold and enhancing control during operation.
Bolt Release
The bolt release of the Sig Sauer MPX K features a fully ambidextrous design, which is the best proof of Sig Sauer's commitment to prioritizing user convenience. The MPX K's bolt release is located on the right side, while the bolt catch is on the left side, matching the familiar layout of an AR-15-style control scheme. However, it's important to note that the bolt hold open function is only available on the left side.
Gas Piston Operating System
One of the standout features of the MPX K is its gas-operated, short-stroke piston system. This advanced system significantly reduces recoil which, combined with the gun's 5 lbs of reliability, results in a kickback comparable to that of a rimfire.
Magazine Release & Well
The magazine release on the MPX K is also ambidextrous, making it user-friendly for both right and left-handed shooters. The button is large and easily accessible, allowing for quick magazine changes.
The flared magazine well of the MPX K aids in faster and more efficient reloads. This design feature can be especially beneficial in high-pressure or competitive shooting scenarios.
Charging Handle
The charging handle on the MPX K is similar to those found on AR-style rifles. It's designed for easy reach and smooth operation, contributing to the overall user-friendly design of the firearm.
Sights
The MPX K does not come with sights. That is likely because the manufacturer understands that sights can be a personal preference among shooters. It is optics-ready, however, so you have a blank canvas you may embellish the way you see fit.
Pistol Brace
There is none and we have ATF to thank for that. The MPX K doesn't come with a pistol brace out of the box. However, it does have a Picatinny rail at the rear that allows you to attach a preferred brace or stock, should you be willing to register an SBR.
Other Features
Other notable features of the MPX K include its fully closed and locked rotating bolt system, which enhances safety and performance. The firearm also has a KeyMod handguard for attaching accessories, and its barrel can be easily changed, allowing for caliber conversions. This high level of modularity and customization sets the MPX apart from many other firearms in its category.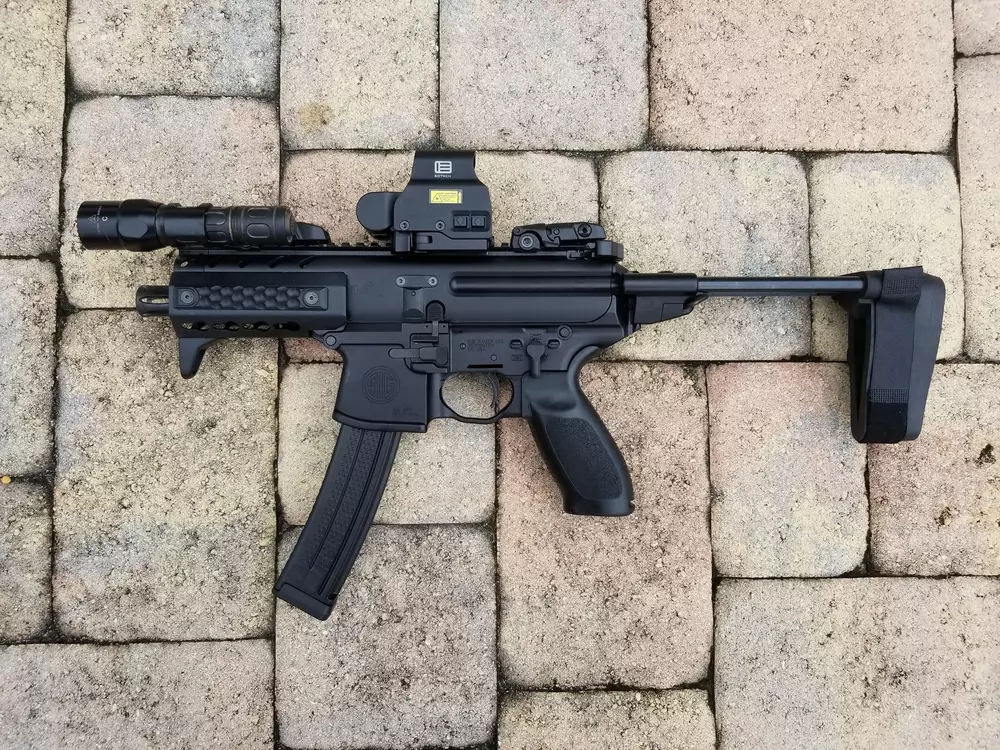 Sig Sauer MPX K in Action
I took an MPX K to our range at North Richland Hills. I've never shot one before so I didn't really know what to expect. Handling the Sig Sauer MPX K for the first time, I couldn't but notice how comfortable it was. The weight is balanced, and it feels sturdy in your hands. I knew this firearm had been engineered with user comfort and efficiency in mind, but I got to check this firsthand.
The AR-style controls make for an easy transition, particularly if you are familiar with AR-15 platform rifles. The controls are intuitive and well-placed, making operation smooth and hassle-free.
I can only imagine what shooting the MPX K with a stabilizing brace would look like. However, the MPX's design helps mitigate this to an extent, I guess. Even without a brace, the MPX's soft recoil left me pleasantly surprised. All thanks to its gas-operated, short-stroke piston system.
When it comes to firing, the MPX K is a pleasure to work with. The trigger is clean and crisp, contributing to exceptional accuracy. It groups very tight at 25-50 yards, which I see as a joined effort of its well-made barrel and excellent ergonomics.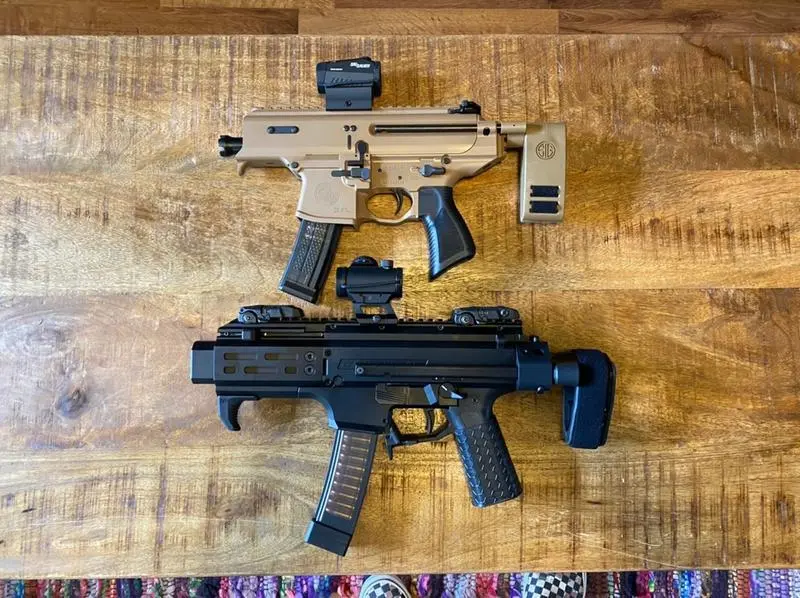 Sig Sauer MPX K vs. Copperhead
The Sig Sauer MPX Copperhead is a more compact and lighter version within the Sig MPX family of firearms. It's tailored as an ultra-compact personal defense weapon (PDW), making it ideal for close-range situations.
Some time ago the Copperhead came with a 3.5-inch barrel, noticeably shorter than the standard MPX and MPX K. The second alteration of the gun comes with the same 4.5" barrel, so there are no losses in that regard.
Differences Between Sig Sauer MPX and Sig Sauer MPX Copperhead
The main contrast between the MPX and the MPX Copperhead lies in their dimensions. The Copperhead, being the smallest variant in the MPX series and weighing only 4.5 lbs, is crafted with an ultra-compact and lightweight frame. This design makes it highly agile, especially in confined spaces or when used within vehicles.
The MPX Copperhead boasts a monolithic Elite Series Cerakote finish upper receiver, coupled with an integrated stock knuckle lower. That is a departure from the conventional upper and lower receiver design found in the standard MPX.
Additionally, the Copperhead comes equipped with a 20-round magazine, which is tangibly smaller than the 30-round magazine that comes with the standard MPX. However, this decrease in capacity contributes to the Copperhead's compactness and lightness, making it an ideal pick for those needing a less conspicuous firearm.
The Sig Sauer MPX Copperhead is fitted with an integrated muzzle brake, whereas the regular MPX K comes with a Flash Hider. Although users can mount their preferred muzzle device on either variant (since both barrels are threaded), these are the default configurations.
In terms of control mechanisms, both the MPX and the MPX Copperhead are fully ambidextrous. They feature dual-sided selector switches, magazine releases, charging handles, and bolt releases.
Despite these variations, both the MPX and the MPX Copperhead utilize the same dependable gas-operated, short-stroke piston system, ensuring smooth operation and reduced recoil.
Conclusion
The Sig Sauer MPX K is an excellent choice for a personal defense weapon. Its user-friendly design, lightweight construction, and soft recoil make it easy to handle and highly suitable for both experienced shooters and novices alike. Whether you want to use it as a home defense gun, put it in your backpack or take it with you to the range, both variants of the MPX series offer reliable performance and accuracy that won't let you down. Whether you choose the standard MPX K or the Copperhead version, rest assured you acquire a gun that will have your back.
If you are interested, check out our other Sig Sauer articles:
FAQs
What is the Sig Sauer MPX K?
The Sig Sauer MPX K is a smaller variant of the widely recognized MPX range of firearms, specifically engineered for superior handling and agility.
What are some standout features of the Sig Sauer MPX K?
A few distinctive characteristics of the Sig Sauer MPX K are its AR-15-like pistol grip, fully bidirectional bolt release, and compact form factor. Even though it's smaller in size, it does not sacrifice the precision and gentle recoil that the MPX line is praised for.
What is the magazine capacity of the Sig Sauer MPX K?
The Sig Sauer MPX K comes standard with a 30-round magazine, offering a generous amount of ammunition for a wide array of shooting circumstances.
How does the Sig Sauer MPX K handle recoil?
Despite its smaller size, the Sig Sauer MPX K is renowned for its minimal recoil. That is primarily due to its short-stroke, gas-operated piston system that guarantees a smooth operation and diminished recoil.
What is the barrel length of the Sig Sauer MPX K?
The barrel of the Sig Sauer MPX K measures 4.5 inches in length, adding to its compact design while still upholding the accuracy and dependability that the MPX range is acclaimed for.