By David Link

Laser sights are popular with a lot of pistol owners, especially for self-defense, but not everyone is a fan of mounting a laser sight on their firearm. Some maintain that nearly all targeting should be done with iron sights, and once proper use of iron sights is achieved, there's no use for a laser sight in the first place. There's also the issue of laser activation as some opponents argue that there is no time to worry about activating a laser sight during a confrontation. Others are insistent that laser sights can increase accuracy for the majority of shooters and that a laser sight can be very useful when shooting from awkward positions. Many companies have addressed the issue of laser activation by developing fool-proof activation features as well. Then there is the red vs. green laser debate that further complicates issue, but for a complete breakdown on red vs. green lasers, we recommend: Red Vs. Green Lasers: Smackdown.
Whatever your view on laser sights, there's no doubt that they can be of great use to some shooters, but how do you choose the right brand for your needs? We break down the offerings and advantages of five popular brands below:
Crimson Trace
Crimson Trace is one of the top brands in laser sights, and their unique technology differentiates them from most other laser sight brands. This is because their lasers are typically embedded in an attachable grip that goes over the factory grip of a pistol. The technology is called Instinctive Activation, and it allows for activation of the laser sight simply by gripping the pistol with a Crimson Trace laser sight attached. When you holster or take your grip off the pistol, the laser sight is deactivated. This technology is available in the Lasergrips and Laserguard models, and it provides a distinct tactical advantage.Instead of the extra second or so to flip on a laser sight, Crimson Trace sights work right away, and in self-defense or quick-draw situations, this can present a huge advantage.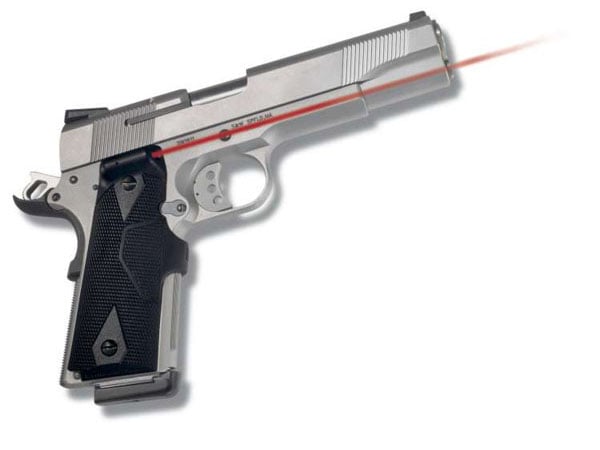 Grip and trigger guard laser models are zeroed out to 50 feet but can be adjusted if need be, and you can turn the laser completely off for situations when you don't need it. Those who want a more traditional laser sight can also use rail mounted lasers available in their Rail Master series. Crimson Trace lasers are custom fitted for specific pistol models and brands so make sure you select the correct Crimson Trace laser to fit your chosen manufacturer.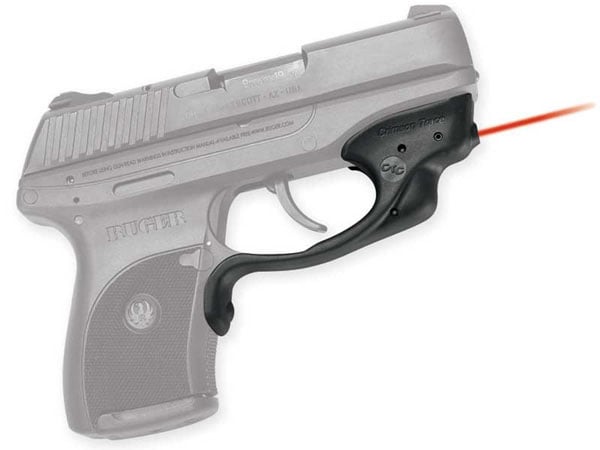 LaserMax
Lasermax is another big name in laser sights, and their pistol sights offering is as extensive as their long gun laser offerings. For the purpose of this article we'll concentrate on the pistol-specific models including guide rod lasers and centerfire lasers (similar to trigger guard lasers). Lasermax guide rod lasers are sleek replacements for the recoil guide spring in semi-auto pistols, and because the laser sight is housed inside the pistol, there's no added bulk as the pistol handles the same as if it didn't have a laser sight at all. Better yet, most guide rod lasers weigh less than an oz, and they won't interfere with the feel or balance of the gun. Their unobtrusive design doesn't interfere with holsters at all either. Guide rod lasers can be installed at home by the user, and the Safe Activation feature allows for split second activation when needed. LaserMax guide rod lasers are worth a look because their proximity to the barrel ensures the closest out of the box accuracy of any laser sight.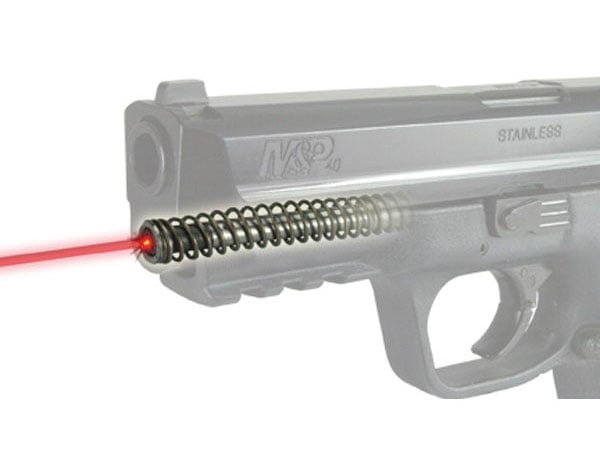 As an alternative, you can also look at the centerfire laser models from LaserMax. Their centerfire lasers are tailored for compact / subcompact pistols that don't have an integrated rail, and they are installed in front of the trigger so the laser is up near the muzzle. LaserMax centerfire lasers are activated by an ambidextrous switch near where your trigger finger normally lies when it is not on the trigger, and an auto-off feature ensures you don't leave the laser on all night if you forget to switch it off. S&W revolver users should check out the J-Frame models for a unique fit in a revolver-specific laser sight.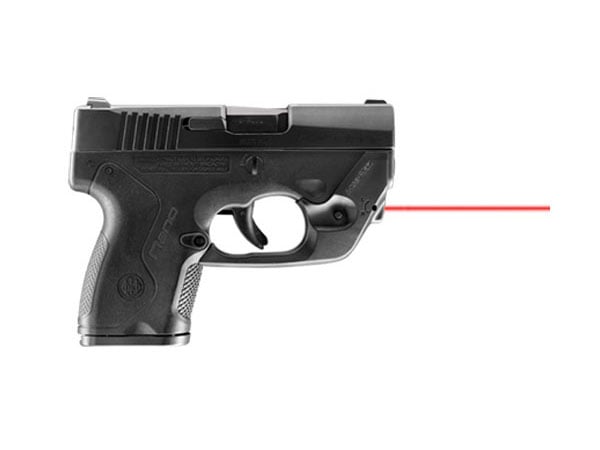 Streamlight
Streamlight is probably best known for their extensive flashlight offerings, but they make several great laser sight / flashlight combos for pistols and long guns as well. You'll find most of these combos as part of the Streamlight TLR series of light / laser combos, and depending on the model, they typically accommodate a range of different pistols as well as universal picatinny attachment. Streamlight lasers are generally larger than other models because of the integrated flashlight, but the newest Streamlight model, the TLR-6, is smaller than most and is tailored especially for Glock 42 and 43 sub-compact pistols. Make sure to pay attention to model compatibility with your firearm, and not all TLR products are laser / light combos, so make sure you get a combo if you're looking for a laser sight.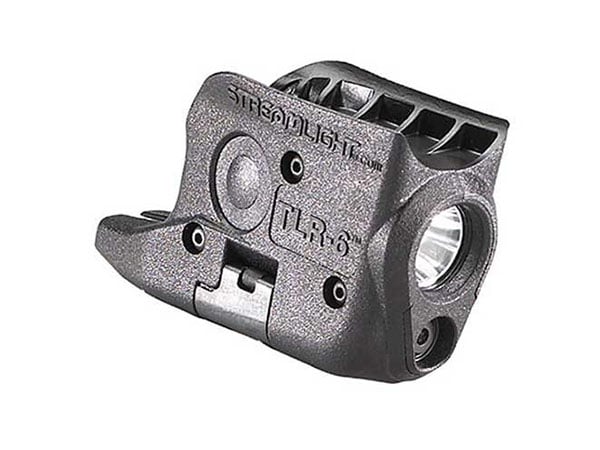 LaserLyte
LaserLyte is best known for their laser training devices, and if you want to practice your shot safely at home, you should check out their laser trainers. But LaserLyte also makes laser sights for pistols that attach either to the pistol rail or on the trigger guard. Models like the Lyte Rider have been created with universal application in mind, and almost any pistol with a picatinny rail can accommodate them. For certain pistols that don't have rails, the trigger guard laser models from LaserLyte are easily installed and create a streamlined curve in the front of the pistol. There's even a trigger guard model for the Taurus Curve. Each laser sight can be customized to fit the power consumption preferences of the user including always on and 6 minute auto-off features.

Viridian
Viridian has taken a different approach to laser sights by focusing primarily on green laser sights and pairing them with an innovative holster system. Viridian's holster system is known as the ECR (Enhanced Combat Readiness) holster, and once the laser sight is attached and inserted into a ECR holster, the sight is primed. When the weapon is later drawn from the holster, the laser sight activates automatically as you draw. This way there is no concerns with laser activation or power saving. Pistol mounted flashlights can also use the same ECR technology. Viridian holsters also use a TacLoc locking feature which maximizes weapon retention by requiring the user to hit a release button before the weapon can be drawn. Viridian lasers can be purchased with or without the matching TacLoc holster depending on your preferences.