By Kip Staton
The Vortex Razor HD Gen II 1-6×24 represents a top-of-the-line brand with top-of-the-line features, and it is fast becoming a benchmark in the upper end of the AR-15 optics market. Needless to say, the reputation the Razor HD Gen II 1-6×24 has garnered in the three-gun and tactical communities says quite a bit about this scope.
Once you get to this level in the world of optics, you no longer need to wonder things like: "Will it hold zero?" or "Do the turrets track adequately?" With the Razor HD, those things are a given.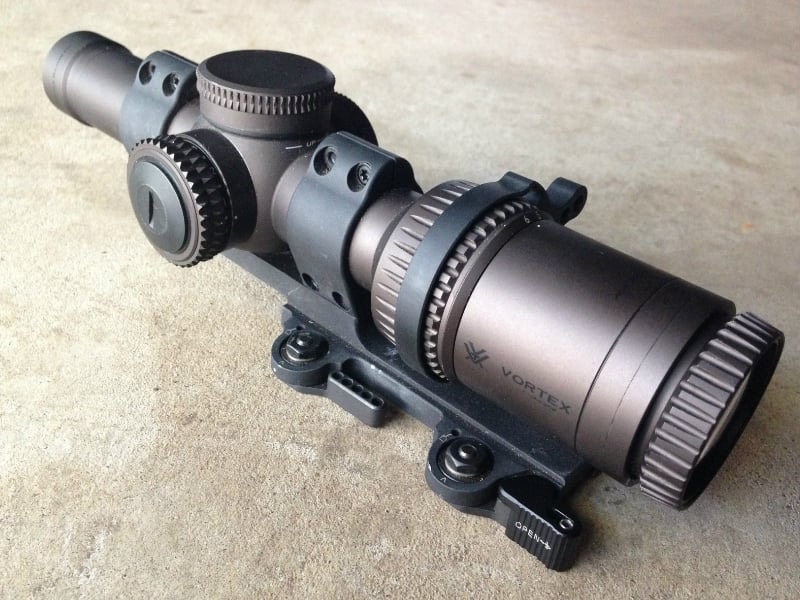 Asking the question: "Is the Razor HD Gen II 1-6 a good scope?" is sort of missing the point. Rather, users should ask themselves whether or not their needs require the high-end features and performance that the Razor HD Gen II offers. Because if we're honest, not everybody does.
But, for those who want what are essentially the capabilities of a red dot sight mixed with the performance of a quality mid-range riflescope, the Vortex Razor HD Gen II 1-6×24 deserves a hard look. And here's why:
Eye Relief and Eye Box
This is one of the most impressive features of the Razor HD 1-6, and the one that makes it worth every penny in my book. I've never used a variable-power scope that's more forgiving of eye and head placement than this one. It's awesome for shooting out of unconventional positions and for doing things like competing in 3 gun matches.
And yes, it's a true 1x on the lowest magnification. This fact, combined with the aforementioned impressive eyebox, generous eye relief and a day-bright illuminated reticle make it as fast as a red dot, for all practical purposes. And the bright image doesn't hurt either.
Reticle Design
One of the first complaints that many have of this scope is that the reticle isn't in the first focal plane. In practical use, it's just not a big deal. I don't know of many applications for ranging targets while not dialing the scope on its maximum magnification setting, although the ability to use the lower mil stadia to hold over at any magnification might be useful.
We have to remember that on the rifles this scope is geared towards, we're dealing with a maximum point blank range of several hundred yards. So, holding dead on the target is a viable strategy in many circumstances. Engaging targets past the point blank range will normally be done on the highest magnification setting anyway, where the mil marks happen to hold true.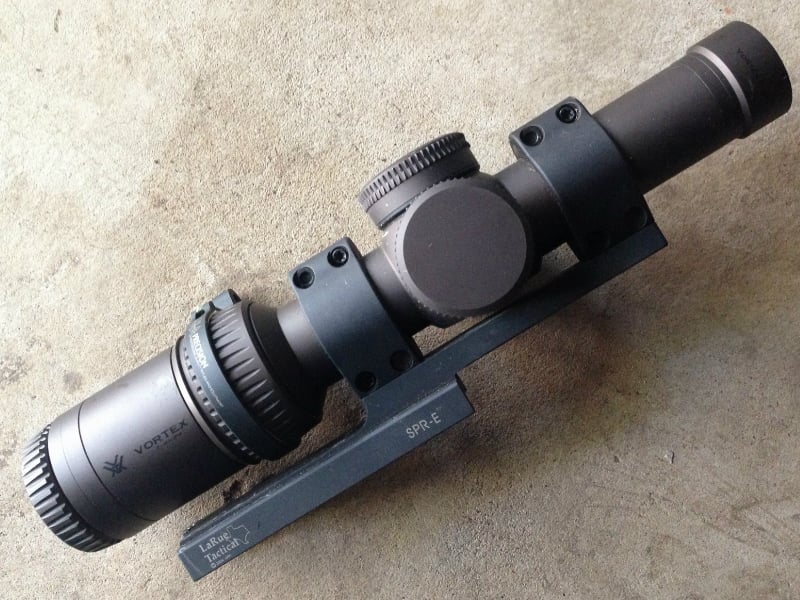 I suppose that snap-shots on a target 400+ yards away are conceivable but not entirely likely to be a consistent target opportunity. For that rare occasion, it's not impossible to figure out what the holds represent at different magnifications, if you really have to know. And you can always dial in with the turrets if you just have to use the lower magnification at longer range.
My opinion: If you're shooting things far enough away to require a major hold over, you'll have it on the max magnification anyway.
Reticle Illumination
The illumination is definitely daylight bright, which can be a big deal to some shooters. The knob literally goes "up to eleven" with off positions between each brightness level. It blooms broadly at the highest setting, even in the afternoon sun. That's not a bad thing, as the lower settings are great for everything from night to brightest day.
Bottom line: You've got plenty of range in the illumination. It's "Aimpoint bright."
I should point out that much like any red dot, this one appears blurry to my astigmatism-cursed eyes. Such is life. But that fact that it's a very small dot helps some in this regard. Power is provided by a standard CR2032 coin-style battery, which is nestled in the brightness adjustment turret.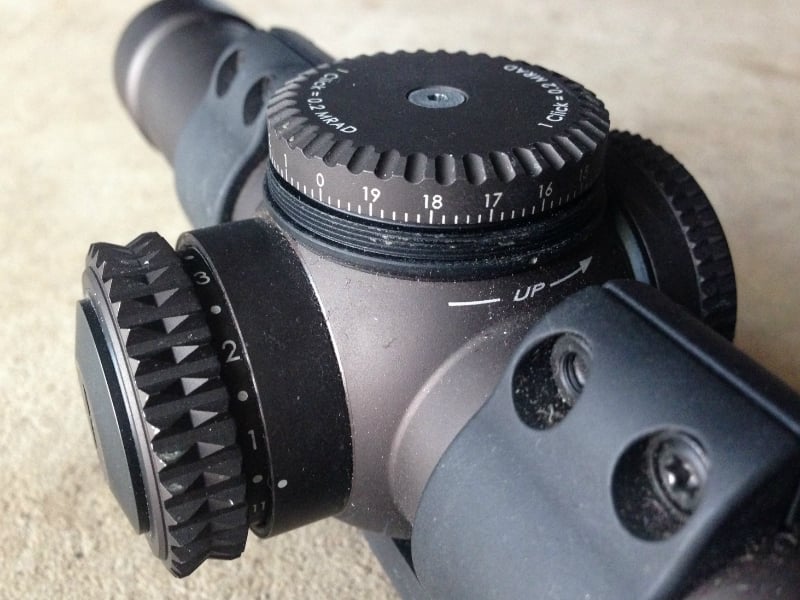 Speaking of the turret, it's very well designed. The default position locks the adjustment in place, and requires a firm pull outwards to let it click to different brightness settings. I can't really see a way that it could come on (or be turned off) accidentally.
Like the rest of the controls on the Razor HD Gen II 1-6, it's pretty flawlessly executed.
Glass Clarity
One of the most significant selling points of the Razor HD Gen II series is the line's stellar glass quality. Even though the maximum magnification of this particular model is 6x, the extreme levels of clarity made it easy to spot and self-correct hits as far away as 1000 yards (the furthest distance that I was able to use the optic).
This is a case where optical resolution beats magnification. I've owned and used many scopes with a higher top end magnification than 6x that didn't even come close to the performance of the Razor HD Gen II.
Many times, shooters feel that they need a high-powered rifle scope to shoot and see long distances. In reality, resolution is usually far more important.
Can it really be that good?
There is one major con to this rather exceptional optic: It's a boat anchor. At 25.2 ounces, it's one off the heaviest scopes in its class. Mounting this beast to an AR-15 after running a red dot for a few months noticeably affected the handling characteristics of the rifle.
That being said, I think the features completely justify the added weight. Also of note: The power adjustment ring is very, very stiff. I highly recommend adding some type of throw lever or cattail to increase leverage.
On the range
Most of the shooting I was able to accomplish with the Razor HD 1-6 was 200 yards and under, on IDPA-sized targets. The ability that the scope has for functioning like a very heavy red dot is just amazing. It really needs to be experienced to be fully appreciated.
On one occasion, however, I made the pilgrimage to The Best of The West shooting range in Austin, Texas, which offers steel targets out to 1,000 yards. And this is where the enhanced feature set of the Razor HD Gen II series really shines.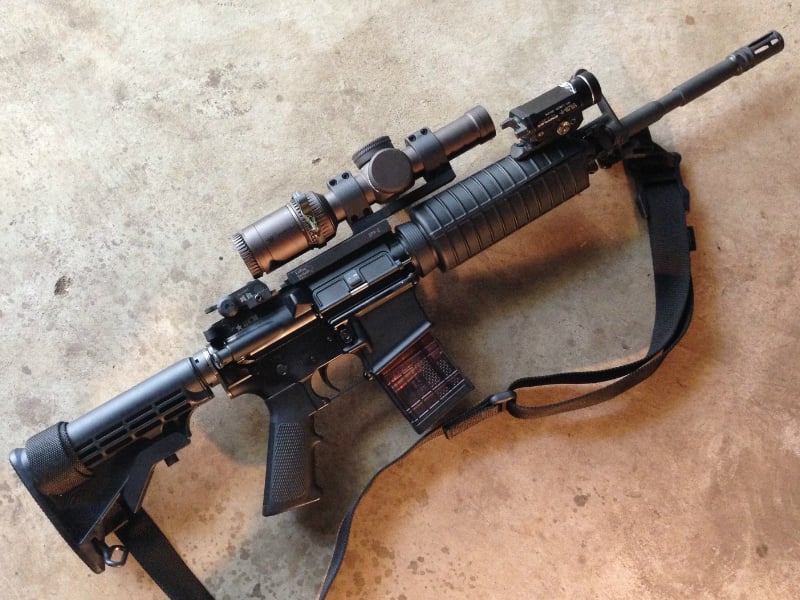 Mounted on my little 14.5" government-profiled BCM upper in a LaRue Tactical mount, the Razor HD Gen II 1-6×24 proved to be well up to the challenge of ringing 18"x24"steel reliably out to 750 yards. It was easy to spot misses and correct for wind drift at that distance, even with "only" a top end magnification of 6x.
I also shot briefly at 1,000 yards with some heavy 75 grain handloads, but widely varying wind conditions and slow, slow bullets at that distance made consistent hits difficult. At least it was easy to see where I was missing.
Conclusion
Yes, this optic is expensive. However, the value for the dollar amount spent is pretty amazing. Impeccable clarity, a useful reticle, daylight illumination and the ability to function at the same level as a red dot are difficult to obtain in a single package. This scope does it.
At the end of the day, the Vortex Razor HD Gen II 1-6×24 doesn't really have any one part that noticeably stands out; everything works really well together. It was refreshing to use a piece of gear that gave literally me no trouble and performed exactly as advertised.
But that's generally the case with any high-end piece of kit. You aren't just buying quality. You're buying peace of mind, which can truly be priceless.