Last Updated on
No… I didn't need an AR 15, but with the talking head politicians already starting to dominate our culture for next year's election, I figured the topic of banning semi-automatic rifles – and their ammo – once again isn't in the too distant future. Those who have read my work before know I am a humble public servant… a teacher, blessed with four active and hungry kids. Being a teacher with a houseful of children means I don't have a lot of extra money to spend. And like most red blooded American fathers in the midst of all of our crazy lives, I know it's my job to make sure my family is protected in an emergency. In looking at GritrSports.com, I saw that they were running a special on ARs. That email newsletter certainly got my attention, and I learned that one of their blowout guns was the Del-Ton Sport AR 15. I did a bit of online research and decided to give it a try. The Sport model is a basic, bare bones starter AR – perfect for a guy like me. It does not come with a dust shield, or any forward assist option. In fact, I needed to order a Magpul rear site with it. It's completely American made and assembled, which is important to me. The gun, the site, and a few boxes of inexpensive ammo was still super affordable!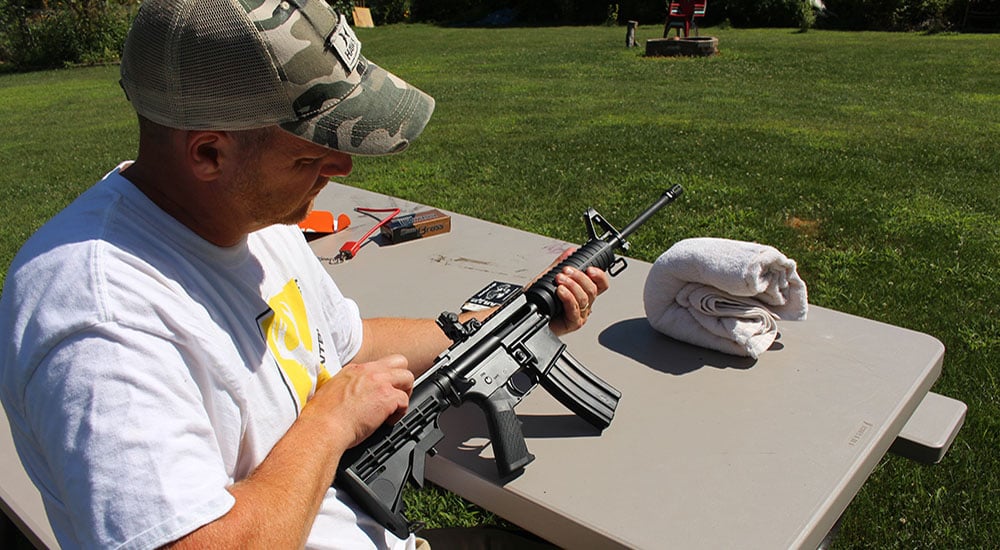 Being the first ever AR I've even purchased and only my 3rd gun review to my name, here's my "Rookie Review" of the Del-Ton Sport AR 15. I do want to add, I had my dad, a three tour Vietnam Vet shoot the gun with me for the first time. I'll add in his opinions as well.
When my gun arrived, I couldn't wait to shoot it. A family vacation was allowing us to head to God's country – Michigan's Upper Peninsula for a little R&R. The sportsman's club that we belong to up there has a lengthy rifle range, so I brought along the gun to shoot. When I first pulled it out of the box, to be honest I was surprised at how small it was. But… then I remembered it is a carbine, and the stock wasn't extended at all. I like the stock option in fact, and with six different positions it will fit almost everyone. My gun came with a 30 round magazine, so with my dad's help (like I said, VERY new to the whole AR thing), I loaded it and was ready to fire. Within five shots, I was drilling the bullseye at 25 yards with some slight adjustments of my Magpul site and the front site pin. I need to add that the front site pin on the Del-Ton twists with a slight click to either raise or lower itself. I liked this option. It was easy to twist with a Leatherman pliers, but there's no way it could happen on it's own. The gun barked loud but hardly kicked with each shot, and it was easy for me to get back on track.
I'll never forget looking at my dad and hearing him say: "Imagine being an 18 year old kid…in the middle of the jungle with one of these, scared as hell…imagine how much ammo we went through." My dad usually doesn't talk a lot about the war, so I was all ears. I could see what he meant. I could visualize what a fully automatic version of this thing could do, and all I could think was how hard it would be to keep it on target and not let it walk up into the jungle canopy. I let him shoot the gun as well and so far he liked it too. We bumped the target out further and further, and we were still hitting a paper plate at 100 yards. It began to rain, so I called off the shoot at that point. I look forward to sighting it in further, and I may possibly add a scope at some point. With the Del-Ton's picatinny rail mounting system, it would be easy to add one.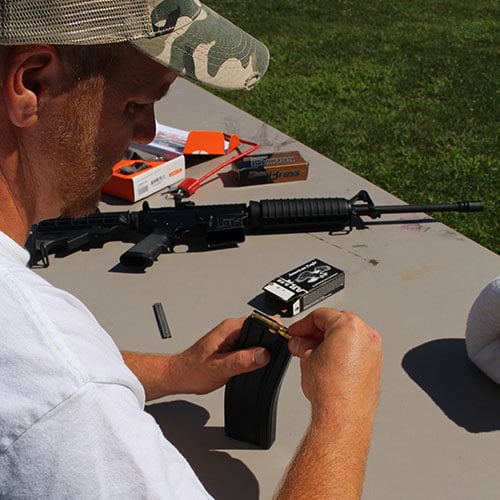 As far as the gun itself, it's sharp. Like I said, it's a no frills AR, but there are still a lot of features on it. Chambered in 5.56 NATO, it will also shoot .223 ammo. I learned that the reverse isn't true, but any 5.56 gun will accept both cartridges. The barrel is a 16" lightweight barrel that has a 1×9 twist. There is a heat shield, a flash hider, and the six position M4 stock will fit any shooters desired length. The grip is easy to use and comfortable, and the hand guard was simple to grasp. I thought the magazine dropped out nicely and clipped in easy as well. Clasps on the stock and in front of the hand guard allow for easy attaching of a sling. My dad also showed me how easy it is to field strip this gun and holy cow was it simple! I bet with a bit of practice, I could tear it apart with my eyes closed. To be honest, being such a newcomer to the virtues of the AR platform…I don't know what else I would want in one.
Overall, I really like this gun for several reasons. Even with inexpensive ammunition it fired every time I pulled the trigger, and it hit where I aimed. The trigger pull is solid but manageable. This isn't the kind of gun you want going off as soon as you breathe on the trigger – so I was OK with it. I know other people who put more time and energy into their AR's might want to modify the trigger poundage a bit, but I'm comfortable with how mine is set. It was priced fairly, and this leaves me with a lot of options for customization. My dad wished it had a dust cover and forward assist, and I can see his point, but for now, I think the Del-Ton Sport AR 15 is a great starter rifle. With neither of us wanting this gun to get into the wrong (or curious) hands…we both liked the traditional thumb safety and the gun lock that came with it.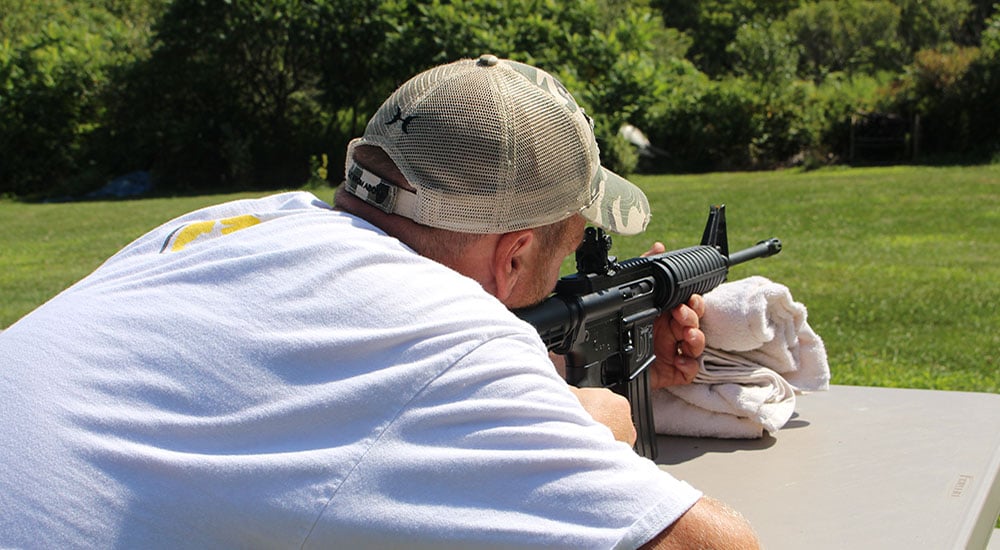 I see myself using this to shoot brave coyotes that wander in too close to my chickens, disposing of some old pumpkins each fall, or taking it to the annual Upper Peninsula trip for some shooting with my dad. I hope I never need it to defend my home and family, but just in case, I plan to continue to stock up on ammunition and get it sighted in out to at least a few hundred more yards. I'll eventually need a scope, but for now with my budget and time, the Del-Ton Sport AR 15 is the perfect gun for me.