One of the hottest trends in the firearms industry over the past two years has clearly become the handgun mounted red dot. As a long-time staple of Unlimited Class competition pistols, the manufacturers have found ways to make the red dots smaller and more durable to transition them to every day carry pistols. As a proven leader in the market, Vortex Optics has been on top of things with not one but two new handgun red dots released for this purpose. In addition to Vortex's original open designed Razor red dot which has been on the market for a few years now, the new Venom and Viper red dots are slightly smaller to fit common handgun mounting plates such as those supplied with the Glock MOS and Smith and Wesson M&P Core systems. This week, we will look at each of these featured new optics, explore the benefits of using a red dot equipped handguns and how these two differ despite looking almost identical.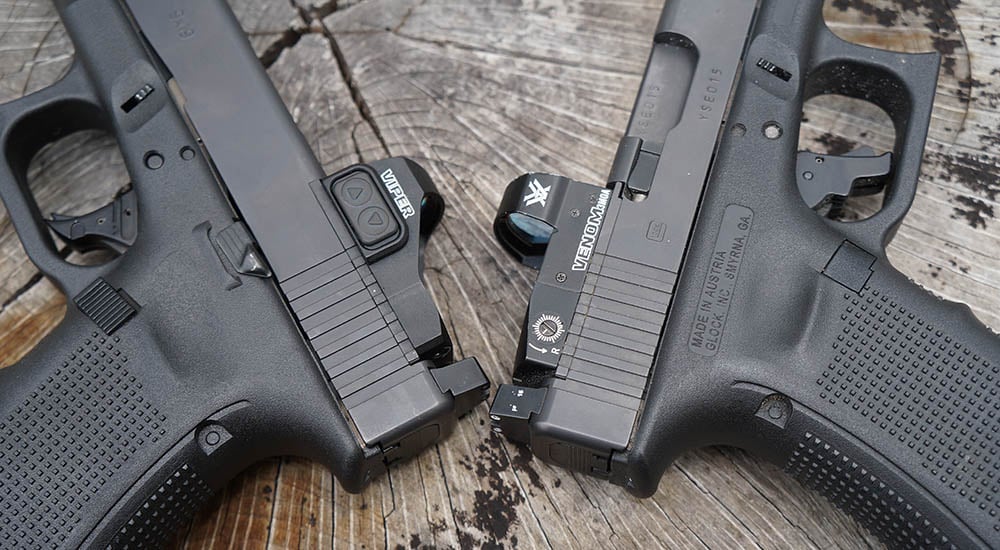 Red Dot Advantage
To really get a good idea of how important the Venom and Viper red dots are to the industry right now, we need to first understand why they are so popular to handgun shooters. Traditionally, handguns have always used the tried and true iron sights either being a three-dot system or a standard "U" shape with front sight. Tactical rifle shooters throughout the late 1990's into the new millennium discovered firsthand that by using a red dot optic, their speed getting on target and transitioning from one to another greatly increased. As previously mentioned, these red dots along with some slight modifications to the mounts for use with handguns started showing up on the competition circuit at the same time. Between real world use on rifle platforms and lessons learned on the competition field, a lot of very useful data was gained along with educating more and more shooters on the advantages of red dots.
Aside from speed, the red dots were found to be more useful to shooters with aging eyes who couldn't see iron sights very well. The variable brightness of these sights allowed for shooters to see better in a wider range of lighting conditions. Not only could shooters see the sights better, they soon discovered their shot distances increased as well due to the single point aiming which typically offered a less obstructed target view than traditional iron sights.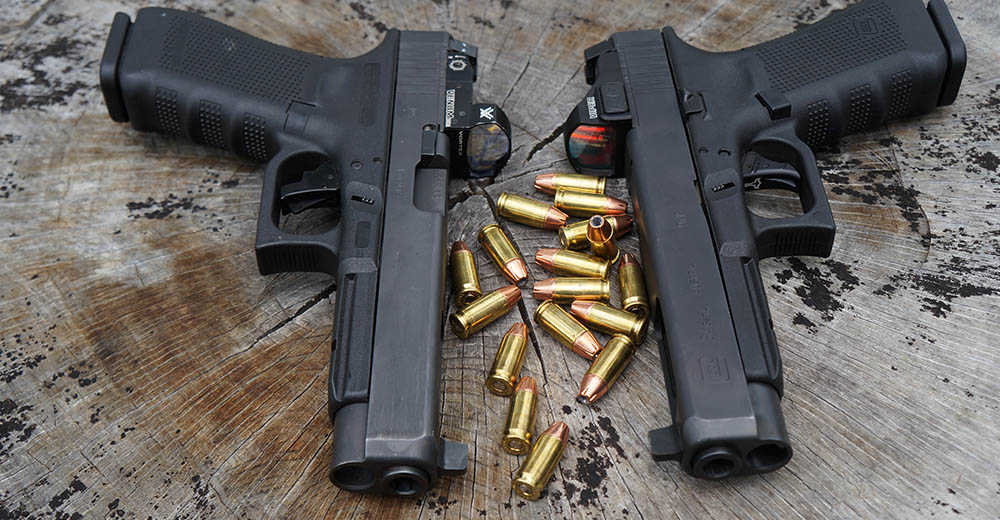 Tactically, these pistol red dots offered several advantages on the battlefield and in the streets serving Law Enforcement. Having the single dot to focus on allowed for a better field of view on target and situational awareness. Traditionally, the shooter needed to maintain focus on the front sight and allow everything else to blur when taking the shot. The red dot allows a much better view on target while still seeing the red dot clear and focused. Special teams also enjoyed the red dot's compatibility with their Night Vision Devices. These NVGs as they are often referred to can pick up the single red dot much better than having the operator try to figure out where the non-illuminated iron sights were in the dark.
Venom
Reticle 3 & 6 MOA Dot options

Dot Color Bright Red (Adjustable)

Eye Relief Unlimited

Weight 1.1 oz.

Length 1.9"

Max Elevation Adjustment 120 MOA

Max Windage Adjustment 120 MOA

Magnification 1x

Mount Picatinny

Battery CR1632 Included (Top Mount)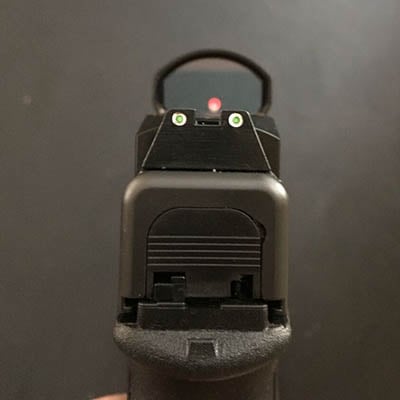 Viper
Reticle 6 MOA Dot

Dot Color Bright Red (Adjustable)

Mount Picatinny

Eye Relief Unlimited

Weight 1.34 oz.

Length 1.8"

Max Elevation Adjustment 130 MOA

Max Windage Adjustment 100 MOA

Magnification 1x

Mount Picatinny

Battery CR2032 Included (Bottom Mount)
Additional Items Included in Each Box
Picatinny Mount

T-15 Torx Wrench

Rain Cover

Lens Cloth

Mounting Screws

CR 1632 Battery

Screwdriver
Range Time
Last year, I was fortunate enough to receive both the Viper and Venom red dot optics for testing on a pair of Glocks I had access to. Fellow gun writer for the Swanson Media Group, Craig Reinolds ran the Viper on his personal Glock 34 MOS 9mm while I initially tested the Venom on my own Glock 34 MOS. My first test of the Venom red dot came at a local indoor range the day after mounting it to my pistol. After roughly 30 rounds, the optic flew off. Let me repeat, the optic flew O-F-F! Fortunately, even after a thump on the concrete floor, the Venom was still undamaged and working perfectly. After inspecting the mounting screws, it appeared the treads were stripped from them. I took a quick trip to the local hardware store and found a bag of steel screws the same size as the factory screws from Glock. With a dab of blue Loctite and the two new screws, this was never an issue again. Since this incident, I have only heard about this being an issue from two other shooters on the Glock online forum, both being with the exact gun and red dot combo.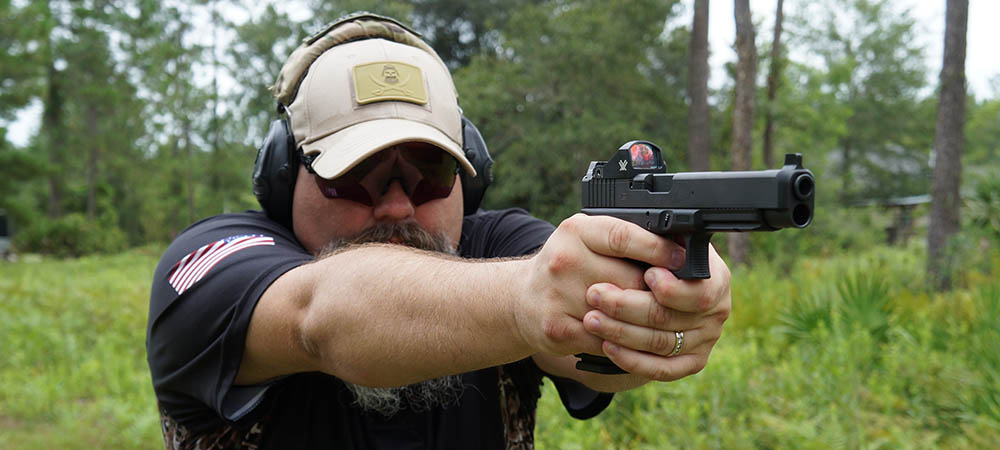 After a few trips to our private training facility known as "The Swamp," the first reports on the red dots were almost identical. Craig and I agreed, first we would need to change the factory Glock sights for suppressor sights for them to be tall enough to co-witness the optics. Secondly, there was a definite learning curve to using red dots on pistols despite both of us having years of training with red dot optics on rifles. Developing muscle memory to allow for a swift and smooth draw into a clear sight picture takes time and lots of repetition. Regardless of these issues, the advantages early on were clearing being seen by both of us.
Once Craig and I replaced our factory sights with a pair of fantastic suppressor night sights from Trijicon, things only got better. With being about to co-witness my new iron sights with the red dot, my ability to index targets grew by leaps and bounds until I acclimated myself to using only the red dot. After reaching out to one of Swanson Media Group's own, John Phillips of Survivor Creek Tactical, I had him build a slim profile, versatile holster for my Glock 34 using the interchangeable RTI system allowing for belt and Molle loop carry.
To meet Craig's needs for daily carry, a low-ride holster was designed from none other than the King of Kydex himself, John Phillips of Survivor Creek Tactical as well. Once receiving the holster from John's shop, Craig's Glock began to ride inside the waistband of his jeans every day for work and play. For those who aren't familiar with Craig's day job when he isn't writing, he owns a well-renowned heating and air conditioning business. At least 5 days a week, Craig can be found crawling under houses and through 100-degree attics to install units and repair damaged equipment. This is important to note because Craig's Glock must endure everything he does while riding inside the waist band of his jeans. Not only does this put a strain on the guns finish but also tests the durability and reliability of the red dot attached. Over the year's duration, the optic survived and continues to perform just as well as the first day it was mounted.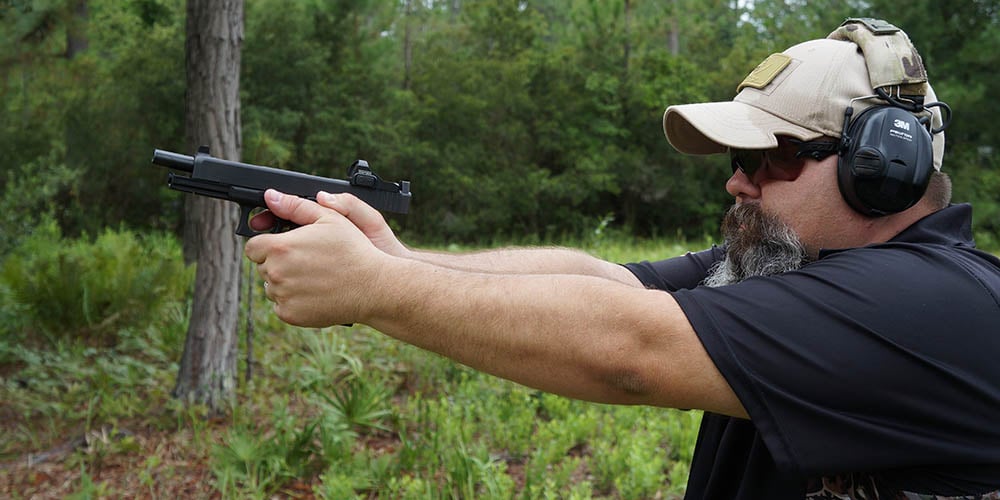 As time passed, Craig and I started to compare notes again on various situations the optics were tested and how they performed. Craig worked a lot on lighting conditions out in the field during late evenings and night. The red dot worked well on steel targets out to ranges of 25 and 30 yards despite optimal lighting. This gave Craig confidence in using his daily carry as his sidearm of choice while also out kayaking and hunting.
At the same time, I had been using the Venom while teaching as an NRA Instructor on an indoor range every Sunday morning. This range is very poorly lit but creates some of the best indoor low light training you can ask for. The versatility of brightness adjustment allowed the optic to perform wonderfully for my students and me. By allowing shooters to use one of my red dot equipped pistols in conjunction with their personal pistols with iron sights has proven to give them an added training dynamic in making them better overall shooters. The red dots give shooters better performance which leads to more confidence in pushing their limits on their own with their guns. Teaching my new shooters how to use the red dot platform tended to result in a smaller learning curve than with my more experienced shooters. With new shooters, there were no preconceived concepts about traditional sighting as opposed to more experience shooters having to learn a new sighting system as I did.
For my defensive pistol students, a great bonus was discovered in the red dot's "L" shaped design. The right angle formed by both the Viper and Venom offered fantastic leverage in operating the pistols one-handed. When using one hand only to reload and manipulate the pistol, the shooter often must use the top of a belt or edge of a boot to catch the slide with enough tension to release the slide and chamber a round into battery. This can be taxing on a lesser quality optic. Both the Viper and Venom served as a sturdy makeshift lever to perform this task flawlessly.
I was so impressed with what I had heard from Craig and what I had learned from the Venom, I decided to personally try one of the Viper units as well. Since I was already familiar with how well the Venom performed on the 9mm platform, I decided to see how well it held up on my Glock 40 MOS chambered in 10mm which I use as my "woods gun" when I am out hiking or hunting. The new Viper would be tested on the same platform as the Venom was to keep things equal, so I mounted in on my Glock 34 MOS.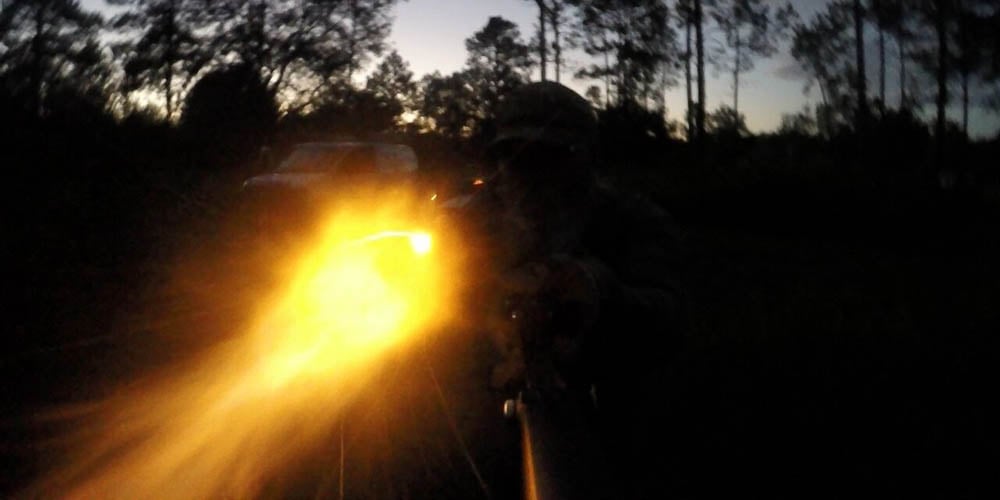 After several months of testing both optics, I started to notice the Venom began to turn off during the 10mm's recoil. I researched the issue and learned the connectors under the battery often get bent during heavy recoil and will not allow the power to continually flow. After placing a small shim under the battery, this was no longer a problem for the rest of the test period. The Viper red dot performed without issue and to the same great results as the Venom. Both optics were very impressive and proved to be trustworthy systems for work or play.
At the end of more than a year of testing, Craig's Viper had not needed a battery replaced and saw zero issues with the optic. Between the Venom and the Viper units I tested during the same period, I only encountered the one mentioned issue with the battery prongs inside the unit and needed to replace the batter on the Viper after constantly forgetting to shut off the unit after my range trips. Thankfully, the built in 14-hour auto-shut off helped save a good amount of battery life. All units tested were ran on roughly a medium setting and reached or exceeded the 20,000-hour mark.
Final Thoughts
With a retail price of $329 for each the Viper and the Venom, the decision on which is the best optic lies completely within the individual shooter's personal preferences. Currently with just over a year of experience with both the Vortex Viper and Venom optics now on my pistols, both are still going strong and performing well. I have found in my experience, the lower profile of the Viper had the slight edge with pistols due to the location of the battery compartment and better view when co-witnessing with suppressor height iron sights. You will find the CR2032 an easier battery to find in a wider array of stores than the Venom's CR1632 battery as well. The Venom red dot is perfect for the Picatinny rails of shotguns like the Benelli M4 rifles like the AR platform and especially for subguns such as the HK SP5K. The open field of view is much quicker in acquiring a target than the tunnel vision a standard tube framed red dot offers.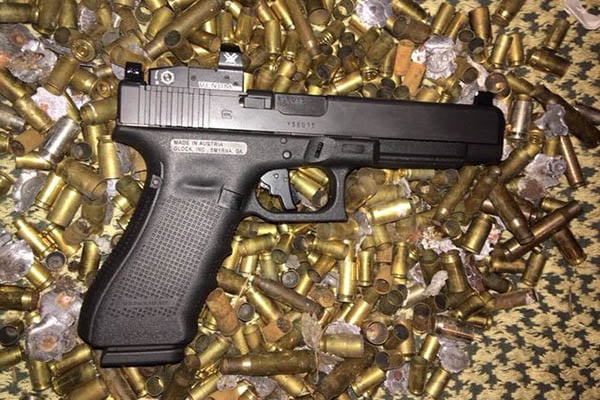 This open view comes at a small price when comparing the tube style red dots with the open glass design of the Viper and Venom red dots in the form of increased exposure to the elements that may cause damage to optics. Through hard use and daily carry between Craig Reinolds and I, we have found no damage or signs of wear to any of the optics tested during the past year. Even in recent independent torture test on these red dots or several others, have all put them in the top tier for extreme durability in the industry. If something should ever arise however, Vortex's amazing full lifetime "no fault" warranty on all their optics ensures one less problem you would need to worry about. I invite you to check out 1800GunsAndAmmo.com's full line of Vortex Optics and discover which one is right for you.