Last Updated on
The global pandemic didn't stop gun manufacturers from tossing out new products. 2021 is showing signs of life in the firearm industry and here are the TOP 5 NEW GUNS OF 2021 to prove it.
SMITH & WESSON – SHIELD PLUS
The last several years have seen an incredible growth in the number of people who conceal carry. Inside the concealed carry world there are endless options to choose from – S&W M&P Shield has been one of the most popular ones. S&W decided not to stop there and make the gun even better. So, the new S&W Shield Plus was released. This gun looks like a standard S&W Shield, but now it comes with an extended mag giving it a 13+1 capacity. Additional enhanced features include a flat face trigger and a more balanced grip texture, which allows the user to manage recoil, keep a firm grip and not irritate the skin while carrying concealed.
SMITH & WESSON – SHIELD PLUS SPECS:
Caliber: 9 mm
Magazine Capacity: 10 rounds
Barrel Length: 3.1 inches
Overall Length: 6.1 inches
Weight: 20.2 ounces
SIG SAUER – P320 XCARRY LEGION
 P320 XCARRY LEGION is a carry-friendly pistol, which is ridiculously easy to shoot well. The flared mag accepts the custom 17-round magazines with aluminum base pads. Additionally, it has a grip module made of tungsten-infused polymer with the weight of steel, and the flex of polymer. New XCARRY LEGION skeletonized trigger makes the trigger pull lighter up to 30% and increases shooting speed and accuracy SIG Sauer P320 XCARRY LEGION pistol – The perfect balance of performance and practicality.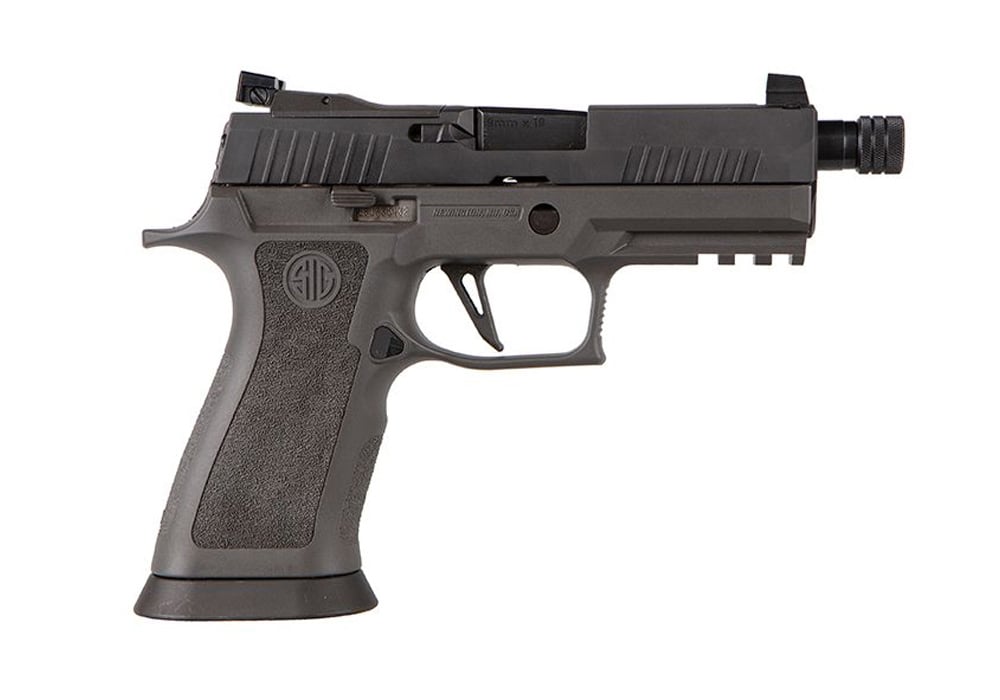 SIG SAUER – P320 XCARRY LEGION SPECS:
Caliber: 9 mm
Magazine Capacity: 17 rounds
Barrel Length: 4.6 inches
Overall Length: 8.1 inches
Weight: 40.5 ounces
TAURUS – GX4
Affordable, high capacity concealed carry Taurus GX4 pistol is perfect for everyday carry to protect you and yours. It offers an 11-shot magazine with a finger extension and a 13-shot extended magazine. (GX4 also comes with 10 rounds for states with restrictions). Aggressive, but nice to the touch grip texture for better comfort and control. The trigger's flat serrated face provides positive contact and a short take-up with a crisp break at 6 lbs followed by a short tactile reset. The sights on GX4 are consist of both a white dot front and serrated drift adjustable rear, as most shooters will install the sight they prefer.
TAURUS GX4 SPECS:
Caliber: 9mm
Overall Length: 6.05 inches
Overall Weight: 18.5 ounce (empty)
Sights: White dot front, serrated drift adjustable rear
Action: Striker-fired
Finish: Gas Nitride
Overall Capacity: 11+1
CZ – TS 2
 A popular Tactical Sport pistol has been missing from the CZ lineup for a few years now. But like the phoenix – it has risen again with upgrades and improvements, bearing the name: the TS2.
It's been reimagined and redesigned to be relevant for today's match shooter in today's marketplace. The TS2 is heavier. The frame has been redesigned with substantial ergonomic changes, very similar to CZ's other modern competition handguns. The trigger guard is enlarged and squared off, the backstrap shape and texture have been changed to match the Shadow 2. The thumb safety is larger and more modernized, and a large mag well has been added. This is all finished off with a pair of distinctive blue aluminum grips with aggressive checkering above. Sights offer a blackout rear and red fiber optic sight picture while being of stronger construction for active use.
The TS2 is an ideal pistol for IPSC/USPSA shooters and beginners looking to get into competition pistol shooting for the first time.
CZ – TS 2 SPECS:
Action Type: SA Revolver
Barrel Length: 5.3″
Capacity: 20+1-Round
Finish: Blued
Front Sight: Fixed
Magazine Included: 1 x 20-Round
Weight: 2.96 lbs
SAR – 109T AR-9
 The SAR 109T is a semi-automatic AR pistol chambered in 9mm. Reliable and maneuverable, this model is ideal for home defense and tactical shooting. The gun features proven SAR's blow-back design and has a free-floating handguard with a Picatinny rail system that accepts accessories. SAR109T comes standard with three 30-round Colt-type magazines, and it is also prepared to accept a traditional pistol buffer tube brace of your choosing.
SAR 109T SPECS:
Caliber: 9mm x 19
Overall Length: 27.8 inches
Barrel Length: 8.7 inches
Ammunition Feed: Magazine, 10/20/30
Shooting Modes: Single/Semi-Automatic
Weight (empty): 4.9 pounds