By Tony Martins, with Patrick Flanigan
In his excellent 2-part series, "The Guns of…" Seth Nadel defined the Pistolero and the Rifle Maestro as persons who are reasonably expert with all kinds of handguns and rifles, adding they "…can turn in a credible performance with any make, model and caliber." In this hopefully complimentary 2-part extension of that theme, the Smoothbore Virtuoso is someone who has working knowledge of all kinds of shotguns from modern to vintage, and can handle them all with expertise and personal flair – the result of having discharged tens of thousands of shells. Furthermore, the Virtuoso will understand the multitude of loadings for the various actions and calibers to insure optimal gun performance in any given smoothbore application. Now this doesn't mean that the Smoothbore Virtuoso will win every clay or other target competition, or limit on every bird hunt with the fewest shots fired, but rest assured that he or she will never be far behind the leader!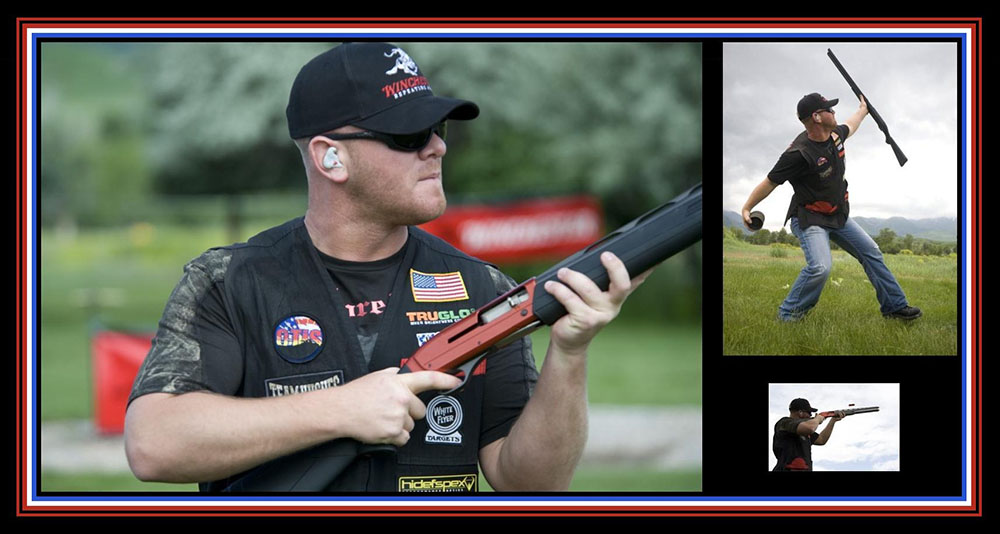 My qualifications to write this piece include more than 5 decades of bird hunting with all types of shotguns, and some modest achievements in competitive clay shooting. It was my privilege to shoot, train and hunt with some of the top competitive shotgunners back in the day, including Olympic and 2-time World Skeet Champion Matt Dryke, his instructor and father Chuck, and shotgun legend Dan Carlisle. Fast forward to today's fast-paced, trend inspired, media-crazed world, and the man who epitomizes the Smoothbore Virtuoso would have to be Patrick Flanigan. This assignment prompted renewing my acquaintance with the Xtreme Sports Shooter and multiple world record holder. Exhibition shooter, entertainer, instructor and bird hunter, Patrick's Xtreme WingShooting School operates at the Jim River Ranch near Redfield, South Dakota, renowned for its superb pheasant and waterfowl hunting. As the "world's fastest shotgun shooter" (12 shots in less than 1.5 seconds) he can really make a smoothbore sing. Add musical talent as an accomplished drummer, and Patrick is truly a virtuoso! His input will be shared along the way.
GETTING STARTED
The road to virtuosity must start somewhere, and for many youngsters it begins with a .410 bore shotgun. How well the shotgun fits is critically important to success with a novice shooter, and many .410's are built on child-sized small frames. Felt recoil is also a consideration, and this is another reason new wing shooters are often started on a .410. This choice however, can be a mistake. In my opinion, the .410 is better suited for experts than beginners, due to its small payload, long shot string, and skill level required for consistent success. (This will be discussed further in Part 2.)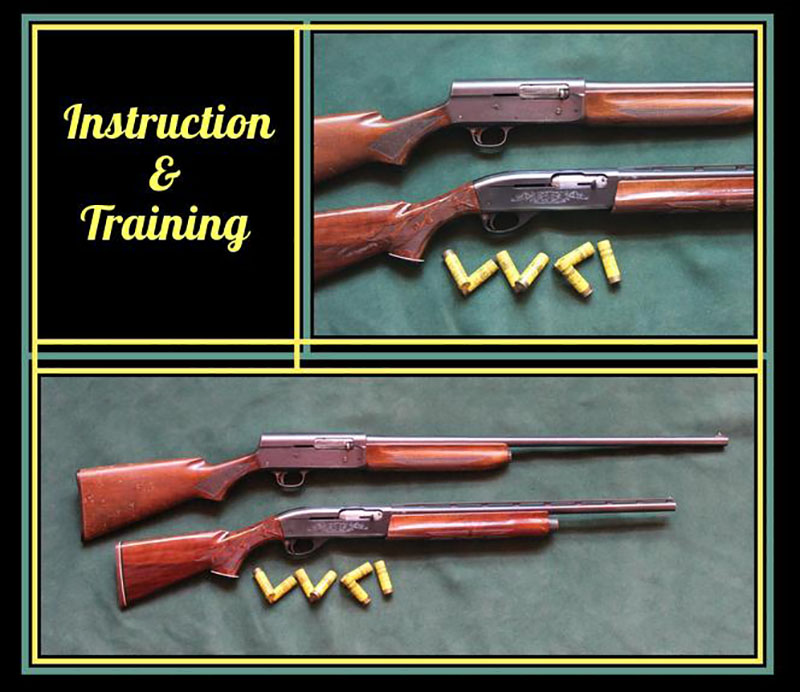 I learned wing shooting with a 1930's vintage Remington Model 11 Sportsman in 20 gauge. This was Remington's version of Browning's famous "humpback" Auto 5, recoil operated semi-auto. Although the full choke barrel is long at 28-inches, the stock and receiver are comparatively short, and this long-armed youngster quickly became proficient with the gun, despite its violent in-your-face recoil. A better choice today would be one of the many "youth model" 20 gauge offerings (see "6 Great Options for Youth Model Shotguns"). For example, Mossberg's 510 Mini is a 5-pound pump-action with 10.5 inch length-of-pull and 18.5 inch barrel, designed to fit the tiniest shooters capable of shouldering the gun.

The Smoothbore Virtuoso will often be involved in training and instructing new shooters, and Patrick Flanigan has taught many youngsters including his daughters to wing shoot with a Mossberg 500 pump-action. The gun I keep for this purpose is a tricked out 20 gauge Remington 1100 semi-auto youth model, with 21-inch barrel fitted for interchangeable chokes and stock shortened slightly to accommodate a thin recoil pad. The stock is easily lengthened for perfect fit with spacers and a slip-on padded sleeve. Its gas-operated action reduces felt recoil, and I typically use factory 7/8 oz. light target loads or handloads of 3/4 to 7/8 oz. of #8 shot fired through an open choke for training. Says Flanigan: "With kids today, if it hurts it's not fun. Old boat-paddle shotguns are not good for kids. I start them off with a .22 rimfire rifle to learn the basics of gun handling, then move on to the 20 gauge for wingshooting."
HUNTING
Growing up on a dairy farm in the 1950's, "expensive" shotgun shells were often rationed and thus, target shooting was limited. Shotguns were used almost exclusively for bird hunting, and this continues as one of the most popular smoothbore activities today. In fact, more than 50% of all shotgun shells sold by retailers in a given year are purchased in the last two weeks of August, just prior to traditional dove season openers on September 1st. While that old Remington Sportsman accounted for hundreds of doves, quail and pheasant in my youth, today I prefer a fine double gun or a lightweight pump in 20 or 28 gauge for upland bird hunting. Light field loads of #8 (doves), #6 (quail) and #5 (pheasant and grouse) lead are also favored.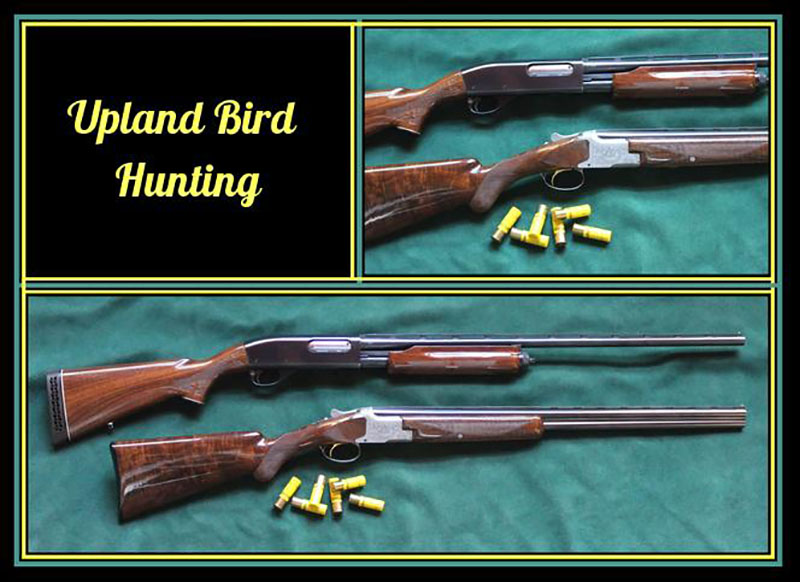 Too many bird hunters simply sling lots of lead at flushing and passing birds hoping that one will fall, but the Virtuoso is selective in choosing and precise in delivering shots that are almost certain to be instantly fatal. My favorite upland gun is a Belgian made Browning Superposed 20 gauge over-and-under in Pigeon Grade. It's lightweight and features a round knob and rounded forend for quick handling in the field, with fixed chokes that deliver deadly tight patterns. Browning produces comparable models today in their Citori line, but if I had to replace this gun with something more modern, my choice would probably be the German made Blaser F3. In rough country, where odds of damaging a high-grade shotgun increase, my choice is a comparatively inexpensive, lightweight pump like the venerable Remington 870 for its perfect fit and dependability. The Browning BPS and various Mossberg 500 models also fill this niche nicely.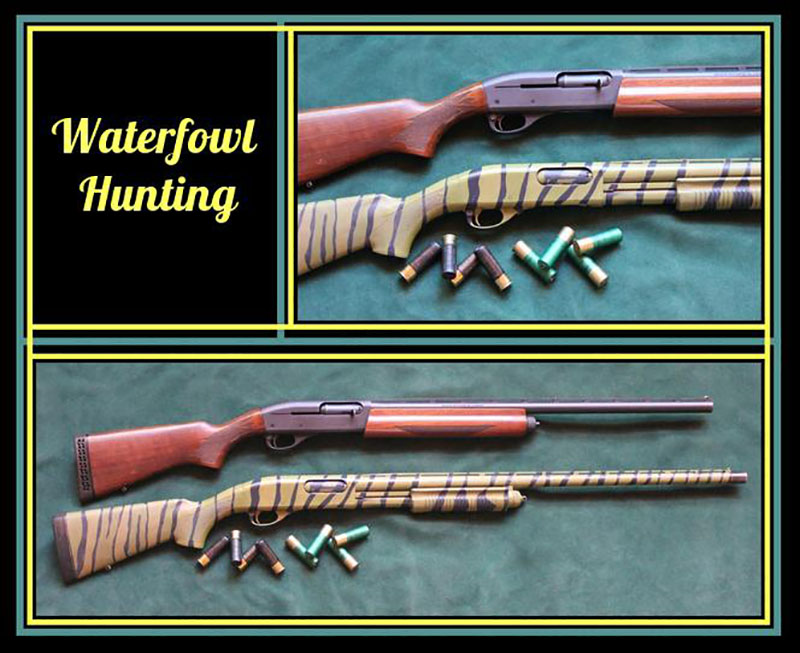 Waterfowlers often pursue their passion in nasty weather, so reliability and corrosion resistance are highly desirable features. A non-reflective and/or camo finish is best for concealment from sharp-eyed quackers and honkers, and a recoil reduction system to lessen the punishment from high-velocity non-toxic shot loadings also rank high in demand. A number of specialized semi-auto shotguns sporting these features have been introduced, including the Remington Versa-Max Waterfowl Pro, Beretta A400 Xtreme, Benelli Super Vinci and Super Black Eagle II Waterfowl, Mossberg 935 Magnum Pro-Series Waterfowl and Winchester Super-X3 Waterfowl. Each of these top line guns can handle a variety of loadings, including the shoulder pounding 3-1/2 inch 12 gauge super-magnums. Although popular with the masses, I am not a fan of extended-length shotgun shells, in any gauge. In my opinion, they are not worth the added cost and discomfort, as they do not improve lethality on flying birds for the average shooter – but practice can improve performance. Quoting advice from Flanigan: "You should practice to intelligently enhance your natural shooting abilities. Analyze mistakes carefully so you don't keep practicing those same mistakes."
The Smoothbore Virtuoso will most often be found hunting waterfowl with his or her favorite gun – one that fits well and is comfortable to shoot. They will typically use whatever non-toxic loads are on hand – often the least expensive, delivering a light payload. Having grown up in a Remington family, my personal favorites are the semi-auto Model 1187 Special Purpose, and a highly modified Model 870 Wingmaster Magnum, fitted with synthetic replacement stock and forend, Sims LimbSaver recoil pad, external choke in full (pass shooting) or modified (over decoys), and custom DuraCoat camo finish. I shoot high-velocity (1500+ feet-per-second) but light (less than 1 oz.) handloads of #3 and #2 steel almost exclusively, and concentrate intently on head and neck shots to avoid wounding loss.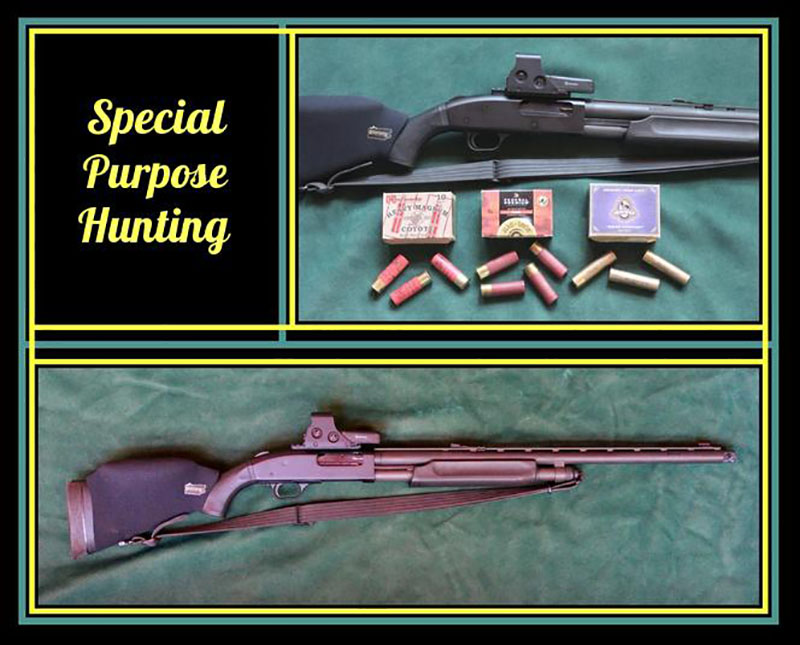 Although I rarely use them, there are a couple of specialized hunting applications where the 3-1/2 inch 12 gauge shotshell outperforms all others – turkeys and coyotes. These animals are often taken while stationary – so benefits of the magnum payload can be fully expressed – and often with a single shot – so the beating from recoil is minimal. I like 3-inch Federal Premium loads of #5 copper plated lead shot for turkeys, and specialized loadings of large pellets (#4 Buck and size T) for coyotes – like HEVI-Shot "Dead Coyote" and Hornady "Heavy Magnum Coyote." The smothbore used most often for these special applications is a Mossberg Model 835 Ulti-Mag with 3-1/2 inch chamber and factory ported barrel. Other accessories include an EOTech 512 holographic rear sight, TruGlo fiber optic front sight, Carlson "Dead Coyote" choke, Beartooth adjustable cheek piece, Sims LimbSaver recoil pad, and rubber sling for comfort in packing the weapon during long days afield.
If you've never burned blackpowder in a shotgun, you should give it a try. There's something special about hitting your mark which disappears behind that big cloud of white smoke. And of course, there's that stinky rotten-eggs smell and the nasty cleanup after shooting – but the challenge and satisfaction are worth the effort. I've taken dove, quail, grouse, ducks and turkeys with blackpowder, using a variety of guns both modern and antique. The Knight Rifles TK2000 (www.KnightRifles.com) shown below is a modern in-line muzzleloader that is deadly on turkeys out to 70 yards. This 12 gauge can deliver a payload up to 2-1/2 ounces of lead, but I prefer a lighter, faster load of 1-1/2 oz. #4 or #5 lead pushed through the extra-full choke by 100 grains of FFg blackpowder or Triple-Seven synthetic. For waterfowl, an accessory improved-cylinder choke is screwed on the smokepole muzzle through which 1-1/4 oz. of #2 steel is launched with the same powder charge and excellent result, out to 35 yards.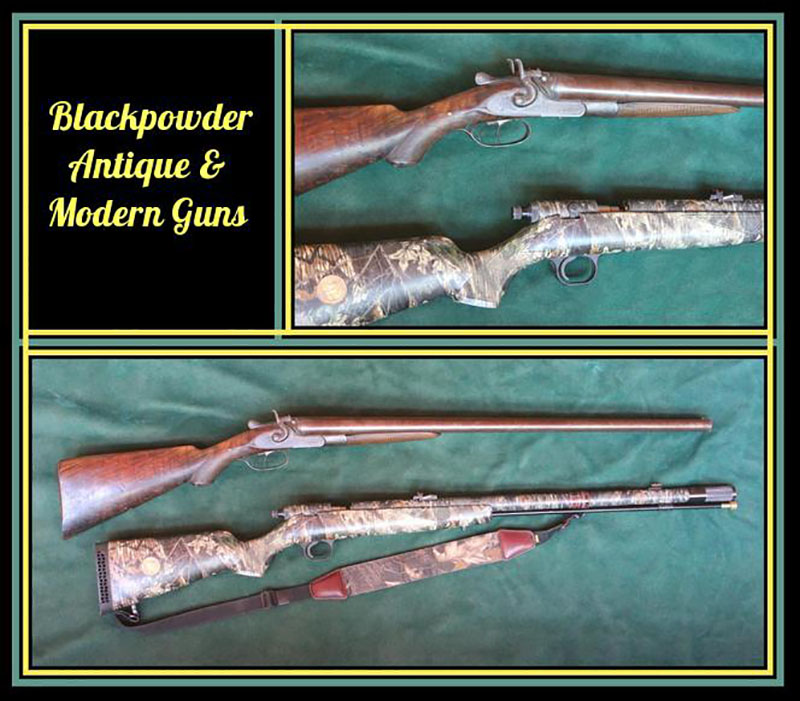 Muzzleloading side-by-sides are popular with bird hunters and target shooters. Known for their beautiful reproductions of antique firearms, Davide Pedersoli & Co. offer a full line of blackpowder SxS shotguns, from fowling pieces to coach guns (www.davide-pedersoli.com). The open double-hammer, 1916 JP Clabrough & Bros fine Damascus steel side-by-side (shown above) fires 10 gauge blackpowder shotshells. This was my grandfather's gun – the one gun he used for everything from game to personal defense to boat paddle. A favorite family story relates that when grandpa finally agreed to let me shoot it around age 9, the blast sat me down on my behind! Fortunately, my handling skills improved with age…
In Part-2 we will cover target shooting – clay and steel – as well as some special considerations, like home defense, the .410 bore shotgun, and which gun the Virtuoso might choose if limited to just one Smoothbore. Plus, we will "scoop" the new Patrick Flanigan Signature Series Shotgun, expected to be announced in September! (Hint: BredaUSA…)