By Tony Martins, with Patrick Flanigan
In Part 1 we defined the Smoothbore Virtuoso as someone who has working knowledge of all kinds of shotguns from modern to vintage, and can handle them all with expertise and personal flair. Shotguns used for training youngsters to wingshoot, as well as those used for various hunting applications including blackpowder scatterguns were also discussed. Part 2 will cover guns for target shooting, as well as special applications and considerations for smoothbores, with assistance from the "World's Fastest Shotgun Shooter," multiple world record holder and Virtuoso, Patrick Flanigan.

TARGET SHOOTING
Innumerable features have been added to target shotgun offerings during the last decade. The majority are intended to reduce felt recoil (e.g., barrel porting, recoil-absorbing stocks and stock inserts) and/or to improve pattern consistency (e.g., back-boring and forcing cone lengthening). Many new features are purely cosmetic for added sales appeal. According to Flanigan: "Applying new technology to recoil reduction systems improves the shooter's consistency, so it's easier to become one with the gun." This could well be the reason that gas and inertia-driven semi-automatic actions have become so popular with clay target shooters in recent years. Rest assured however, that if you hand almost any shotgun – target or field grade, full-featured or not – to a genuine master of the smoothbore, he or she will turn in a virtuoso performance in any target game.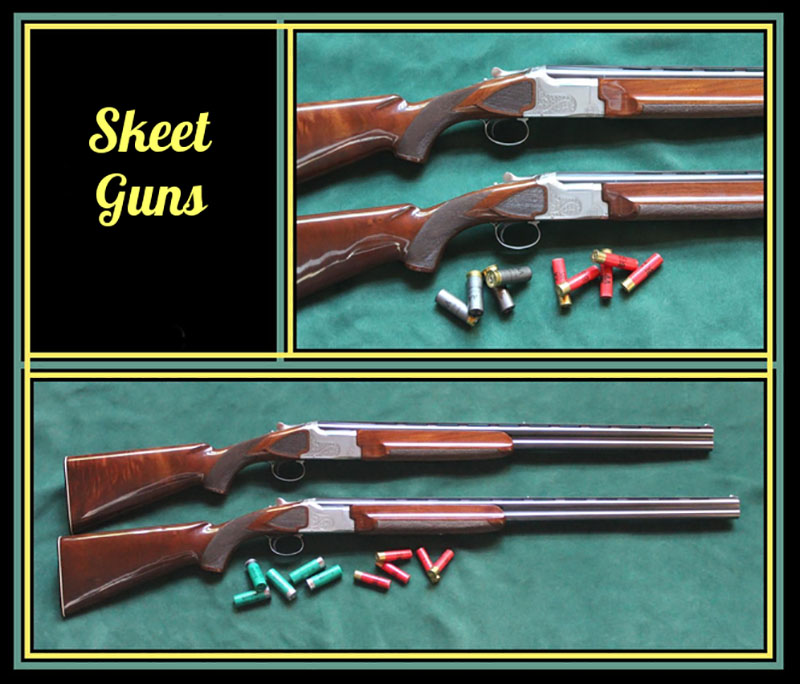 Along with the new semi-autos, break-action over-and-under shotguns continue their popularity with skeet shooters, both casual and competitive. While field grade semi-autos are suitable as skeet starter guns, doubles like Mossberg's Silver Reserve II and Franchi's Instinct are excellent and affordable O&U options. My personal favorite skeet guns are a near matching pair of 1960's vintage O&U Winchester 101's in Pigeon Grade (devoid of any recoil reduction devices!). The larger frame gun is a 12 gauge, while the smaller frame gun is from a 3-barrel set with matching forends in 20, 28 and .410. Since skeet shooters use all 4 gauges/bores in competition, single guns fitted with sets of tube inserts, and 4-barrel sets are popular. Most of these are built on large frames to accommodate the 12 gauge, and the cost of some high-end competition models from the likes of Kreighoff, Beretta and Perazzi will deflate a well-endowed bank account! Using the same gun with the same swing weight for each gauge can improve scoring through consistency – it just seems weird to shoulder a big shotgun and have it go "pluush" with the mild discharge of a .410 shell. Thus, I prefer a smaller frame gun for the smaller gauges/bores, and rely on practice to maintain respectable scores.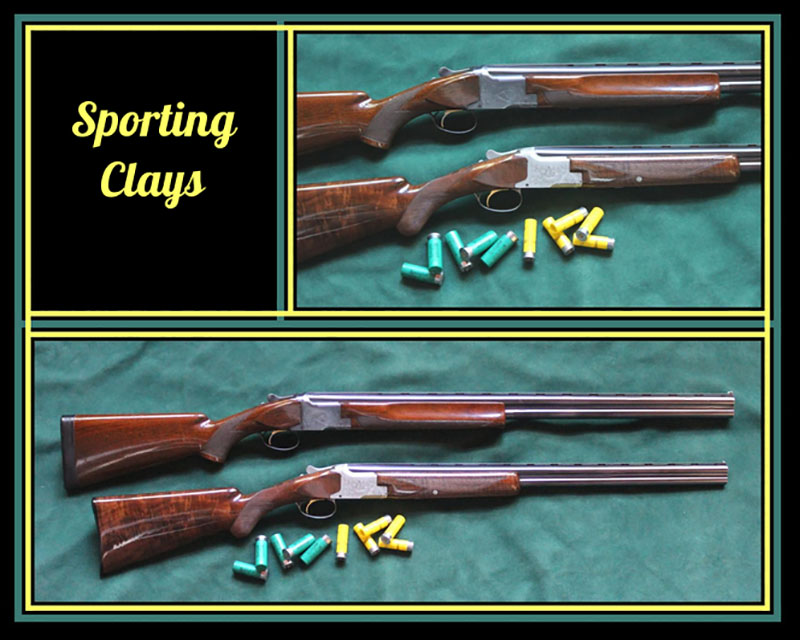 Invented by the British as practice for driven-game shoots, sporting clays is dear to my heart for a couple of reasons. First, I helped setup the first sporting clays competition course in the West, at Raahauge's in Southern California in the early 1980's. Second and more importantly, bird hunting is a true passion, and sporting clays target presentations simulate the unpredictability of live bird action better than traditional trap or skeet. There is no standard for shotguns, so all configurations, actions and gauges are used, with the exception of single-shot smoothbores. Virtually every manufacturer makes one or more "sporting" models, and good handling characteristics are paramount. Competition guns are almost always 12 gauge, and manageable recoil is an important consideration for a couple of reasons. Rounds are usually 50 to 100 targets so fatigue can be a concern, and the typical course includes lots of double target presentations, so a gun that kicks hard can hamper a following shot. These factors explain why today's quick pointing and soft shooting semi-automatics now dominate both recreational and competitive sporting clays.
Beretta A400's and A300's seem to be everywhere today, but Benelli Sport II and Remington 1100 Competition models are also popular. Newbie's will fare nicely with a Mossberg 930, or CZ-USA's Model 712. If a break-action O&U is preferred, Mossberg's stylish Silver Reserve II, and Stoeger's Condor (if aesthetics are unimportant) are excellent choices. For many years my competition gun has been a Belgian Browning Superposed Grade 1 in 12 gauge, with target forend and Pachmayr sporting clays recoil pad – not much for looks, but it fits me perfectly. Today I use a variety of guns for recreational clays, but the nimble high-grade Browning Superposed 20 gauge, noted in Part 1 as my favorite upland bird gun, sees lots of action on sporting clays courses as well.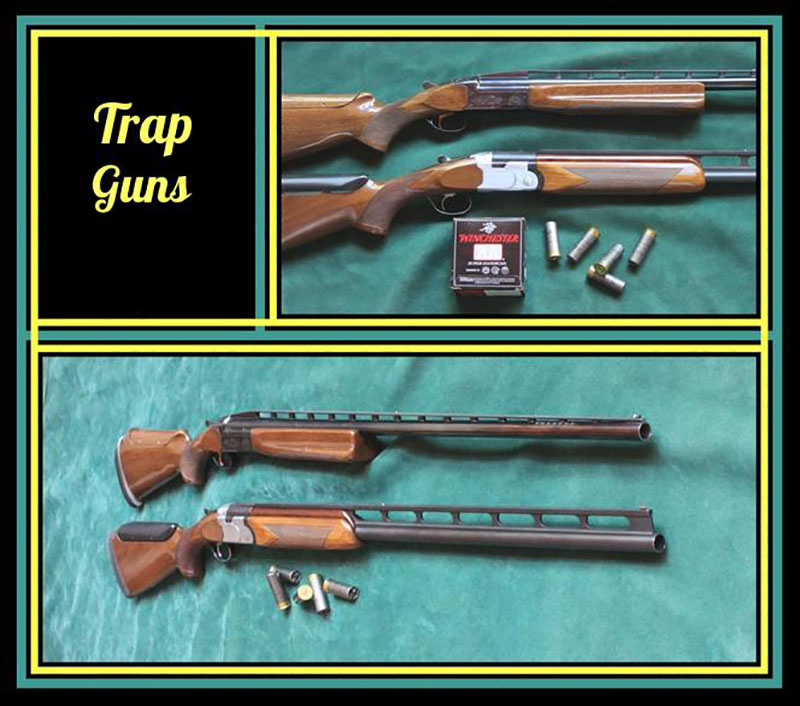 The "game" of competitive trap shooting is dominated by fanatical shooters, and specialized 12 gauge shotguns. I have personally witnessed good trap shooters fall apart on a sporting clays course and actually quit – the result of having been taken out of their element, and their zone of comfort. For many hunters, shooting a few rounds of trap is a good way to tune up for bird seasons with their field guns, and I shot my first 25-straight at age 11 with a 20 gauge Remington Model 11 Sportsman. For the casual trap shooter, almost any shotgun will do – but some are better suited than others for consistent success in this most predictable of the clay target games, where breaking them all is common. And, volumes have been written about the best loadings. Avid trap shooters typically prefer "heavy" (1-1/8 oz. 3 dram EQ.), dense patterning loads of #7-1/2 hardened lead shot. Winchester AA Super-Handicap, Federal Premium Gold Medal Target and Remington Premier STS Handicap (labeled "light" for low recoil) are perennial favorites.
The new generation low-recoil semi-autos are also gaining ground on the trap range, although many shooters prefer a traditional single-shot break-action gun like the venerable Browning BT-99 shown above. Built for durability with a chrome-lined chamber, other features include back-boring and a 32" barrel for maximum velocity, adjustable comb and high-post ventilated rib favored for rising targets. Porting and a Morgan adjustable recoil pad complete this package. Combo sets like the vintage Beretta Model S 680 Trap provide both single and double barrels. In uni-single configuration (above), the sexy stepped rib fills the void where the 2nd "over" barrel would reside. Other features include adjustable comb and cut checkering on the grip and forend.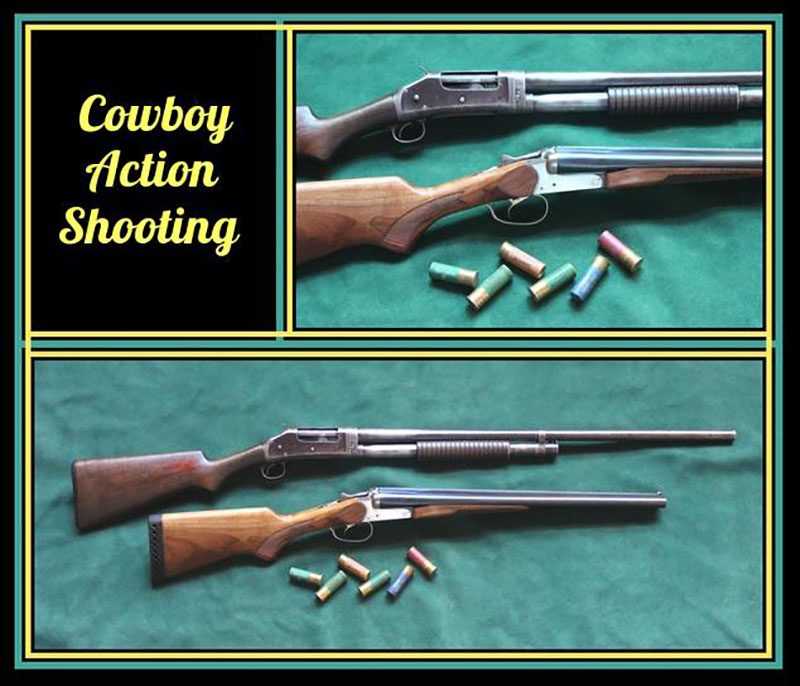 Knocking down steel targets with a scattergun does not require the same level of precision as say breaking a pair of mini-clays screaming down a canyon at 50 yards, or folding teal darting around the edge of a decoy spread. Competitive events like Cowboy Action and its modern equivalent 3-Gun, do require precision however… and speed! Blazing away with a Colt Single-Action Revolver in each hand, or running a course with an AR-15 sporting rifle may not interest the avid clay breaker or bird hunter, but the Smoothbore Virtuoso is supremely equipped for the rigors of these action sports. Requirements for success include dexterity, agility and concentration, as well as organizing and handling skills, all under pressure from the clock. Recognized fastest in the world, Flanigan adds: "The fluidity and smoothness that come with practice facilitate speed…" which is important in both shooting and reloading.
Tactical shotguns with extended magazine tubes are the order of the day in 3-Gun, and virtually every manufacturer has embraced the popularity of this sport with one or more models. Although "Heavy Metal" classes specify pump guns, 12 gauge semi-autos are king in Open and popular "Tac-Ops" classes. Remington's Versa Max Tactical and Benelli's M2 3-Gun are two top choices. You can probably get started with your hunting shotgun, however the Mossberg 930 and Stoeger 3000 tactical models are good, inexpensive 3-Gun starters. In Cowboy Action Shooting, any side-by-side double barrel 20, 16, 12 or 10 gauge may be used, as long as it does not have ejectors. Stoeger makes several "coach gun" models, and the 12 gauge Baikal MP 210 (shown above) is a well made favorite. Many shooters prefer authentic shotguns like the Winchester Model 97 pump (1930's vintage takedown model shown above). Early Marlin pumps are also used, and old Winchester 1887 lever-actions are quite popular.
SPECIAL CONSIDERATIONS & FINAL THOUGHTS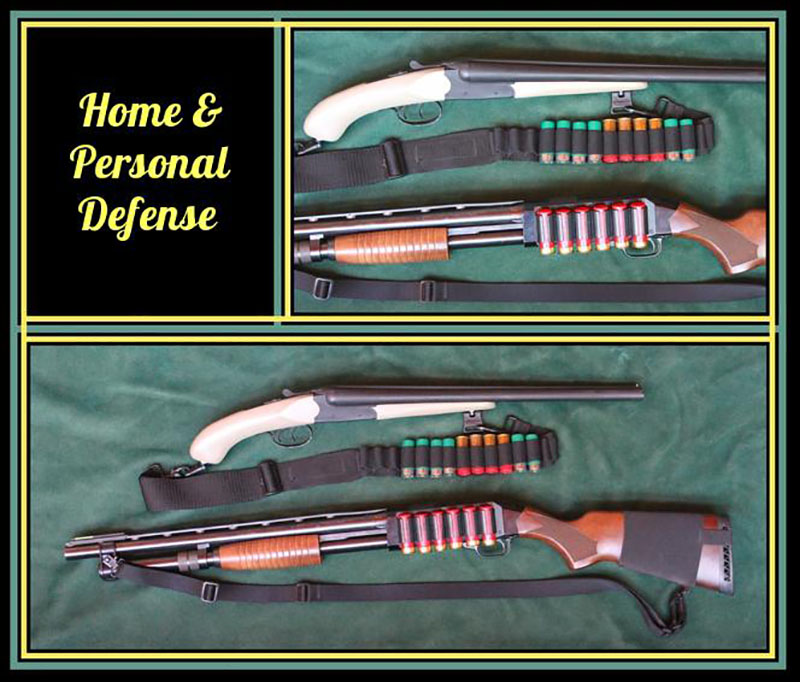 A great reason (excuse) for purchasing a tactical shotgun is that it can also serve as a home defense gun. Almost any shotgun will serve this purpose, as long as it has a short barrel for ease of use in tight quarters, and it's reliable. Two important factors, should you ever need to use the gun defensively, are its accessibility and your skill in handling the weapon. Accessories are optional and often included out of personal preference rather than necessity, but one that can save your life is a SureFire weaponlight. The 12 gauge Winchester Model 120 pump above is shown fitted with TruGlo fiber optic sight and extended 7-shot magazine tube for double duty in 3-Gun. A sidesaddle carrier and butt cuff hold extra rounds of light recoiling #1 or #00 buckshot. The custom side-by-side shown above started life as a TriStar Model 311. Its barrels were shortened to just over the legal 18-inch minimum by a professional gunsmith, with shoulder stock cut down to meet the legal 26-inch minimum overall length requirement, and finished with DuraCoat.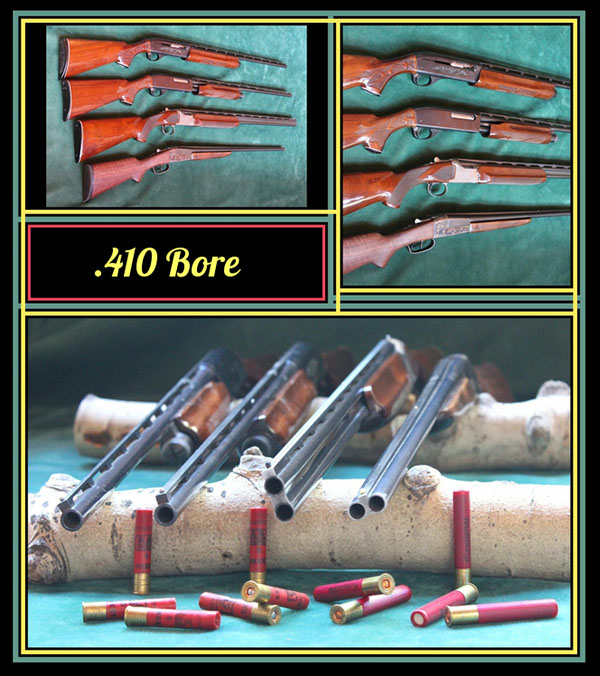 It's often said that the .410 smoothbore is a gun for experts, while others consider the .410 to be a wonderful first shotgun for young and small-frame shooters. Proponents of the latter cite the comparative lack of recoil and small dimensions of the typical gun. Believers in the for-experts-only label offer several reasons for their position. These include the smaller payloads (1/2 to 3/4 oz. of shot), less dense patterns and longer shot string of the .410 bore compared to the "gauges" (12, 16, 20 and 28). While gun writers will argue the technical differences forever, it's a fact that consistent success with a .410 requires more precise shot placement than any gauged shotgun. Want proof? Shoot two rounds of skeet, one with a .410 and one with your favorite shotgun, and then compare your scores. Scoring averages for top competitive skeet shooters drop by only 1 target per 1000 between the 20 and smaller 28 gauges, but the average drop is nearly 10 targets between the 28 gauge and .410 bore. Furthermore, consider that skeet targets are shot at comparatively close ranges. Precision shooting is best accomplished by experts, and for this reason I believe the .410 is not a good choice for beginners. Flanigan agrees.
That said, the .410 is a personal favorite. I own quite a few and use them often for both target shooting and bird hunting. Four are shown above including a Model 1100 semi-auto and Model 870 Wingmaster pump from Remington, Winchester Model 101 Pigeon Grade Skeet over-and-under, and 1940's vintage Springfield Model 5000 side-by-side. When hunting with a .410, my shots on live birds are strictly limited to 35 yards (and most are closer) to minimize wounding loss with the small 1/2 oz. payload. Accurately estimating shot distance while bird hunting can be difficult for the novice wingshooter – another reason to avoid the .410… at least for awhile!
No doubt you've heard the old adage "beware of the man with just one gun." The implication is that he will know how to use it, and use it very well. There are specialists, particularly competitive target shooters at the highest levels of their sport, who shoot just one gun exclusively. The Smoothbore Virtuoso is more of a generalist however, capable of shooting any scattergun in any discipline with style, grace and competence.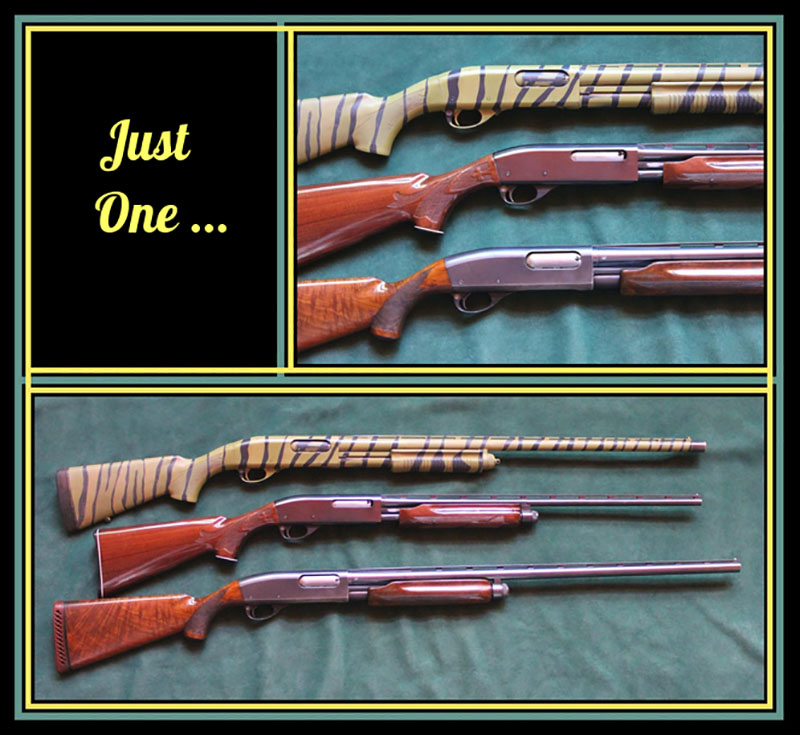 As noted in Part 1, my grandfather had "just one" shotgun, a 1916 JP Clabrough & Bros 10 gauge side-by-side, purchased new from a hardware store in San Francisco. He used it for everything, from birds to deer to vermin, and from personal defense to crutch to boat paddle. He had little interest in any other scattergun. My father was a remarkable shot with any long gun, and like his dad he also used just one shotgun for all his bird hunting and clay target shooting. His beloved Remington 870 TC Wingmaster (shown above) was his prize for winning a trap shoot in the mid-1950's – the first he ever entered! He would cycle that gun so fast that people often thought he was shooting a semi-automatic. Although I have many shotguns and enjoy shooting them all with confidence, if I was limited to just one it would have to be a Remington 870 Wingmaster, for its utility, reliability and handiness.
If you have seen one of his Xtreme shooting exhibitions, you will agree that Patrick Flanigan is truly a Smoothbore Virtuoso. Nevertheless, he is probably best known for one gun – the Winchester Super X3. Establishing a world record by shooting 12 shots in 1.442 seconds (which he subsequently improved to 1.297 seconds) tends to leave a lasting impression! But our contributing Virtuoso has a new shotgun that will be announced in September. The new Patrick Flanigan Signature Model from BredaUSA will be based on their new 930i Sporting platform. This beautiful inertia-driven semi-auto is made in Italy, and, it's fast! How fast? Well, Patrick will soon be training with the new gun, fitted with an extended magazine tube, so we shall see…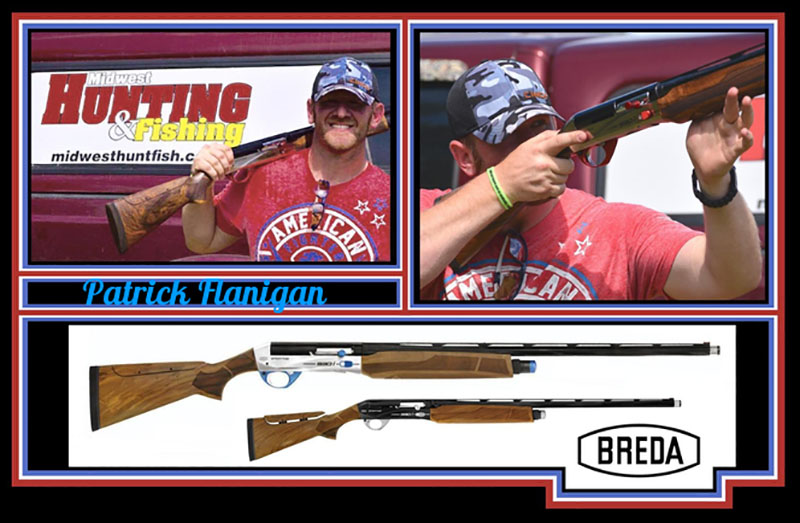 So, how do you become a Smoothbore Virtuoso? Start by shooting lots and lots of shells. Maybe not 100,000+ per year like Flanigan, but bird hunting season openers are just around the corner, so grab a few cases of shells and get out there! Be sure to shoot a variety of shotguns to expand your skill set, and maybe add a new one to your smoothbore collection – like one of the fine Breda semi-autos (www.BredaUSA.com). I can't wait to try one myself!