By Kip Staton
To be quite honest, this is the first Leupold product I've come across in a long time that I've actually gotten excited about. Leupold's newest scope combines features at a mid-range price level that the long range target shooter can truly appreciate.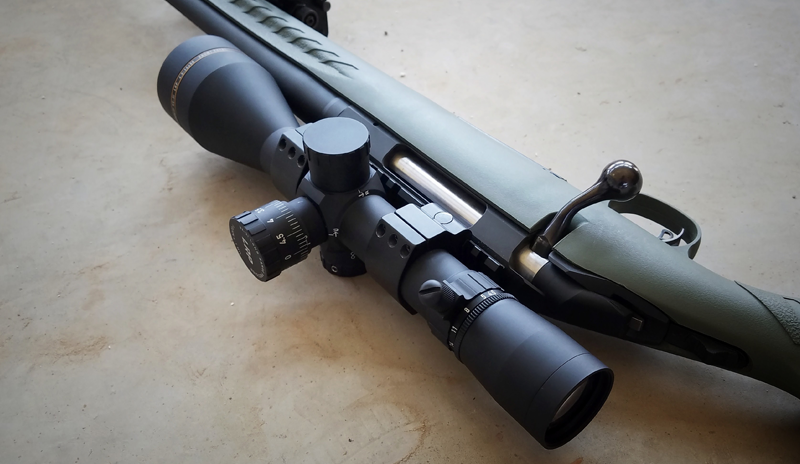 Like the name suggests, the Leupold VX-3i Long Range Precision line is based on the successful VX-3i series from Leupold. Built with the same high-end glass and lens coatings as the hunting models, the LRP optics add in some specialized features and reticles that make them more suited to precision rifle use.
Naturally, they retain the same advertised performance in low light conditions. Quite frankly, these optics are Leupold's answer to the moderately-priced, feature-rich offerings from companies like Bushnell and Vortex, specifically in the precision rifle game arena. And on paper, the VX-3i LRP 4.5-14×50 certainly fits the bill.
Specifications:
Model Reviewed: 172338

Finish: Matte

Reticle: Front Focal TMR

Main Tube Diameter: 30mm

Actual Low Magnification: 4.80x

Actual High Magnification: 14.30x

Linear FOV, Low: 19 Feet at 100 Yards

Linear FOV, High: 7.60 Feet at 100 Yards

Length: 12.60"

Weight: 20.30 Ounces

Objective Aperture: 50.00mm

Eye Relief, Low: 4.50"

Eye Relief, High: 3.60"

Of course, Leupold backs the VX-3i LRP optics with their famous lifetime warranty.
Exterior
I will say that the LRP is pleasantly compact, and felt right at home on my Ruger American Predator. As small as it is, it would be awesome on an AR-15. The familiar Leupold gold ring circles the objective lens housing.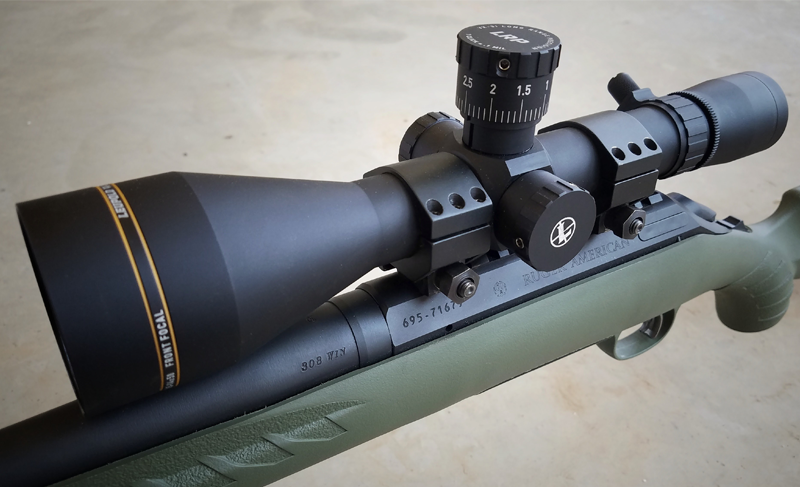 Finish on this optic is an even matte black, and the 30mm main tube is made from Leupold's aircraft aluminum. It's an attractive scope, for what it's worth. The short front ring mounting location and long rear one give it a unique stance on the rifle, and compact overall length. But more on that later.
Elevation Turret Details
The elevation turret on the LRP is not like any that I have used in the past, and it is very well thought out. Leupold describes it as "micrometer style." A single rotation will take you through either five milliradians or minutes of angle, depending on how your scope is configured.
Unlike traditional turrets, the LRP micrometer turret maintains the same physical height throughout its 34 milliradian total range. Benefits of this style, that I can see, are that it maintains the same visibility while you're behind the gun throughout the entire rotational range.
The elevation turret is also equipped with a phenomenally designed zero stop. All you have to do to set the stop is loosen two set screws in the turret, which will allow it to turn freely. Simply spin the knob until the micrometer sleeve slides back up into the turret, and is aligned at zero. Tighten the knobs, and you're done.
It's elegant, it's fast, it's simple, and it really works well. Hats off to Leupold on this feature. Here it is set at zero: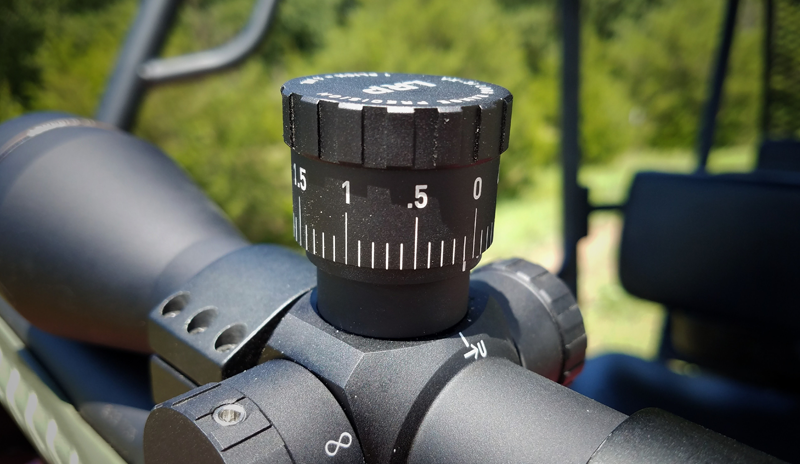 And this is what the micrometer turret looks like with 10 mils dialed in: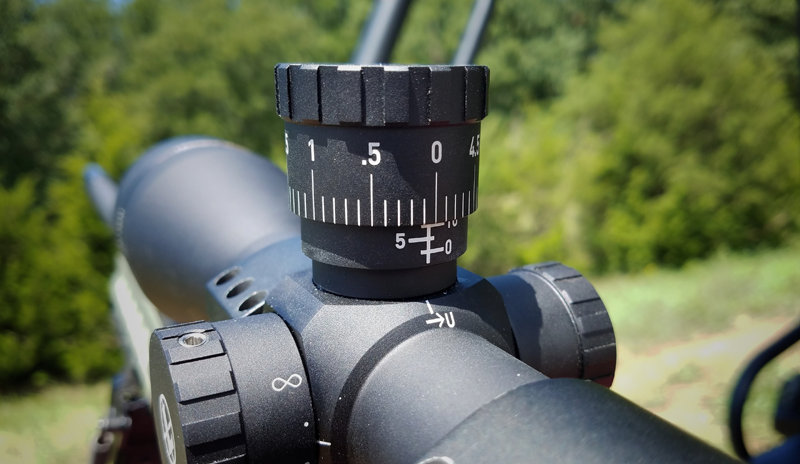 You can see that the indicator slides out the bottom of the turret, and clearly shows how many mils you have dialed at the moment.
After zeroing, I had 18.3 milliradians of total elevation adjustment left in the scope. On my .308, this gets me out to right at 1100 meters, with a couple of clicks left over. If I wanted to stretch the gun even further, I could simply hold the balance on the reticle.
For this gun and my favorite Hornady load, however, I'm fine with a practical 1100 meter limit. I usually only shoot out to around 600 meters anyway, which is well within the system capabilities.
Windage Turret Details
Many shooters prefer to hold off the target to account for wind, instead of dialing. This makes a lot of sense with reticles like the TMR, because wind conditions can change on a dime. Most of the time, it's much faster just to change your hold in the reticle than it is to break your position and adjust the knob.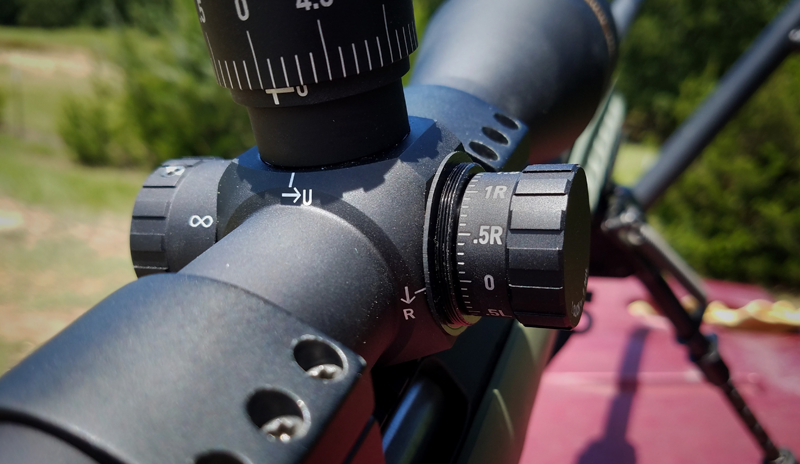 When it comes to turret use, you're much more likely to be spinning the elevation knob than the windage adjustment. Leupold recognizes this reality with the comparatively small, low-profile, capped windage knob on the LRP. It's still resettable, but there is obviously no zero stop (wind goes more than one direction, after all).
However, if you prefer an exposed windage knob for certain circumstances, Leupold was thoughtful enough to include a knurled thread protector. It just screws on after removing the cap, and keeps the threads from getting damaged.
Zoom Ring and Extension
Like nearly all variable power optics, the zoom ring on the VX-3i LRP 4.5-14×50 is located immediately in front of the ocular lens housing. It allows the magnification level to be adjusted from 4.5x to 14x, and smoothly travels through the full range.
While it's by no means difficult to turn, Leupold designed it with a short extension that can be threaded on. Adjusting the zoom level is certainly faster with the extension. I mounted the LRP as low as possible, and the throw lever still had plenty of clearance for the bolt throw on my Ruger American Predator.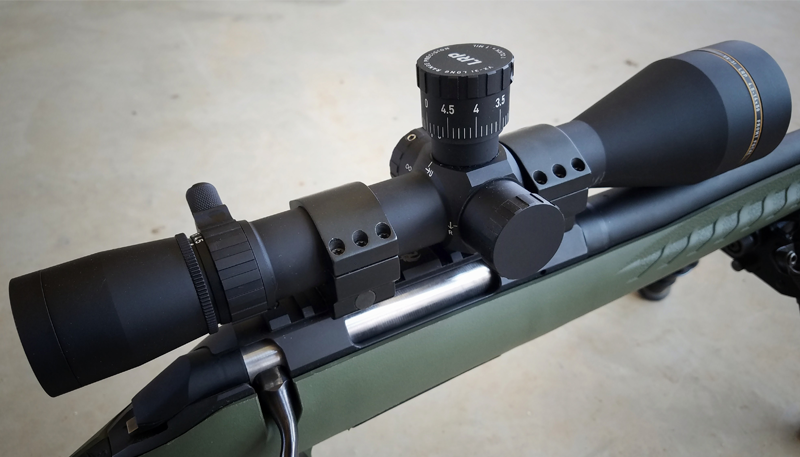 If the extension isn't your style, it can be easily unthreaded and replaced with the included plug. Even without the longer arm, the threaded base provides plenty of purchase for an easy throw. It's also neat that Leupold includes a lever with the optic, instead of making it an aftermarket purchase.
These optics have been criticized for having only a 3x zoom ratio, in this day and age of 5x and even larger ratios. It's just not that big of a deal to me, and seems like more of a nitpick that you would have if you only use the scope to look out the window of your living room. It's certainly not something I was thinking about when trying to hold for wind at 600 meters in 100 degree Texas heat.
Yes, a 5x ratio would provide a lower low end and a higher high end. But the 4.5x-14x range on this optic is still fine for many things. More range in adjustment is almost always better, but it's just not a deal breaker for me.
Parallax Adjustment
The left side of the turret console houses the parallax adjustment knob. This knob is marked off regularly with white dots, culminating in an infinity symbol. Nothing fancy here: just turn it until everything is sharp and clear at the distance you are shooting at.
I do wish there was some kind of meter marking to get a general idea of where you need to be, but those marks are never exactly on to begin with. Turning it until things are crystal clear is fine.
Reticles and Focal Planes
Leupold offers the VX-3i LRP with five different reticle choices. While the TMR is more traditional in terms of design and function, the Impact-32 and FFP CCH step things up a notch. They're definitely a more modern layout, and offer grid-like scales for building in drop and wind holds for your shot. These reticles all come with matching turrets, depending on whether you want a minute or mil based scope.
My test optic was equipped with the front-focal TMR reticle, in milliradians. From the center down, it gives you 5 mils of vertical holds marked off every half mil. When you get to the bottom mil mark, it's marked every 5th mil. Combined with Hornady match ammo, I don't even have to start dialing until the target is past 500 meters.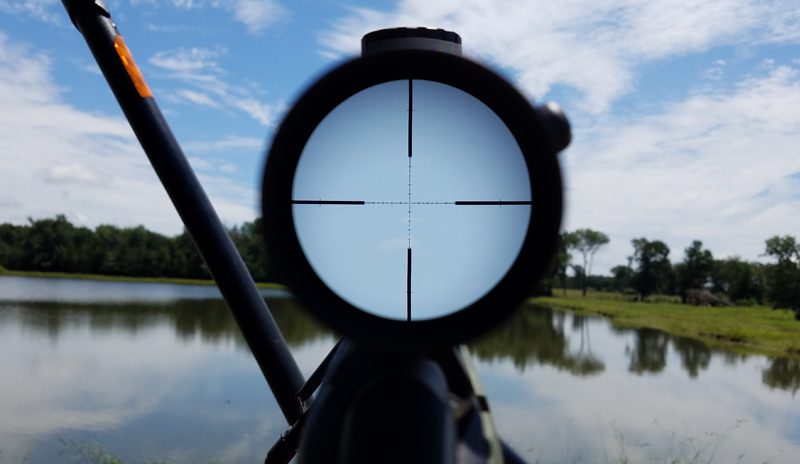 Zoomed out to 4.5x, the mil marks nearly disappear, almost giving it the appearance of a duplex reticle. Cranked up to 14x, they are clearly visible and quite usable. The center of the reticle is open, which I found that I like quite a bit. It makes it easy to line up on tiny things. At no time did I feel the reticle was too thick for an accurate hold.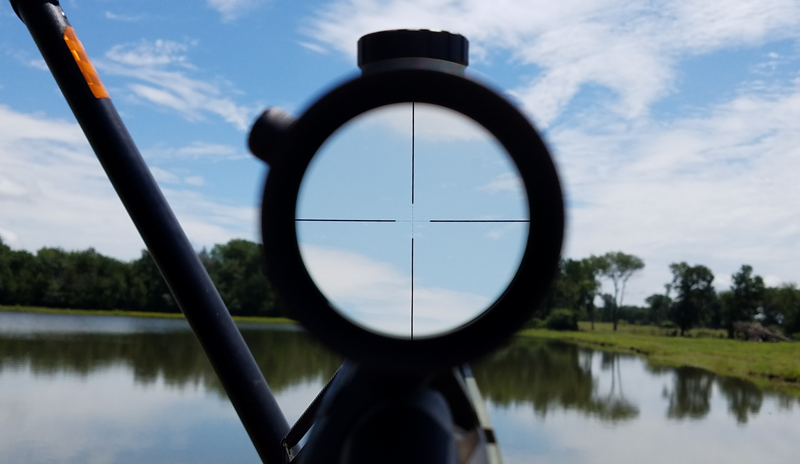 Optical Quality
This is one area that I feel I've let readers down in past rifle scope articles. When it comes to discussions about clarity, I usually let it rest at "clarity is good for what you would expect in the price range", or "clarity is comparable to other competing models in the same class." The truth is, most scopes these days have great clarity.
However, I wanted a more objective way to give you an idea of what the glass is like on optics I review. Cal over at the Precision Rifle Blog has a great approach to comparing scope glass, and I've simply taken a small part of his criteria to help you get a feel for how the glass on the VX-3i LRP performs: the Snellen chart.
If you've ever been to the optometrist, you're familiar with the concept. Letters are displayed on lines with decreasing font sizes, which gives you a reference point for when things get too blurry.
Like Cal points out in his post, all of the fancy coatings, lens treatments and other options on the market are little more than fancy marketing if they don't actually help us see our targets better. Since I'm not comparing numerous optics at once, I'll just use a standard, calibrated Snellen chart from review to review, and you can print one out for yourself if you want to see how your current rig compares.
So, on to the details. The smallest line on a standard, calibrated Snellen chart that I could read at 100 meters at high noon was the fourth line, also known as the 20/50 line. Reading was taken with the scope set to maximum magnification.
Of course, this doesn't mean that the VX-3i LRP is only going to give you 20/50 vision. The 20/50 designation doesn't really mean anything here, since I measured at 100 meters. All it means is this is a standardized optical test that you can use to compare the Leupold to an optic you already have. It's just a baseline.
All that said: Clarity is great, and in line with what we've come to expect from Leupold.
Tracking
I've mentioned the importance of scope tracking in other scope reviews. If the clicks don't do what they're supposed to do, that's a big problem. To check the tracking on the VX-3i LRP, I set up a large sheet of cardboard at 100 meters, with a mil-scale spaced out on it with 1" target dots.
I then firmly mounted the scope in a simple fixture to a concrete shooting bench, and adjusted until the center of the reticle rested on the "zero" mark on the cardboard downrange. Elevation and windage were then dialed down along the marked subtensions, in 5 mil increments.
The optic tracked from dot-to-dot perfectly, and didn't lose or gain any clicks along the way. This was not surprising to me, but it was also really great to see. Doing this test eliminates any questions when the shooting really starts and target distance increases.
I've really grown fond of this method for checking tracking, especially compared to the old-fashioned box test. This technique eliminates the human error in shooting, and is accurate to the click. And there are more interesting ways to spend time at the range than shooting five-shot groups over and over again in a box test.
Mounting
I chose to mount the LRP on my Ruger Predator in 308 Winchester, and it turned out to be an amazing combination. The Ruger is short and relatively lightweight, due largely to the mid-weight 18" barrel and hollow stock.
The Leupold's compact overall length complemented the gun very well, and provides a ton of space for grabbing the forend while in the field. Other optics I've tried on the gun have extended far along the barrel, which makes the gun feel more awkward while carrying.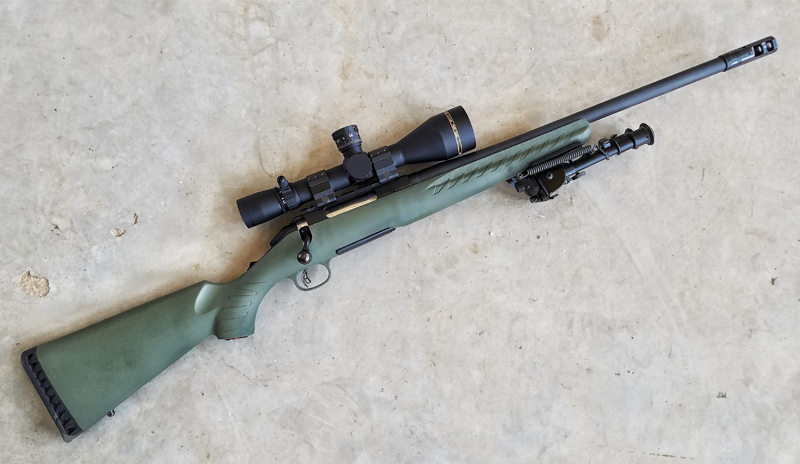 It certainly doesn't feel like other scopes in size or handling. I really, really like it. Leupold is doing some cool things with these short-format optics.
The stubby front tube section on the scope limits ring placement, but the generous rear section makes this largely a non-issue. Naturally, it uses 30mm rings.
In Use
Once all of the optical and tracking tests are out of the way, there really isn't anything left to prove. Mounted on my Ruger Predator using a Wheeler FAT wrench and my old standby Burris Xtreme Tactical low rings, the VX-3i 4.5-14×50 performed just as advertised.
The eye relief and eyebox do reduce as the power increases. Pretty normal.
One thing I really liked about the LRP was the fact that if you don't want to use certain features, you don't have to. Being able to customize the controls layout a bit with the capped windage knob and removable cattail is a nice touch.
Conclusion
This optic checks all of my favorite boxes. If you can look past the "ancient" zoom ratio, want a compact scope with great reticles, easy-to-use controls and are willing to spend a little more than entry-level money, I think Leupold has something here for you.
I can't say enough good things about the size of this optic. It simply fits perfectly on my little Ruger American Predator, without giving up anything in terms of performance.
The clarity is there, and so is the tracking. It's also made by Leupold, who really needs no introduction. I would say they truly hit a home run with this optic. If I were setting up a gun for long range precision shooting and didn't need a monstrous top end magnification, I would definitely consider the Leupold VX-3i LRP 4.5-14×50.