By Kip Staton
From what I can see, many of the recent innovations in rifle optics have largely steered clear of the hunting market. These past few years have seen things like advanced reticles, amazing zoom rations and mil-based systems largely taking over the long range tactical/practical market segments. Rarely do we see these features applied or marketed to the hunting demographic.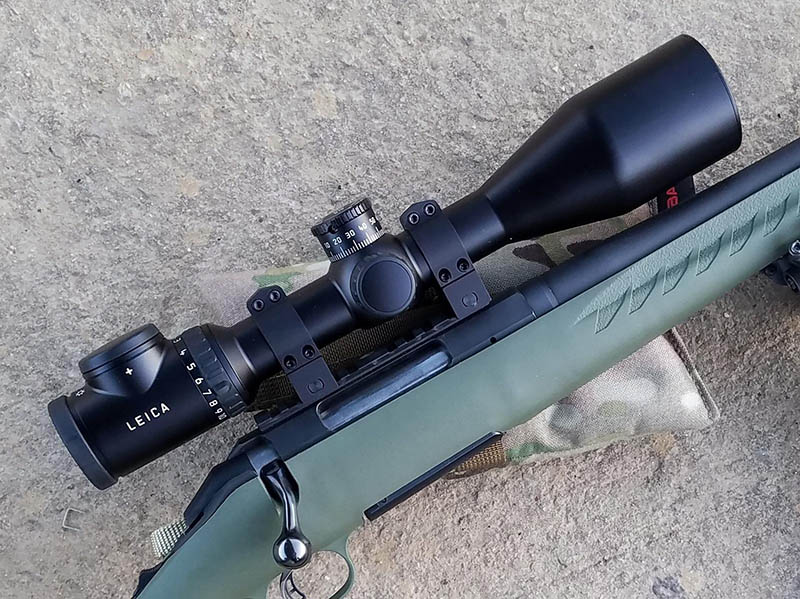 While the inherent long-range abilities of a massive 4.5-27×56 precision rifle scope with a 35mm main tube can't be questioned, they just aren't for every application. It's true that a slim-stocked, custom hunting rig in a magnum caliber and a "tactical" scope can be paired up and work wonderfully at extended distances, but not everybody is into that sort of thing.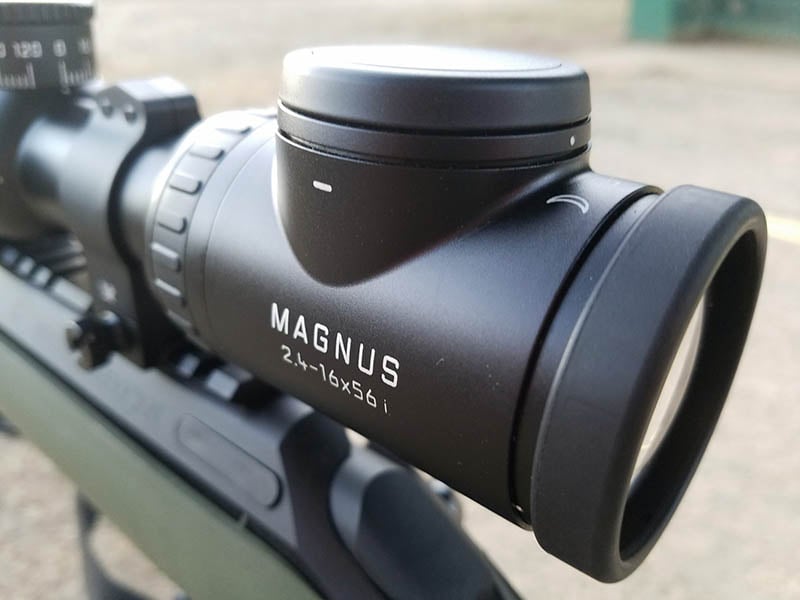 This brings us to the Leica Magnus i series. And for this review, specifically the 2.4-16×56 i model. The Magnus is not a full-on tactical riflescope. However, it's not a "hunting" scope in the traditional sense, either.
What Leica has done with the Magnus lineup is bring some of the most popular advancements from the tactical/practical arena (including advanced internal ruggedization) to a brand the hunting world knows and trusts. And the end result speaks for itself.
Leica Magnus i Overview: Tactical/Hunting Crossover?
Traditionally, hunting optics have been tools with a simple format. Capped turrets and a non-illuminated duplex reticle that's adjustable for focus are fairly normal. Some manufacturers offer a few more bells and whistles, but for the most part they are pretty basic.
With the Magnus i series, Leica blends extra capabilities into a semi-traditional layout, without ruining the clean lines and simple operation that mark a dedicated hunting optic. Foremost of these capabilities is phenomenal optical performance in low light conditions.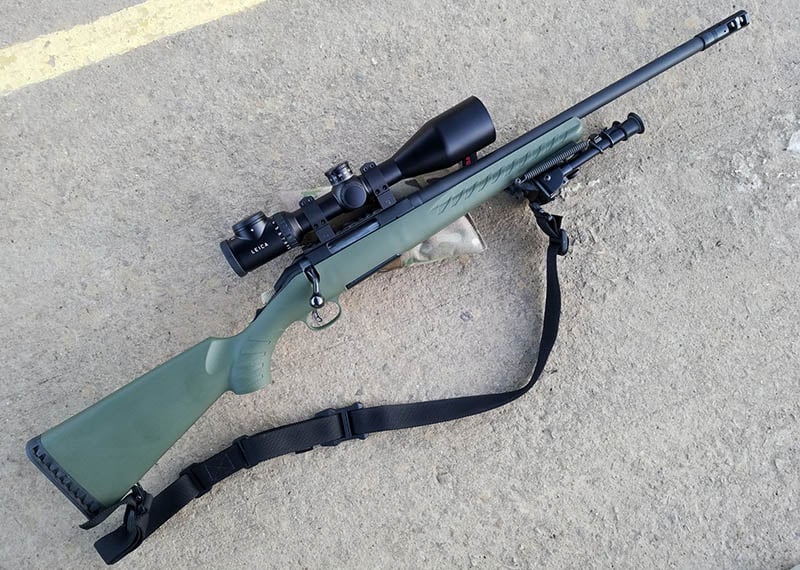 Leica also designed the Magnus i to be tough in the field, and indicated that reliability is similar to names like Schmidt and Bender, and Nightforce. I'm really not sure how such claims be tested without finding and exceeding the breaking point, destroying the scope in the process.
Any optic can and will break, given enough stress and "talent" applied. It's difficult to quantify such a test, especially given the relatively short time frame the optic was in my possession. And I'm far from qualified to do any sort of destructive testing, let alone on a sample of one.
However, Leica is not known for poor quality optics. If they say it's military-grade rugged in a package rigged for hunting rifles, I believe it. I certainly didn't see anything to qualify the opposite. Regardless, the Magnus i is available in the following configurations, with a variety of reticle options:
Leica Magnus 1−6.3×24 i

Leica Magnus 1.5–10×42 i

Leica Magnus 1.8–12×50 i

Leica Magnus 2.4–16×56 i
You'll notice that each model has a broad zoom factor of around 6.7, which is a very versatile range. Most importantly, each model offers extraordinary contrast and light transmission. Furthermore, the name "Magnus" translates roughly from Latin to English as "great, wide, vast", paying homage to the impressive field of view offered by the optics.
It's worth noting that all of the major controls on the Magnus function well with gloved hands. These are practical rifle scopes, intended to spend a lifetime out in the field, searching for game in the low light conditions of dawn and dusk.
Unboxing and Physical Description
The Magnus i ships with a set of very basic bikini-style lens covers, soft lens cloth, Duracell 2032 battery, allen wrench for resetting the turrets, all necessary instructions, and a signed inspection certificate.
Magnification: 2.4-16x

Objective Diameter: 56mm

Field of View at 100m: 17m/2.6m

Tube Diameter: 30mm

Eye Relief: 3.5"

Exit Pupil: 3.5mm-12.4mm

Weight: 27.7 ounces

Overall Length: 14.17"
The optic is waterproof, fogproof, and internally purged. It has a very attractive, smooth matte surface coating that is extremely resistant to dirt and grime.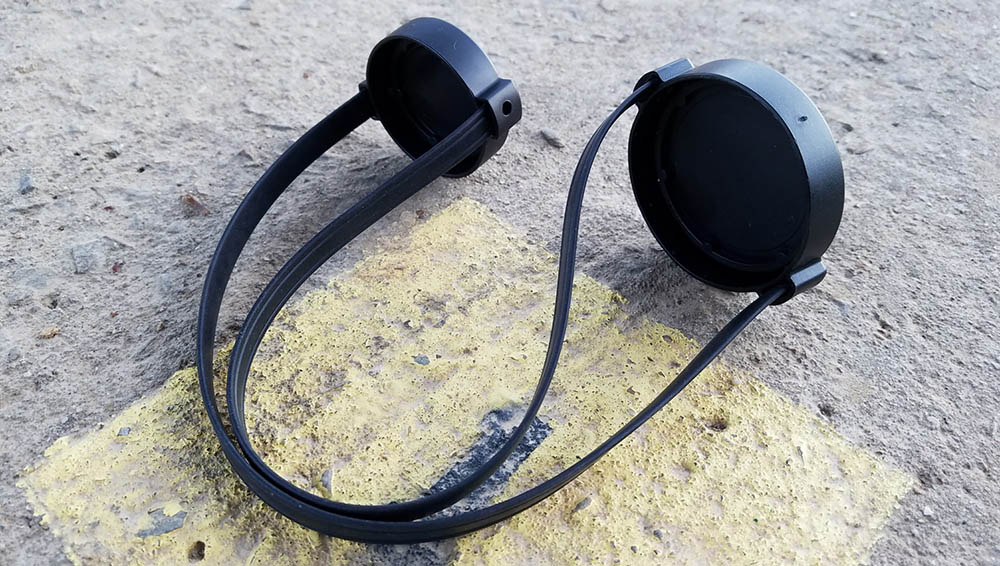 Parallax Settings and Illumination Controls
Just like the Leica ER-5 I reviewed earlier, the parallax on the Magnus i is mounted on the left side of the optic. In fact, the knob itself is almost identical, with one exception: Marking lines were added in for 50, 100, 300 and infinity. Whether those are in yards or meters is not indicated, but it should be close enough to work for either.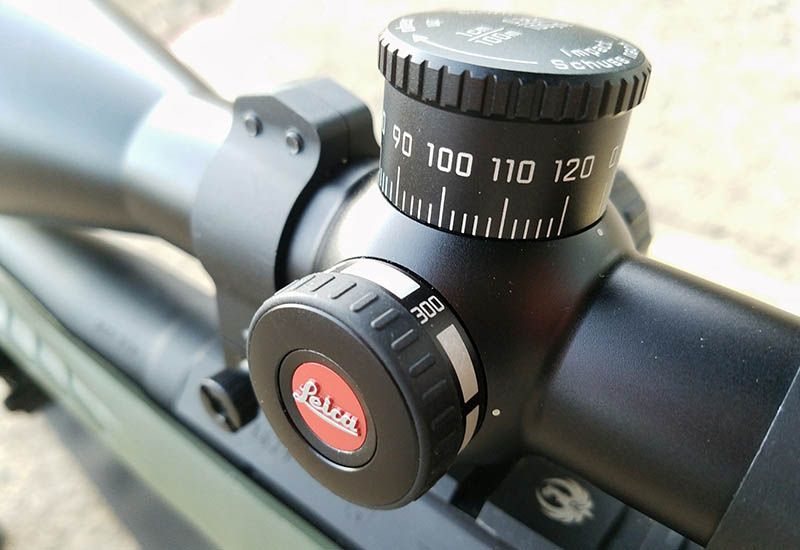 Having some sort of numbered indicator is welcome, at least just to get in the ballpark before fine-tuning. Did Leica add these numbers specifically because I complained about the lack of reference in the ER-5 review? Probably not, but one can dream.
They're more like guidelines, at the end of the day. The manual recommends just using whichever setting provides the best focus of the target.
Comparative Optical Evaluation
I can't say enough good things about the glass quality in this scope. It's honestly the best glass I've looked through, especially in the early and late hours of the day. I would say that it's very similar to Vortex Razor HD II quality, in terms of brightness.
There's no perceptible vignetting, or edge clarity issues. Just world-class glass, that performs extremely well in barely-legal shooting light. For this application, I don't know what else you can really ask for. Glass quality is subjective, to a degree. But you definitely get what you're paying for with a Magnus i. In fact, this is the premier feature of the optic: No-holds-barred light transmission and image quality. It's impressive.
Like I mentioned earlier, the Magnus i zoom range has a ratio of 6.7, with a bottom end of 2.4x and a maximum of 16x on my test scope. Needless to say, this covers a wide range of situations. 2.4x is low enough to actually be usable at ranges under 50 yards, and 16x will allow you to identify and engage targets a long, long way out there.
My one complaint about the Magnus i in this area is the eyebox at 16x is very, very sensitive. Head positioning is critical to eliminate shadowing. I wouldn't mention it if it wasn't worse than other optics I've used in the 16x top-end magnification range, but it is. Oddly enough, the 2.4x setting is extremely forgiving of head positioning, more so than what I would say is average.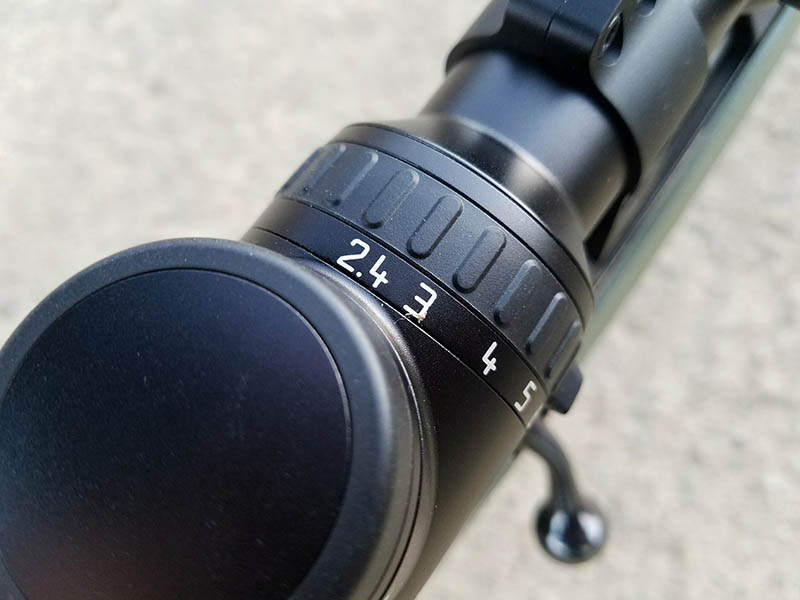 The zoom ring itself features a rubber gripping surface, and swings through the entire range smoothly and without unnecessary stiffness. There is a larger raised rubberized ridge that aids in adjustment, which is welcome. When this ridge is in the vertical position, the optic is halfway between minimum and maximum magnification. This indicator is handy in low light conditions.
Turrets and Tracking Testing
The German pedigree of the Magnus i shows through in the turret markings: both English and Deutsch are present. "Oben" (up), "Unten" (down) and "Schuss nach" (impact) clearly let you know what's going on. And we all know German things are better, right?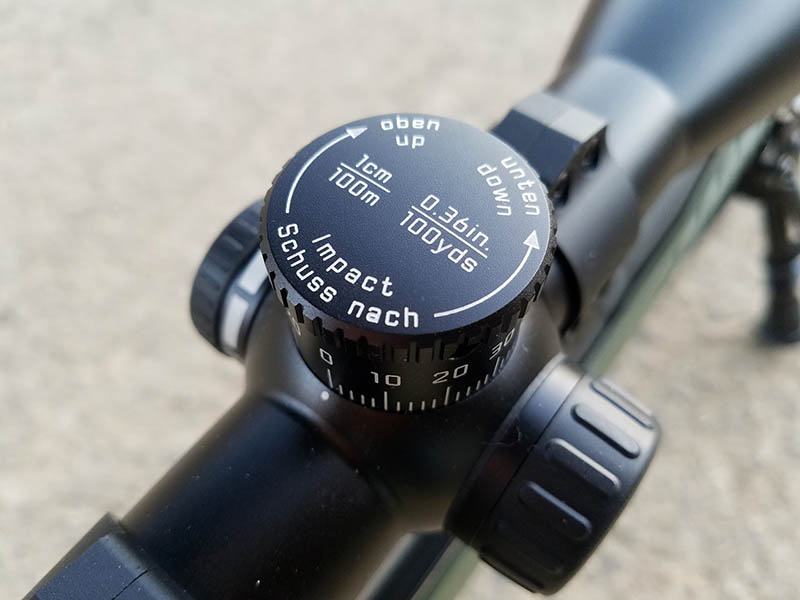 The click values are also clearly marked on the top of the turret. One click is a centimeter at 100 meters, and .36" at 100 yards. In other words, 1/10th milliradian clicks.
As far as tracking goes, there were no surprises here. Tall-target testing the Magnus i at 100 meters showed perfect performance down to the click, and the scope zeroed quickly and easily once on the rifle. Resetting the turret to the zero mark is accomplished by loosening a pair of set screws, realigning the turret, and tightening back down. Pretty standard.
The elevation turret itself is fairly small in diameter, yet still offers 120 mils in less than a single full rotation. To accomplish this, the clicks are very fine. Fine, but still audible and quite tactile. Clicks rest on and in between the witness marks. No complaints here, the turret is stiff enough to stay put yet not obnoxiously difficult to turn.
Leica even included a fool-proof zero stop design in the turret. Because the full 120 mils of range are contained within a single rotation, this allowed them to use a bombproof, protruding roll pin in the turret that interfaces with a stop on the scope/turret body at the zero setting. That's it. Nothing to set, no shims, it just works. I was impressed by the simple genius in the design.
Unlike the exposed elevation turret, the windage knob is capped in the traditional hunting scope fashion. This keeps a lower profile, and protects an adjustment that isn't likely going to be used very often.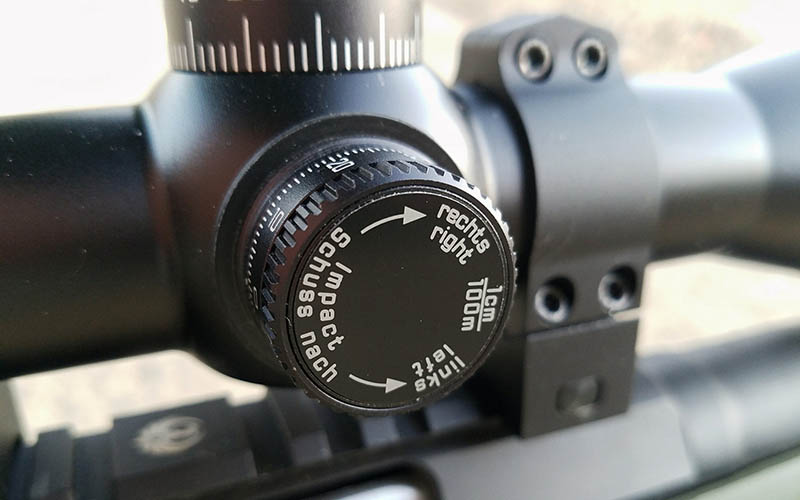 The cap itself has a rubberized gripping surface, and seats against a rubber O-ring to keep moisture out. We also see bilingual turret markings here, and the click value is once again 1/10th of a milliradian. Unlike the elevation turret, the windage knob has individual witness marks for each click.
Resetting the zero on the windage knob is super easy. The markings themselves are on a separate spring-loaded ring. Just push down on the ring, rotate to zero, and release. That's it.
In the competition and tactical markets, a capped windage turret is becoming more and more common. This shows that somebody at Leica is paying attention to current trends, and is bringing them to the hunting world.
Illuminated Reticle
The Magnus i also includes an illuminated reticle, with three different settings: Day, night, and off. The only difference between the day and night settings are the brightness ranges available. Both settings can configure the dot at an astounding 60 different brightness levels, by pressing down on the left or right sides of the button.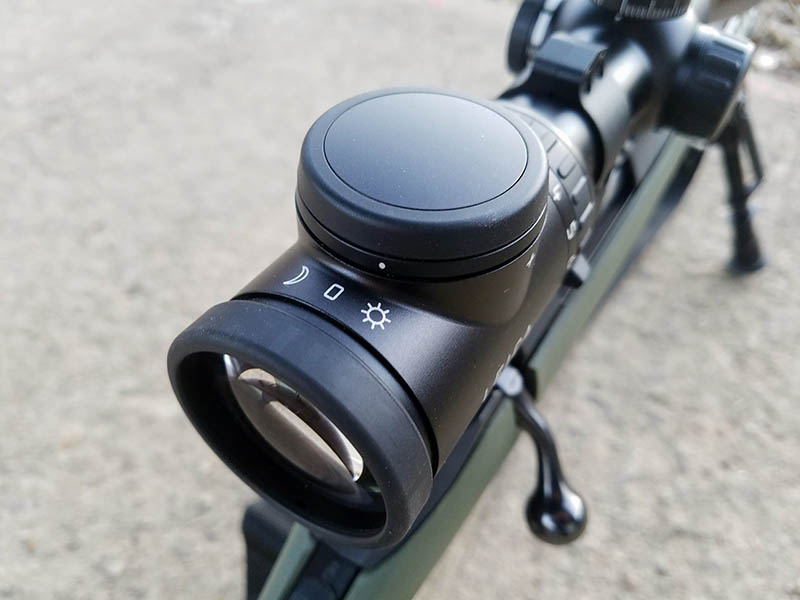 Once you've found a setting that makes you happy, the Magnus i remembers it even after turning the scope off. Once you turn the illumination on, the dot flashes in a specific sequence (read the manual) to indicate how much battery life is remaining.
The battery compartment on the Leica Magnus is the most cleverly executed design I've seen yet on a rifle scope. Most illuminated reticles that I have experience with place the battery in a compartment that's secured and compressed against the battery contact via a screw-on cap. While there's nothing wrong with that, Leica took things a step further.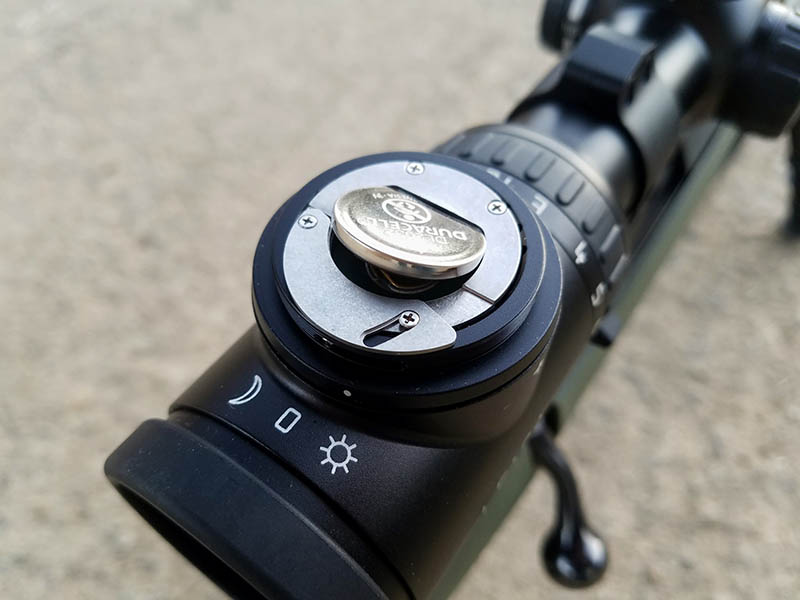 Unscrewing the cover (which also doubles as the illumination control) reveals a gate-covered battery slot. Swinging the gate open allows the battery to slide in or out, and closing it locks everything down. It can't swing open if the cover is in place, which makes it extremely secure.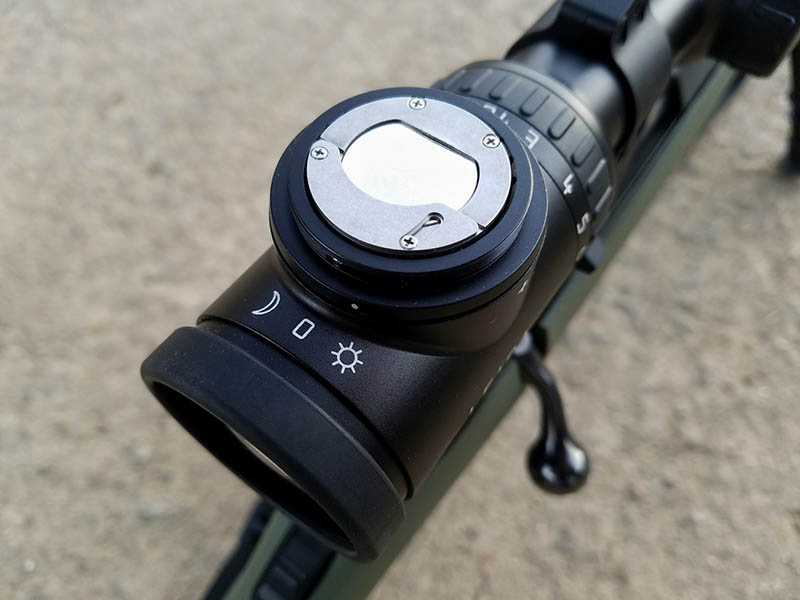 Another very cool feature on the Leica Magnus is the ability for the scope to sense when you're using it. That's right, the reticle actually shuts down under certain conditions, like extreme angles or if the optic is motionless for three minutes or more. Obviously, this preserves the battery life, but might not be ideal in all situations. Fortunately, you can disable this auto-shutoff feature.
This illuminated reticle is one of the most high-tech and well-thought-out designs I've had the pleasure of using, and like the rest of the optic, is quite impressive.
Leica Magnus i L-Ballistic Reticle
My sample Magnus i was built around the L-Ballistic reticle, which features graduated hash marks every 1.2 mils. Plugging the numbers for my favorite Hornady 168 AMAX Match loads into the Leica Ballistic Calculator shows that the reticle will reach out to 450 meters with the magnification set at 16x.
In my opinion, the L-Ballistic reticle on my sample optic was almost too fine to be practical. If it weren't for the illuminated center, it would be impossible to use in dawn or dusk conditions. The ultra-thin wires and target-dot style aiming points are definitely borrowed from a more precise application. It's ideal for shooting tiny groups, but in low light, it definitely gets lost. The illuminated dot is essential.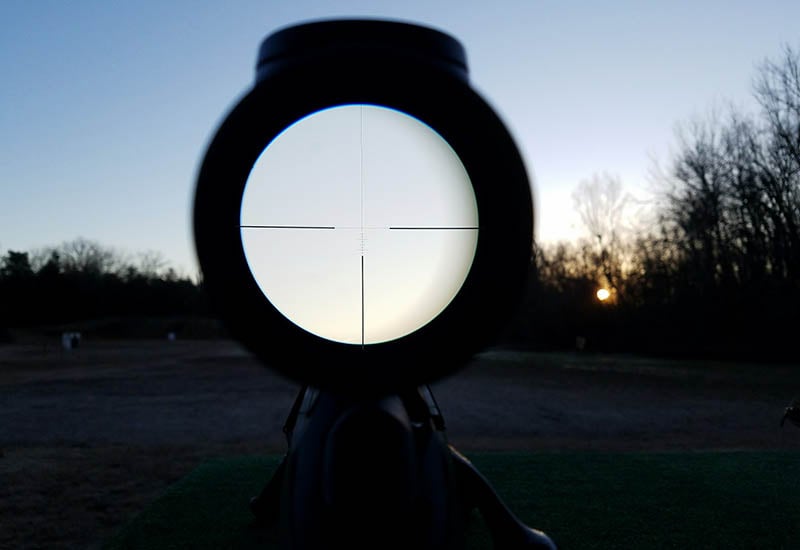 I usually don't have any trouble getting reticle photos, but the Magnus i L-Ballistic proved to be a real challenge, due to the fine construction. I did my best, but you can view more precise L-Ballistic reticle images at the Leica Ballistic Calculator.
Leica Magnus i In Use
Rings used were the Vortex Viper, in high height. This was my first time using these on a project, and I was surprised at just how easy they made mounting the scope. Just set them in the correct position on the rail, level the scope in the rings, and tighten the top gap all the way shut. Torque the bottom screws, and that's it. Very cool rings.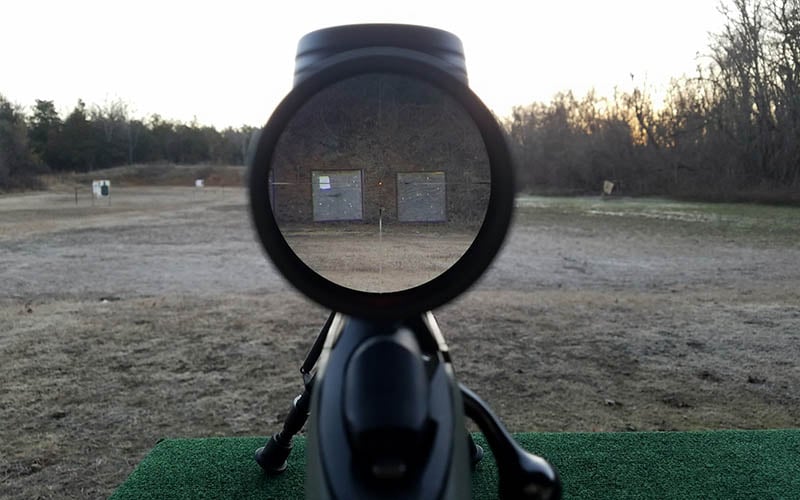 Of course, I put the Magnus i on my workhorse Ruger Predator rifle. I still love this little gun, but after Ruger announced they are producing it to accept standard AICS magazines from the factory, I might sell or give it away and trade up. Either that, or wait for Magpul to finally release their Hunter American stock…
The rifle was a good match for the Magnus i. I normally don't prefer large objective lenses like the 56mm on my sample scope, but the Magnus i is available in other sizes. I think the 1.5-10x (with the same general feature set in the Magnus i lineup, of course) would be dynamite on my little Ruger.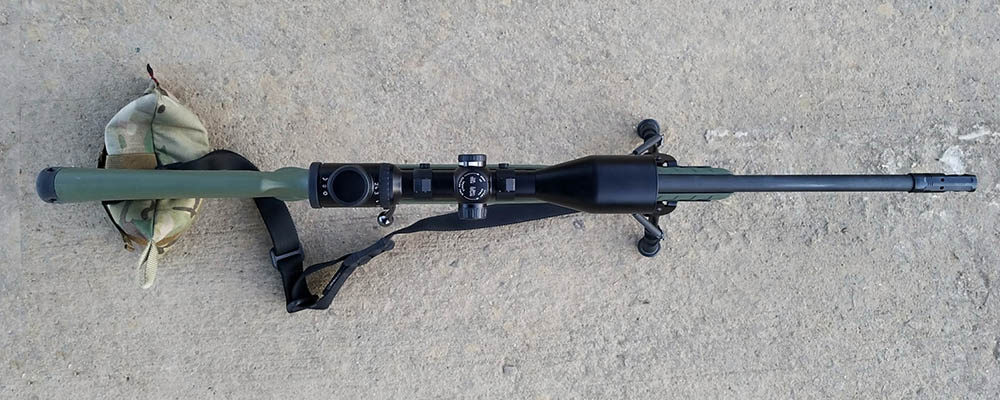 Other than the large objective, and the eyebox issues at maximum magnification, and I can't really find anything I'd change. The 2.4-16x56i is not a small scope, yet I found myself surprised by the light weight every time I picked up the rifle. It's made for walking.
Leica Magnus i Warranty
The warranty provided with the Magnus i covers the body of the optic for ten years, and the electronics for two years. Parts the Leica considers to be "wear items" (like rubber eyepieces, etc.) are not covered, and damage from improper handling or misuse is not covered either.
Chances that this warranty will be needed are slim, because the optic undergoes numerous checks prior to leaving the factory. It's not the best warranty in the industry, but it isn't shabby either.
Final Thoughts: Is the Leica Magnus i for You?
Is this the Ultimate Hunting Scope, the be-all-end-all? No, simply because we're in a special age with many different, high-quality optics readily available. There is no "one greatest" hunting, tactical or competition scope.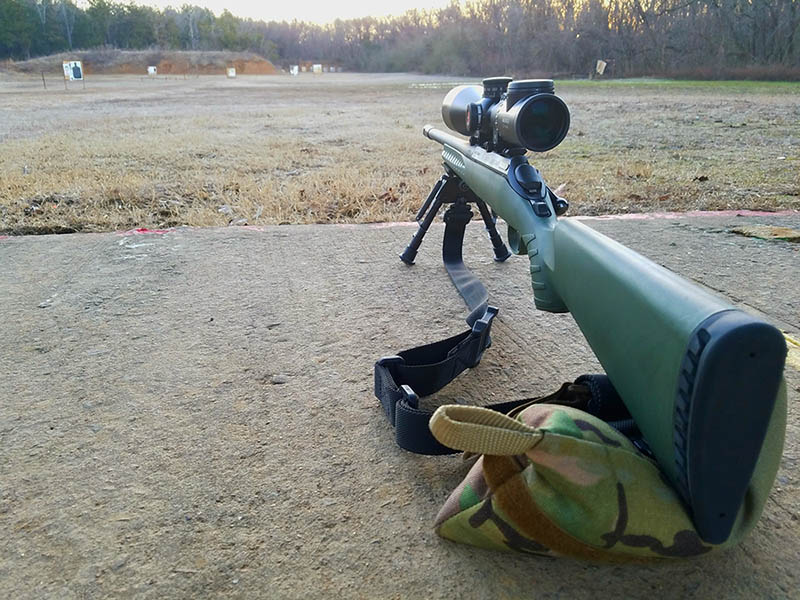 However, The Leica Magnus 2.4-16×56 i blends the best of many worlds together, in a rock-solid package that just oozes quality in manufacturing. Cleverly engineered features are scattered throughout, and are just as well executed as they are designed.
This is a purebred hunting scope that isn't just "business as usual." There is a clear line of thinking behind the what and why of the Magnus i. If you're looking for the perfect high-end hunting scope to pair with a custom rig, I think you've found your solution.