By Kip Staton
It's no secret that the United States have more hunters per capita than any other country in the world. As a nation, we just love to hunt. And if the lines of sub-$500 hunting rifles at sporting goods stores ready-to-go out of the box are any indication, we love a bargain as well. Truth be told, these inexpensive guns get the job done.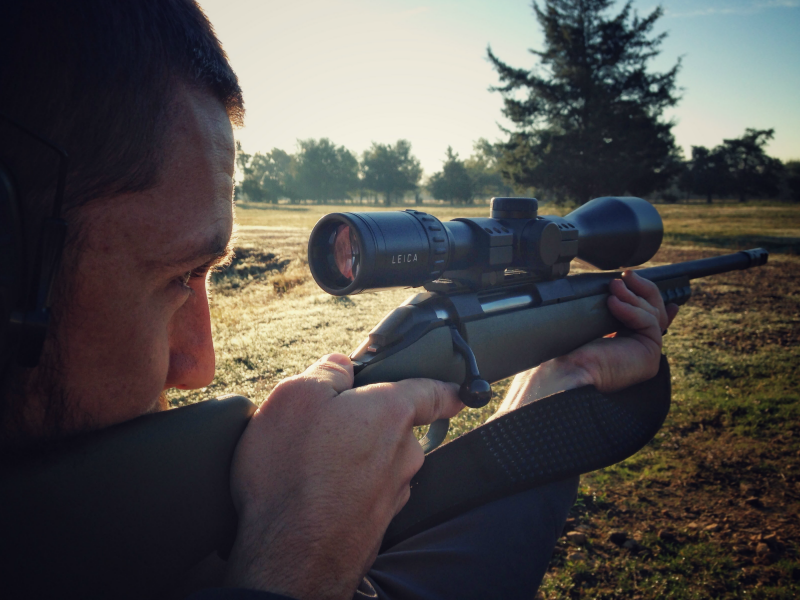 But not everybody is in it for the bottom dollar. Like fast motorcycles and muscle cars, we Americans enjoy the finer things in the shooting world too. And nearly nothing is finer than high-end European optics.
Contrasted to the near-freebies included with deer-season specials at big-box stores, companies like Leica Camera produce some of the finest optical instruments on the planet. And that's the subject of today's review: The Leica ER 5 rifle scope line.
Leica ER 5 Overview
Here's the Leica ER 5 series in a nutshell: Stateside hunters can now enjoy the standards of European scopes, but with American features and pricing. Leica is already a known quantity as far as quality goes (it's very, very high), and the US production arm of the German brand allows the company to avoid the high import costs normally associate with overseas glass.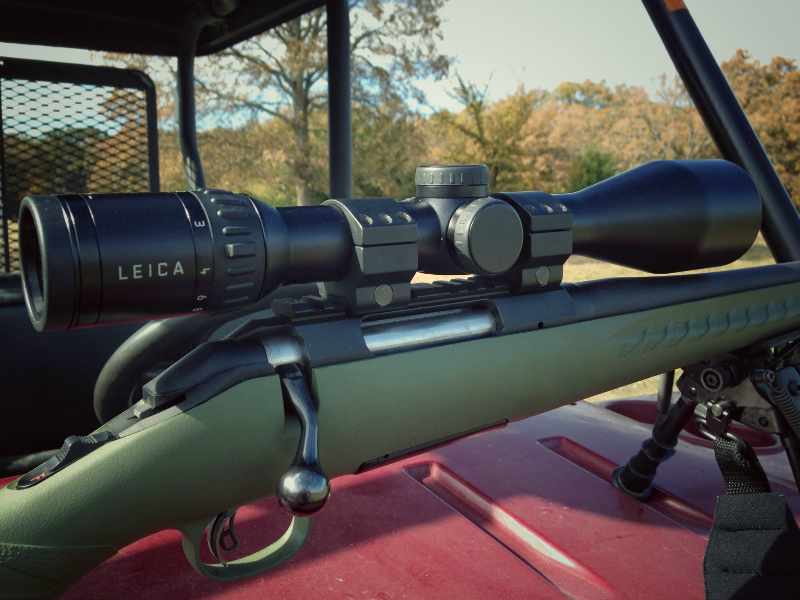 This translates to an attractively priced high-end scope line, especially when compared to other European manufacturers. Each one has a zoom ratio of 1:5 (thus the ER 5 moniker), which is a very versatile and useable range. Options available include:
It's a bit odd that the common mid-range objective lens sizes (in the 42mm range) are missing, but I'm not sure that it's a big deal. Mounting a 2.5-10×50 on my Ruger American Predator in 308 Winchester was easily accomplished with low rings. If I can have the same low mount that I use with my 42mm optics, but with a big 50mm objective lens… why not?
The ER 5 series is also available with many reticle options (all in the second focal plane), from the traditional German 4a to a modern BDC engineered for common magnum calibers. Chances are there's an ER 5 scope and reticle combination for your unique hunting application.
Unboxing and Physical Description
Leica was kind enough to send two ER 5 riflescopes in to review: The 2.5-10×50 Standard Ballistic Reticle and 3-15×56 Duplex.
The majority of my use was with the 2.5-10×50, since it was best suited to my regular shooting habits. Like I mentioned before, it provided a lower mount that I prefer. It also offered an acceptable top end magnification for the ranges I shoot at (out to around 600 yards), and a better reticle.
Each Leica ER 5 includes the following:
Of course, the ER 5 scopes are waterproof and fogproof. They also offer a 4" eye relief no matter the magnification, which is quite nice. The eyebox is very roomy at the lower end of magnification, and constricts a bit as you climb up. No complaints here.
The aircraft aluminum main tube gives ample room for mounting to any action length, with standard 30mm rings.
Leica ER 5 Reticle
My 2-10×50 sample was equipped with the second focal plane Standard Ballistic Reticle. It's based on the performance of a 150 grain Nosler Partition bullet, chambered in 308 Winchester and zeroed at 200 yards. All reticles in the ER 5 lineup are subtended in MOA.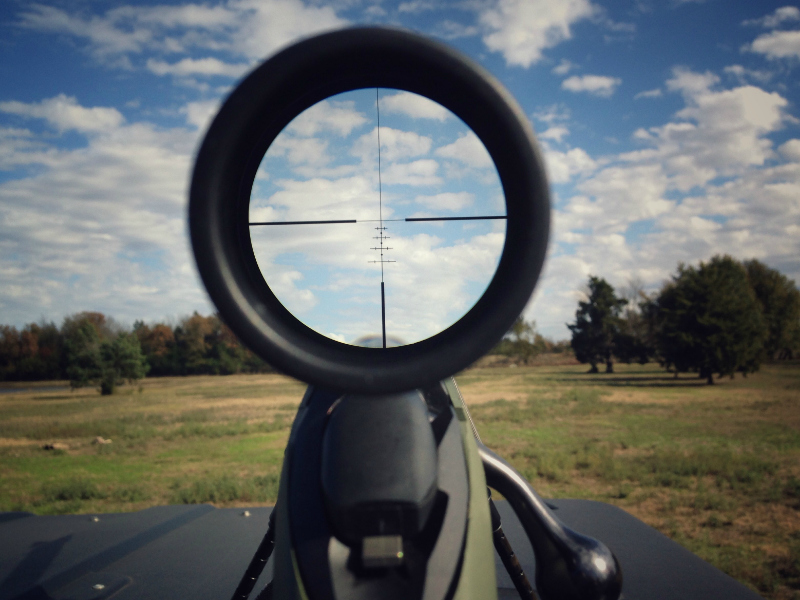 The Nosler is a great bullet, and is very comparable to one of my favorite loads: The affordable ZQI M80 clone. Accuracy isn't anything to write home about with ZQI ammunition, but it's an economical loading that's good enough for practical targets 400 yards and in.
With M80 ball ammunition, the holdover points on the Leica ER 5 come out to:
200 yards (zero)

350 yards

415 yards

475 yards

535 yards

600 yards

650 yards

710 yards
As you can see, it's a really useful scale. I assume that they gave it a general trend towards ~50 yard increments with the Nosler (after 200 yards), since it's somewhat close to what the M80 clone works out to. Additionally, the Standard Ballistic Reticle offers wind compensation for 10 MPH and 20 MPH crosswinds.
Getting the above information on what the reticle meant, however, was difficult. The instruction manual, while very clear and concise in all other respects, held no reference to the subtension values. And finding that information online was a chore.
After some Googling, I finally found the Leica ballistic calculator. There isn't mention of this resource in the scope literature… and the database is incomplete. It's missing the Standard Ballistic reticle, and a few other options.
I will say that the Leica ballistic calculator really helps keep the jargon down. It seems to be doing its best to speak to the unique needs of hunters wanting to extend their reach.
Long story short, the subtension values can be found buried in a PDF doc located on the Leica Camera ER 5 downloads page. And once you get into the doc, just getting the subtension values is a multi-page affair. Support in this area is somewhat lacking with the ER 5 series.
Reticle focus is accomplished like most optics, with a diopter ring at the rear of the objective lens.
Parallax Settings
The parallax is adjusted via a knob on the left-hand side of the scope. There are no numbered markings; the intention is to simply turn the dial until everything is sharp and clear. The instructions indicate that you've arrived at the correct setting when the reticle and image do not move relative to one another, if you move your eye around the eyebox.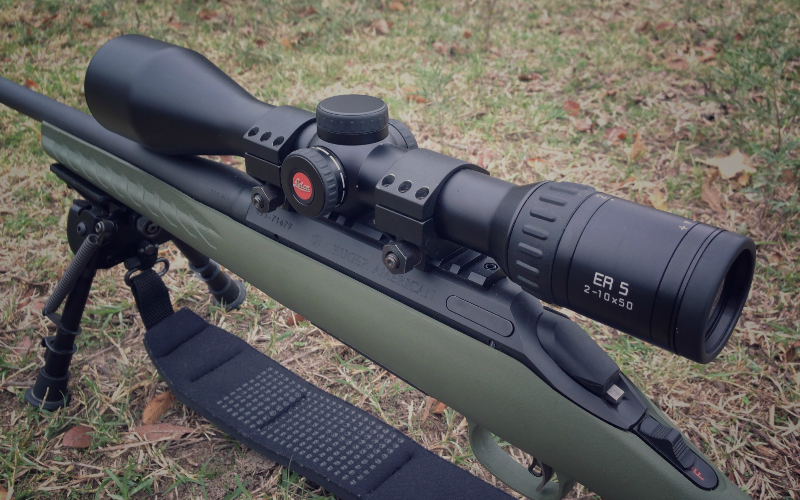 Eight rectangular markings, from 50 yards to infinity are at either end. Unfortunately, there's no other indication as to their meaning. This makes getting the parallax set less than intuitive, unless you're looking through the scope. I would prefer yardage markings that would get you in the ballpark, like nearly every other riflescope with a parallax knob. Perhaps this is a European thing.
Comparative Optical Evaluation
Needless to say, the ER 5 series offer phenomenal optical performance. I was able to shoot in the deep shadows of East-Texas Autumn sunrises and sunsets, as well as high noon.
There is no noticeable vignetting and excellent clarity at all magnification ranges. Just an all-around class act.
The ER 5 glass is (understandably) worlds better than a Primary Arms 4-14×42 that I had on hand, to give you an idea of how it compares to a solid budget scope. I'd rank the glass quality (subjectively) between the Vortex PST series and Vortex Razor HD Gen II scopes. It's really, really nice glass, especially in low light.
It certainly lives up to the Leica Camera reputation, in every respect.
Turrets and Mechanical Testing
While my most-used ER 5 was equipped with the standard ballistic reticle, the ER 5 still offers finger-resettable, capped turrets. These caps are given a rubberized gripping surface, which plays well with gloved hands.
Turrets are set up to move the point of impact a standard, Americanized ¼ minute-of-angle per click. Resetting the turrets after zeroing is as easy as pulling up on the knob, rotating to the zero point, and pushing them back down again.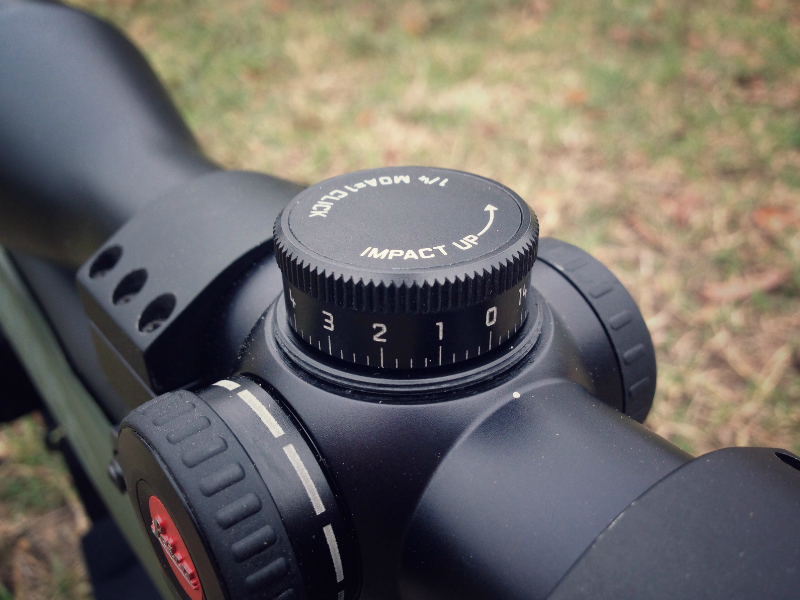 The optics are not designed to be run in the field without the turret caps in place, (especially given the ballistic reticle choices). That being said, removing them to dial in elevation isn't a big deal if you have the time.
Rather than do the standard "box test" to judge the repeatability of the turrets, I just started shooting. Over the daily course of around six weeks, I dialed all the way out to targets from 200 to 600 yards, and many ranges in between. The reticle always came right back down to zero, without a minute of trouble.
Zoom Ring
The magnification adjustment ring runs smoothly throughout its entire range, and stops positively at either end. No need for a cattail to try to gain some mechanical advantage, but it's not loose by any means.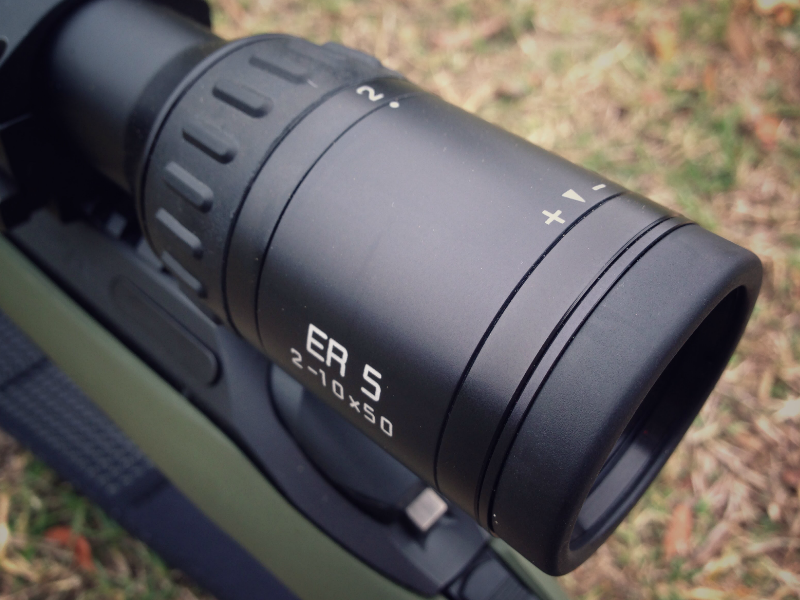 The gripping portion is covered with the same type of rubber gracing the turret caps, and provides a sure grip throughout the arc of movement. One of the rubber gripping nubs is raised higher than the others, to provide an index point and taller surface to push against.
Leica ER 5 Riflescope In Use
I mounted the 50mm Leica ER 5 to my Ruger American Predator with a set of low Burris Xtreme Tactical rings. This is honestly the most use that I've ever had with a 50mm riflescope. Normally, I prefer optics in the 42mm range, or smaller.
I'm not sure whether the 50mm objective or high-end glass contributed more to the outstanding low light performance (likely a combination of both) of the scope, but it was impressive. Shooting 8" steel plates at 200 yards in barely-legal hunting light was simply not an issue.
Turrets clicked audibly and with tactility when dialing in for various ranges, and always provided a true value. The ballistic reticle works exactly as advertised. In fact, the entire optic does.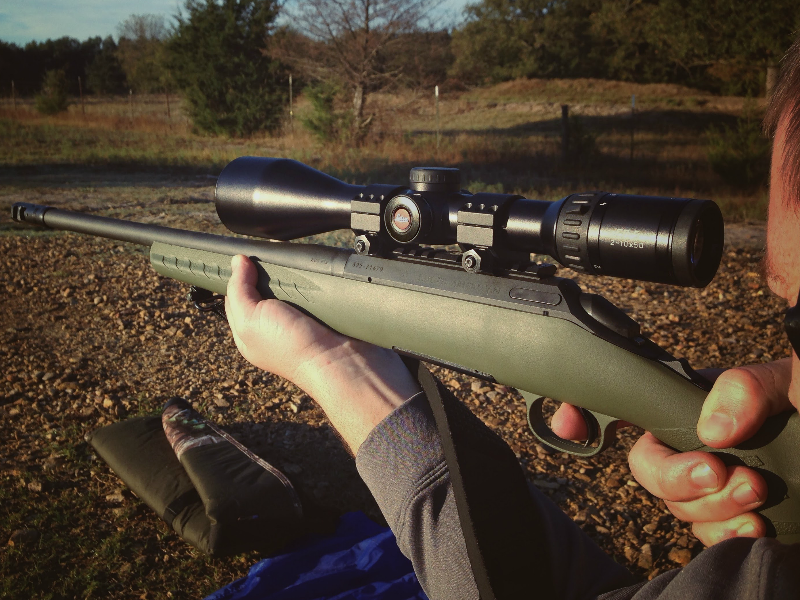 I didn't trash the scope or do any type of "torture testing," but it rode around with me regularly for a month in a Kawasaki Mule and didn't get unusually dinged or scratched up. Whatever matte finish Leica uses is quite durable.
The 2-10×56 ER 5 is sized very well. It's not a small scope, but it's not obnoxious either. My Ruger Predator is a fairly compact 308 Winchester with an 18" barrel. The ER 5 was right at home on the gun.
Is the Leica ER 5 Series for You?
The ER 5 series shows a lot of promise, but also suffers from a distinct lack of technical support. As I mentioned, nothing in the instruction manual spoke to the significance of the ballistic reticle or subtension values, and the online calculator was clumsy to use and had an incomplete reticle database.
While the glass on these optics is certainly on the phenomenal side, going with a mid-priced scope with medium-quality glass isn't going to render your hunting rifle useless. With that said, if you want top-end optical quality and repeatable performance, you'll love an ER 5 scope.
Yes, you'll also spend a little more than the average Leupold or Burris when putting an ER 5 on your hunting rig, but less than comparable offerings from across the pond. If you want a high-end Euro scope with familiar controls and reticles designed for American cartridges, the ER 5 roster should get a close look.
Leica ER 5 Review Final Thoughts
Unfortunately, I only had the ER 5 scopes on hand for a few weeks. I wish that I could give you the results of a few hundred rounds fired under many different conditions, with several different guns and let you draw conclusions from that. This Leica ER 5 review was brief and not exactly in depth. When dealing with manufacturer's deadlines, that's the just nature of the beast.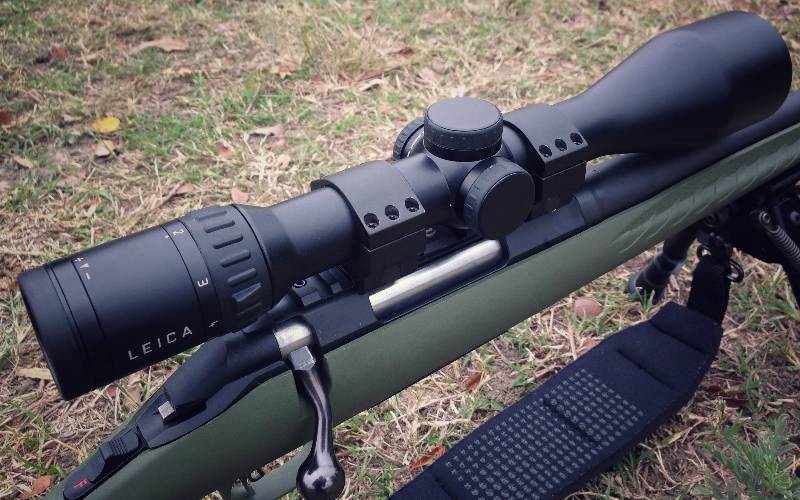 I will say that the 2-10 magnification range, capped resettable turrets and big objective lens all play together very nicely. I don't think there could be a better configuration for a generalized "hunting" optic, and Leica pulls it off very nicely.
To wrap it all up with the ER 5 riflescopes:
The glass is of exceptional quality.

The optics are available in a wide range of formats.

The reticles are useful for their intended purpose (hunting).

The scopes work with many different rifles.

The clicks do what they're supposed to do.

Leica provides a warranty.

It's a true American format.
There's something intangible about a high end scope that just makes everything work better. Or maybe it's definitely tangible, in that everything just… works.
There's not just room for the ER 5 in a crowded American market, there's a special place. From my sample of two, I predict the ER 5 series will shape up to be well-known as a line of workhorse hunting optics. No drama. Just results. Is there anything more American than that?