Last Updated on
Development is the key to success for every manufacturer in today's world. If a manufacturer does not evolve, does not implement new ideas and technologies and doesn't take customers' needs into consideration – it is a straight road to failure. Only the strongest, those who strive for the highest standards of competence, will be on the top.
The world of guns is no different. Every year we can witness new designs, models and series produced by firearm manufacturers. Each of them is trying hard to fulfill customers' needs by developing new concepts.
Well, there are so many excellent pistols that are made by various companies, but in this article, we are going to talk about Kimber Custom LW Series. (LW stands for lightweight, as you understand.)
Kimber builds the finest firearms right in the USA. Its handguns are known for unrivaled craftsmanship and hair-splitting accuracy. Many of Kimber's firearms are based on the 1911 platform. Usually they tend to be eye-catching and come in various sizes and calibers. 
Kimber Custom LW Series can be roughly divided into 2 groups, depending on the platform they are based:
Group 1 – 1911 platform based.
Group 2 – Micro platform based.
Let's have a closer look at each group.
Group 1 – 1911 platform based.
The 1911 is a classic firearm that helped shape the handgun world. And today it remains one of the most popular firearms ever produced for a variety of uses. The 1911 is a living piece of history that should be in any serious gun collector's inventory.
The most fascinating thing about this pistol is its price and customization spectrum. There are so many different types of 1911s on the market. It is truly mind-blowing to look and see how much the 1911 varies in price. You can find 1911s for $350 all the way to $4k.
So, to make the 1911 a little bit more affordable, Kimber manufactured a special edition of custom lightweight pistols.
The guns at this price level are NOT exceptional guns, but ones that will do the job just right.
Here we'd like to mention the following models:
Kimber Custom LW
Kimber Stainless LW
Kimber Custom LW (Nightstar)
Kimber Stainless LW (Arctic)
These models are available either in .45ACP or in 9mm caliber
These models have:
Weight-reducing aluminum frame that acts as the gun's solid foundation.
Handsome Gray laminate or Cocobolo laminate grips with checkered gripping area for a solid grip and easy handling.
White dot rear sight and red fiber optic front sight for lightning-fast target acquisition or Vortex Venom 6MOA Dot Optic if you are looking for something to shoot with in a competition or to rely on for home defense.
8 round magazine (.45ACP) or 9 round magazine (9mm).
The Optics is the main difference in these models.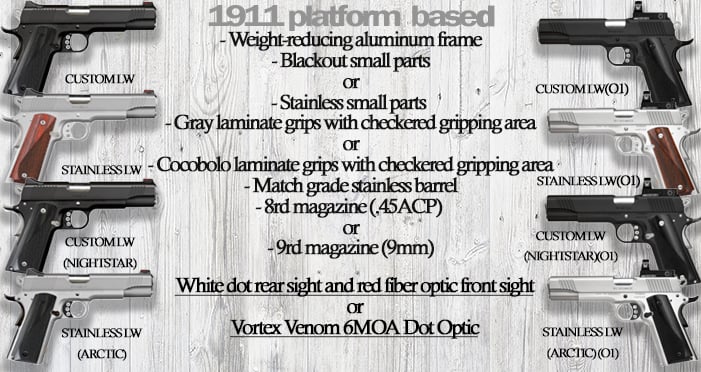 Group 2 – Micro platform based.
What about Micro? Super small, high quality accurate guns – just perfect options for those who are looking for a gun for a concealed carry or home defense. You can also read and find out more about concealed carry pistols in our article HERE.
Available in 9 mm or .308ACP calibers, they are:
Micro 9 (Black)
Micro 9 (STS)
Micro (Black)
Micro (Stainless)
Look at these features of Micro 9:
Weight-reducing aluminum frame (of course! Because it's Custom LW Series)
Low-glare matte black finish or Satin stainless finish
Black rubber checkered grips
Black serrated sights
7 round magazine
The Micro chambered for .380ACP has:
Blackout sights
Blackout or Silver small parts
Black rubber grips with checkered gripping area
Match grade stainless barrel
6 round magazine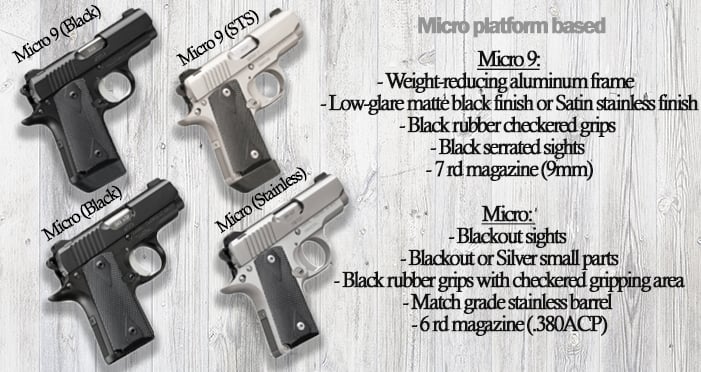 Conclusion:
Our purpose was to tell you about Kimber and its Custom LW Series. It is a limited run by the way. And when it is sold out it won't be manufactured again. So only now, you've got a chance to add a well-made, lightweight and accurate Kimber from Custom LW Series to your collection. If you became interested, you'd better hurry up to place your order!