The 9mm pistols are compact, lightweight, accurate and perfect for self-defense use. That is why they are the ideal choice for concealed carry. A large number of gun manufacturers produce various types of 9mm guns, and it is very easy to get lost in such variety.
To help you out we have drawn up a list with the best 9mm pistols available on the market nowadays. If the worst day of your life happens, you'd better be ready to encounter it with the best reliable gear. That is why it's important to do some research and make sure you have the right handgun with you when you need it.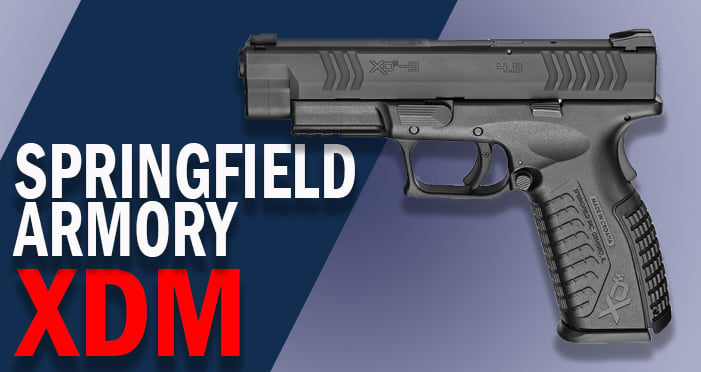 The XDM is Springfield's answer to Glock. The XDM Series are very versatile. They come in all lengths, sizes, in several different calibers, etc. The XDM 9mm 4.5in is a double-stack polymer pistol with a reasonably aggressive grip. The gun is also equipped with three safeties: the beavertail grip safety, trigger safety, and a firing pin block safety. It has also got such typical feature as interchangeable backstraps, which means that no matter what size of your hand is, the pistol will fit it perfectly. Mega-lock texturing will keep this 9mm handgun secure in your grasp.
Also, the cocked indicator on the rear is very obvious, and very pronounced. And there is a loaded chamber indicator that a bullet will force upwards. You can also feel and see it just above the top of the slide. The slide release is just above your thumb, but it is not ambidextrous, it is only on the left side of the slide. So if you are a left-handed shooter – you are kind of out of luck. This 9mm pistol does have serrations on the front of the trigger guard, rear serrations and picatinny rail. 19-round magazine capacity features impact-resistant polymer baseplates, durable stainless steel construction, and steel spring internals for maximum reliability and service life. By the way, the magazine release is ambidextrous. The XDM is the perfect 9mm concealed carry pistol for those who are looking for full-size performance, sight radius, and handling.
Click HERE to SHOP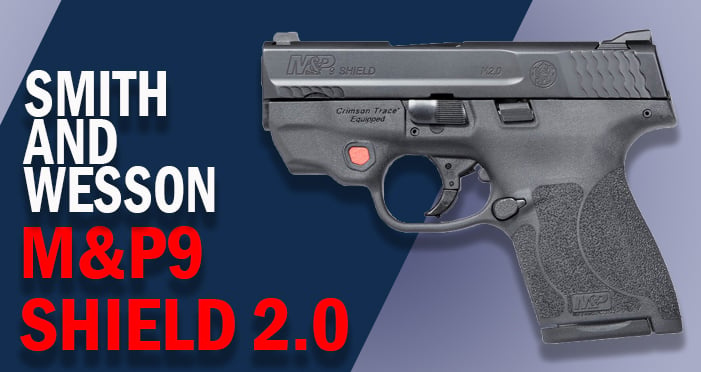 The reality is that you never know when you'll need protection. The best thing you can do about it is to think over it ahead. Smith & Wesson will help you as they took the power, and features of their full-sized M&P pistols, and put them into a slim, lightweight pistol that nicely fits your hand.
The M&P Shield M 2.0 pistol with an integrated Crimson Trace Red laser has excellent construction. Both the barrel and the slide are constructed from stainless steel and feature an armor-like finish. The slide serrations provide an additional tactile surface choice when manipulating the slide, giving the operator positive traction even with wet or sweaty hands. The frame has nice texturing, but it is not very aggressive. Also, the gun comes with steel 3 dot sights that make picking up the picture very easy. The gun is not completely ambidextrous, as it has only one slide on the left side of the gun, the magazine release though is on both sides of the gun. The Crimson Trace laser has two modes. The first mode is on with a solid beam, and the second mode is flashing. You can turn the laser on and off from a shooting grip with no issues as the buttons are on both slides of the gun so it is completely ambidextrous. To change the batteries in the laser, you just remove the slide and there you can access the battery compartment.
The M&P9 Shield 2.0 is a great 9mm double action pistol for those of you looking for an out of the box concealed carry solution.
Buy SMITH & WESSON M&P9 Shield M2.0 9mm HERE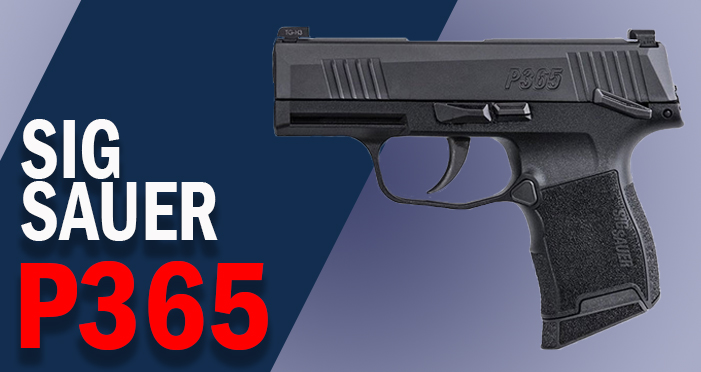 The P365 is a polymer frame striker-fired 9-millimeter pistol. The Sig P365 has a very unique magazine design that allows the rounds to be staggered and that helps you out because you can fit more rounds in the same size grip. It comes with two 10-round magazines: a 10-round flush fit magazine and a 10-round extended magazine. An optional 12-round or 15-round extended magazine allows you to bring the total capacity to 13 or 16 rounds. Capacity is king with the P365. If you are looking for a gun that is incredibly small and carries high capacity magazine – the P365 is one of the only options out there. And on top of that, it doesn't make the grip any larger so if you have small hands, you still can shoot this gun very well. You can put red dots on it, but it does come with some pretty awesome HD night sights right from the factory. It also comes with a great trigger that has a flat face and it's pretty crisp. All the ergonomics are excellent – including the texture. The reliability is also on point. It shoots a thousand rounds clean with no failures. All these features are making the Sig P365 one of the best small 9mm pistols that you can get for concealed carry.
To buy Sig Sauer P365 click HERE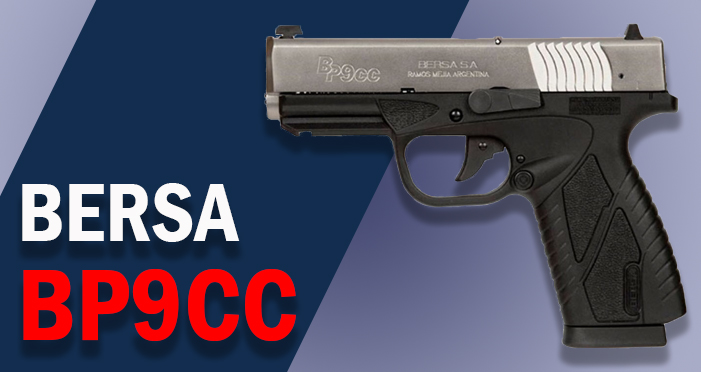 The BPCC 9mm is a polymer frame striker-fired double-action handgun specially designed for concealed-carry personal protection. The BPCC provides accuracy and firepower in a lightweight, compact, ultra-thin handgun. It is equipped with a visible and tactile loaded chamber indicator and ambidextrous magazine release. The overall fit and finish of the slide though are very nice. It also has nice scalloped serrations that make the slide very easy to grab. The magazine capacity is 8+1 in the chamber.
It does have a magazine disconnect safety, so with the magazine out of the gun, you are not able to get any action in the trigger. With the magazine in – you can fire. The pistol has 3.3-inch barrel, which is cut with polygonal rifling. A high impact polymer frame is molded with picatinny rail for the attachment of various slights and lasers. The defining feature of this pistol is what Bersa calls the Short Reset Double-Action-Only Trigger. It contains a passive safety similar to Glock pistols. Because that trigger has such a nice trigger pull, you will need a holster for this gun if you are carrying concealed. The BPCC 9mm has a 3 dot sight system. The two rear sights are really small and the front sight, that is larger, and that allows better target acquisition.
The BPCC 9mm is an excellent choice for concealed carry even for home defense. It shoots like a full-size gun, yet it is thin enough to carry comfortably all day long.
Order Bersa BP9CC online HERE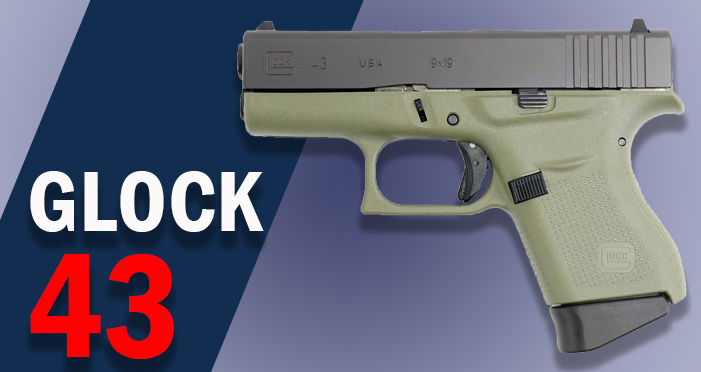 Last but not least another widely used 9-millimeter pistol for concealed carry isGlock 43. It is a slim single stack subcompact pistol, and it has all the features the Glock is known for: an easy striker fired trigger but with a slim dimension.
The grip is shaped to optimize the position of firing hand, so you can get it nice and high up, close to the barrel line. It does not have any interchangeable backstraps, but it is made as small as possible for concealed carry.
The Glock 43 comes with two 6+1 rounds magazines. One is with a flat base plate and the other with an extended base plate but still six rounds. There are some aftermarket solutions for the Glock 43 magazine capacity. That's why one of the best things about having a popular gun is that there are a lot of options out there whether they are holsters, extra magazines, different accessories, etc.
This is the lightest pistol of all the other guns mentioned in this article. So, as you have understood it's perfect for concealed carry. This subcompact slimline design is the perfectly balanced answer to your everyday needs. The Glock 43 is ultra-concealable, accurate and comfortable for all shooters regardless of hand size.
Click HERE to buy your Glock 43
There are many great options for those looking for 9 mm pistols. These are the best so far, but of course, the choice is yours!
You can find more options for semi-automatic 9mm pistols at GritrSports.com. Remember, your self-defense is in your hands