A true performer in production EDC knives, the Benchmade Anthem is an unforgettable knife that you'll want to carry for a lifetime.

By David Link
Let's face it, a lot of knives are labeled EDC (every day carry) these days. It's a fashionable word to use, especially for flashlight and knife companies. This is for good reason, and being prepared with a basic kit you carry almost everywhere is no joke. A quality EDC kit could save your life or the lives of others, and maintaining one is a point of pride for many. Not to be overstated, you also look like someone with their act together when you pull out the exact tool needed at the time.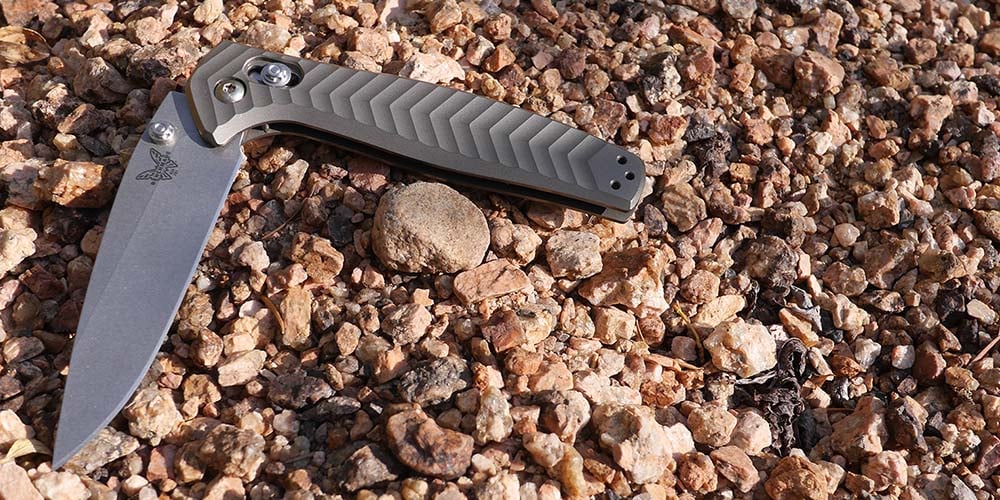 The problem is many manufacturers like to label products EDC when they're really too heavy for practical every day carry. The flashlight and knife industries are especially guilty of this, and aside from carefully designed folding knives, some things are just too heavy or bulky to ride every day in your pockets. EDC for a company doesn't always mean EDC "for you," buyer beware.
The Benchmade Anthem Folding Knife absolutely does -not- fit into this category. Instead, Benchmade has created possibly the ultimate production EDC knife complete with an anodized titanium billet as a handle material. The result is likely the lightest full-sized folding knife you've ever held. Once you pick up the Anthem, every other full-sized folding knife will feel like it is made of bulky cast iron. Let's take a closer look at the Benchmade Anthem.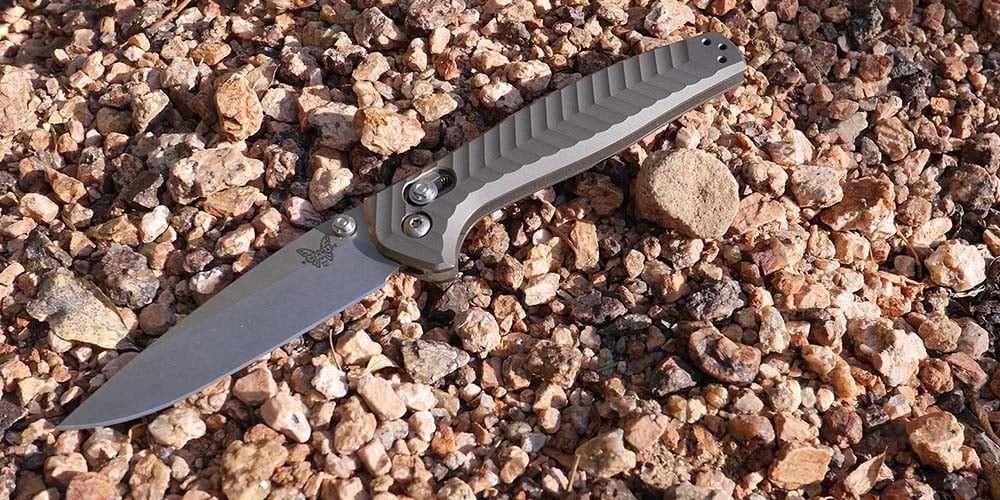 Benchmade Anthem 781 Basics
All folding knives are certainly not created equal, and the Benchmade Anthem is quite the standout. Its true claim to fame is that of being the world's first single piece, billet titanium AXIS® knife. When Benchmade says single piece billet, they mean the handle is one continuous piece of titanium. This material is substituted for handle alternatives like G10 because its much lighter. Titanium is extremely strong as well, which means it will last a lifetime. Benchmade has anodized the titanium handle to resist scratching, a necessary process if you're going to use titanium for everyday use. A continuous arrow pattern has been etched into the handle to aid in handling and grip. The knife clip, also made of titanium, displays the same pattern as the handle. Benchmade makes it easy to switch the clip position to either side of the knife with the removal of three hex screws.
Benchmade has selected a drop point style for the Anthem blade, which is really the only choice for a premier EDC knife like this. The drop point is a versatile blade style capable of handling everything you need in EDC scenarios. The Anthem's blade actually feels a little smaller than other full-sized Benchmade knives, and this is actually due to the sleek handle, not a reduction in blade size. The result is the Anthem blade feels easier to open and handle than similar models, another win for the Benchmade design.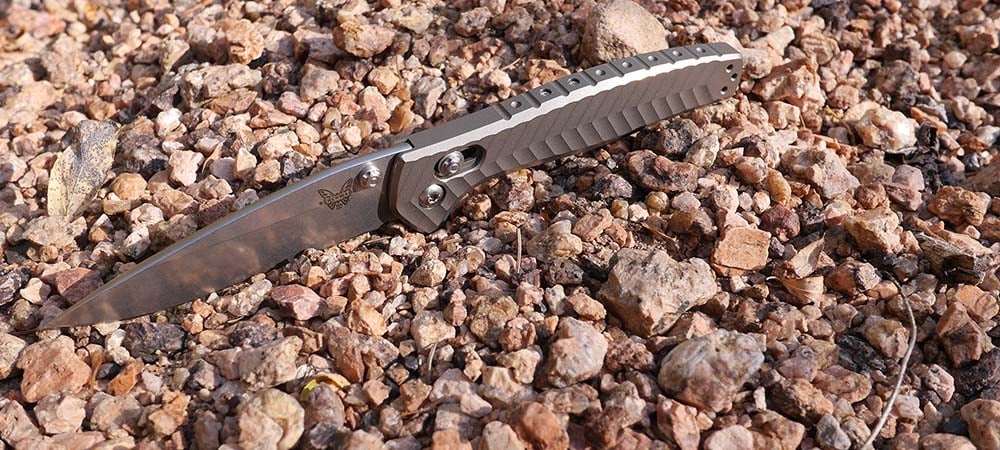 Specs
Blade Style: Drop Point
Blade Steel: CPM-20CV (59-61 HRC)
Knife Mechanism: Manual AXIS®
Handle: Anodized Billet Titanium
Weight: 3.66 oz.
Blade Length: 3.5 inches
Knife Open Length: 8.06 inches
Knife Closed Length: 4.56 inches
Blade Thickness: 0.112 inches
Handle Width: 0.43 inches
Color: Satin / Silver Finish, Blade and Handle
CPM-20CV Blade Steel
To complete the package, Benchmade has matched their unique titanium handle with a CPM-20CV blade steel. It is what's known as a tool steel, or an alloy that is extremely hard and holds an edge well. In fact CPM-20CV rates well in corrosion resistance, hardness and sharpness categories. Also look at M390 blade steel for a similar, next generation blade steel many companies like Benchmade are utilizing. In short, as you would expect, Benchmade's choice of CPM-20CV is a quality one, but it does have one slight drawback.
Unless you are well skilled in sharpening a steel like CPM-20CV, it is best to send this back to Benchmade for sharpening when it becomes dull. There are two reasons for this. First and most importantly, Benchmade has excellent customer service and they will sharpen and service your knife if you mail it back to them. (Make sure to check your state laws before sending an automatic knife. They may not be able to ship it back to you. When in doubt contact them). Also, Benchmade doesn't sharpen serrated blades, and I personally trend toward straight blades for this and many other reasons. Secondly, you won't make a fool of yourself and ruin this premium knife if you sharpen it incorrectly.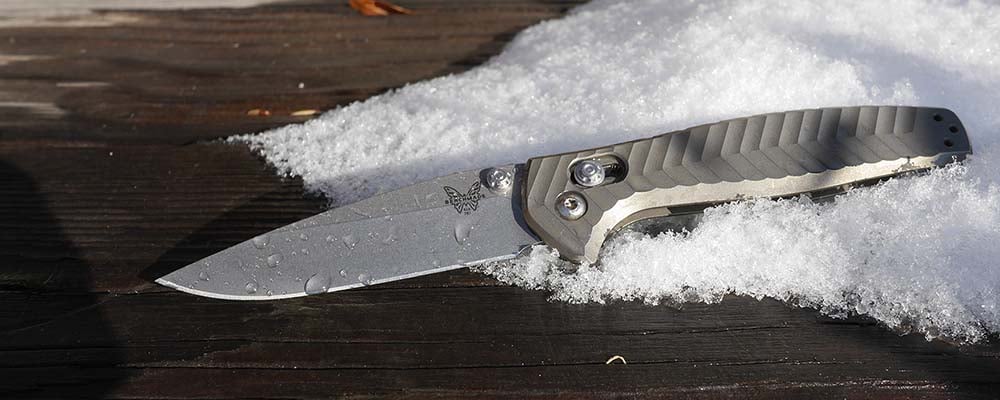 Carry / Handling
Now we come to the Anthem's greatest strength. So how does this knife really carry from day to day? Well I thought I'd have more observations on how it feels carrying it in my pocket, but honestly most of the time I forget it is there. And this in reality is a good thing, because the clip is so solid on this knife I never worry about it going anywhere. But when I don't need it, I do seriously forget I'm carrying it. You'd think there really isn't much of a difference between carrying a 3.66oz. knife and say a 5oz. knife, but you'd be dead wrong. This knife truly weighs next to nothing.
The Anthem is also extremely easy to handle, especially when compared to its thicker handle Benchmade cousins. Every knife feature is easy to access, and the ultra-thin 4.3″ handle is a big reason for this. Since the AXIS® mechanism doesn't necessarily need to be released before sliding the blade open, the act of flipping the blade open is extremely smooth. The knife fits tight into my hand, and the ergonomics are almost perfect. Fair warning, the titanium handle isn't the most secure you'll ever grip, and this is actually due to the material itself. This is no deal breaker by any means, but you should know before buying titanium has this property. The grooves in the billet handle definitely combat the natural feel of titanium as well.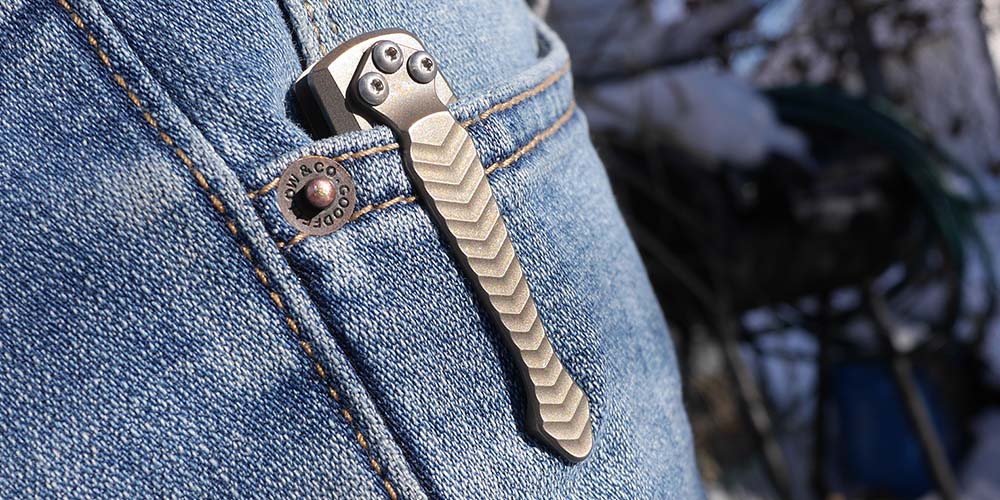 Determination
It's hard to imagine anyone being let down by a premium EDC knife like the Benchmade Anthem. You'll want to carry it absolutely everywhere, and that's the point. Few full-sized knifes on the market are this light and strong at the same time. The ease and reliability of the Benchmade AXIS® mechanism shines on this knife, and everything functions seamlessly every time, as it should. The Anthem is a true piece of craftsmanship, and Benchmade has a winner in the premium category of EDC knives.
There is no denying the Benchmade Anthem is not for everyone. I think the two true limiting factors are the price point of this knife and the titanium handle. At $425 ($500 MSRP), this is not a knife you want to lose. Heartbreak will inevitably follow. Still the Anthem is a legacy knife, and you will become deeply attached to it after carrying it. If I could pick one knife to carry for the rest of my life, this is absolutely it. As mentioned, not everyone will like the feel of the titanium handle, but truly I think we're splitting hairs here. To manufacture something as strong and light Benchmade had to make a materials choice with titanium. I seriously doubt most users will ever experience any issues with this knife. As soon as you get the chance,