Designed with first responders in mind, the Benchmade Triage seamlessly melds the best EDC and emergency tools into one smart knife. 
By David Link

How many of us are truly prepared for the unexpected, especially a life-threatening emergency? First responders no doubt are, but the rest of us are often only prepared to varying degrees. Today I'd like to look at a knife that may just save your life or the lives of others when the unthinkable becomes real. The Benchmade Triage Folding Knife combines a tactical design approach with the demands of a rescue tool, which for most purposes covers many essentials in a knife. The Triage, although a bit large as far as EDC knives go, also fits most every day mentalities, thereby covering all three key areas as far as knives go – EDC, tactical and rescue. It's rare to see a knife check all three boxes at the same time and come out looking this seamless. I would venture a guess this is the very reason Benchmade chose the "Triage" name for this knife. Let's take a closer look at this must-have knife for users who demand total preparedness out of their tools.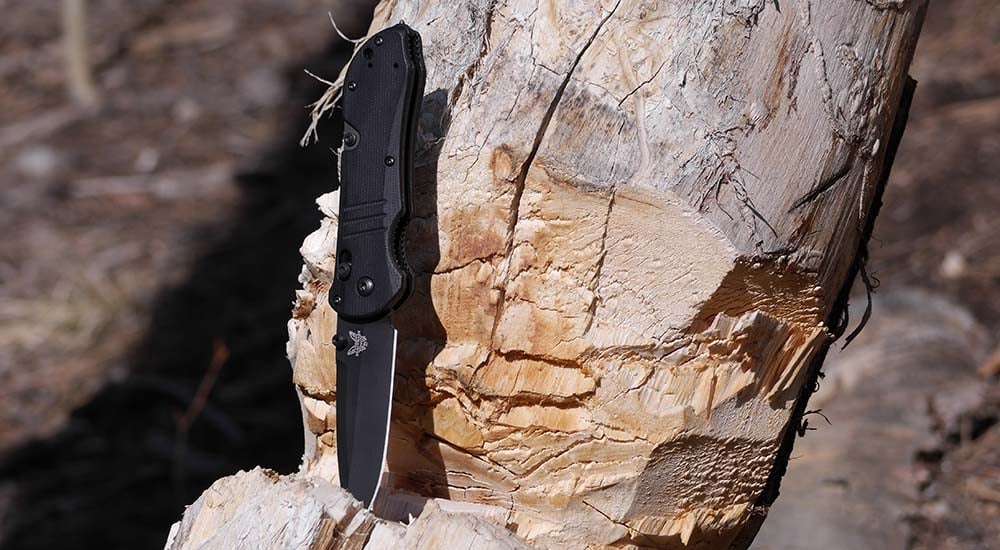 Benchmade Triage Basics
The Benchmade 917BK Triage, also known as the Tactical Triage, differs from its cousins the 915 and 916 as the former is an older version of the updated 917 and the later is a rescue-focused model with a blunt tip safety blade and blaze orange handle. The 917BK really brings the "tactical" aspects into focus with an all black blade and handle style and a versatile drop point blade. This knife utilizes Benchmade's AXIS® manual opening mechanism that can be operated with one hand.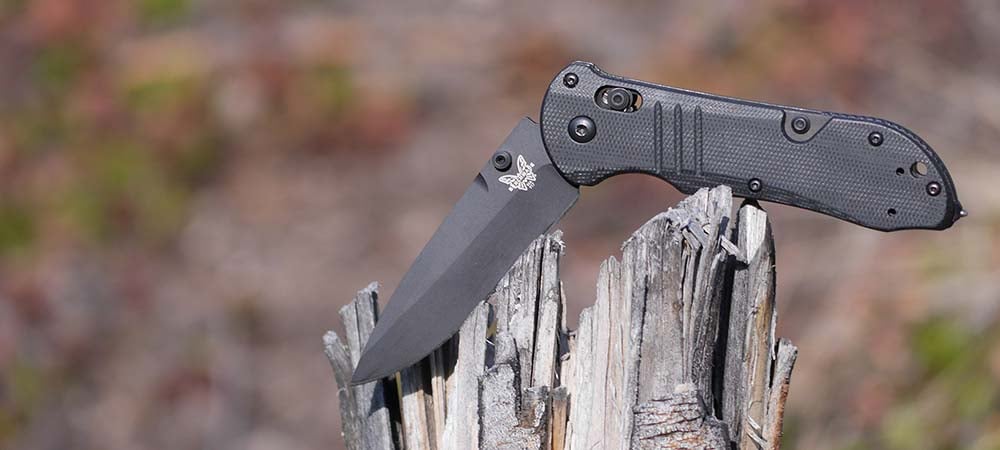 A seatbelt safety hook is located near the back of the handle opposite the blade. It can be deployed from the right-by dominant side by a knob best activated by your thumb and fingernail. There is no locking mechanism for the safety hook, but given its intended use, any downward pressure when cutting with it keeps the hook deployed in position. At the rear of the knife opposite the AXIS® is a carbide window breaker surrounded by a reinforced section of G10 handle. The rest of the handle is composed of G10 as well with three thumb indentations on each side for added grip. A deep index finger groove in the handle provides added grip, especially in situations where the handle is wet or substantial pressure is required.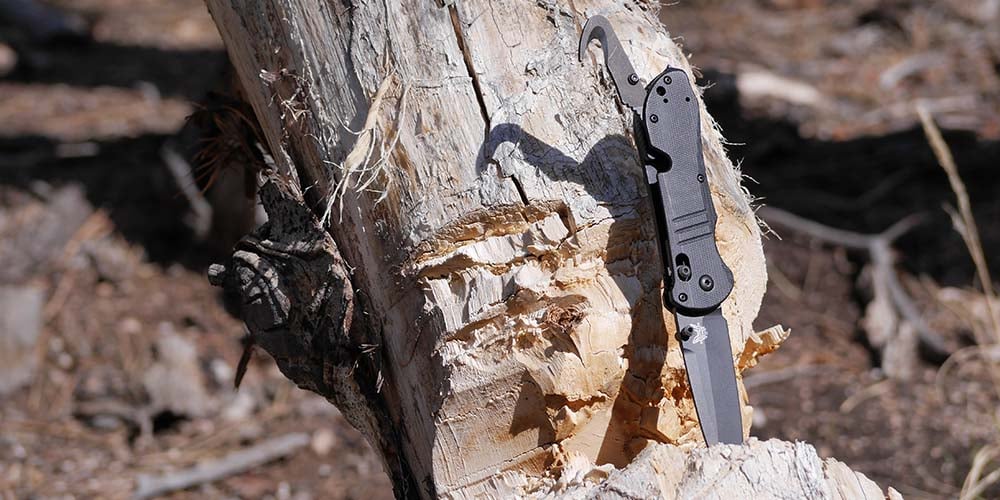 Specs
Blade Style: Drop Point
Blade Steel: CPM-S30V (58-60 HRC)
Knife Mechanism: Manual AXIS®
Handle: G10
Extras: Carbide Glass Breaker, Safety Hook and Lanyard Hole.
Weight: 5.28 oz.
Blade Length: 3.48 inches
Knife Open Length: 8.33 inches
Knife Closed Length: 4.85 inches
Blade Thickness: 0.124 inches
Handle Width: 0.55 inches
Color: Black Coated Blade / Black Handle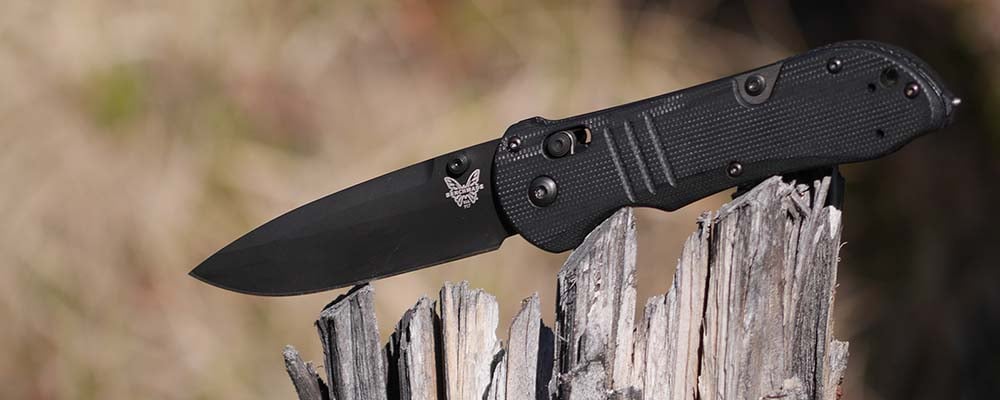 Blade Steel / Style
The Benchmade Triage employs a premium blade steel in the CPM-S30V. The S30V steel is prized for its all around capability, as it is a stainless steel that is tough, corrosion resistant, and maintains an edge very well. The key element in this steel not found in many others is that of Vanadium, which when combined with steel provide premium cutting performance over the often used Chromium-only alternative. Other elements present in this steel include Carbon, Molybdenum and Chromium. For those not well versed in blade steel types, the main point to focus on is CPM-S30V is a high quality steel you won't see in most knives on the market, especially at lower price points than the Triage.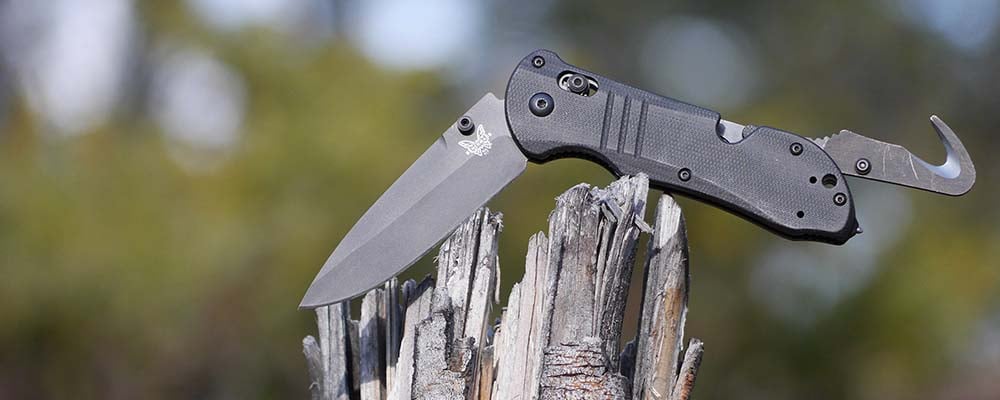 The black coated drop point blade is a perfect addition to this knife aimed at versatility. Those unfamiliar with knife point types should know the drop point is probably the most utilized blade type in outdoor and EDC knives, and this is for good reason. The drop point is strong enough to handle most tasks, and it is easy to control. The drop point has a wide surface area that makes it ideal for slicing tasks, but it also has a strong, durable point for piercing tasks. Essentially if you don't know which type of blade point you need, you should probably select a drop point nine out of ten times. It is certainly a great fit for the Triage's EDC / Tactical / Rescue universality.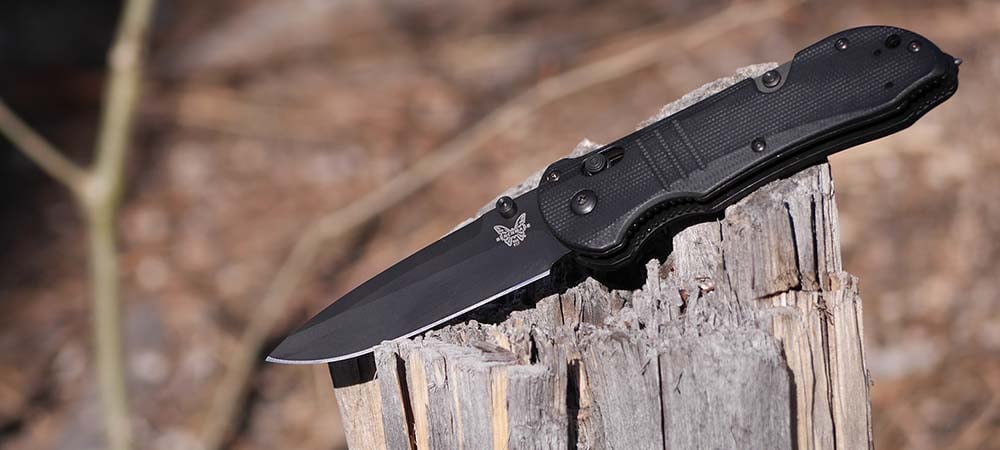 Carry
An important question to always ask about a folding knife is "how does it carry." After all, if you don't feel comfortable carrying it, you won't be willing to put it in your pocket every time you leave the house. There is no denying the Triage is a bit on the heavy side. Its 5.28oz. weight is a little bit north of the general "five ounces and under EDC rule" that many swear by. But for an added .28oz. the Triage boasts both a safety hook and a glass breaker with a reinforced handle. Are these extra features worth a little extra weight? I can without a doubt say yes. The Triage is also a little wider than other knives in its class at just over half an inch due to the space needed for the safety hook. Once again, the difference is quite negligible, especially with the added tool you get as a result. If you like to go ultralight in your EDC kit, the Triage may be a bit too much for you, but given everything you get in the package, it's my opinion that you're still coming out way ahead.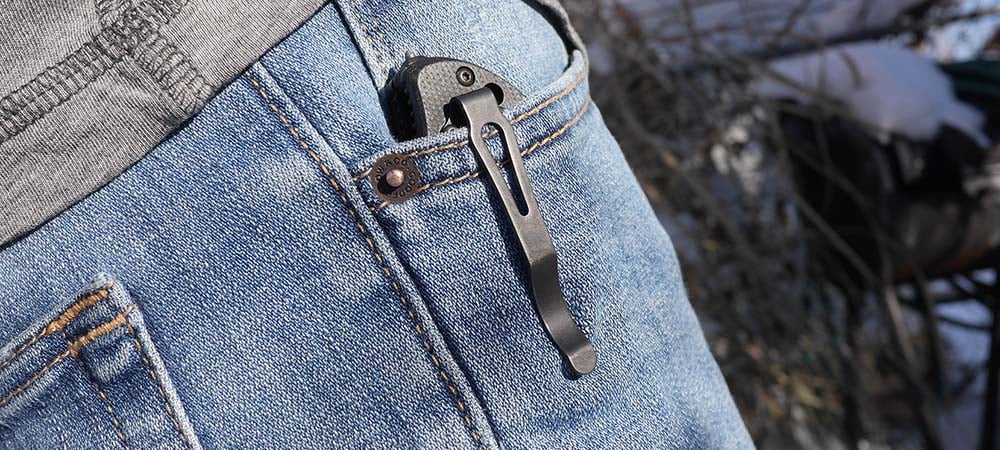 Determination
All told the Benchmade Triage is a smart, seamless combination of an EDC / Tactical knife and rescue tool in one. It's slick all-black appearance is enough to please the most demanding users in both look and concealability. The G10 handle is all business, and it leans more towards utility and function than an ornate look, which is absolutely fitting given its primary use. This knife is a must have for serious adventurers, first responders or simply anyone who spends a lot of time in their vehicle. Unsurprisingly, the Tactical Triage has become quite popular for military applications as well.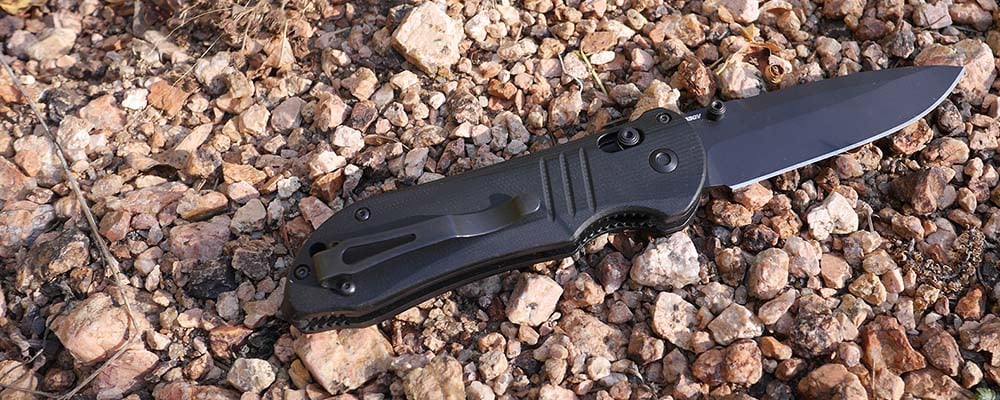 One note on function – the safety hook is an excellent additional feature in this knife, but in all fairness it is next to impossible to deploy with one hand. This said, it should be noted that the hook is more for the rescue of others than self rescue if you don't have access to both your hands. Remember, the AXIS® mechanism can be operated with one hand, so you're not without options if you have to cut yourself free.
This knife has become my go-to truck knife, and anytime I'm on the road navigating 4WD trails or snowy mountain passes in Colorado, it is never out of reach. That extra peace of mind is priceless, and while the Triage certainly represents an investment for most, I would argue it's absolutely worth it. Let's sum it up – premium blade steel, versatile knife point, glass breaker and safety hook extras, and all at just over five ounces. The Benchmade Triage is a victorious design for those who want to be prepared for anything.