Last Updated on
By Tony Martins
With significant fanfare, Beretta announced their new "Plus" model A400 Xtreme at the NRA Show in Dallas back in May. Released earlier this month, the new model is touted as "the next step in the evolution of the world's softest shooting waterfowl shotgun." Although A400 shotguns have been available for about 10 years now, they have maintained a leading position in the semi-automatic market thanks to their long list of innovative features, designed to meet the needs of shotgunners worldwide. The line includes specialized Upland, Sporting and Lite editions along with the new Beretta Xtreme Plus model, which incorporates technology developed and proven in their competition shotguns into what many consider to be the "premier waterfowl shotgun on the market."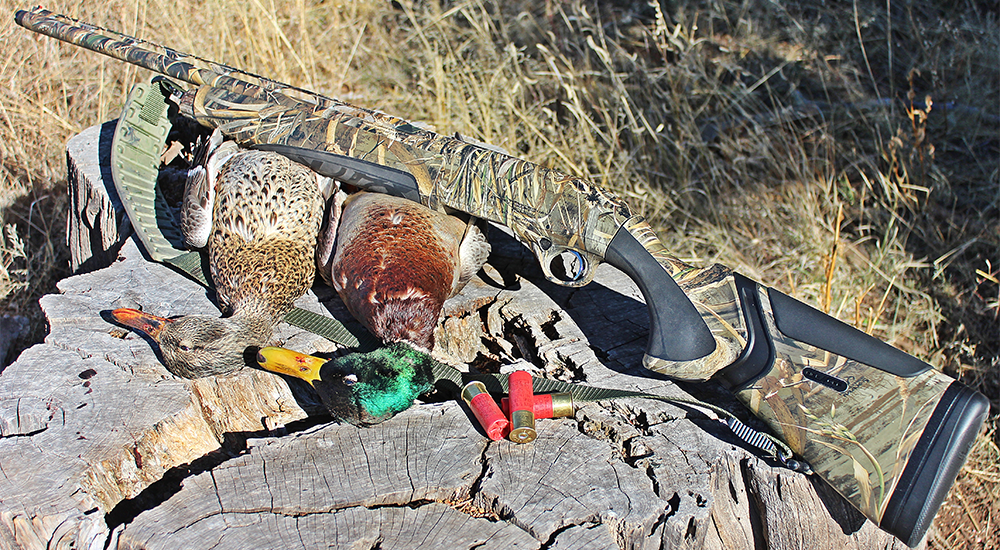 As previously reported in my "Guns of the Smoothbore Virtuoso" Part 1 and Part 2 collaboration with exhibition shooter/world record holder, Patrick Flanigan, I learned wing shooting with a Remington Model 11 Sportsman recoil operated semi-auto, and instruct youngsters using a tricked-out Remington 1100 semi-auto youth model. Nevertheless, my preference has been pump action shotguns for hunting, and over/under shotguns for competitive shooting. And to date, my experience with Beretta autos has been limited to assisting Hall of Fame shotgunner Dan Carlisle with setting the world record for clays broken in one hour (3172) back in 1990, with a complement of Beretta A303's. So, why have I chosen the new A400 Xtreme Plus this season? Two reasons; (1) after six decades of shotgunning my recoil tolerance isn't what it used to be, and (2) Beretta firearms have been sold for almost 500 years, and I'm half Italian… so it's about time!

With The Beretta A400 Extreme Plus, It's all about the recoil…
It's a fact that waterfowlers have come to love their 3-1/2 inch shotguns. The common belief is that these mega-shells perform better than the smaller 2-3/4 and 3-inch loads in terms of knockdown power and range, particularly when shooting steel shot at ducks and geese. Not so… In reality, 3-1/2 inch loads do not extend the effective range of the shotgun. These shoulder-pounding loads can however, deliver a greater volume of pellets, which suggests improved lethality. But here's the catch – to kill the bird you must hit it, and tough waterfowl typically require multiple pellet hits to bring them down. There's no argument that heavy recoil and muzzle-lift have a negative effect on shooting technique and accuracy, particularly on follow-up shots, and this often causes marginal hits and outright misses. Recognizing this, I developed an ultra-lite 7/8 ounce high-velocity steel waterfowl load with modest recoil more than 30 years ago. When fired through a tight choke, this loading continues to fold ducks out to 50 yards.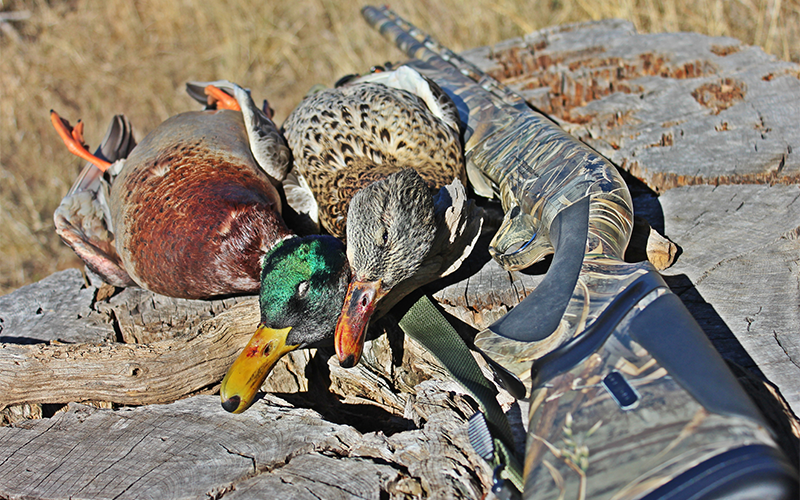 Today a multitude of non-toxic waterfowl loads, as well as specialty turkey and predator loadings – like HEVI-Shot "Dead Coyote" – are available. Unfortunately, most of these kick like a mule! The answer? A soft-shooting autoloader like the A400 Xtreme Plus with Beretta's "Kick-Off" technology, that will also cycle everything from the 3-1/2 inch magnums to light target loads. Laboratory testing has identified two distinct recoil "peaks" in autoloaders – one upon explosion of the powder (1st peak), and another upon impact of the bolt against the receiver at the end of its travel (2nd peak).
Kick-Off Mega uses two spring-loaded shock absorbers located in the stock, which allows it to compress about 3/8 inch during recoil to dampen the 1st peak. Kick-Off 3 is a third hydraulic dampener located just behind the receiver that is compressed by the rearward travel of the bolt assembly to mitigate the 2nd peak. Kick-Off keeps movement in front of your face, so the gun doesn't move on your cheek. The Plus model also features a new Soft-Comb stock, which adds comfort while further restricting facial movement as well as felt recoil on the shooter's cheek. And, an ultra-soft Micro-Core butt-pad made from open-cell technopolymer foam is designed to direct recoil parallel to the cheek mount.

So, how does all of this work? Honestly, this system works really well! Total recoil reduction of 70% is the result claimed. Although it would be difficult to actually verify this claim, I can attest that the new A400 Xtreme Plus is soft shooting as advertised, with minimal muzzle jump. The gun feels lighter than its 7.4-pound weight. It shoulders and points well, due in part to the slim-necked grip. I've found that target acquisition on follow-up shots comes quickly, both in the duck marsh and shooting doubles on the skeet field. Despite these observations while testing, I did not realize how much the characteristic muzzle rise has been reduced until I watched video of myself shooting the new A400 Xtreme Plus! An added bonus to all this recoil reduction – stress on mechanical components is lessened, so service life of the gun should be increased.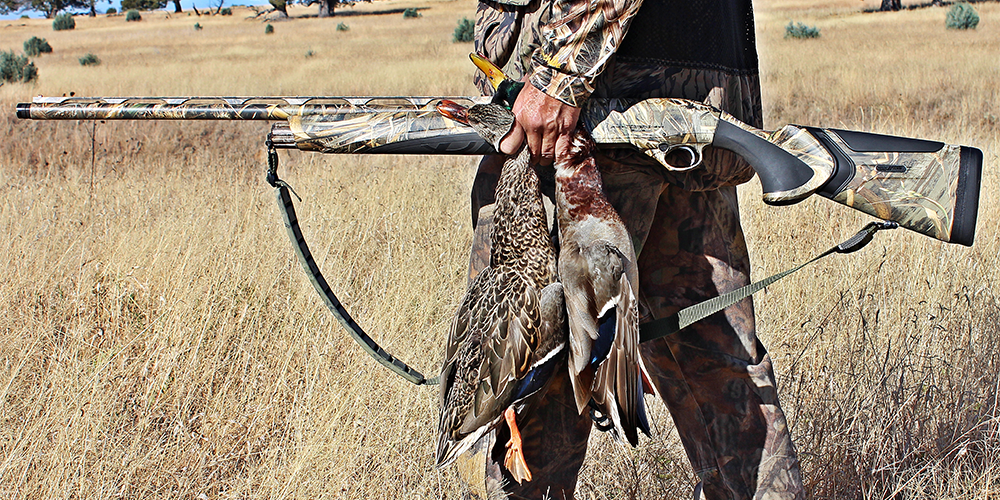 Competition features in a shotgun made for hunting…
Probably the most significant change with the new Plus over previous A400 Xtreme models is incorporation of the barrel technology that has made Beretta a leader in clays competition into a hunting shotgun. Available in lengths of 26, 28 and 30-inches, Beretta's Steelium Plus barrels are cold-hammered, and feature forcing cones that extend 14 inches down the bore. This is more than 8 inches longer than standard forcing cones, ensuring enhanced pattern dispersion and consistency as well as additional recoil reduction. Another feature adapted from competitive shooting is the new 7mm by 7mm steppped rib atop the barrel. Wider ribs enhance the sight picture in my opinion, and the Plus sight plane is further enhanced with a steel mid-barrel bead that helps alignment with the fiber optic front sight. Personally, I love this feature! Although I never see the sights while shooting a shotgun, mid-barrel beads help in assessing faulty positioning when shouldering the gun, and a proper gun mount is essential for accuracy.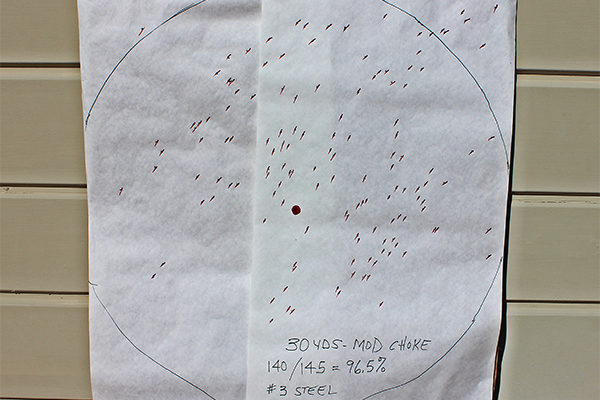 The new A400 Xtreme Plus is delivered with 5 extended Black Edition Optima-Choke HP (High Performance) choke tubes. Cylinder (C), improved-cylinder (IC), modified (M), improved-modified (IM), and full (F) chokes are included, and these precision-machined tubes do not require a wrench to install and remove (although one is provided). This is great news for sporting clays shooters, who change chokes often. These chokes have produced excellent shot patterns in my limited testing so far, with both factory and handloaded high-speed steel for waterfowl, as well as heavy and light target loadings of lead. My ultra-light waterfowl handloads of #3 and #2 steel pattern nicely, and are deadly on ducks through the modified OC-HP choke. Clays were smoked from every position on the skeet field using the improved cylinder OC-HP choke and 1-ounce light target loads.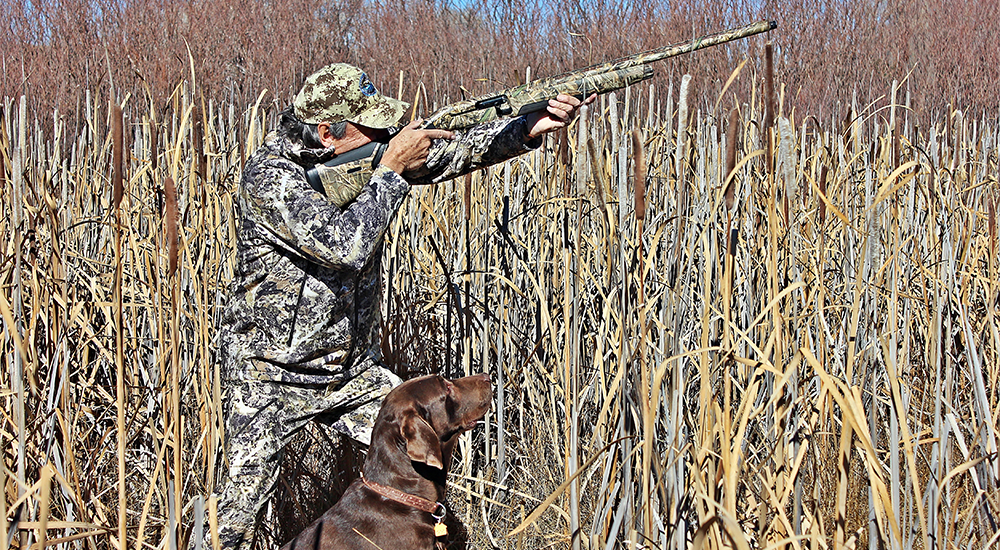 The ability to adjust stock "drop" at both the comb and the heel of the A400 Xtreme Plus is further adaptation from the world of competitive shotgunning. A "technopolymer" spacer is positioned between the stock and the receiver, and a stainless steel plate is fitted inside the stock. Together, these can be used to change the drop and cast of the stock by simply modifying the assembly configuration. A set of additional spacers is also provided to change the drop further by replacing the spacer pair. The factory pre-set stock cast-off setting with 55mm drop for right-handed shooters fits me perfectly, so no adjustments have been made to date. Note from Beretta: Stock drop and cast modification must be carried out by a competent gunsmith.
And, so much more…
The gas-operated A400 Xtreme Plus action is based on Beretta's patented "Blink" system, which features a self-cleaning cylinder and piston as well as a self-cleaning exhaust valve that vents excessive pressure. This allows hunters and other shooters to use almost any ammo – from 7/8 oz ultra-lite loads to 2-1/4 oz heavy magnums – increasing efficiency of the shotgun while reducing the need for maintenance. Ingenious! The A400X+ has in fact run perfectly with everything I've fed into it so far. The breech bolt features a rotating head with two lugs that operate the lock of the barrel breech. By eliminating movement of the barrel during firing, precision is increased while recoil is further reduced. And, the A400X+ cycles fast! I'm no Patrick Flanigan, but it's easy to empty the magazine before the first empty shell hits the ground. Beretta reports a cycle rate of 4 shots-per-second, but I honestly believe the A400X+ is even faster. Furthermore, barrel and forend removal are remarkably easy. The forend is fitted with the new B Lok cap that unscrews for removal with just 1/4 turn.
It's no surprise that the receiver is loaded with features as well. Precisely machined from a solid block of special light alloy aluminum, its moveable steel and alloy parts are polished and protected with special finishes to prevent corrosion and insure smooth operation. A welcome feature on the new Plus model is an expanded/beveled loading port with extended shell lifter that facilitates loading – even with gloves – and this is intended to reduce "thumb bite" (pinching). I hate to admit how many gloves I've ruined while attempting to reload other shotguns in a frigid duck blind with birds circling overhead! Extended charging handle and bolt release also improve operation with gloves, and a bright green colored magazine follower is another nice feature. This one makes it quick and easy to see if the magazine is empty, or not. The top of the receiver is drilled & tapped to receive a picatinny rail for optics mounting, and the safety button mounted in front of the trigger guard is reversible to accommodate both right- and left-handed shooters.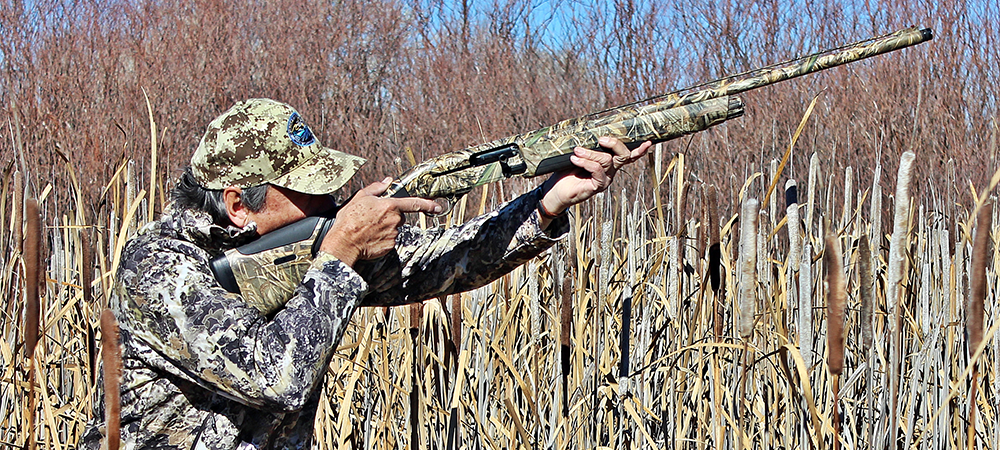 As would be expected in a shotgun with an MSRP of nearly $2,000.00, fit and finish are superb. Although several camouflage patterns are available including Mossy Oak Bottomland and True Timber DRT, my favorite is the Realtree Max-5. A protective coating called Aqua Technology offers superior resistance to the elements, including water, sand and salt spray. The finish appears to be quite durable, and it covers every nook and cranny on this gun. Stylish, textured soft rubber that facilitates handling covers areas on the undersides of the nicely contoured forend and slim-necked grip of the synthetic stock, where checkering serves the same purpose on fine, wood-stocked shotguns.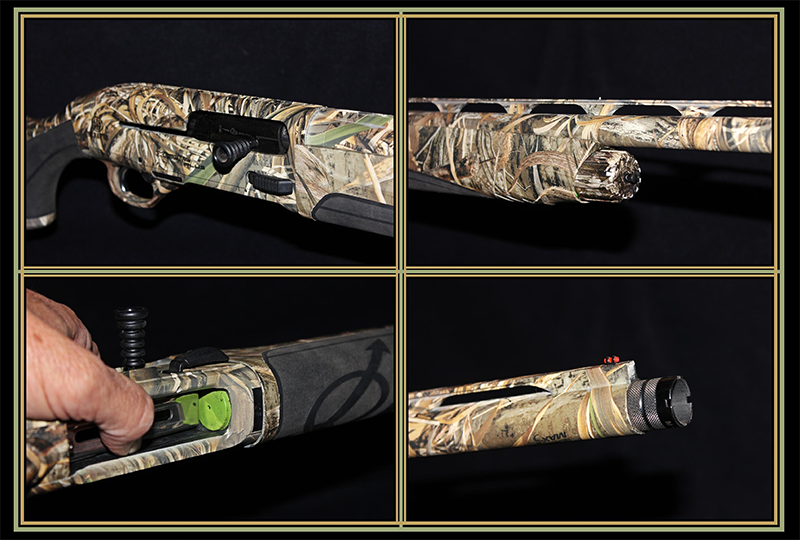 So, what's not to like about Beretta's new A400 Xtreme Plus-? Frankly, after using this smooth operating, soft recoiling, gas-operated, premium autoloading shotgun exclusively for the past two months, my complaints and dislikes are few. Although I'm not a fan of Beretta's "ergo-friendly" trigger group with the safety positioned in the front of the trigger guard, I am quickly learning to get along with it… notwithstanding my failed attempt at shooting a pair of rising greenheads with the safety "on" during my first outing in the local marsh with this new gun. My biggest complaint however, is the unnecessary sharp edges of the raised 7mm by 7mm rib at the end of the barrel. These serve no purpose that I can discern… other than shredding the lining of every soft case that is not unzipped fully before attempting to insert the shotgun! Fortunately, this annoying problem is easily rectified with a Dremel tool and a grinding disk.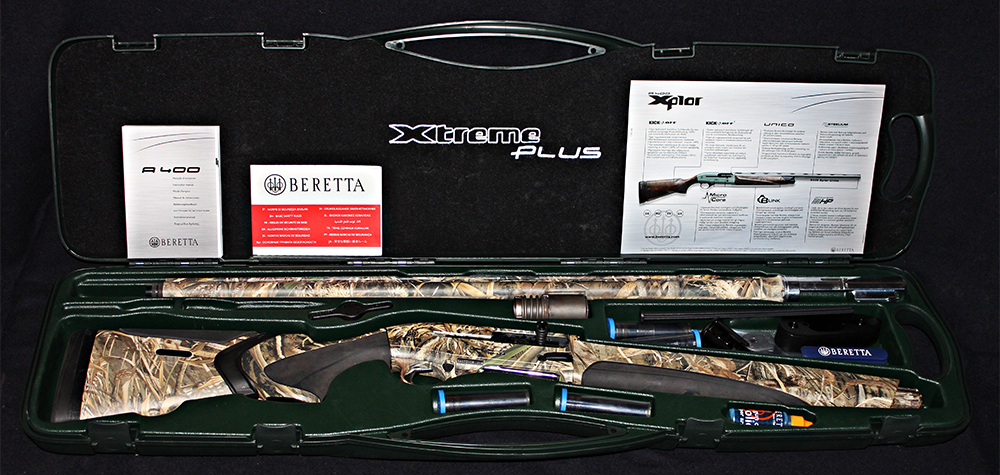 A400 Xtreme Plus accessories include; a custom fitted case, 5 extended Black Edition Optima-Choke HP choke tubes, choke tube wrench, 1-inch stock extension and set of additional spacers, a tool for removing the magazine tube cap, extra magazine plug, bottle of Beretta gun oil, and instruction manual… in 8 different languages!
So, is the new Beretta A400 Xtreme Plus the ultimate shotgun for the waterfowler (or turkey hunter, or upland bird hunter, or predator hunter, or clays shooter, or…)-? There's some stiff competition at the top from guns like the Benelli Super Black Eagle 3, Remington's Versa Max, Browning's A5, and many more. Here's what former Beretta competitor and shotgun shooting legend, Dan Carlisle had to say on this topic: "The Beretta autos are the best pointing and functioning guns on the market today. I've won multiple national clay championships with Beretta autos and still bird hunt with them today. If you're a clay shooter or a hunter you can't go wrong with the 400 series." (November 19, 2018)