By Tony Martins
"Simple and rugged" is how Zeiss Sport Optics describes their "entry class" binoculars and riflescopes, called TERRA. It's been five years since new management at Carl Zeiss made the decision to break from tradition and expand their binocular and riflescope lines to include moderately priced models for the masses. Recognized for functional design and ease of use, as well as sturdiness despite comparatively light weight, TERRA models continue to provide a doorway to the world of Zeiss and the highly revered blue flag.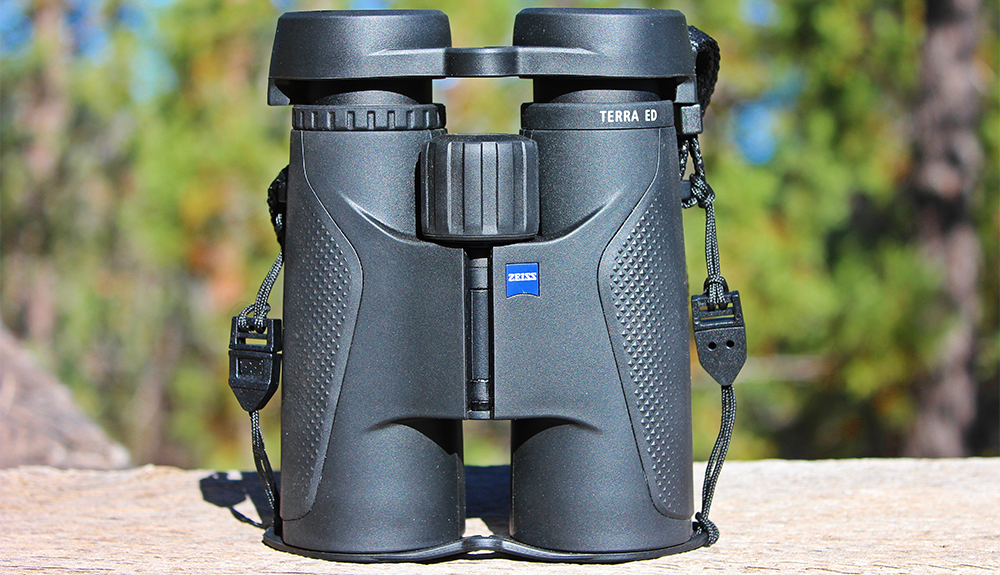 The "under $500.00" segment of the binocular market is a very competitive one, with lots of players. Honestly, my first impression of the TERRA ED 10x42mm was that it appeared to be just an average player rather than an MVP. In retrospect, I may have been expecting a little too much – after all, this is not a $2000.00+ binocular. It is however a very solid optical instrument, and my appreciation of its ergonomics and performance have grown with each use.
The first thing you will notice about the TERRA ED 42's is their compact size and excellent balance, followed immediately by their nice rubber armoring and light weight. Zeiss achieves this with a fiberglass-reinforced polyamide (similar to nylon) chassis, instead of the magnesium alloy used in top-grade binos. This material is extremely strong and durable, and affords savings in both weight and cost. Balance facilitates ease-of-use and minimizes hand and forearm fatigue during periods of extended use. For me, this was an unexpected but welcomed bonus when using this binocular in the field.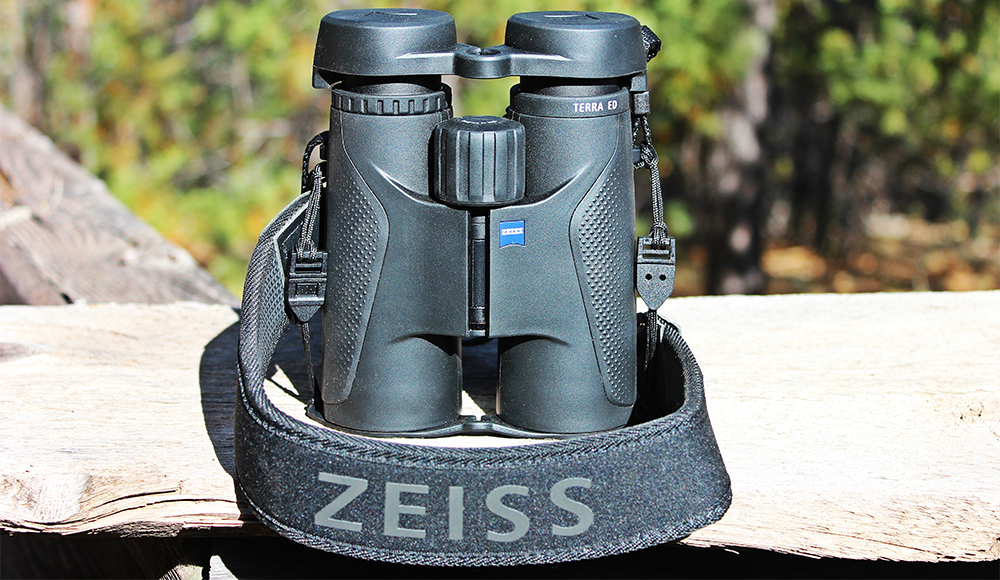 Weight is an important consideration for mountain hunters, who aspire to save every ounce possible. When hunting all day I typically use a binocular harness instead of the neck strap that comes with the optic. This minimizes the amount of weight pulling down, as too much causes a sharp and lingering pain in my neck, at the last cervical vertebrae atop the shoulders. After several short sessions with the TERRA ED I decided to take it on an outing to search for shed antlers, using the Zeiss neck strap instead of my usual harness. After 5 hours of continuous up and down hiking between 7800 and 8900 feet, there was no pain… but there was significant gain! More than a mile – and across a big canyon – from where we found the first 6-point elk antler, I glassed up the matching side from 150 yards away!
Optical Construction & Performance Highlights
Although TERRA binoculars are assembled in China, objective lenses are made in Germany by Schott, often described as a "sister" company to Carl Zeiss. The Schott Extra-low Dispersion (ED) glass provides excellent resolution of details, and facilitates color distinction as well as sharpness, achieved through hydrophobic multi-coatings. We found this to be an important feature when searching for brown shed antlers among dead branches and leaves on the mostly earthen-tone and often shaded forest floor. ED glass is noted for reducing – but not eliminating – chromatic aberration, and we detected some in the form of yellowish fringing, particularly when looking through a morass of tree branches. Overall I would rate TERRA's color distinction, sharpness and contrast as quite good for a binocular at this price point.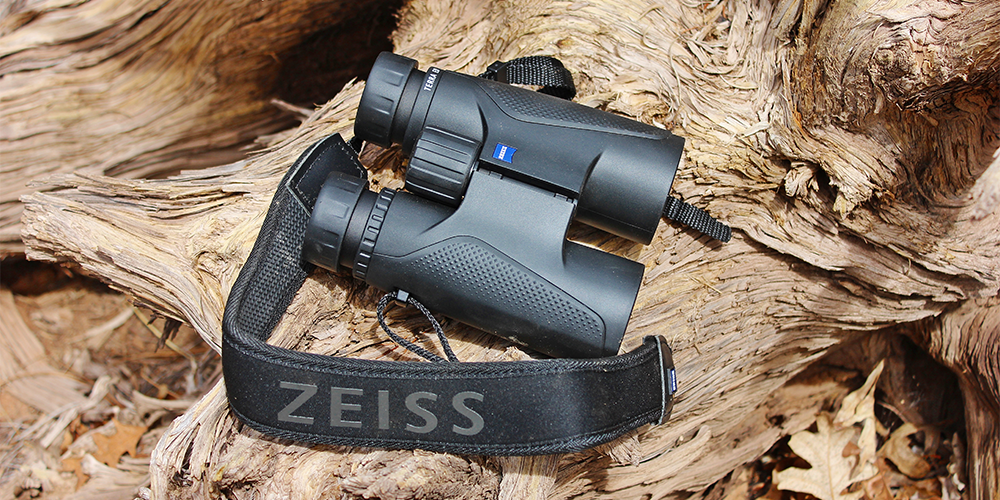 The TERRA ED features Schmidt-Pechan roof prisms made from BaK-4 glass with reflective dielectric coatings (reportedly as many as 70). The Schmidt-Pechan is a proven design that is used by a number of other companies in production of lightweight, compact roof prism binoculars. Other Zeiss models use larger Abbe-König prisms, and both designs are phase correction coated. These features yield a generous "sweet spot" and a larger field-of-view (FOV) than other binoculars in this class. The 10x42mm TERRA's boast a wide 329-foot FOV at 1000 yards – which is quite good for 10-power magnification. There is a bit of fuzziness and occasional darkening at the FOV periphery but again, the TERRA's fare well with other binos in this class.
With any binocular, the best image resolution is found at the center of its field-of-view, which is typically called the "sweet spot." In purposeful observation/testing we (my hunting partner and I) assessed the TERRA ED's sweet spot at 67% (me) and 75% (him), respectively. This is comparatively good for a binocular at this price point. A large sweet spot reduces the need to move the optic to view a particular object clearly and distinguish between color tones. Sharpness and color differentiation help hunters spot game (or shed antlers!) partially hidden by natural cover, particularly at distance. This is also important for birdwatchers in identifying bird species and sexes that are sometimes differentiated by subtle shades of color. Birders will also appreciate the short "close focus" distance, which we measured at less than five feet.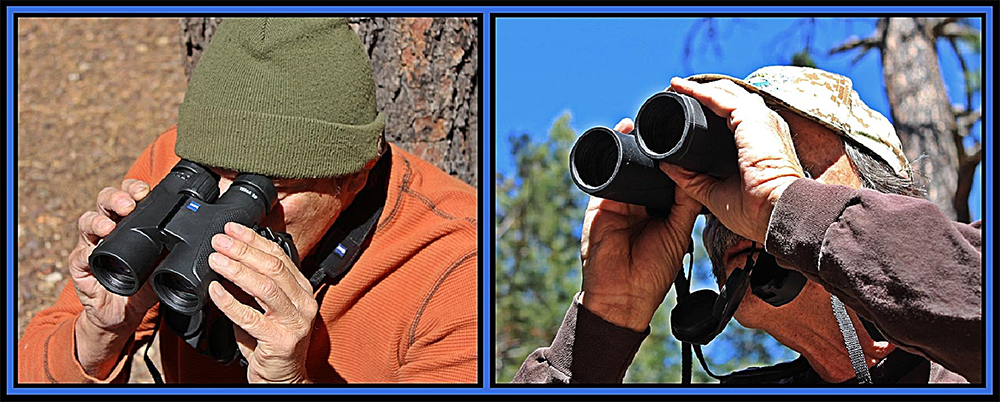 The TERRA ED's feature a large focusing wheel that facilitates easy adjustment whether barehanded or gloved. The wheel is quite smooth offering little resistance, but seems to hold the focus point when not in use. Zeiss includes a diopter adjustment in the form of a ring that fits tightly around the right barrel of the binocular. Although settings are not locked in place, moving the ring requires enough force to insure that settings are held. Eyecups are both comfortable – a nice bonus for those spending long periods behind the optic, as hunters often do – and adjustable. They raise and lower with a twist, but do not have built-in stops at the two intermediate levels. Eye relief with the 10×42's is 14mm, which should be adequate for most wearing eyeglasses.
Zeiss incorporated a fast (but not too fast) focus feature in the TERRA ED, with a gear ratio that requires just one full revolution of the focusing wheel to adjust from close focus to infinity. For users unfamiliar with this feature, it takes a little practice to master. The advantage is that sharp image focus can be acquired more quickly than slower focus allows, and with less movement of the focusing wheel. While slower focus is fine for reading distant signage (or spying on neighbors), faster focus is better for viewing moving objects as typically encountered by action sports watchers, bird watchers and hunters.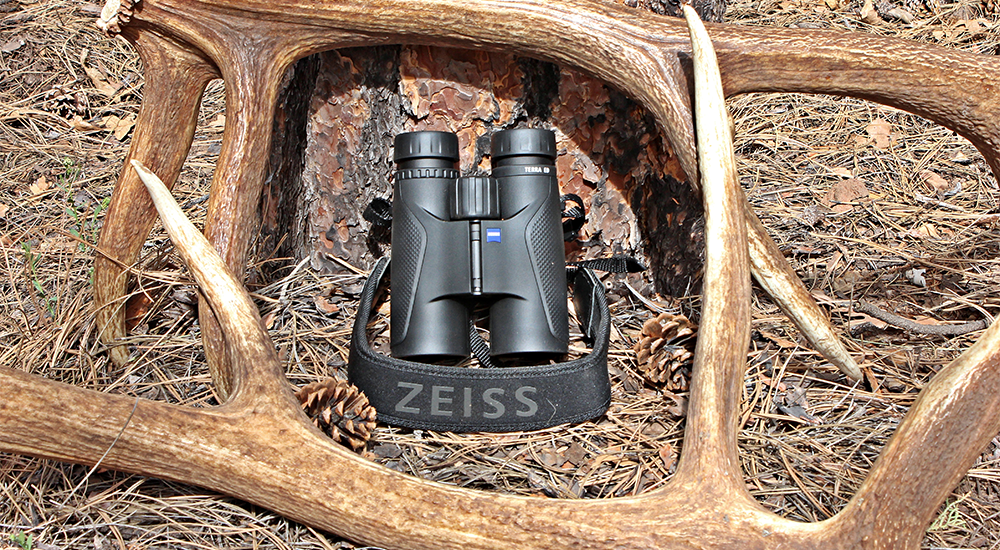 Here's a great example of the benefits that fast focus affords hunters when spotting and evaluating game that is moving. A few years back, using a different binocular with fast focus, I spotted a mule deer buck moving quickly through junipers more than 1000 yards distant. In less than three seconds total time I was able to focus and evaluate this buck as a prospective "shooter." Three weeks later – and 5 days into the hunt – I located and harvested this magnificent 191-inch Boone & Crockett buck. Although some may prefer a slower focus rate of 1-1/2 or more revolutions for precision adjustment, I am personally "sold" on the fast focus feature in optics used for hunting – and for good reasons!
The TERRA ED's perform well under low-light conditions, typically encountered by hunters at first and last light. One evening I watched a herd of elk feeding at the edge of timber until well after dark from a distance of 600-700 yards. It was easy to distinguish age classes in the herd of cows, young-of-the-year calves and yearlings, including a couple of spike bulls. Details of the activity seen through the binocular were clearly evident even after my naked eye could distinguish nothing but darkness. Multi-coated prisms and ED glass prove their worth in low light, and the TERRA ED's get good marks here.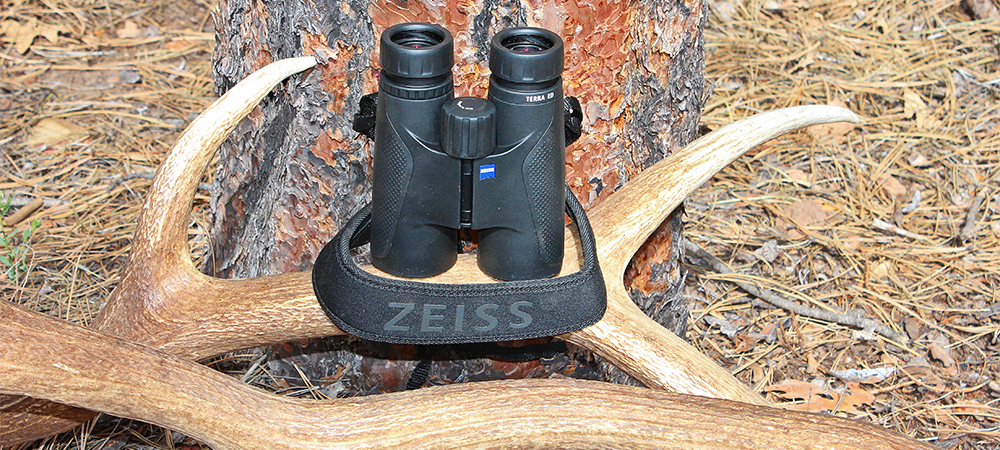 Something that is not often mentioned in binocular reviews is how the optic handles glare. One morning I spotted a pronghorn buck bedded on a grassy flat about 400 yards off the roadway. Watching from an angle of only about 30 degrees away from the rising sun I quickly spotted three doe pronghorn bedded nearby, and was able to evaluate length and mass of the buck's horns despite the glare. This performance compared favorably with another 10×42 binocular in my truck that sells for nearly 3-times the price of the TERRA's! And, using a third binocular with a price comparable to the Zeiss entry class offering, I could barely distinguish the buck from the does! We also noted the TERRA ED's excellent performance under glaring, strong light conditions during our shed antler hunt, among the tall pines on ridgetops as sunset approached.
Accessories, etc.
Accessory items that came with the TERRA ED binocular included rubberized covers for both ocular and objective lenses, a neoprene neck strap, rigid carrying case, micro-fiber lens cleaning cloth and instruction booklet. Germans are known for precision engineering and this fact was evident with the carrying case, as the optic with neck strap attached barely fit inside the case! Webbing attached to each side of the clamshell style case prevents opening beyond about 45-degrees, and reminds me of the old Polaroid camera design. The time required for proper fitment was excessive and annoying and in my opinion, greatly reduces the chances of the case being used for anything other than storage of the binocular once the neck strap has been attached. Conversely, the neoprene neck strap is an excellent design, and one of the most comfortable I have ever used.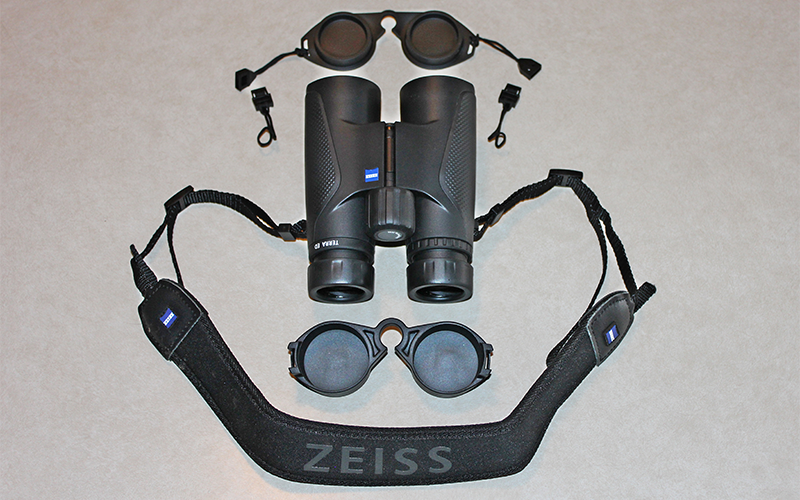 The ocular lens cover, sometimes called a "rain guard," fits snugly on both the eyecups and the neck strap. The former is a positive but the latter a negative. It's difficult to slide the cover up and down the neck strap, so again practical usage is somewhat defeated by the design. I found that detaching the cover from the strap on one side solved this problem while retaining functionality of the cover. The objective lens cover fits inside the recess in the barrels for each lens, and it stays in place once fitted. It's made of soft rubberized material with a unique attachment design. Two short cords are provided that loop through the attachment fittings on the body and the cover, connecting in the middle with a plastic quick-coupler. I found that attaching one cord end to the loop in the neck strap just above the attachment fitting on each side of the body worked best for me.
While some binocular users don't use the ocular lens cover(s) provided, I always use the objective lens cover(s) to protect the glass from impacting pack straps, belt buckles and other potentially damaging items like rocks, while in the field. And, I have lost ring-around-the-barrel, flip-down type covers off premium binoculars from Swarovski and Nikon several times. With use, my appreciation for functionality of the TERRA's objective lens cover design increased significantly. The attachment point allows for good hand contact with the compact chassis, keeping the cover away from fingers positioned on the barrels. This facilitates rock-solid steadiness during use.

Best Features
Compact, rugged chassis made of fiberglass-reinforced polyamide that is light weight, and rubber armored. 

Ergonomic and functional design that is easy to use and well balanced for solid viewing. 

Excellent fast focus feature with focusing achieved through a large wheel that works perfectly whether fingers are bare or gloved. 

Good (wide) field-of-view, and good glare handling capability. 

Innovative and functional objective lens cover design. 

Comfortable neoprene neck strap provided. 

Covered by the Zeiss Limited Lifetime Transferable Warranty (US and Canada).
Worst Features
Average marks for sharpness at the field-of-view periphery, although the comparatively wide field-of-view and large sweet spot offer adequate compensation in most viewing situations. 

Carrying case is too small for practical usage for other than storage. 

Ocular lens cover strap attachment design hinders practical usage. 

Chassis is not threaded for tripod/adapter – Although aftermarket strap-type adapters can be used to attach TERRA ED's to a tripod, I suspect Zeiss assumed that folks who use tripod mounted binoculars for extended periods would opt for a different model.
Pricing and Availablity
MSRP: $449.99 (in black or gray)

Available at 1800GunsAndAmmo.com – Zeiss Terra ED 10x42mm.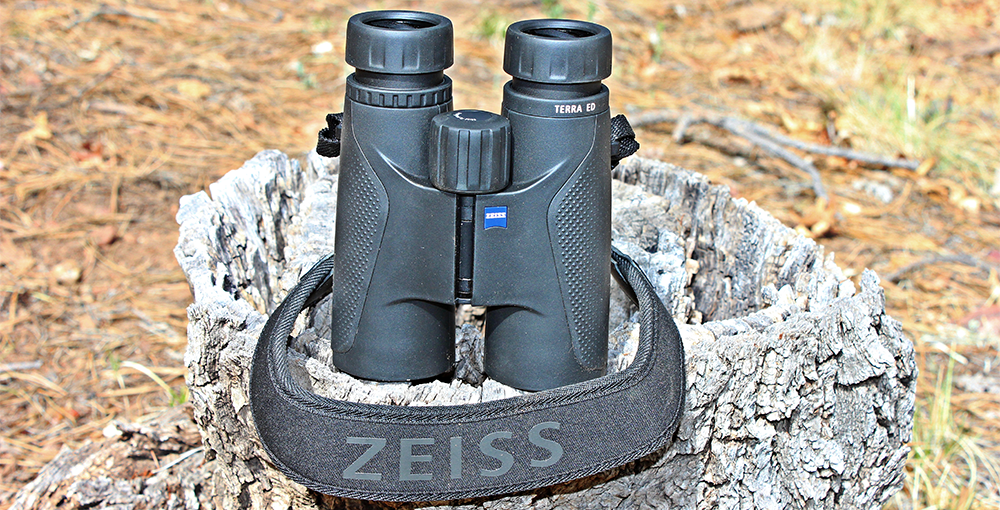 Technical Specifications (provided by Carl Zeiss)
| | |
| --- | --- |
| Magnification | 10-power |
| Effective Lens Diameter | 42 mm |
| Exit Pupil Diameter | 4.2 mm |
| Twilight Factors | 20.5 |
| Field of View at 1000 yards | 330 feet |
| Subjective Viewing Angle | 60 ° |
| Close Focus | 5.25 feet |
| Diopter Adjustment Range | +3 / -3 diopters |
| Inter-Pupillary Distance | 58 – 75.5 mm |
| Eye Relief | 15 mm |
| Lens Type | ED (Extra-low Dispersion) |
| PrismSystem | Schmidt-Pechan |
| Water Resistance | 100 millibars |
| LotuTec® | no |
| Nitrogen Filling | yes |
| Functional Temperature | 5 / +140 °F |
| Length | 5.6 inch |
| Width (at an eye width of 65 mm) | 4.7 inch |
| Weight in Use | 25.6 ounces |
Additional Technical Specifications
| | |
| --- | --- |
| Relative Brightness | 17.6 |
| Reflective Prism Coating | Dielectric |
| Lens Coating   | Hydrophobe Zeiss MC   |
Conclusion
The Zeiss TERRA ED 10×42 Binocular is a solid optic that comes as advertised – simple and rugged – with performance that compares favorably with others in its class of entry level optics priced under $500.00. And, it's a fact that my appreciation of both the performance and ergonomics of the TERRA ED increased with usage during the 60 day test period.