Within the firearms community, there seems to be a huge misconception when it comes to rifles and their optics. Apparently, many people firmly believe your optics must always be extremely expensive in order to be worth using. While it's true, there are plenty of scopes on the market ranging into the thousands of dollars in price, the average new shooter or recreational hunter simply may not need all the bells and whistles that come with these high end prices. Truth is, there are far more options available within the budget friendly range to choose from that still allow shooters to be successful in their goals. To have a great value in an optic, there are several factors to consider than just price point alone. This week, I look at the Vortex Optics Diamondback HP (High Performance) 4–16×42 riflescope and see why it meets the standard to be considered an overall good choice in the budget category.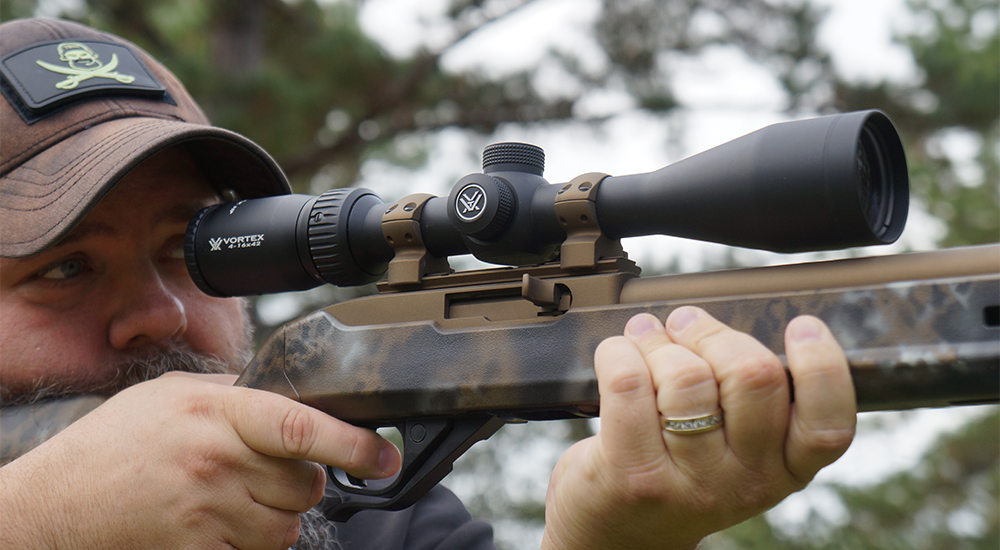 Vortex Diamondback HP Riflescope
As a retired SWAT sniper and life-long hunter, I have spent a good amount of time and money working with a vast range of optics for recreational shooting, hunting and tactical applications. The biggest thing I learned over the years was the fact that price doesn't always dictate which is the best scope for the job or task at hand. If someone's life depended on me making the perfect shot, then of course, I have always invested in a high-end scope that could handle the rigors of climbing, crawling or fighting to get to my final firing point (FFP), but few rifle applications come with such high risks. These days, retirement from law enforcement allows for more time hunting, teaching and plinking with the family. My requirements for optics now are a good bit different, but my approach is the same in selecting one.
When I began my search for a scope to mount on my custom-built Ruger 10/22 .22 caliber rifle, I refrained from letting the small size of the chambering sway me into buying a cheaply made scope that others typically like to use on small bore recreational rifles. Due to the accuracy and quality of this rifle project, I wanted to make sure the scope I selected was up to the task of being able to clearly see what I was shooting within the realistic range of the .22 LR capabilities. I decided to check out Vortex Optics to see what they offered in a mid-level scope that could handle heavier loads if I ever decided to switch to another rifle later.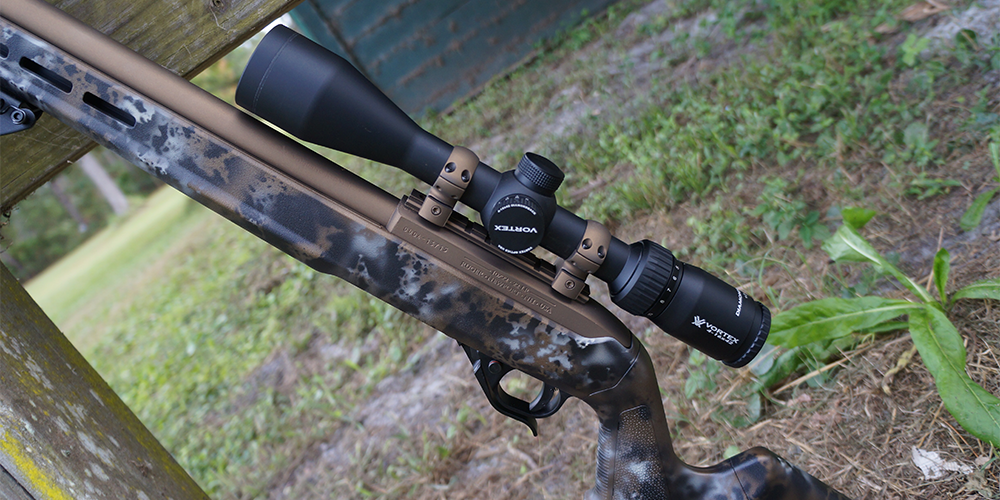 First Impressions
Having had experience with the entry level Vortex Crossfire II Riflescope, I decided to step up to the Diamondback series for a more generous eye relief (4" vs 3.7") and better-quality glass. I was not disappointed in my choice. The solid built one piece 1" tube and capped turrets gave the scope very clean lines combined with a beautiful matte black finish. As you can see from the photos, this finish was perfect to help blend the scope into not detracting from the beautiful overall rifle finish.
Looking through the YET TO BE MOUNTED scope, the glass was crystal clear and gave the image I was looking at across the street from my house (Hi Zach) a crisp, bright appearance despite it being almost dusk. The Bullet Drop Compensator (BDC) reticle was easy to see and fine enough to pin point onto objects as small as a mail box door at 230 yards down the street. After removing the capped turrets, I was pleased to discover no tools such as the all elusive coin buried deep in one's pocket was needed to adjust. The ¼ MOA graduations were firm yet easy to operate. I ran out the max windage and elevation adjustments counting them off in order to divide that number in half and return to true center before mounting the scope.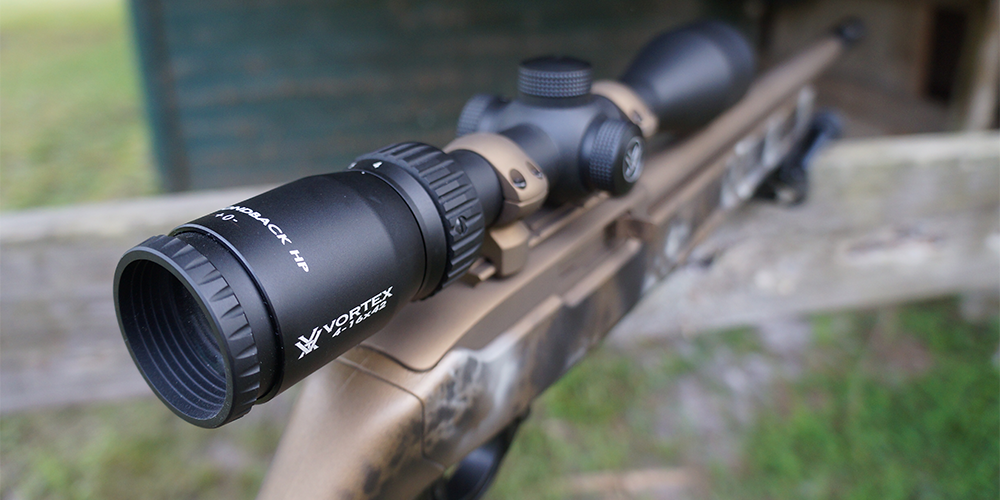 Included in the box along with the scope, owner's manual, and lens cloth was a medium sized sunshade. Using the optic's threaded bell, the sunshade screwed firmly on and made seeing objects clearly and without glare during the middle of the day much easier to do so. For everyday hunting, this may not be a "must" for most people, but for precision shooting such as splitting playing cards in half at 25 yards in the Florida sun, it is an awfully nice feature for the price point listed.
Specs
Magnification: 4-16 x
Objective Lens Diameter: 42 mm
Eye Relief: 4.0 inches
Field of View: 23.8-6.1 feet/100 yards
Tube Size: 1-inch
Turret Style: Capped
Adjustment Graduation: 1/4 MOA
Travel per Rotation: 15 MOA
Max Elevation Adjustment: 80 MOA
Max Windage Adjustment: 80 MOA
Parallax Setting: 30 yards to infinity
Length: 12.5 inches
Weight: 18 ounce
Vortex – 100% Customer Satisfaction
Originally, this article was intended to focus on the standard Vortex Diamondback 4-12×40 AO and not larger powered HP version. When I purchased the Diamondback scope to start building my custom Ruger 10/22 rifle, the larger HD version with side focus had not been released yet. Once all components of my build were assembled and properly sighted in, I was convinced to give a young man working at the local gun shop near my house at that time to chance to have his Cerakote skills displayed. Having known the gentleman for over a year as I regularly taught on the range where he worked, I agreed to leave the rifle at the shop and have him contact me once the project was completed.
Flash forward seven months later, a deadline for a summer magazine issue came and went with several failed attempts to locate or communicate with the gentlemen who had my rifle. I contacted the shop manager / shop owner's son and told him my issue. After a complete run around, the rifle was finally located. Unfortunately, that wasn't the biggest issue at hand. As it turned out, during the time away from my possession, someone stripped the turrets rendering them unable to adjust. I contacted the gun shop immediately and received no answer at all from my formal complaint both emailed and hand delivered to the shop. My next call was to Vortex. I explained I did not have the original receipt and that the damage was caused by a third party. I inquired as to what it would cost to have them repair the scope. I was told by the very nice customer service lady, there would be no cost and she would be emailing a return shipping label within the next few minutes. The next day, the scope was on its way back to Vortex.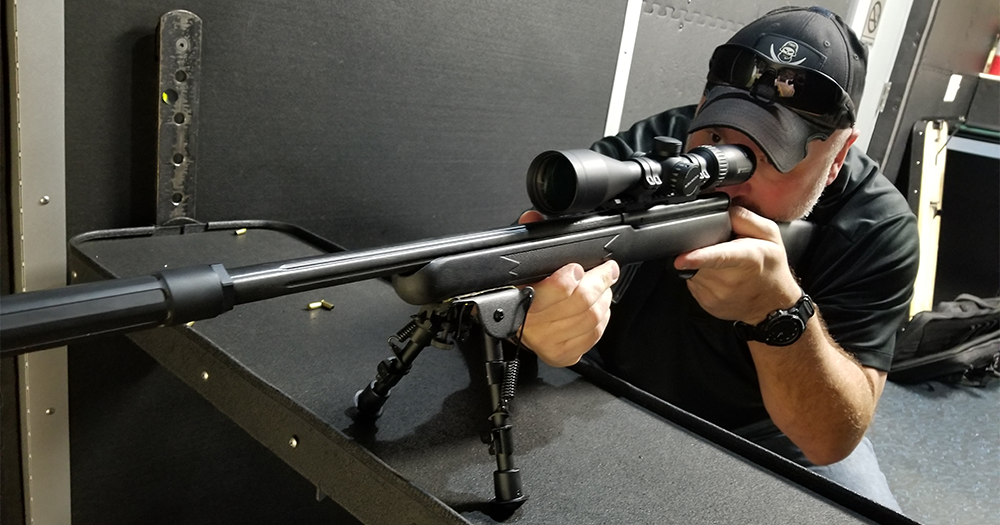 A week or so went by and I received a package in the mail from Vortex Optics. When I opened the box, I noticed it was not my Diamondback 4-12×40 AO, but rather the 4-16x42mm HP Diamondback scope that is the subject of this article. Enclosed was a letter stating the optic sent in was damaged beyond repair, and since it was currently not in production by Vortex Optics, they upgraded me to the new HD model. While this may seem to some as a long side note to the article, I feel it would not be complete without sharing this experience in my journey to deliver this review. Too often, only the end price is considered when deciding between company A or company B with similar products and not "X factors" such as Vortex's no-fault life time warranty. Personally, if everything else is relatively similar, my experience with this article will always swing me to Vortex Optics from now on.
Range Time
Prior to finding someone I trusted to complete my rifle project, I spent the interim time trying the Diamondback HP on both my AR-15 chambered in 5.56 and AR-10 set up in .308. I knew this category of optics in Vortex's line up was usually associated with hunting calibers such as the .243, and I was curious how it would hold up and track after a day of testing with similar calibers.
With a quick sight in process, I was holding dead on bullseye at 100 yards using my S&W M&P AR-15. The small three shot groups were easy to see from the bench thanks to the crisp side mounted parallax adjustment. Switching over to the AR-10, the scope remained at the same while adjustments were needed to be made for elevation and slightly for windage with the .308. After rounding approximately 60 rounds of 168 grain ammunition through the Devil Dog Arms custom build with .30 cal Torrent Suppressor. I ran a box drill to test the scopes training capabilities. After the first shot and adjustment, the next shot was .9" to the right, the next struck .8 underneath, the 3rd 1" to the left and the fourth an .9" to the left. A fifth shot after making the final adjustment up would strike less than .2" from center of the first shot. The scope and Krieger barrel / suppressor combo all did an amazing job!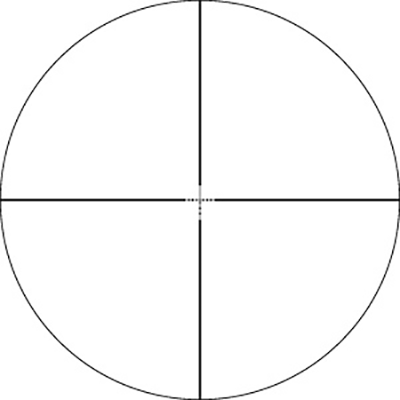 Thankfully, I was able to mount the new scope and find a very well known Cerakote artist, Tucker Doyon of Blackout Custom (www.blackoutcerakote.com) located in Orlando, FL to refinish my rifle in an amazing turn around time of less than two weeks. When I say Tucker is an artist rather than painter, its because the term painter would do no justice to the creations his company can do with Cerakote and firearms. I was amazed beyond expectation with I received my rifle back home and unboxed it. I could not wait to get back on the range and really work with the new Diamondback HD scope.
Due to weather, my first stop with my finished Ruger 10/22 project was On Target Sports indoor range located in Orange Park, FL. This has become a favorite "go to" for all things private and "closed doors" testing. Using a .22 caliber can from Torrent Suppressors, I decided to get this project zeroed in correctly. Once I lined the crosshairs up on the laser bore site, it was time to start taking three round shot groupings starting at 15 yards and work out to the 25 yard maximum of the range limits.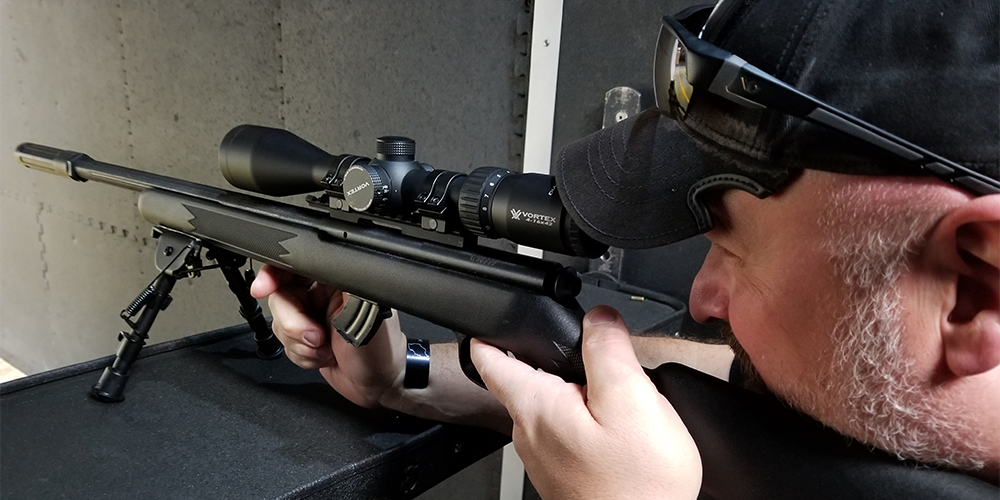 As I slowly squeezed the 2lb trigger of the Timney trigger unit on the Ruger project, the shot broke quietly and effectively, striking slightly low and to the left. To provide this wasn't user induced error, two more shots were fired landing in the same point on the target. A quick adjustment saw a much closer grouping near center and after two more slight adjustments, only one tiny jagged hole stood in the middle of the target. As I moved the target to 20 and then 25 yards, it would only take three adjustments on each target before knocking the center out of each one. Despite the fluctuating lighting conditions as the target moved down range, the crosshairs and target were always bright and vivid as I broke each shot. With all things considered, even as happy as I was with the outdoor range testing on the larger guns, I was doubly as proud of the indoor results on the custom 10/22!
Final Thoughts
Overall, I thought the Vortex Diamondback HP 4-16×42 optic was a great choice for the custom Ruger 10/22 rifle I intended to permanently mount it on. The variable magnification proved to be perfect for pushing the .22 caliber to its effective max distances while avoiding the temptation to truly "over scope" or "over power" the rifle. As for its time mounted on both the AR15 and AR10 platforms, there was a wide range of consideration after using the optic on both. I felt the 5.56 needed a simple 1-4×24 variable or even just a 1x power red dot such as the Vortex SPARC AR for most tasks I performed training. With the AR10 chambered in .308, a much larger scope would be preferred given the larger platform and capabilities of the rifle in comparison. As an example of this opinion, this rifle now carries a Vortex Razor 5-25x50mm optic on it for long range 800 – 1000 yard shots.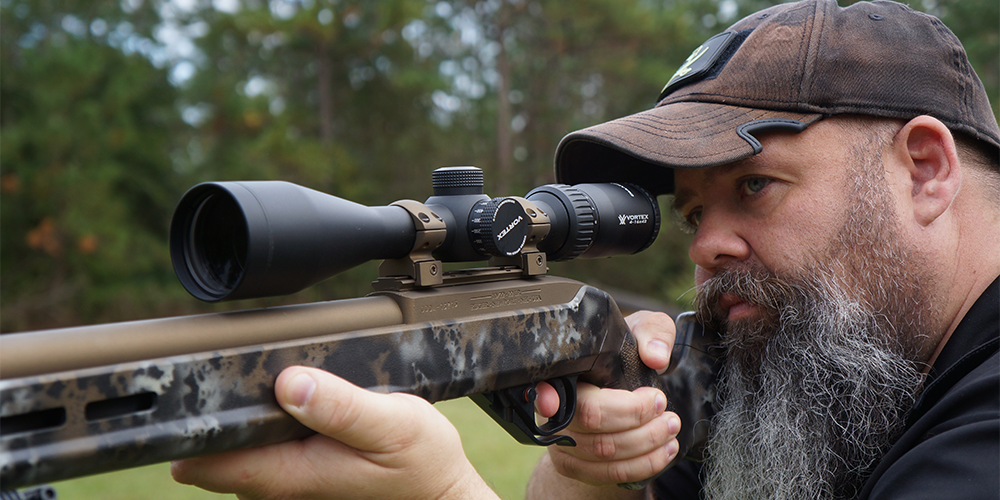 With a MSRP of $479, shooters get a very good quality budget scope for well under the $500 price mark. The key to this and any scope would be to make you are realistic in separating your "must haves" from your "wants" in order to get the most for your dollar. For new shooters, I think the Diamondback HP is the perfect scope to start their journey into riflecraft. As their skills and budget grow, Vortex Optics has a wide range of products to meet those expanding needs. Until next week, remember, a product isn't good to go until it's been Swamp Tested, Swamp Approved!