By Carlos Huerta
The pump action shotgun is probably the most widely recognized type of firearm there is. It's not just the look, but the sound of the slide being racked as well. Pump actions are also typically the cheapest style of firearm you can get. To this day, however, if you walk into a gun store and say the words "home defense," the salesperson will shove a pump action shotgun into your hands before you can even finish the question. With any good debate, a pump action shotgun is a good home defense weapon. Mossberg's most affordable line of pump actions are known for their toughness and reliability. They are often recognized as the "working man and woman's shotgun."
Pump actions have a lot of advantages. Shotguns are ideal for entry level beginner shooters. Anyone who has seen an action movie probably knows how to use one. Mossberg's shotguns bring reliability, versatility, and customizability to the hunter, law enforcement officer, and civilian at an affordable price. The Mossberg Maverick 88 is super budget friendly and very well-constructed shotgun. Let's take a closer look at what this shotgun has to offer.

Maverick 88 With Folding Stock
Recently, I've finally got my hands on a Mossberg Maverick 88 with ATI Folding Stock. The Maverick 88 is a pump action, 12 gauge shotgun with a six shot capacity. It's pretty much the Mossberg 500's little brother and it's just as powerful. The shotgun is corrosion resistant chrome plated with an ambidextrous safety. The receiver is connected to an ATI shotforce folding stock that reduces the overall length. The compact size makes it ideal for transportation in a patrol car or a range bag. You can even operate the Maverick 88 while the stock is folded. The simplicity of the stock keeps the shotgun lightweight. The overall weight of the shotgun is 6 lbs. unloaded or about 8 lbs. loaded.
The barrel is an 18.5" cylinder that contains a brass bead front sight. When I went to range to try out the Maverick 88, I experienced zero issues. As far as recoil, it's about the same as any another shotgun. The trigger pull is really nice and smooth. What I like about the Maverick 88 is that it can shoot almost anything you feed it, even exotic shells. The Maverick 88 can shoot 2 ¾ in. and 3 in. shells. The whole experience was smooth and easy. This shotgun is surprisingly powerful and accurate.

Now let's talk about the stock. It is the easiest installation you could ever do, and no gunsmith is needed. All you need is an Allen wrench and in seconds you're ready to go. The Strikeforce ATI stock is made from DuPont Extreme Reinforced Polymer. The rear pistol grip has a quick release button to allow the buttstock to be folded or extended instantly. A rear sling swivel stud is included. Also, the stock is pre-drilled to attach a shell holder. The textured pistol grip has the same aspects as the A1 mil-spec AR15 grip. The stock allows the Maverick 88 to be fired in open or folded position.
When in a tight space, I like having the stock folded, making it easy to maneuver around. The stock is ambidextrous and will work for left or right handed shooters. What I like about the Strikeforce stock is you hear a solid "click" when unfolding, which means your stock is secured in place. I like the fact that the stock is scratch-proof and weather-proof. Also, when you purchase the Strikeforce ATI folding stock separately, it comes with adapters for Remington and Winchester models. The ATI stock also comes with a Limited Lifetime Warranty. This tactical top-folding stock is the ultimate compact, tough design for your Maverick 88.
Perks and Features
One neat perk I like about the Maverick 88 is almost every part is interchangeable with the Mossberg 500. The Mossberg 500 has the most extensive customization on the market. So if you have a Mossberg 500 at home, those parts and upgrades would work just fine on your Maverick 88. You can add green dot sights, shell holders, a flashlight, and any other upgrades you have or could ever want. What I like about the Maverick 88 is it features dual extractors, twin action bars, and an anti-jam elevator that provides smooth, trouble-free operation. Just like your other firearms, the Maverick 88 needs to be maintained and cleaned to ensure no jamming or issues. Shotguns are the equivalent to revolvers. There is no complex design and it's ready to go.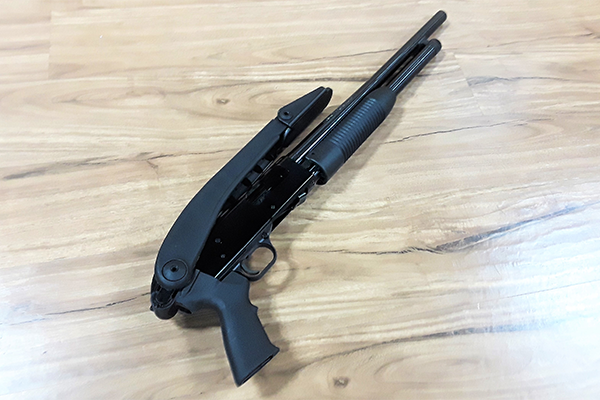 Potential Cons
There have been some cases where people had trouble added a shell holder to the shotgun while the stock is installed. Apparently, you if do not install your Mossberg Side Saddle correctly, you will have problems folding the stock. Also, I've heard some have issues when taking the shotgun apart. Because of how the pump action works, you won't have to break it down. Just give it a good cleaning after every use. As long as you know what you are doing, I don't believe maintaining your Mossberg would be difficult. Other than that, I haven't seen or heard of any major problems for the Maverick 88. Some with argue that the Mossberg Maverick 88 is just a cheaper version of a Mossberg 500. It's not like a cheap, knock-off version as it contains Mossberg parts and is assembled by Mossberg. So basically, what's the difference between the Mossberg 88 and the classic 500? Well, the Mossberg 500 was build right here in the United States. The Mossberg 88 on the other hand is built in the U.S but has some parts assembled in Mexico. This is essentially why the Maverick 88 is a cheaper firearm.
Mossberg's Long History
Mossberg has a longstanding reputation for producing some of the best firearms in the world. So this is no ordinary budget shotgun. Back in 1919, Oscar Frederick Mossberg started a company with his sons with the name of "O.F. Mossberg and Sons." Of course, since then the name has been simplified to just Mossberg, but it's still the same strong company. Since 1919, Mossberg has been a leader in firearm designs, and they stand behind their products. Mossberg's goal is to make guns that work as hard as you do. They focus on quality and reliability before anything else.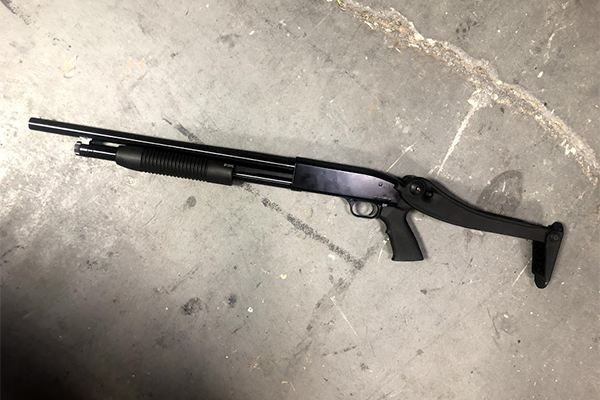 Overall, It's a Good Shotgun
Some people would assume the Mossberg Maverick 88 Shotgun is a cheap weapon given its low price. But I disagree, even though it is a cheaper shotgun, it's still durable and reliable. So far, I've had no issues or problems with my new Maverick 88. I would say it's a good startup gun for younger crowds or beginners. Mossberg believes you're not just buying a firearm, you're buying history. The Maverick 88 is a durable shotgun that is ideal for personal or home defense. I would recommend taking your Mossberg to the range to practice and get comfortable with you "home defense" weapon. It's perfect for what is was designed for.