Last Updated on
It wouldn't be an overstatement to say that Ruger lists among the biggest firearm manufacturers in the world, even if it cannot boast a history as rich as other industry veterans. Nonetheless, the company is approaching its 75th anniversary with profundity and expertise some of the older companies can only dream to achieve. Ruger is known as a manufacturer of high-quality bolt-action and semi-automatic rifles, centerfire and rimfire pistols and revolvers, both single- and double-action. Today, we'll take a look at 5 best Ruger rifles for hunting and shooting sports. 
Table of Contents
  Hawkeye Hunter
  Mini-14 Ranch
  Precision Rimfire
  American Predator
  10/22 Takedown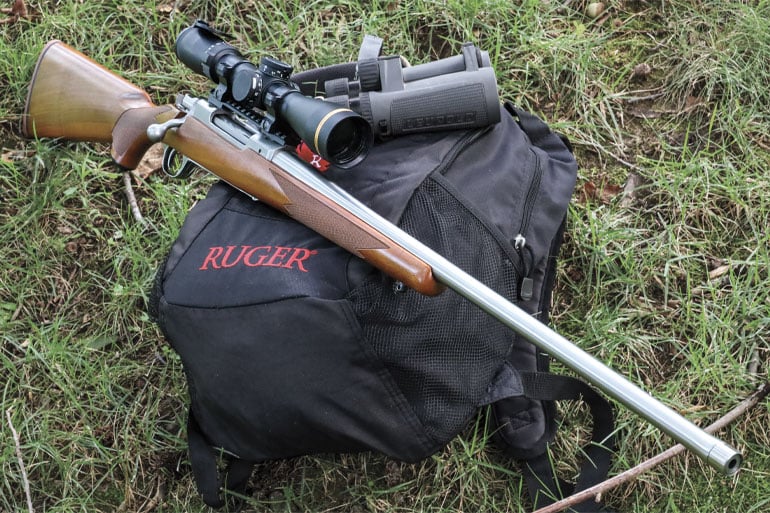 Hawkeye Hunter
Caliber: 6.5 Creedmoor
Action: Bolt-Action 
Barrel Length: 22"
Magazine Capacity: 4
Blending classic designs with elements of modernity is an easy-to-fail job but Ruger managed to pull this one off with flying colors. The result is the Hawkeye Hunter rifle that can win over the hearts of the old guard and newer recruits alike.
A tribute to the days of old, the walnut stock contrasts stunningly with the sleek stainless steel receiver and barrel, both satin-finished. The finish doesn't only add to the looks of the rifle but also boosts its ability to withstand even the most challenging environments. With a sporter barrel and traditional stock, this rifle is a respectful nod to Ruger's earlier models in a world of newfangled designs
Mauser-type controlled round feed extractor guarantees a smooth and unerring performance. The full-length claw extractor latches tightly onto the case rim while the fixed ejector blade sends empty shells soaring out of the action. The hinged steel floorplate is embellished with an exquisite Ruger logo engraving, and the magazine release is cleverly integrated into the front of the trigger guard.
The Hawkeye Hunter rifle boasts a free-floated, cold hammer-forged 5R barrel complete with a threaded muzzle and thread protectors. But what makes this model stand out are the flats on its thread cap that make it super easy to remove. The barrel features a 5/8×24 thread pattern.
Being traditional at its core, Hawkeye Hunter does have some drawbacks or, better put, peculiarities. A black sheep of the Hawkeye rifle family, the Hunter features a fixed 13.5-inch length of pull, whereas other Hawkeyes boast an adjustable one. The recoil pad, familiar red in color, is inferior to some of the Ruger's bigger pads in its torque-absorbing properties. However, those are the only inconveniences you'll come across.
If you're looking for a rifle that's both practical and exceptional, the Hawkeye Hunter is a decent candidate for your arsenal. The Ruger Hawkeye Hunter is chambered in a wide variety of rifle calibers. The model showcased higher is a 6.5 Creedmoor, perfect for hunting and target shooting alike.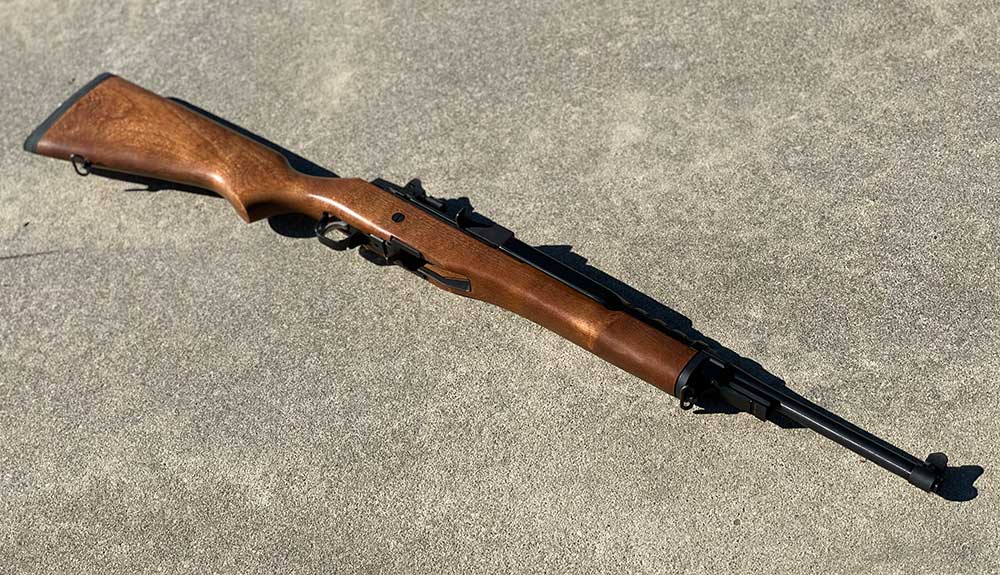 Mini-14 Ranch
Caliber: .223 Remington/ 5.56x45mm NATO
Action: Semi-Auto
Barrel Length: 18.5"
Magazine Capacity: 5
As of 2023, Ruger's Mini-14 Ranch has been around for exactly 50 years. Introduced in 1973, this gun never fell out of the nation's favor. Long before the AR-15 took the laurels, Mini-14 has been a reliable autoloader for ranchers and outdoorsmen as well as the military and law enforcers. The gun is a scaled-down version of the American M-14 and inherited many of its features from it. Some contribute to the rifle's status as a timeless classic, while others prevent it from taking advantage of modern advancements.
The first thing you see is stock, and it pretty much speaks for itself. Made from hardwood, it is an uncommon choice for modern semi-automatic rifles, yet this is what makes Ruger Mini-4 stand out from the crowd. The handguard covers approximately half of the barrel.
The rifle has a Garand-style action featuring a rotating bolt and a charging handle located on the right side. The self-cleaning gas piston system cycles the action. Such a system is far more reliable in operation and easier to maintain compared to the AR-15's direct impingement system.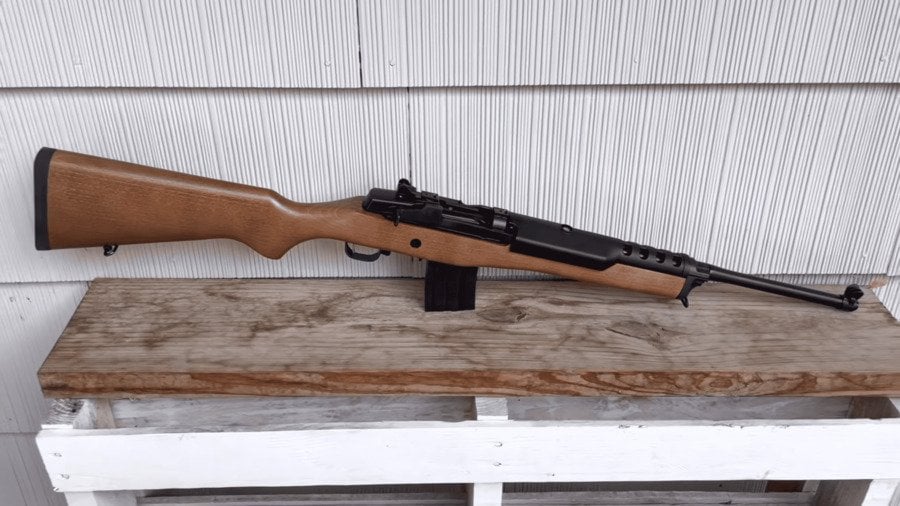 The Mini-14 Ranch is equipped with a set of iron sights that are sure to exceed any expectations you might have. Having iron sights is often compared to having no sights at all by, well, various people, but this case would very likely leave them not wanting more. The set comprises the front winged sight, non-adjustable, and the rear peep sight, adjustable for windage and elevation. The ergonomic curve of the rifle stock allows for the natural line of sight, which makes sighting much easier and more accurate. Should you want to mount a scope, the rifle offers everything you need to do so.
The loading system works very much like that of the M14 and AK-47. The bottom of the curved mag is inserted at an angle and then is rocked back to the locking position. While the five-round magazines that come together with the rifle are hardly enough for a comfortable shooting session, there are many aftermarket 20-round magazines that will bring the shooting experience with this rifle to a new level.
Now to features that might make it a less appealing choice. The safety features cannot exactly boast the most advanced of designs. In Ruger Mini-14, the safety is a piece of metal located within the trigger guard. To disengage the safety, you need to press it forward with your trigger finger while it's within the trigger guard. If you want to re-engage it, you'd need to put your finger in front of the trigger guard and push the safety back. Such a mechanism is by all means, functional, but it surely doesn't scream comfort. On the bright side, this safety is ambidextrous which makes the rifle accepting of everyone, even if right-handers are still slightly in favor.
The length of pull might feel too long for people used to shooting conventional AR-15s. However, that is only a matter of habit. You can always replace a stock system with an aftermarket one, but that wonder of a stock looks too good to do so, in our opinion.
Long story short, Ruger Mini-14 Ranch is a true artifact in the world of semi-automatic rifles. The rifle is as reliable as a gun could be, with self-cleaning action contributing immensely to the gun's spotless performance. If high customizability isn't a priority for you, the Ruger M-14 rifle is a very solid alternative to AR-15.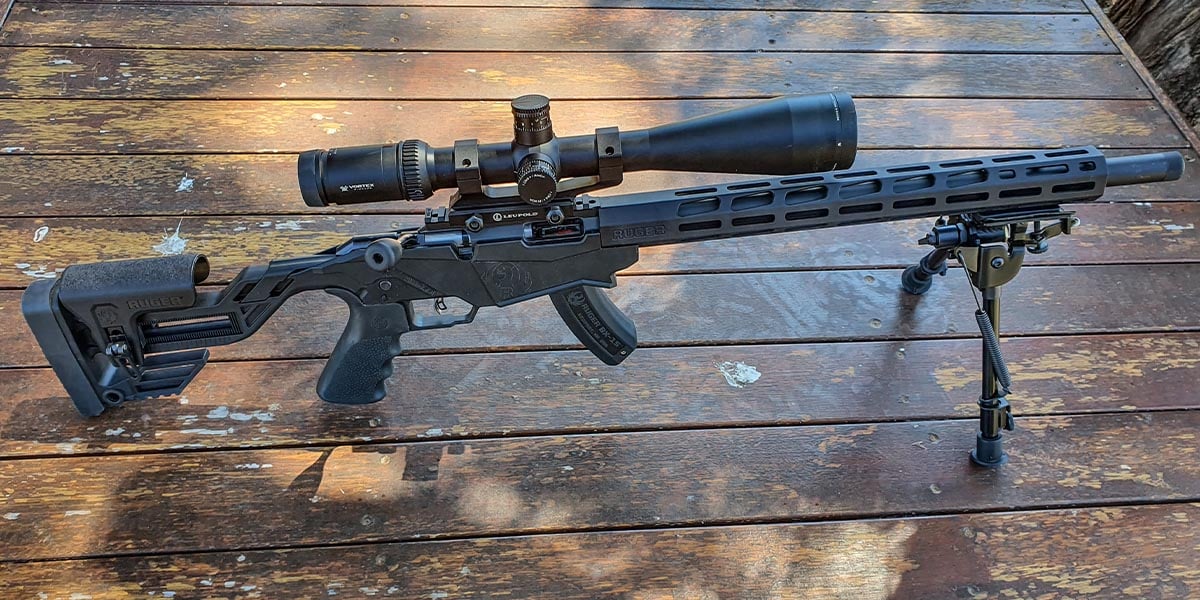 Precision Rimfire
Caliber: .17 HMR
Action: Bolt-Action
Barrel Length: 18"
Magazine Capacity: 15
The rifle before you is also a stand-out of sorts, the first deviation from the traditional-looking rifles on the list. While the modular design is definitely not uncommon for rimfire Ruger rifles, it is not the most prevalent one. At the same time, the model you see is the "smallest" member of the Ruger Precision Rifle series, chambered in .17 HMR. It's hard to pinpoint the moment when the novelty ceases to be a novelty, but this rifle was introduced not that long ago. And it has already managed to prove itself quite capable.
The chances are, the first thing to catch your eye was stock. It's a drastic change from the traditional stock: modular design with a fully adjustable skeleton makes flexibility one of the major virtues of this rifle. It won't be anything new for people well-acquainted with modular firearms, yet the fact of it not being unique doesn't mean it doesn't deserve mentioning or praising.
As with all other Precision Ruger rifles, this model is a bolt-action, with a very pronounced bolt handle for easier operation. Speaking of ease, it's fairly easy to adjust the trigger according to your personal preferences. Both length of pull and trigger weight are adjustable.
The hammer-forged barrel is threaded in 1/2″-28 and comes with a preinstalled thread protector. Rimfires are known to be quieter than centerfire firearms, but if you prefer suppressed shooting (which is a very healthy thing to prefer), this rifle allows for it right away.
The free-floated handguard became a frequent companion of modular stocks and the Ruger Precision Rimfire rifle is not an exception. The M-LOK slots are plentiful so you have all the opportunities for accessory mounting you might need.
If you are looking for the fly in the ointment, we won't hide it from you. The rifle is not perfectly balanced: the heavy barrel makes it front-heavy. That is not the level of "critically" heavy, but it will very likely be perceivable. Like many other rimfires, this one needs to be constantly maintained and cleaned to continue performing well, as the chamber gets dirty pretty quickly if you shoot a lot.
The Ruger Precision Rimfire is a worthy member of the family long known for its exemplary performance. While it's obviously not suitable for hunting anything bigger than varmint, it is a fine choice for shooting sports training. If you are in the market for a modular rimfire rifle, this model definitely deserves your attention.
American Predator
Caliber: .223 Remington
Action: Bolt-Action
Barrel Length: 22"
Magazine Capacity: 10
A member of the Ruger American rifle series, the Predator may catch a hunter's eye with several things. First things first, as usual, the stock. Moss-green in color, it immediately gives away its polymer nature which, subjective opinion alert, lags behind wooden stocks in their elegance and modular stocks in their adjustability. Polymer is a frequent stock material known for its lightweightness and relative durability. It also features forend contouring and grip serrations, which is a nice touch to the lightweight construction.
The tapered barrel is threaded in 5/8 x24, which makes it another suppressor- or any any-other-muzzle-device-ready rifle. The free-floating design accurizes the rifle, ensuring that at no point of exploitation will the gun stock affect the precision of your shots. 
The showcased model comes together with the Vortex Crossfire II scope, which is a fine scope in and of itself, but you can mount whatever you want. The Picatinny rail on the top of the rifle can mount pretty much anything, given you have suitable rings. Speaking of adjustments, the Ruger Marksman trigger is adjustable, with pull weights options ranging from 3 and 5 pounds. The trigger itself is very crisp, and it's always a delight to shoot one. 
The rifle is generally pleasant to handle, with texturing on the forend making it easier to grip. The safety is ambidextrous, a feature needed so much by left-handed shooters. The trigger guard provides plenty of room for your finger even if gloved. The model you see is chambered in .223 Remington, meaning the recoil won't be much of a problem.
The American Predator is not without its drawbacks. The bolt handle, while functioning perfectly fine with the preinstalled scope, might pose difficulties for some of the larger scopes. The fit and finish of the rifle dim when compared to Ruger rifles we've already covered, but for the price, it isn't too bad. A more refined stock would definitely bring this rifle to a new level.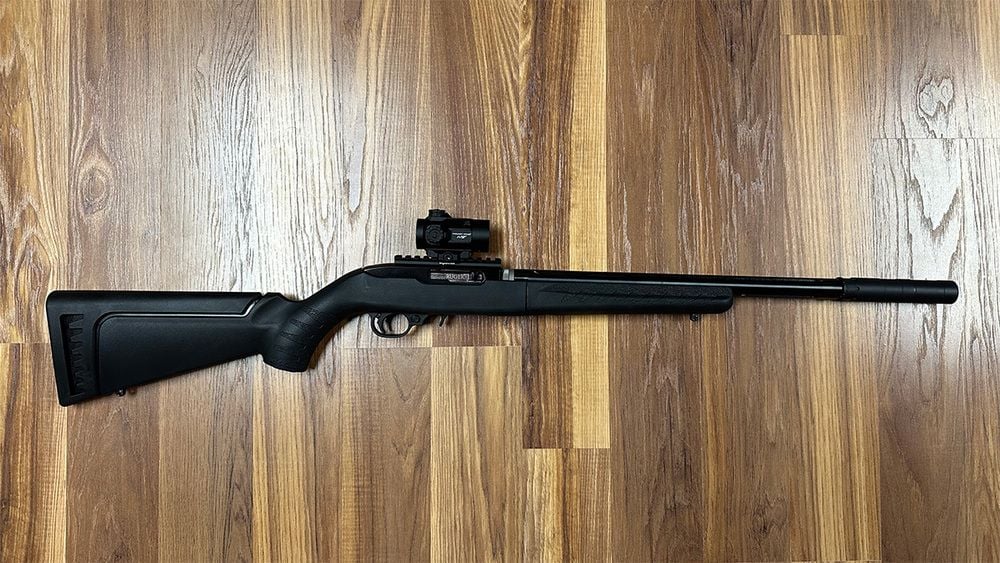 10/22 Takedown
Caliber: .22LR
Action: Semi-Auto
Barrel Length: 18.5"
Magazine Capacity: 10
Concluding our list is one of the most successful rimfire rifles industry's ever witnessed, none other than Ruger 10/22. While the 10/22 series existed since 1964, the model we are going to talk about, 10/22 Takedown, has barely turned 11 this year. While the rifle boasts many of the features the series became renowned for, it also has some one-of-a-kind aces up its sleeve. 
The rifle's biggest advantage is revealed to potential users even before they see the gun. This can be easily disassembled and not in a conventional part-by-part manner. The takedown mechanism allows for detaching the barrel from the stock and action in a matter of seconds. Thus, you can store the two separately in the backpack-style case that comes with the rifle. You might say that is hardly a benefit for people who have been using full-length cases to carry firearms their whole lives and don't see any problem with that. However, the very fact of a gun being so easily packable is pretty impressive and is never a hindrance. You can only disassemble and reassemble the rifle with the bolt locked to the rear.
Each rifle in the 10/22 series features a patented rotary magazine. It can usually hold 10 rounds, but you can also get 25 and 50-round options from other manufacturers. Though they are not manufactured by Ruger themselves, the gun's popularity brought about a plentiful market of accessories and gun parts. 
The model doesn't feature sights or rail mounts, so if you want to mount a scope or a sight, you'd need to install a mount. The charging handle could have been a bit larger and a big number of Ruger 10/22 Takedown owners correct this inconvenience by acquiring a larger handle.
In short, if you've already been acquainted with the Ruger 10/22 series, you know what you get. In case the series is new to you, know that you'll get a firearm with reliability tested by decades and compactness matched by no other rimfire rifle.