Last Updated on
The Magnum Research Desert Eagle is an iconic pistol that has become synonymous with power and exclusivity. Known for its larger-than-life design and unparalleled performance, this legendary handgun has captured the hearts and imaginations of gun enthusiasts around the world. From movie and television appearances to video games, the Desert Eagle has become a symbol of quality craftsmanship and innovative engineering. In this post, we will delve into the specifics of the Magnum Research Desert Eagle lineup and explore various models, their features, performance, and applications. Enjoy reading!
Table of Contents
Desert Eagle Mark XIX .50 AE
429 Desert Eagle (429 DE)
Desert Eagle L5
Baby Eagle III 9mm Semi-Compact Pistol
Conclusion
Desert Eagle Mark XIX .50 AE
The development of the Magnum Research Desert Eagle .50 AE pistol was a major achievement in the world of firearms. Jim Skildum and John Risdall faced the daunting task of creating a semi-auto pistol that could handle the .50 Action Express cartridge, the most powerful pistol cartridge ever produced.
To address these challenges, the designers developed a unique gas-operated system usually found in rifles. It really sets The Desert Eagle apart from other pistols. Instead of relying entirely on the energy of the recoil to cycle the action (which is commonly seen in regular semi-auto pistols utilizing the blowback system), the Desert Eagle redirects some of the gas produced by firing the pistol to power its action.
When the Desert Eagle fires, gas travels through a small opening underneath the bore and into the gas cylinder, where the pressure from the gas is used to push the piston backward. It provides enough force to move the heavy slide from its place and causes the rotating bolt (the one you typically see in AR-15s) to unlock. This system allows for a smoother, more manageable shooting experience and reduces recoil.
Still, compared to regular semi-automatics, say, in a .45 ACP pistol and even a .44 Mag revolver, recoil remains to be violent. Even with a firm grip in the hands of a seasoned gunner and having a mass of around 5 lbs, it's pretty hard to control and requires more time from you to recover for that follow-up shot. Nonetheless, with practice, sighting back on target becomes easier and somewhat faster, and precision improves.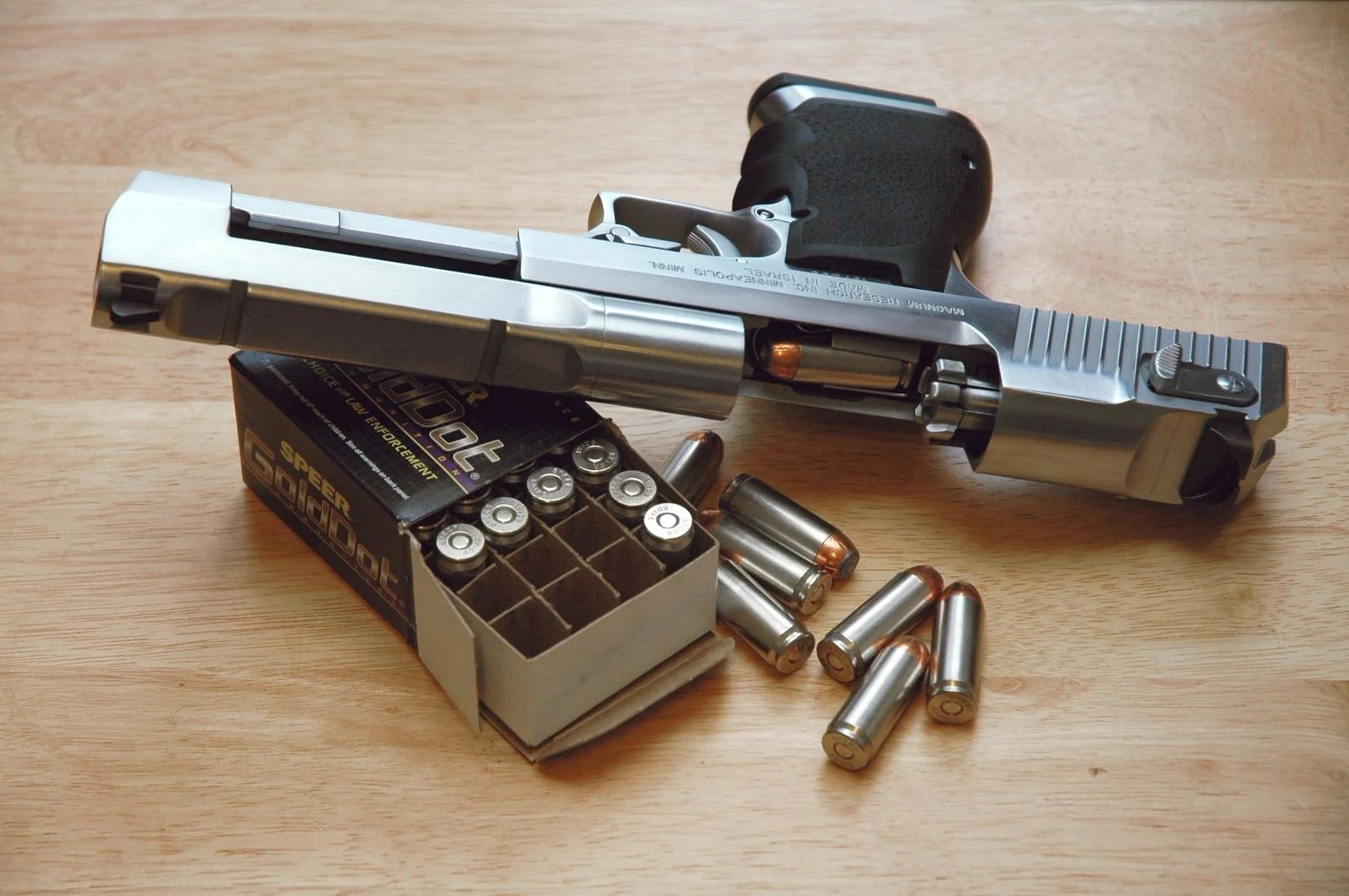 Other key features of the Desert Eagle .50 cal are its fixed barrel and polygonal rifling that allows for a better gas seal on the bullet, reducing deformation as it passes down the barrel. Additionally, this rifling makes cleaning the barrel much easier, as fouling is less likely to accumulate.
Finally, the Weaver-style optics rail underscores the versatility of the Desert Eagle, as it allows for the attachment of a pistol scope, red dot sight, and other accessories.
As for the .50 AE cartridge, it's a high-pressure, magnum design that features a heavy bullet of 300 to 350 grains that travels between 1,200 and 1,450 fps and delivers a crushing 1,200 to 1,500 foot-pounds of muzzle energy. That's why the .50 AE is a crazy potent cartridge.
Interestingly, one of the unique features of the .50 AE is that it shares the rim diameter with the .44 Magnum, which enables you to easily switch between the two cartridges with just a magazine and barrel change. It means you can shoot wider accessible, cheaper .44 ammo and do it comfortably since, after the .50 AE, the recoil from the .44 Mag is perceived as light.
The gun also features an ambidextrous safety, soft synthetic rubber grips, and an integral muzzle brake.
If you want a comprehensive hands-on Desert Eagle .50AE review, follow the link.
Although the Desert Eagle Mark XIX .50 AE indeed has its practical limitations, it remains an incredibly recognizable and iconic pistol worldwide. While its immense recoil may make it less than ideal for long shooting sessions at the range, those who have fired it will attest that it delivers an experience like no other pistol can provide; it's simply fun.
The added bonus of being able to turn your .50 AE pistol into a .44 Magnum Desert Eagle changing only the barrel and magazine opens up new potential in terms of application. It makes the Desert Eagle Mark XIX a great hunting pistol, as it can handle a wide range of game animals with ease. But be mindful that the maximum effective range is limited to about 75 yards.
429 Desert Eagle (429 DE)
The 429 Desert Eagle Mark XIX is a highly anticipated pistol from Magnum Research that has generated a lot of excitement among gun enthusiasts. While it may look similar to other Desert Eagle models, what sets it apart is that it's chambered for the proprietary .429 DE cartridge.
Now, for you amateurs, here's a funny thing. You know that .44 Remington Magnum cartridge, right? And you might think that since it's marketed as a .44 caliber cartridge, its bullet diameter equals .44 inches. Well, you're wrong. The designation is a carryover from the late 19th century when the bullet diameter matched the external dimensions of its cartridge and not the interior. In reality, the bullet diameter is .429 inches.
Our .429 DE from Magnum Research uses the same bullets as the .44 Magnum and the case of the .50 AE necked down to hold a .429-diameter bullet. Such a construction gives a substantial increase in velocity (25%) and energy (45%) over a 44 Mag, resulting in 1,600 fps with a 240-grain bullet.
As for the 429 Desert Eagle Mark XIX pistol, it takes a lot from its .50 cousin – a 6-inch barrel, a .50 AE 7-round magazine, a Picatinny accessory rail, an integral muzzle brake, and a .50 AE bolt.
Desert Eagle L5
The Desert Eagle in .50 AE is an iconic and potent pistol, but one of the major drawbacks has always been its weight. Weighing in at almost 5 pounds when loaded, it's one of the heaviest handguns ever made, making it difficult to carry and shoot for extended periods.
The Desert Eagle L5 pistol from Magnum Research resolves this issue by shaving off a ton of weight – down to just over 3 pounds! This dramatic reduction helps make holding and shooting the Desert Eagle much more comfortable.
The .50 AE, .44 Magnum, and .357 Magnum versions of the Desert Eagle Mark XIX L5 come with a 5-inch barrel length that offers maximum accuracy and improved ballistics. It is made with a hard-coat anodized black aluminum frame for durability and longevity, while the black carbon steel slide and barrel provide extra strength and rigidity. For added comfort and control, the pistol also features a Hogue rubber grip with finger grooves. Just like the aforementioned Eagles, the L5 features an integral muzzle brake that helps reduce felt recoil significantly and a Pic rail.
Shooting high-pressure .50 AE rounds from a 3-pound pistol is crazy, so may want to opt for the .357 Mag, which is the lowest-pressure chambering of the three.
Baby Eagle III 9mm Semi-Compact Pistol
The Desert Eagle Mark XIX, the 429 Desert Eagle, and the L5 are all iconic handguns renowned for their power and accuracy. However, due to their heavy construction, they do not make very good concealed carry pistols, nor are they ideal for prolonged shooting. As a result, they can be used efficiently only for handgun hunting and as nightstand home defense pistols.
For those looking for a lighter-weight, more standard Magnum Research pistol for everyday tasks, the Baby Desert Eagle III Semi-Compact 9mm pistol is an ideal choice. Weighing in at just over 1.65 pounds due to the polymer frame and having finger grooves on the grip, this gun has an ergonomic design that fits comfortably in your hand, while a slim grip profile makes it easy to conceal under clothing. The overall shape, however, is like its big brother's.
The Baby Eagle III also has a DA/SA trigger with a 12 lb. trigger pull in double action mode and 4 lb in single action and three combat-type fixed white-dot sights. The capacity is standard for a 9mm semi-compact pistol – 10 rounds.
All these great features combine to make the Baby Eagle III one of the most versatile Desert Eagles – perfect for concealed carry, home defense, or recreational shooting. It's also available in the .40 S&W caliber and in a full-size design with a 4.43-inch barrel.
Conclusion
To sum it up, the Desert Eagle pistol series is iconic and unique – with so many movies and video games featuring the original Desert Eagle, no doubt about that. However, unconventional ammo, weight, and heavy recoil make bigger Eagles less practical but more fun to shoot. If you want a Magnum Research optimized for regular tasks but with a touch of THE Desert Eagle style, opt for the Baby Eagle series in 9mm or .40 S&W.
FAQ
What's so special about a Desert Eagle?
Unlike other semi-auto pistols, Magnum Research Desert Eagle features a gas piston system and a fixed barrel with polygonal rifling, which allows it to handle high-power rounds.
What is the Desert Eagle gun designed for?
The Magnum Research designers wanted to create a semi-auto pistol able to handle magnum rounds. Today, the Desert Eagle is used for handgun hunting, plinking, and, in some cases, home defense.
Can you legally own a Desert Eagle?
Yes. The largest legal handgun caliber in the U.S. is 0.50, so you can legally own a Desert Eagle in .50 AE.