Best Sig Sauer Pistols For Sale
Visit Our Store
When I conduct a Basic Pistol Class, included amongst the five pistols used in the class, are two SIG Sauer pistols – The SIG Sauer Mosquito .22 Caliber, and the SIG Sauer P228 9mm.  The .22 has the option of Single Action or SA (with a manual safety) or Double Action / Single Action or DA/SA.  The 9mm P228 is exclusively a DA/SA combo (without a manual safety).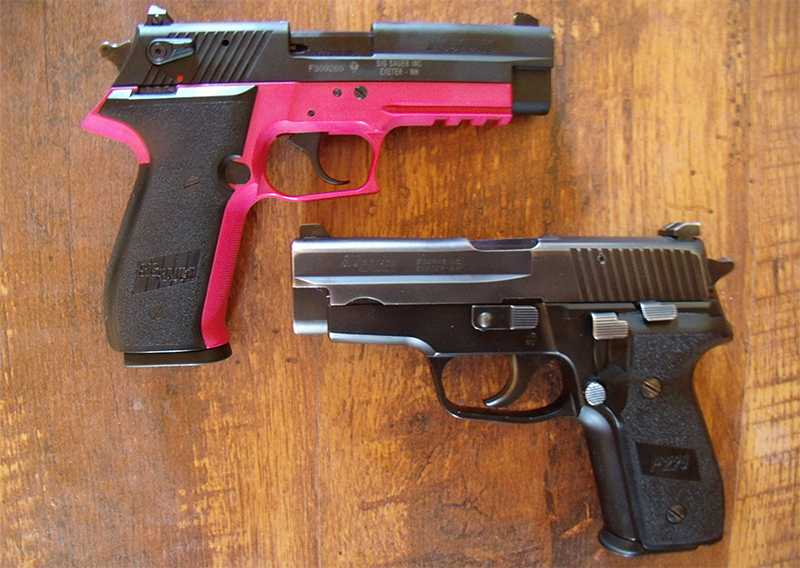 Action Types For Personal Defense
When women ask: "What type of action should I have in my personal protection semi-auto," the question I ask before answering that question is: "How safe do you want to feel with your pistol and how easy do you want the trigger pull to be?"  Many of the women have indicated they don't trust themselves with SA pistols even though they understand the need to follow the NRA Rule #2: Keep your finger off the trigger until you're ready to shoot.  Others have indicated they don't have the strength in their trigger finger to pull a DA.  So, the conundrum for them is SA is light, and DA is heavy.  However, the idea of having a lighter DA followed by SA is something they'd consider.  Then they can forgo a manual safety and not have to think about removing it when the pistol is drawn and aimed.  The idea of a DA makes them feel safer.  It's like having a DA revolver with larger ammunition capacity.
I've shot the Sig Sauer P228 countless times, and I must admit the amount of pressure to pull the DA trigger is quite heavy.  It Is the earliest models developed in the 1980's, and the poundage required at that time was 12 lbs. for DA and 4.5 lbs. for SA.  This was meant to be sufficient enough to forego the need for an external safety.  The safety became your finger.  In addition, the P228's grip width of 1.50" was too thick for my hand.  The backstrap was not in the web between my thumb and index finger but laid on my thumb knuckle.  This was the only position I could grasp the grip and reach the trigger with my trigger finger.  As such the recoil was felt in my thumb knuckle and after a few rounds, and it became uncomfortable. So, my challenge was to research gritrsports.com as to which SIG was more "female friendly" and visit a local gun store to find that model with a lighter DA and a thinner grip for my hand.  I found a SIG that had both qualities.
SIG Sauer SP2022 Pistol
The SIG Sauer SP2022 is impressive.  When I picked it up, it immediately fit my hand like a glove. The SP2022 has a width of 1.40" and the backstrap comfortably fit in the webbing of my hand and still permitted me to easily reach and pull the trigger with my trigger finger.  The DA requires 10 lbs. of pressure and 4.4 lbs. for SA.  When I first dry-fired it, I was surprised that 2 lbs. make such a radical difference in the trigger-pull comfort.  The difference of .1 lb. in the SA was not even discernable.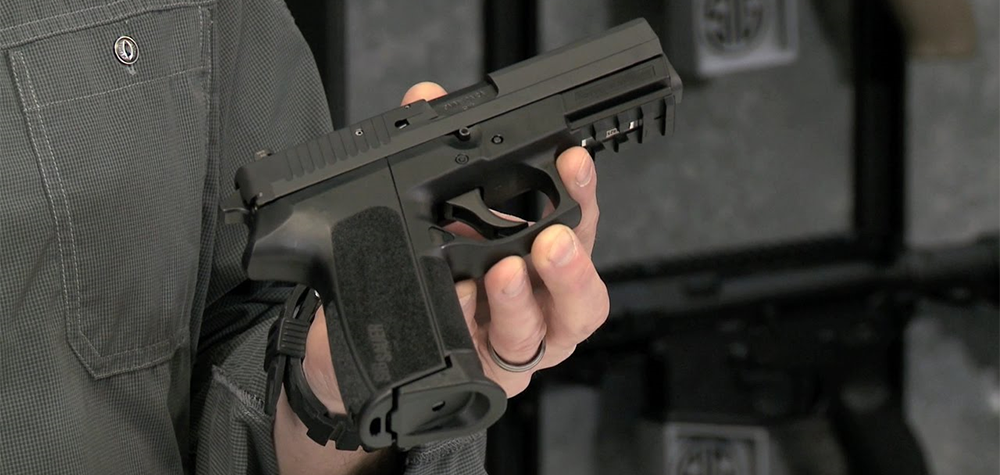 Other comparisons with the SP228 and SP2022 are as follows:
SIG Sauer P228 Specs
          Capacity:             13+1

          Type:                    Compact

          Caliber:                9X19mm

          Weight:                26.1 oz.

          Length:                 7.1"

          Height:                 5.4"

          Barrel Length:      3.9"

          Frame:                 Alum. Alloy

          Sights:                  Fixed

          Finish:                  Blued

          Accessories:         N/A
Sig Sauer SP2022 Specs
          Capacity:             10+1

          Type:                    Full-Size

          Caliber:                9mm Luger

          Weight:                 29 oz.

          Length:                 7.4"

          Height:                 5.7"

          Barrel Length:      3.9"

          Frame:                  Polymer

          Sights:                   Night Sights

          Finish:                   Black Nitron

          Accessories:         Rail for flashlight / Loaded Chamber Indicator
The Double Action difference between the P228 and the SP2022 is the key factor for recommending this pistol for women.  Even though the magazine capacity is reduced by three to make it state compliant and to accommodate the shorter width, there are other features which also render this pistol more appropriate and enticing.  Note the extra weight, length, and height, which makes it more comfortable to shoot overall.  More weight and length means less recoil, and more height means longer grip surface and better recoil control and follow through.  Night Sights, a loaded Chamber Indicator and an Accessory Rail makes it easier to sight in low light. These features assure the shooter of the pistols loaded condition by feel and observation, and it provides the opportunity for the attachment of a flashlight.
Final Thoughts On SIG Sauer SP2002
SIG Sauer has greatly improved its DA/SA semi-automatic to be more user friendly.  Whether it be for Law Enforcement, the Military, or John or Jane Doe, the SIG Sauer name has a great reputation for making a fine quality firearm.  Even though I have been unable to test fire the SP2022 I know that when I replace the P228 it will be the SP2022.  After all, it is the friendly solution.