As one of the most well-respected optics manufacturers in the world, Leupold Optics has always been known for their high quality products produced for the military, law enforcement and civilian worlds. The new Mark 5HD series scopes are just one of the newest products released intended to lead the company into the future. Built to take on the mystical art of long range shooting, Leupold has their sights set on the Mark 5 to give shooters the best quality product possible. This week, we look specifically at the Leupold Mark 5HD 5-25x56mm and find out how it measures up with its predecessor.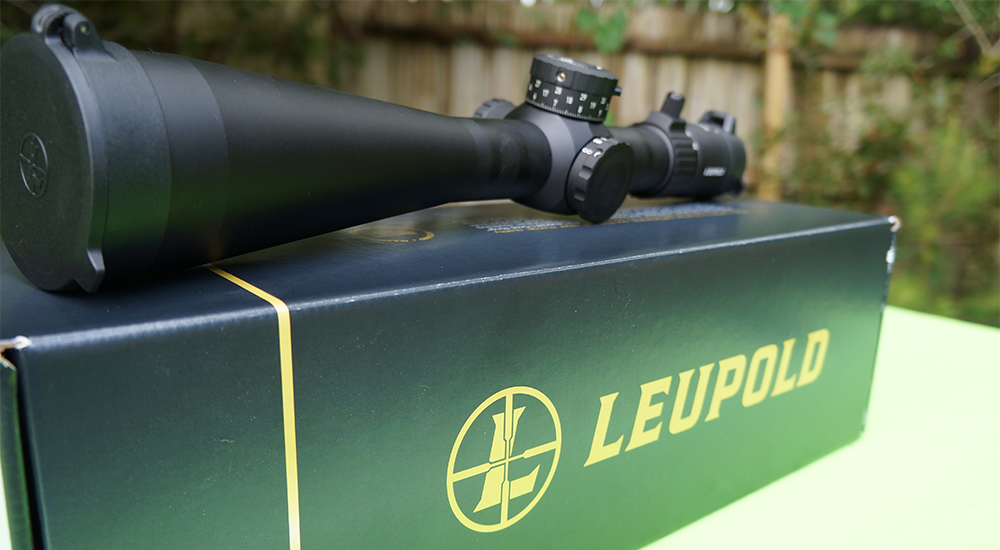 During my tenure in Law Enforcement, I had the honor to serve as the SWAT unit's sniper element. After testing several optics, I settled on the then new, Leupold Mark 4 5-20x50mm to mount on my rifle used for duty. Over the next 15 years, that scope saw extensive SWAT duty, training and competitions. Through extreme heat and cold, high humidity and even a few water crossings, the scope remained crystal clear and tracked perfectly. These days, I no longer wear the badge but still work closely with law enforcement, private contractors, military personnel and civilians as a firearms instructor. When I was asked about testing the Mark 5 with the 5-25x magnification and 56 mm objective, I jumped at a chance to see the upgraded version of my old friend.
First Impressions
When the package from Leupold arrived for review, it was accompanied by a set of Leupold aluminum Mark 4 "high" 35mm rings. Due to the large 56 mm objective lens and thick 35 mm main tube, my concerns were the "high" rings may still be too short depending on the firearm platform used. The goal when mounting a scope is always to keep the scope as close to the bore axis as possible while still being able to have enough clearance to not interfere with the rifle barrel's harmonics. Depending on the rifle used, clearances will vary from action type, model and configuration.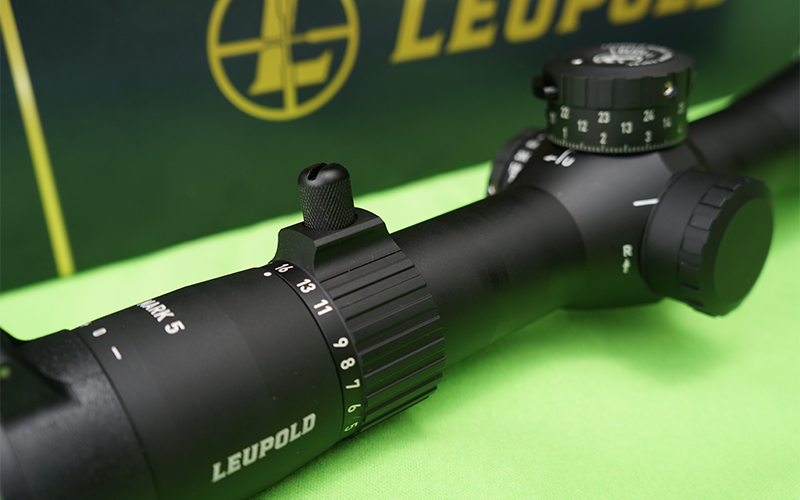 With our "in house" AR-15 rifle build chambered in 6.8 SPC used for testing, the focus would be on the handguard clearance of the scope rather than barrel in this case. The rifle's 15" custom handguard from Unique ARs was used to protect the free floated barrel from anything interfering with it's true harmonics and buffer its gradual heat buildup from the shooter's hands. As suspected, the supplied rings were too short to allow clearance for the objective lens. For this project, a set of "Super High" rings would be needed.
Fortunately, I was able to source a great quick release one piece mount from American Defense. This company builds optics mounts I have trusted for years for use with my Picatinny rail equipped precision rifles. Once mounted, Mark 5HD scope fit perfect in the rings and offered plenty of clearance. The mount height positioned perfect for my cheek weld and eye alignment all the way through the magnification scale.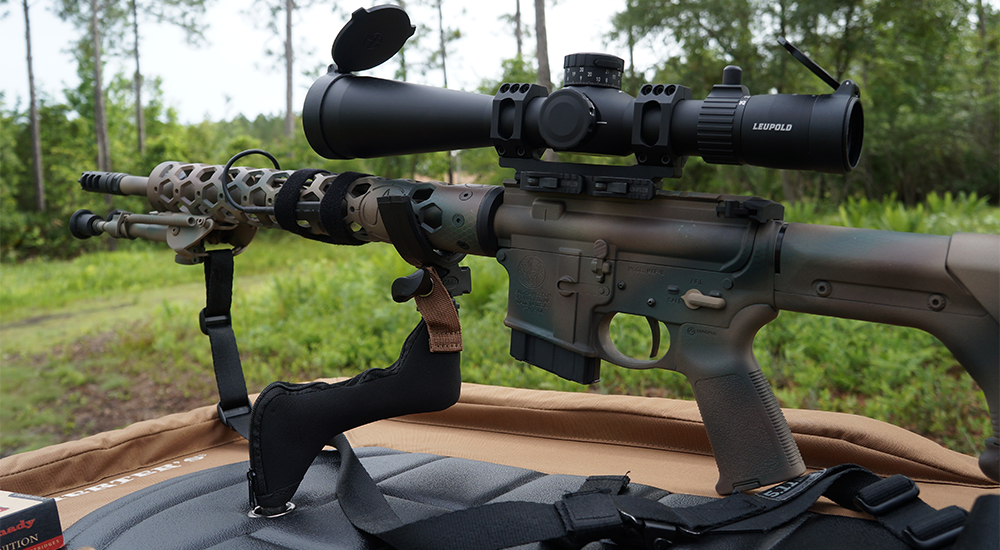 Unlike the tried and true traditional mil-dot reticle in my old Mark 4, the Mark 5 uses Leupold's TMR reticle. Rather than completely ditching the mil-dot system, the TMR is technically an expansion of the old system by using hash marks rather than dots with .5 mil (approx. 1.8" @ 100 yards) graduations for increased ranging, leads, sizing and hold-over precision. Keeping with the traditional mil-dot set up, the TMR is a non-caliber specific reticle still working on the mil-based system commonly used by law enforcement and militaries around the world.
One of my favorite features on the Mark 5HD is not so much the reticle itself but where it is located in the scope's construction. With the reticle set on the First Focal Plane (FFP) as opposed to more traditional Second Focal Plane (SFP), the crosshairs enlarge and contract through the magnification scale parallel to the perceived image through the scope. This allows for hold overs and adjustments to be consistent throughout the magnification range rather than require separate collected data. In a Second Focal Plane scope, the image would get larger and smaller as you zoom in and out, but the crosshairs would remain the same size thus cause it to exponentially change its proportional relationship to the target. In simple terms, FFP equals less data and math to keep up with!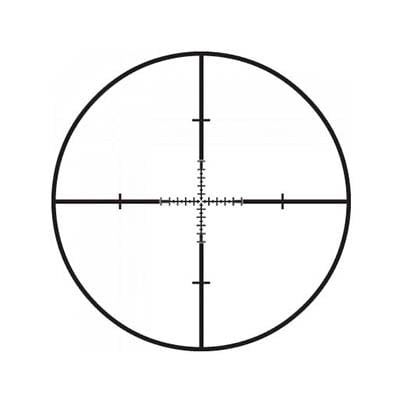 Leupold Mark 5 HD Specs
Magnifications:

5x-25x

Overall Length:

15.67" (without sunshade)

Overall Weight:

29.98 oz

Objective Size:

56 mm

Main Tube Diameter:

35 mm

Reticle:

TMR

Elevation Adjustment:

120 MOA

Windage Adjustment:

60 MOA

Eye Relief (Low)

3.58"

Eye Relief (High)

3.82"
Range Time
Once the initial task of mounting the scope was done, it was time to hit the range. A few days later, I met up with fellow Swanson Media Group writer, Clint Steele at a private range facility known as "The Swamp" training grounds. I brought along a portable shooting bench from Herders and a few boxes of Hornady 110 grain V-MAX 6.8 SPC. These loads have been proven for medium sized game out to 300 yards and sub-MOA capability at 100 yard testing in previous Swanson Media Group builds. It was time to put the newest project to the test and see how well the Leupold scope played its part.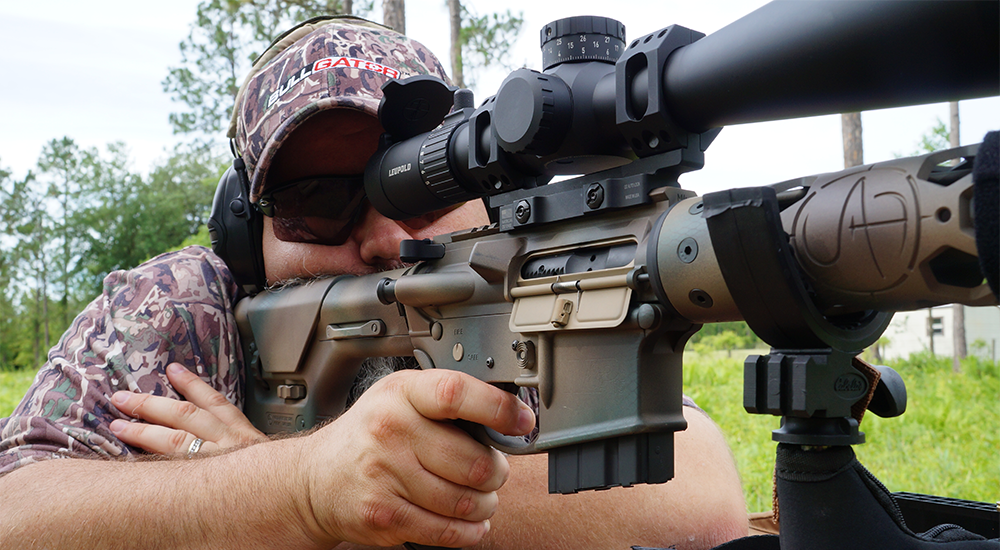 Once set up, Clint and I took turns shooting three round groups at 25 yards to establish a base line for sighting in the scope. With the rifle printing on target with the first few shots, it was only a matter of walking the adjustments in to zero the rifle. Due to Clint's long history as a Marine and later retired US Army and my background as a Law Enforcement SWAT sniper unit, he and I were able to get in sync quickly so the difference in shooter played very little into how the rifle was set up. Not only did this make the testing period extremely efficient, but also very enjoyable for two good friends despite the Florida summer heat and humidity.
The 25 yard set up ended with 1" low of center, 1 hold groupings from both shooters. It was time to move back to 50 yards and repeat the process. Once set back up, the first 3 shots were dead on with the same size groups, center hits. Except for a pair of flyers from both shooters, this stage was practically flawless. Shooter notes at this point from both Clint and myself were starting to notice the extreme clarity of this optic and the fine crosshairs allowing the ½" center of the target to be seen instead of covered up be the reticle thickness.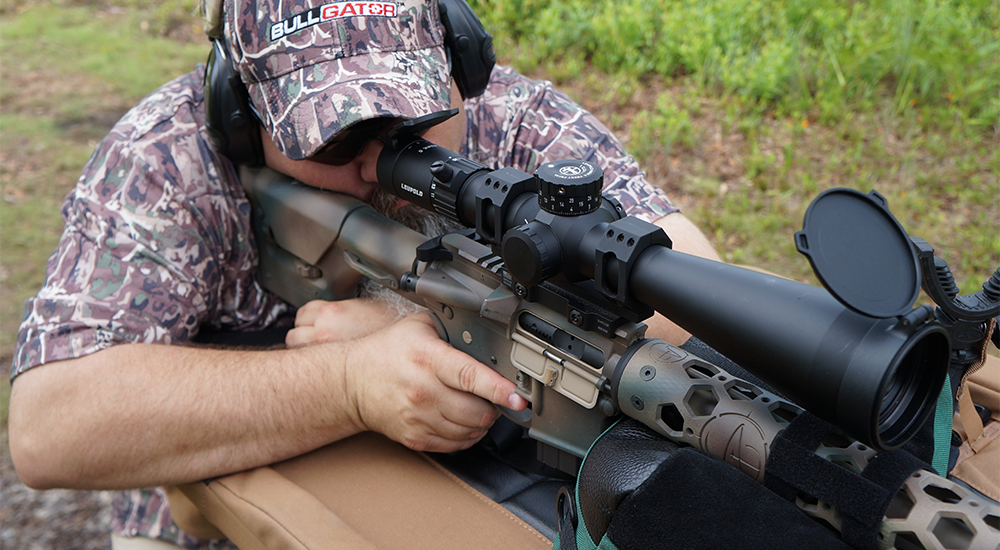 Keeping with these notes and working our way back to the 100 yard mark, the rifle continued to do its job holding great groups while the focus switched more to the scope. The graduated left side focus knob would start to come in play a lot more at the final shooting position. As my first shots were approximately 2" to the left and 1" high, I could use the relation of the scope's .5 mil hash marks for shot corrections. Using a base of one hash mark being 1.8" at 100 yards and make my adjustments by simply looking through the scope rather than walk down range to physically measure my shots with a ruler.
As time wound down, it would be a couple of days before I could make it back to the range for further testing and notes. With the rain finally moving out, I was able to get back and work without the bench, in the prone position this time using the super comfortable Blackhawk Pro Shooters Mat. Confirming zero at 100 yards, I worked my way out to 200 yards over the next hour. As I moved from my start position to 150 and then 200 yards, the side focus continued to be spot on with its graduations and the 25x magnification's clarity gave me a crystal clear detailed view of the target.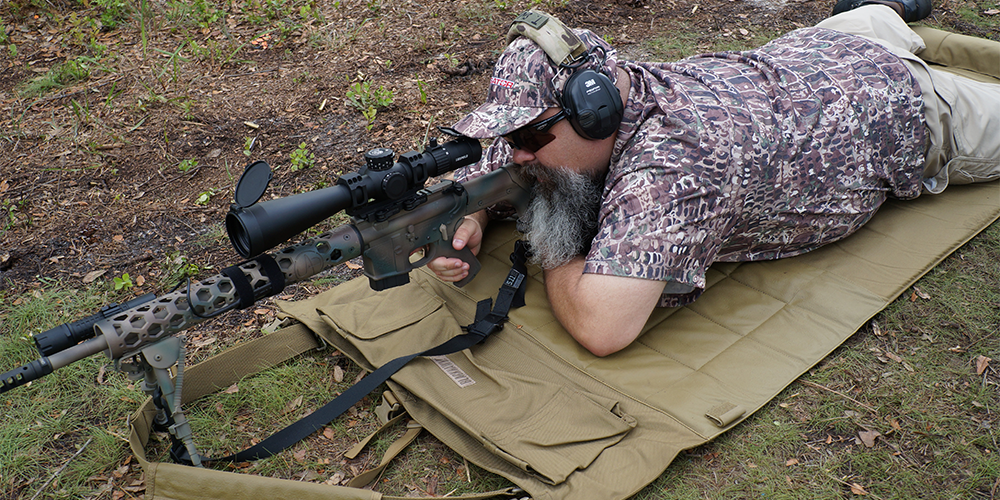 There were two positives that were noticed early on but really stood out by the time I finished up my range session. The first was the ease of judging measurements for adjustments with the smaller .5 mil hash marks rather than the larger black ball 1 mil dots. The second was very noticeable ability to still see a small size target through the crosshair's intersection without it being completely covered up like other style reticles. While the 6.8 SPC would top out for hunting at around 300 yards with approximately a 9" – 10" drop before extreme drop off, the scope would be a very welcome addition to a rifle set up for 1000 + yards.
Final Thoughts
With a MSRP $2599.00, this is a serious investment to make in an optic for most shooters. While there is no doubt the quality and precision engineering warrant the price tag, this would be more applicable for military and law enforcement application than needed for the average hunter or weekend shooter. After the testing period, I did find I would rather have the illuminated TMR reticle option over the standard TMR featured on my sample.In conditions like low light or bright Florida sunshine, an illuminated reticle plays a huge roll in precision on black targets such as Shoot-N-See or standard B-27 silhouette targets.
The TMR reticle was easy to use with a very small learning curve for anyone who regularly uses the Mil-Dot system. Due to his experience running Mortar crews and orchestrating indirect fire missions, Clint already had a great working knowledge of mils so the TMR had a very short learning curve for him. This quickly gelled well with my classic tactical rifle training from various sniper schools. The elevation turret featured a target style knob with a unique push button lock to prevent it from being accidental being knocked off zero. I thought this was a great addition to the scope, but I was confused as to why the designer then went with a covered windage adjustment. For my style of shooting, this didn't play a huge factor in small corrections shooting on the fly, but annoying when sighting the optic in and making permanent adjustments.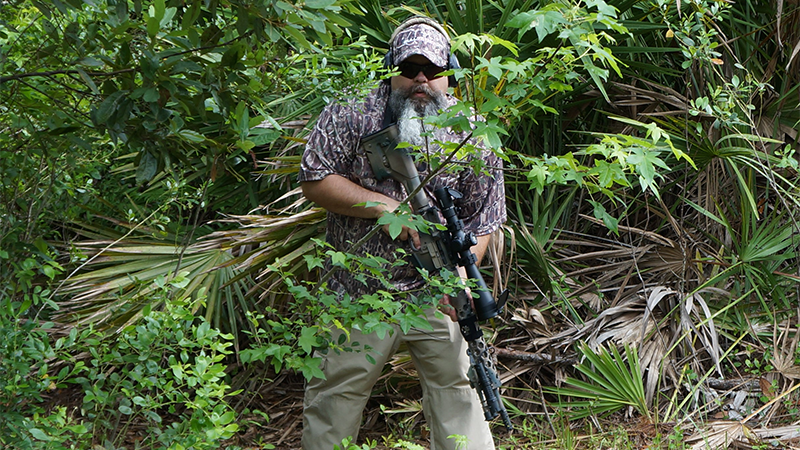 Overall, I was very impressed with the Leupold Mark 5 scope. The heavy duty construction gave the feeling of it being built like a tank even thought it was slightly lighter than my tried and true Mark 4. Had I had more time to work with the scope, I would have requested to replace the quick detach mount with either an American Defense one piece mount that permanently mounts to the receiver or a "Super High" set of Mark 4 Leupold rings. I have never been a real fan of quick detaching optics regardless of how well they hold zero when reattached.
If you have the expendable finances to get into the upper percentage of high end scopes, the Leupold Mark 5HD is at the top of the list. It is easy to use, offers top quality and comes from a rock solid company known for its great customer service. I highly recommend checking out this scope yourself when you look to invest in a new optic.