By Pete Rogers
There is a saying among hunters that goes something like this: "No one goes on only one safari." The indication is that the experience is so life changing for hunters that they all say they wished they had done it sooner, and they will be back for more. Now is the time to begin planning for that dream hunt in the dark continent.
Today I will be talking with hunters that have gone on safari in South Africa, Namibia, Zimbabwe, Zambia, and even some that have gone to very exotic lands, such as Central Africa Republic, Kenya, Mozambique, and others. Some have hunted plains game, the big five, the big six and even some species most of us have never heard of. It can be very overwhelming, with the variety of game and locations to hunt them, to know exactly where to start.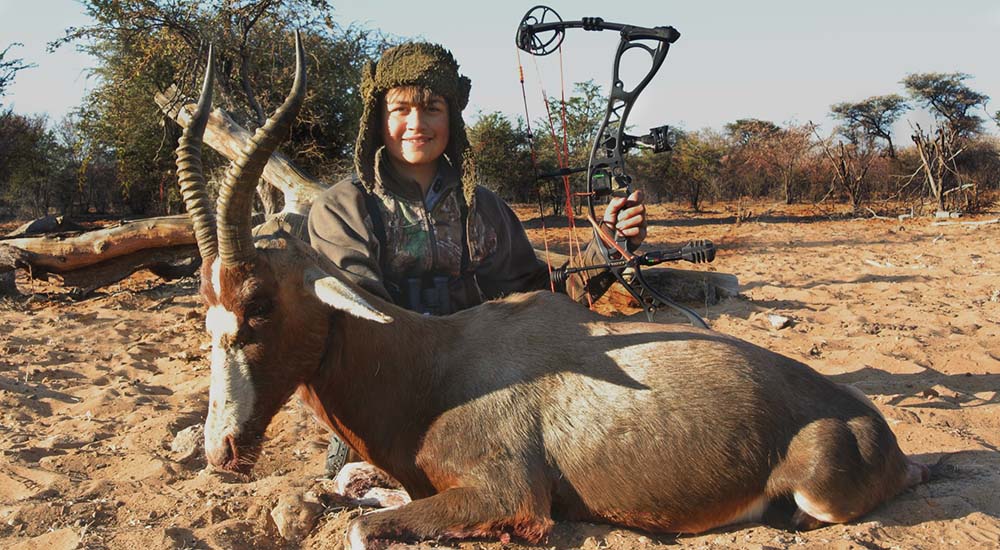 Advice From Ralph Cianciarulo
Ralph Cianciarulo has hunted game across Africa and has killed dozens of species across the continent. Ralph is considered one of the most accomplished bow hunters in the world. Ralph offers this advice when planning your first safari. "First make a wish list of animals you want to hunt. But once some of these animals are in front of you, your list may change. Be prepared financially to add a few animals to your list when you are there." This, more than anything, will determine where you will go to hunt them. If you want to hunt plains game, South Africa and Namibia may be your best choices for available species and cost. If you are after some of the big five – Cape buffalo, lion, leopard, elephant and rhinoceros (add in crocodile and/or hippo to make it a big six or seven) – you may have to travel to different countries to find the best species of each and where it is legal to hunt them.
Cianciarulo suggests for the first-time safari pursuing plains game: "There is so much variety in plains game that you can find some animals you are proud of, are affordable and can really spice up your hunt." He also reminds us that in most of South Africa there are "ranch-style" hunts that are owned privately. In many parts of the world, animals that live on your land are considered private property. Cianciarulo suggests that, if possible: "Speak directly with the concession owner about your hunt, not the professional hunter or guide." The concession owner is who owns the property and the animals on the property. The professional hunter or guide merely accompanies you on the hunt.
Cianciarulo goes on to suggest that when hunting plains game, take time to study the anatomy of these animals. Unlike animals of North America, their vitals are set in different locations on their bodies. Most have their heart and lungs set further forward and lower than we are accustomed. Knowing where to place your arrow or bullet is crucial.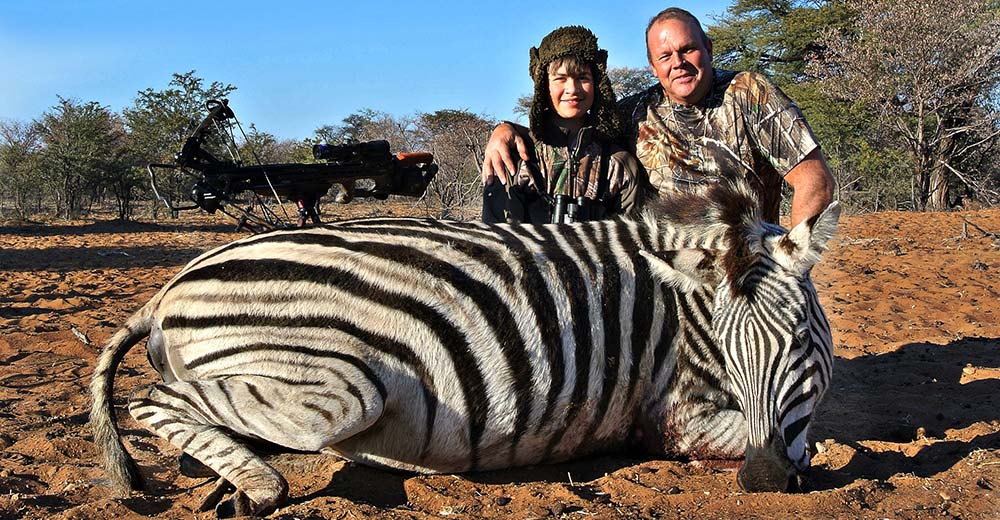 Trade Shows And Budget
When planning your first safari, it is a great idea to visit some of the bigger trade shows. Outfitters often offer significant discounts at these shows. You can speak directly to the outfitter and meet them in advance. A word of caution here, some of the packages that are offered lure you in with some highly desirable species like Kudu, but also include some smaller less desirable species. Make sure you are hunting the animals you want to hunt.
Once you have your list of animals, it's time to look at your budget. The budget will dictate a lot of what you can do and what you want to do. There are many "hidden costs" to safari. Once you kill the animals you desire, if you want any taxidermy done for these trophies, there are fees associated. If you are having the taxidermy done in your host country, there are still dipping, crating and shipping fees associated with these trophies. Make sure you have budgeted for all extra expenses and have all your paperwork in place. "Study your CITES (Convention on International Trade of Endangered Species) its and truly understand what paper work you need. If your sights are on some of the animals that need special permits to bring them back, you must have all of your paperwork in place to bring them back to the U.S.," Cianciarulo advises. Further, he suggests using one of the companies that specializes in helping U.S. hunters with their safari. These companies do this every day. Anything it costs you to use the service is peace of mind on the other end and is money well spent. A little research can find a host of companies that specialize in organizing hunts to the dark continent.
Speak with your concession owner and your Professional Hunter (PH) if you can, and see if you can customize a package hunt for the specific animals you desire. For example, a few I researched for this story offer either a five-day – five-animal package or a seven-day – five-animal package. Most of these packages will have the most popular animals on the list and a few smaller less-desirable animals. In many cases, these can be substituted for a trophy fee. Personally, I have not found any that have a package that includes my list of the five animals I want on my first safari. So, I am substituting for the animals I want and paying the difference. Here's my list of animals for my safari: Gemsbok, zebra, impala, eland, and blue wildebeest. I will reserve the option to take an additional impala. And of course, you can always add animals by paying the trophy fee associated.
When searching for outfitters, it is wise to get a list of references and take the time to call them. Obviously, no outfitter is going to provide a list of unsatisfied hunters; this is where calling them and asking questions will get you the real answers you're looking for. Ask questions like these: How was the food? What were the accommodations like? How personable were the guides? Did you see a lot of game? Was there a good selection of your target animals? Were you forced to take shots you were not comfortable with?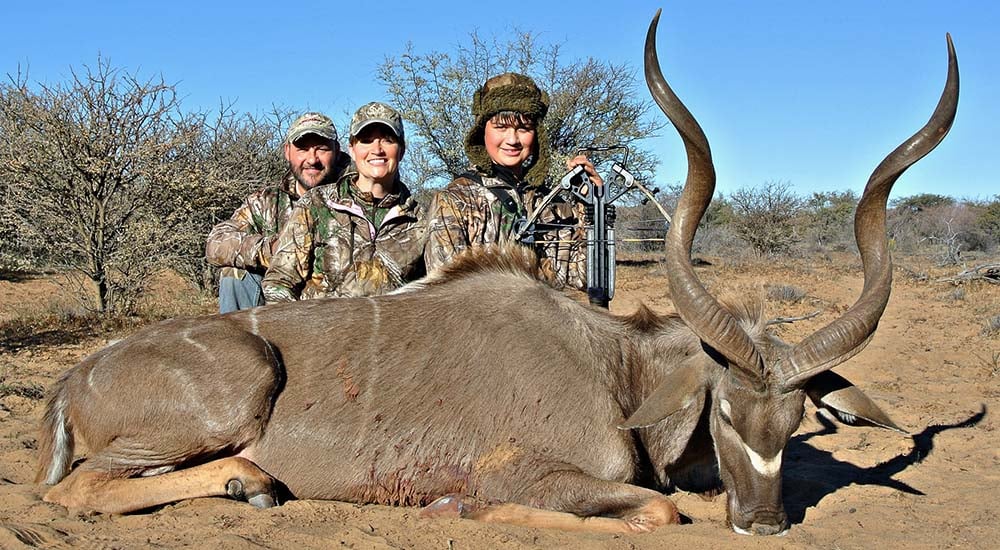 Firearms And Bows
If you are a bow hunter, you will want to know if you will spend most of your day in a blind looking over a water hole, or will you spot and stalk. Perhaps you want to do both. Waterhole hunting will show you a bigger variety of game with little effort, but you will not be able to see the countryside. Spot and stalk reduces the success rate significantly, and this is something you need to know ahead of time.
Gun hunters will need to know the caliber requirements for the game they want to take. Some countries and outfitters have minimum caliber requirements. Most of the plains game can be taken with any thirty-caliber bullet, except for the bigger antelopes, like eland, that require a larger, heavier bullet in the magnum or .375 range. This is way too much gun for impala or zebra but necessary for the bigger game. Some hunters prefer a .270 or .308 for the smaller game, such as impala, and the midsize game, such as zebra, wildebeest and gemsbok. Ask your outfitter what he recommends and stick with what he/she recommends. Cianciarulo adds: "Select a caliber that has ammunition readily available. Stay away from the obscure calibers in case there is an issue getting your ammunition into the country." Whatever gun you are using, bring plenty of ammunition. Bow hunters should plan on having three dozen fully-equipped arrows for their trip.
Travel
When planning the travel for your trip, Cianciarulo advises to shop around for the best ticket prices with the least amount of flight changes to minimize luggage loss. There is no way to get around a long flight and two or three travel days on each side of your safari. The expense of travel can be extreme if you don't plan well for it. You must consider the costs of flights to South Africa and hotel lodging in the city before and after you are picked up and dropped off for your hunt. Within country flights may be additional expenses. And do not forget to budget tips for your PH, trackers, cooks, laundry, etc. Figure a minimum of $100 per day for tips alone. Cianciarulo also suggests not traveling in camouflage or packing your belongings in camouflage bags. Some of the countries' personnel that may be handling your luggage do not understand America's fascination with camouflage and see it as threatening. According to Cianciarulo, you do not need a lot of clothes; all outfitters offer daily laundry included in your fees. "It is amazing how little you actually have to take with you for a safari hunt," he adds.
Medical Care
Lastly, check with your doctor about travel to the country of destination. Many of these countries require inoculations against certain diseases. You will not be admitted into these countries without proof from your doctor of your inoculations. On more than one occasion, hunters were forced to return home because they did not get the proper medical papers from their doctor. And while you are at it, have your doctor prescribe some antibiotics for you to take with you for the most common diseases in the country you are hunting. It is better to be prepared than to get sick in a foreign country and not be able to get the medication you need.
Planning your first safari may seem daunting, but for most hunters, this is the achievement of a lifetime. Getting it right will add to the excitement and provide memories for decades. Get it wrong, and you will be wasting a lot of money. The dream of an African adventure stirs in the hearts and souls of many hunters. Stop delaying and make the dream a reality.