By Kip Staton
kipstaton.com

Unless you've been living under a rock in the gun blog landscape for the past few years, you know that long-distance rifle games have never been more popular. From matches like the Mammoth Sniper challenge to the somewhat more "domesticated" Precision Rifle Series and casual plinking at extended ranges, we're seeing the advent of what just may be the golden age of long range riflery.
This demand for extended-yardage activities has been answered by an increasingly-high tech array of guns, gear and optics. And this cutting edge technology comes with a price tag to match. Just a quick glance at the precision rifle blog shows a "dream rig" clocking in at over $10,000.
Now, this sticker shock doesn't phase everybody. But these top-shelf builds are a bit out of reach for most of us, and the free market has answered with an assortment of options geared towards beginning and intermediate level shooters. Entry-level equipment has never been this good, perhaps especially when it comes to rifle scopes.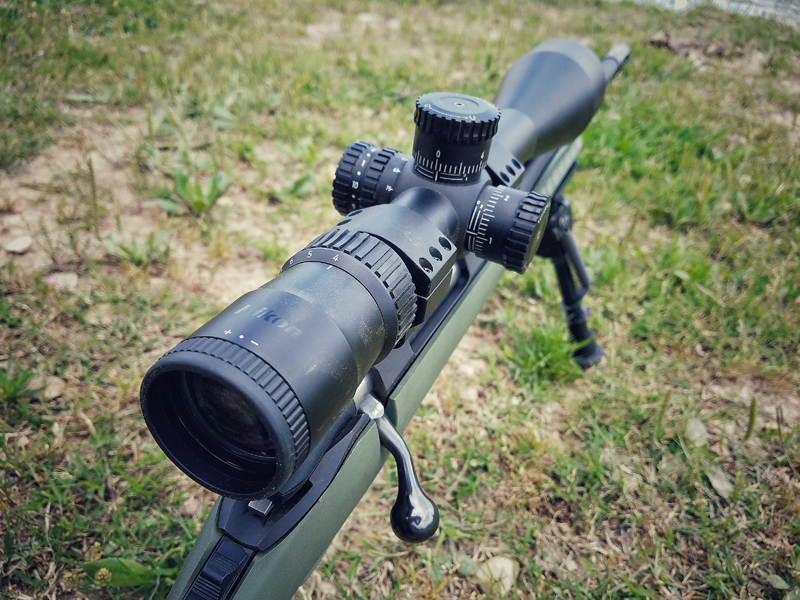 Nikon Sport Optics has recently joined the party with just such an affordable long range rifle scope line: the Nikon BLACK X1000 series. Targeted towards the entry level precision rifle shooter, this line comes from the factory with many features that precision riflemen are after, and at a price point that's noticeably lower than many competitors.
Let's find out if the Nikon BLACK X1000 riflescopes are a good option for the entry-level precision shooter.
Nikon BLACK X1000 Series Overview
Even though the BLACK X1000 riflescopes are "Focused On Precision," the line does feature a BLACK Force 1-4×24 model designed for three-gun style matches. For the most part, however, it's all about those longer ranges.
Nikon is currently offering the BLACK X1000 riflescopes in the following configurations:
Since these are geared towards precision rifle shooters, they come with your choice of MIL or MOA scale reticles. The SF in the model names stands for Second Focal plane.
Most shooters will probably get the best use from the 4-16×50, configured with an illuminated X-MRAD reticle. It covers a lot of bases, and is the one I received to try out.
The Black X1000 rifle scopes are made in the Philippines. This isn't a bad thing. Many riflescopes in this same price and and with this same purpose from other manufacturers (like Vortex, for example) are made in the same country. Many great scopes that work just as advertised come from the Phillipines. This helps with the bottom line for many shooters: price.
Unboxing and Physical Description
As I mentioned, Nikon sent me the sample BLACK X1000 4-16x50SF equipped with the illuminated X-MRAD reticle, just like it ships from the factory.
The Nikon BLACK X1000 4-16x50SF includes the following:
Optic

Instruction manual

Product warranty registration card

Key for changing out the illumination battery (not really needed, but nice)

CR2032 Battery

Lens covers

Sunshade
Naturally, the BLACK X1000 series is waterproof and fogproof, with a constant eye relief throughout the magnification range. The eyebox is very, very tight at 16x, and more forgiving at 4x. This isn't really surprising for an optic in this price range.
NIkon chose to machine the main tube from aircraft grade aluminum, with a 30mm main tube. The rear section is somewhat limited as far as ring placement goes, but the front portion has plenty of room to make up for that.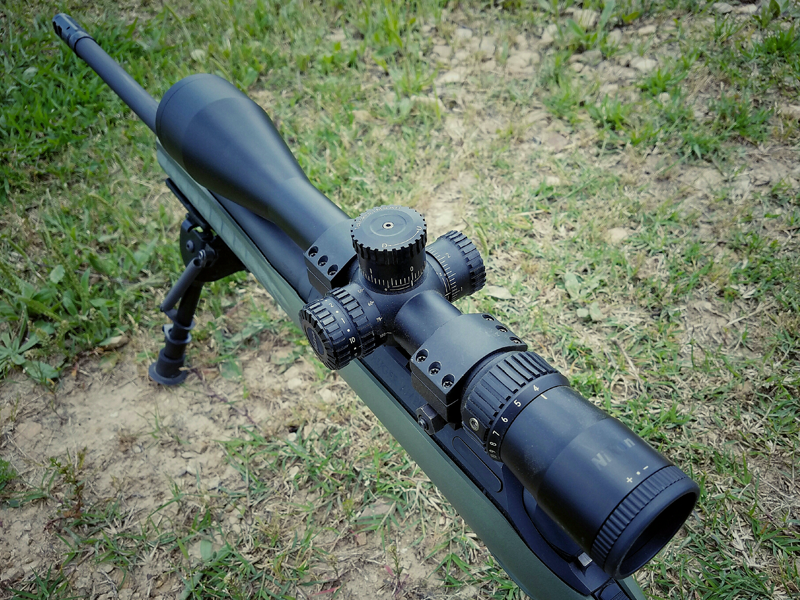 On the whole, the Nikon BLACK X1000 is a fairly plain-jane optic. There really aren't any special features that stand out. It's a very basic scope, but that's not a bad thing in this price range. I would prefer a simple design that works as advertised, over a more complex model that tries to do more than the pricing bracket really allows for.
Magnification: 4x-16x
Objective Diameter: 50mm
Field of View: 6.8-27.2 feet at 100 yards
Tube Diameter: 30mm
Eye Relief: 3.6"-4"
Eyepiece Outside Diameter: 44 mm
Weight: 24.3 Ounces
Overall Length: 14.8"
Parallax Settings and Illumination Controls
Parallax on the BLACK X1000 4-16x50SF is adjusted via a knob on the left side of the scope body. The instruction manual indicates the adjustments are in yards, in the following increments:
50 yards

60 yards

75 yards

100 yards

150 yards

200 yards

300 yards

500 yards

1000 yards

Infinity
It's a little weird that everything on the scope is in mils, yet the parallax settings are in yards instead of meters. It should have around a 10% margin of error because of this mis-match.
This same knob also houses the illumination rheostat. There are 10 settings, with off positions in between each level. Knurling on both controls is quite adequate, and the movements are smooth and even throughout their arcs of movement.
Comparative Optical Evaluation
Glass on my sample optic was typical Nikon quality, and very comparable to other scopes in this price range. I didn't find anything to be lacking in terms of clarity while engaging steel targets out to the 500-600 meter range.
Everything that's supposed to be multi-coated is, and contrast and colors are fine. It's nothing special, but not the worst glass out there. It's on par with other offerings in this class, and great for an entry level optic. If you're a consumer considering an optic in this category, the optical quality on a BLACK X1000 isn't going to be holding you back at matches.
Turrets and Tracking Testing
This is designed and marketed as a precision rifle scope. Needless to say, if it doesn't track consistently and true to the .10 mil values marked on the turrets, we're gonna have problems.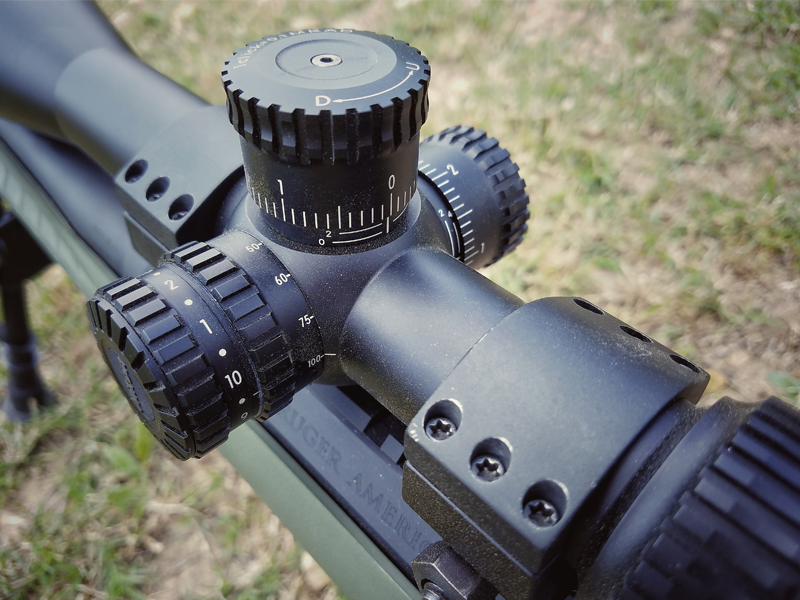 I would go so far as to say that the turret tracking is the most important part of this (or any) precision rifle optic. Being able to accurately dial on at extended ranges is sort of the whole point here.
To check the tracking on the production BLACK X1000, I set up a target board at exactly 100 meters. On this board, I laid out a series of vertical and horizontal 1" target dots at 18" intervals (which is equal to five mils). I then built a simple fixture to firmly mount the optic to the concrete bench at the range.
The idea here is that since the optic is configured with .10 mil clicks, centering on a reference target dot and dialing 5 mils at a time (18") should land the center of the reticle on the next dot down the line. Everything must be perfectly level for this test to be trustworthy.
To make a long story short: The turrets tracked perfectly. My test board subtended 20 mils vertically, which let me test a very broad range of adjustment. I cranked up and down on the turrets, and the reticle center stopped perfectly at each dot just like it should should. The clicks held true for windage as well.
Quite honestly, this was surprising to me. In this price range, I expected the BLACK X1000 to fall a couple of clicks short here and there, or have issues returning to zero. These Philippine-made optics seem to do quite well in the tracking department. It was perfect, to the very click.
The turrets themselves will be familiar to anybody with experience using Nikon optics. Clicks are distinct and audible, and the turrets can quickly be reset by pulling up on the knob, rotating to zero, and dropping them back down.
Nikon BLACK X1000 Illuminated X-MRAD Reticle
Unfortunately, it does not seem the reticle subtends properly. This photo was taken during the scope leveling process, but you can still clearly see that the reticle does not match up with my milliradian measuring chart. The center of the lowest subtension should be splitting the lower orange dot, and it doesn't.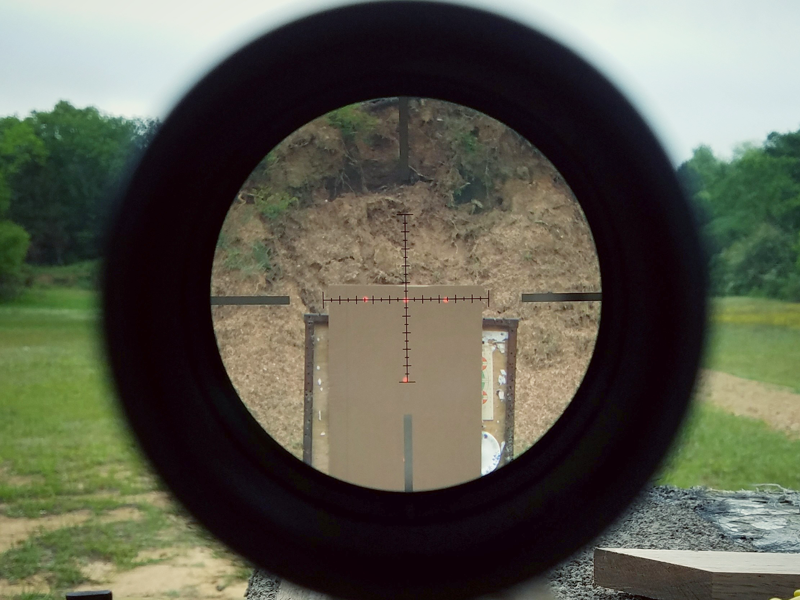 I measured a second 4-16×50 BLACK X1000 I happened to have on hand, and it also exhibited the error. It's not off by much, but it's definitely not a true MIL scale. This is the biggest flaw that I found with the optic. Not a big error, but an error nonetheless. This is unfortunate, since the turrets track so well.
Illumination is day-bright, and powered by a standard CR2032 battery. Nikon includes a handy little tool to unscrew the battery compartment, which is sealed with an O-ring. I didn't run any tests on battery life, but this type of power source is cheap enough to have plenty of spares on hand if your reticle goes dead during a match.
Like nearly every other optic available, reticle focus is accomplished via a rotating ring on the rear of the ocular housing.
Zoom Ring
No big story here. The ring swings through the entire range smoothly, and stops positively when it's supposed to. It's knurled in a similar fashion to the rest of the controls, and provided plenty of purchase.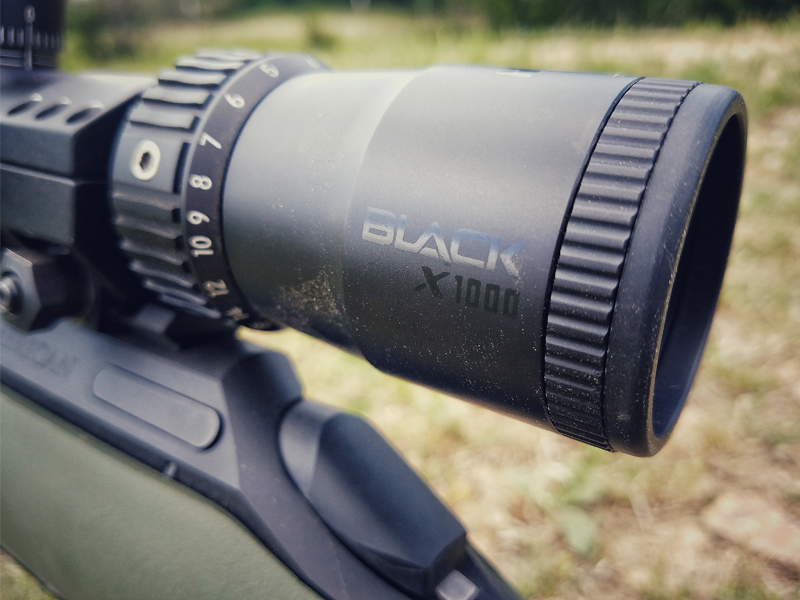 It's low profile throughout the diameter, though. Some sort of aftermarket cattail may help if you want to change the magnification level in a hurry.
Nikon BLACK X1000 Riflescope In Use
The Nikon BLACK X1000 4-16×50 complements my Ruger American Predator very well, although most optics in this size class do.
Zeroing at 100 meters was uneventful and easy. The turrets doing exactly what they're supposed to do makes life so much easier.
This is a long range riflescope, so I obviously had to get some distance work in. After zeroing at 100 meters, I didn't engage any targets closer than 450 meters.
Because of the reticle issue, I dialed for everything. The turrets are easy to use, since the .10 mil clicks are well spaced on the actual knob. Tracking was 100% on the money, no matter how far away the target was. Again, I was extremely impressed with the tracking on this scope.
I wish there was some sort of grand revelation about using the X1000 BLACK. Put simply, it just works. The glass isn't top shelf, but it's more than adequate to shoot steel targets out to as far as you can see them. If you miss, it won't be because of clarity issues.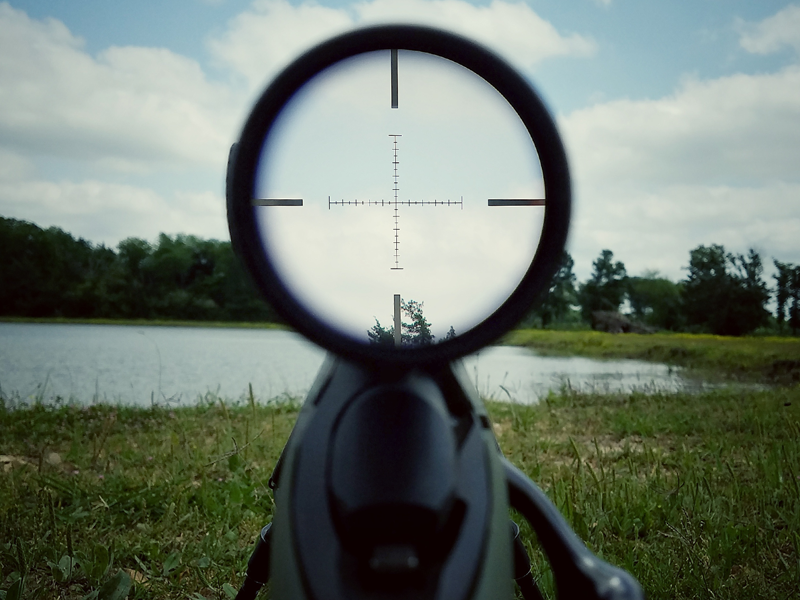 It's just a really well executed basic rifle scope. Nothing fancy. But what's there works exactly like it's supposed to, save for the reticle.
The 4-16×50 is a just little larger than what I'm used to having on the little American Predator, but it really is too much with the giant sunshade Nikon includes. I put it on once, thought "Wow, that's silly." and put it back in the box.
I didn't perform any kind of torture test on my sample optic, but it did get pretty dusty throughout testing. This didn't affect function at all. A quick rinse in the sink and it was ready to head back to Nikon.
Warranty
If buying a sub-$600 riflescope has you a tad nervous, rest assured that Nikon will stand behind the product with their No Fault Policy. If something goes wrong that's not covered by their Limited Lifetime Warranty, Nikon will fix it. Obviously, this policy doesn't include lost or stolen products. And if you dump your BLACK X1000 in a bucket of wet cement to "torture test" it, they won't cover that either.
Still, it's a pretty great policy, and one that allows you to buy a lower-priced scope with confidence.
Is the Nikon BLACK X1000 Series for You?
Is the Nikon BLACK X1000 the best precision rifle scope available? No. It's missing many features included with high-end scopes (zero stop, properly calibrated reticle, enhanced turrets, etc.). But, it's not pretending to be a high end optic. And that's ok.
If you're on a budget and looking for a scope to shoot known distances (or are willing to measure your exact reticle subtensions for ranging purposes, or have another means of ranging) and don't mind dialing turrets for longer shots, I think the BLACK X1000 would be a great choice. Illumination is day-bright, and uses common batteries.
Again, I believe that the most important thing to look for in a precision rifle scope is turret tracking. Everything else can be compromised (to a degree) as long as the turrets do what they're supposed to do. Scopes on the bottom end of the price line are notorious for losing a few clicks here and there.
My sample didn't suffer from that problem in the least. It was perfect.
Nikon BLACK X1000 Review Final Thoughts
I'll be honest: I didn't have high hopes for this optic when it was assigned to me. Other Nikon riflescopes I've reviewed didn't do so well in the tracking department, which makes them a non-starter for me.
I've said it before, but I hate that so much of this type of discussion is tied to the price tag. However, if you're looking at the BLACK X1000, price is probably a big factor.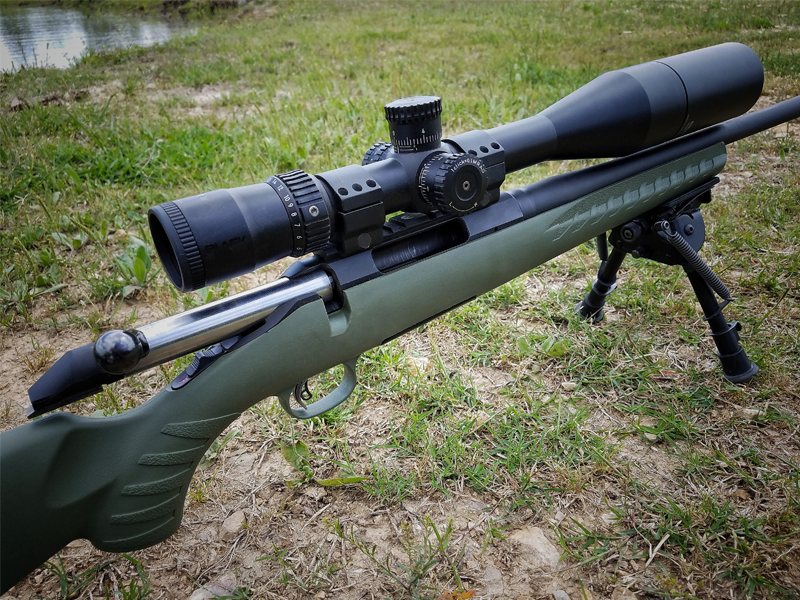 I'm pleased to report that this would be an excellent entry-level optic, based on the acceptable clarity, impeccable tracking, and solid (but very basic) layout. But the problem with the reticle subtensions was disappointing, and would prevent me from purchasing this scope for myself.
For those who don't really care about using the reticle to hold over for their targets, and shoot at known distances most of the time or have alternative range estimation methods, I think Nikon offers a real winner in the $600 price range with the BLACK X1000.