Last Updated on
Product Review, Field Test & Photos by Tony Martins
According to industry statistics, about 80% of all shotgun shell sales to consumers occur in the month of August. This may be hard to believe for some, as shotgun target shooting continues year-round. For hunters however, the reason is likely obvious – September 1st marks the traditional opening date for the first bird hunting seasons in North America. Starting with doves, hunters like to stock up for these birds that seemingly were born to make you miss! And, this is the best time to buy ammo for later upland, waterfowl, and turkey seasons, while retail shell stocks are at their annual peak. It's also an excellent time to purchase a new shotgun.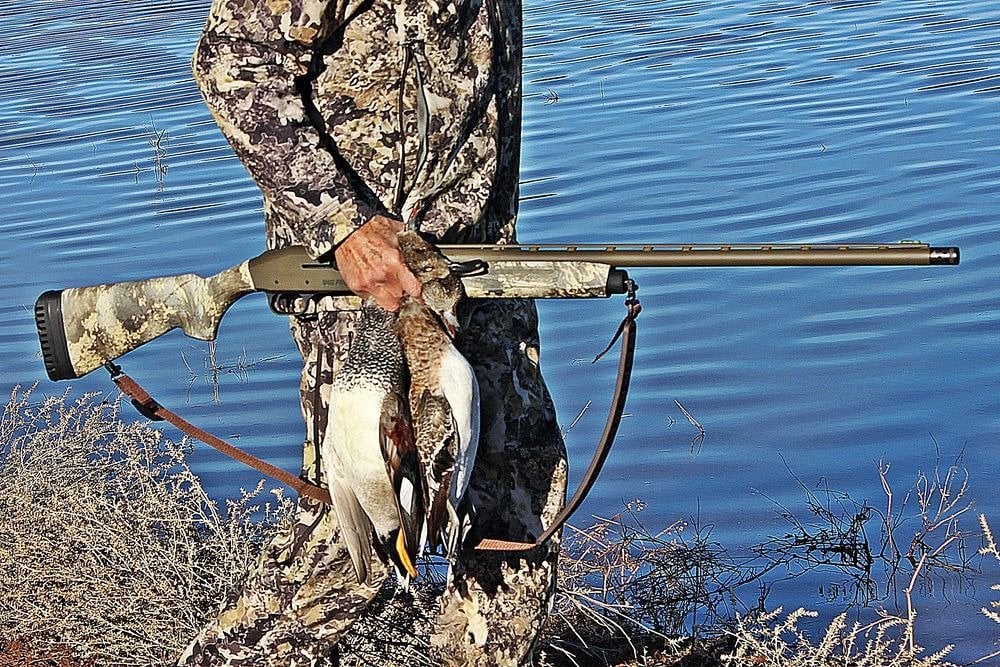 Most shotgun reviews are written after a single range session or hunt, but the great folks at Mossberg allowed me to use their award winning 940 Pro Waterfowl shotgun for a full six months! After burning a considerable amount of powder from a wide variety of loadings earlier this year, I can make the following assessment: This is a waterfowl whacking, pheasant flattening, turkey thumping, predator pounding, clay crushing, do-it-all shotgun! And, the 940 Pro does it all at about half the cost of other autoloading models that have comparable features and performance. If a new shotgun purchase might be in your future, this all-weather masterpiece of versatility is one that should receive serious consideration.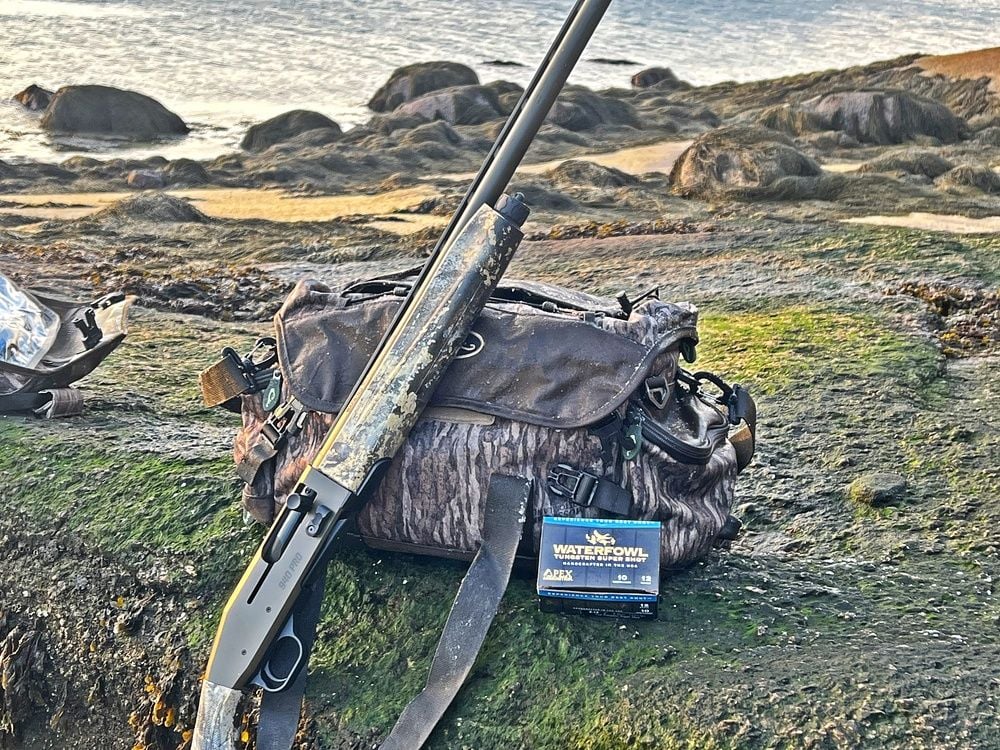 When I was first introduced to the Mossberg 940 Pro Waterfowl model – on a sea duck hunt in Maine in December, 2022 – it had been in production for just over a year. It was created as a line extension of the flagship 940 JM Pro competition model, introduced a year earlier. This all new, gas-operated semiauto shotgun was intended to improve on Mossberg's highly successful 930 platform, with design input from two renowned competitive shooters: the legend Jerry Miculek, and his daughter Lena. To date, the line has expanded to include five specialized 12-gauge models in 11 variations. In essence, the Pro Waterfowl, Pro Field, and Pro Turkey 940 models bring all the speed and handling features of this ready-to-run, out-of-the-box, competition shotgun to hunters, with additional specialized features for hunting.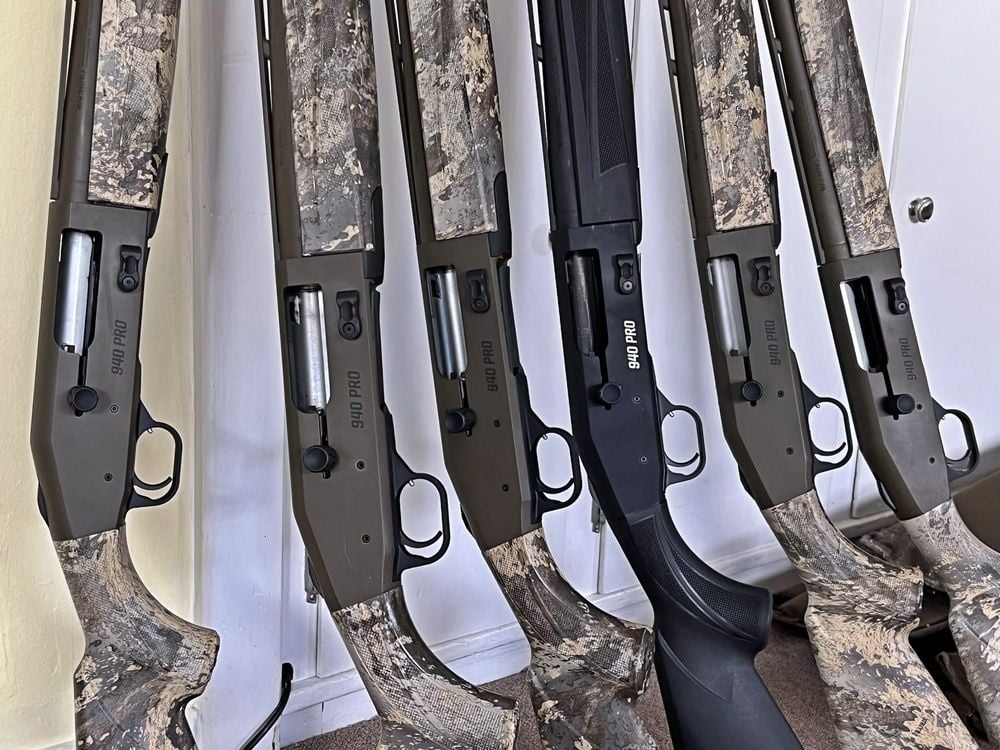 Features & Functionality
The heart of a shotgun is its action, and the redesigned gas-operated system is probably the most important feature of the 940 platform. As might be expected when the man with the fastest trigger finger in competitive shooting gets involved with design, the 940's action cycles fast – as fast as humanly possible to pull the trigger! In fact, even an amateur like myself can fire all three cartridges from the Waterfowl model (with "plugged" magazine, mandatory for waterfowl hunting) before the first empty hull hits the ground. And, those empties land at considerable distance from the shooter. Obviously, trigger reset is quick, and the stainless-steel system return spring is stout.

Fouling from shotshell residue can impact reliability, and this is the reason that many autoloader fans favor recoil-operated over gas-operated actions. Mossberg's new Gas-vent system is comparatively clean-running, providing a major benefit. The redesigned, self-cleaning gas piston directs ignition gasses and debris away from the magazine tube, with the aid of an ingenious new perforated, anodized aluminum spacer (sleeve). Design engineers claim this system allows as many as 1,500 rounds to be fired between cleanings (more on this later)! Cleaning is further facilitated by a hard, smooth coating of boron nitride on many key components – gas piston, gas ring, hammer and sear, return spring plunger and tube, as well as the steel portion of the magazine tube connected to the receiver. This area is one of the most difficult to properly clean in autoloaders. A chrome-lined barrel and chamber, and Cerakote finish on all external metal, round out the cleanliness-friendly features.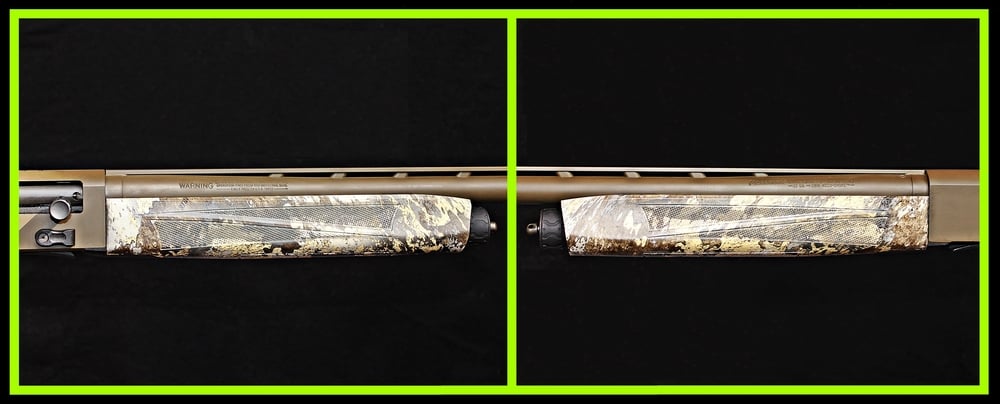 Fit of the shotgun to the shooter is arguably the most important factor for accuracy. [Note: You can argue this point with me, but you will lose!]  Proper stock fit adds comfort, lessens felt recoil, and helps to ensure that the shooter will be looking where the gun is pointing when shouldered properly. Born as a competition gun, the 940 platform boasts a high level of stock adjustability – both horizontal and vertical – not often found in hunting shotguns like the Mossberg 940 Pro Waterfowl model. Cast (horizontal) is one such adjustment, achieved using spacers supplied with the gun. Vertical rise or drop at the heel (DAH) can be adjusted from a 3/8-inch rise, to a 1/4-inch drop. And, length-of-pull (LOP) is also adjustable from 13 to 14-1/4 inches, using 1/4 and 1/2-inch spacers. Adjustments are relatively simple and outlined in the manual, which can eliminate the need to engage a professional gunsmith.

Features that facilitate loading speed are paramount for competitive shooters, and not unimportant to bird hunters that can find themselves in the middle of some fast and furious action. Mossberg engineers claim the 940 JM Pro competition model is "3-Gun ready," and, "… the first shotgun that can be quad-loaded right out-of-the-box." Central to these claims, and shared by all 940 Pro models, is an enlarged, beveled loading port. For the hunter, this facilitates loading with gloved hands, while the longish shell elevator minimizes the dreaded thumb pinch between elevator and magazine terminus when loading individual shells. A bright red anodized magazine follower helps to identify that the magazine is empty.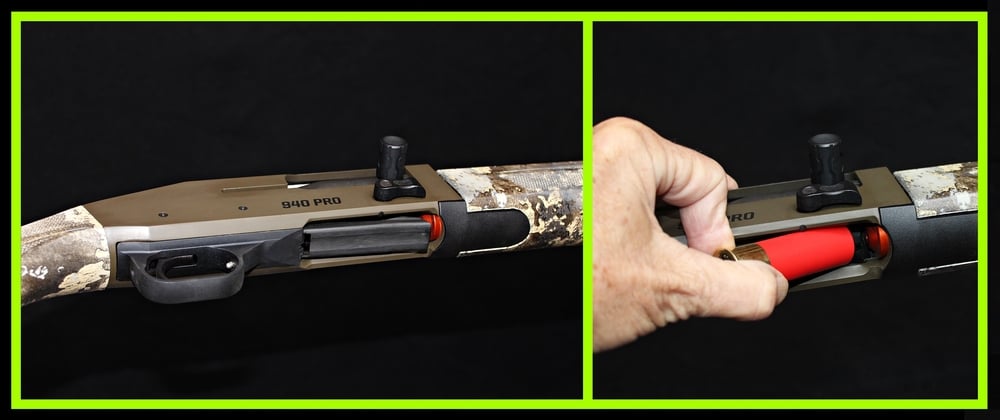 Control features that benefit hunters include an oversize bolt handle and large bolt release button, which also serves to release shells from the magazine tube. Depress the loading gate while lifting the front edge of the keyhole-shaped release button and voila, a shell backs out of the magazine. This is a great feature for quickly changing loads, as I often do while waterfowl hunting, without cycling every shell through the chamber. The trigger breaks crisply, at just under 5-pounds. Over-travel can be adjusted with a screw at the back of the trigger guard, which is oversized for clearance with a gloved trigger finger – although not quite large enough for heavy, Gore-Tex lined winter gloves. A silver button pops out at the front of the trigger guard to indicate the bolt is cocked. The push-pull safety is tang-mounted, and easy to operate through gloves.

The Mossberg 940 Pro Waterfowl is delivered with a 28-inch, chrome-lined, ventilated-rib barrel, finished in "Patriot Brown" Cerakote. Threaded for choke tubes, 3 are provided. Mossberg's X-Factor Extended tube is angle ported to produce better patterns and reduce muzzle lift, and the extended design makes it easy to remove in the absence of a choke tube wrench (also provided). Two flush-mount chokes (improved cylinder and full) are included with the gun. A HIVIZ Tri-Comp fiber optic sight, with interchangeable LitePipe beads, adorns the muzzle end of the barrel. Additional LitePipes – red, green, and white, in both round and triangular configuration – are included in a kit. Although I personally never see the front sight when shooting moving targets, these bright front beads are a great asset to those who do, particularly in low light conditions.
Rounding out the package is a hefty recoil pad, and the aluminum receiver is drilled and tapped for those wishing to add a reflex sight. Synthetic stock and forend sport True Timber Prairie camo finish, which blends remarkably well into typical brownish-yellow marshland cover.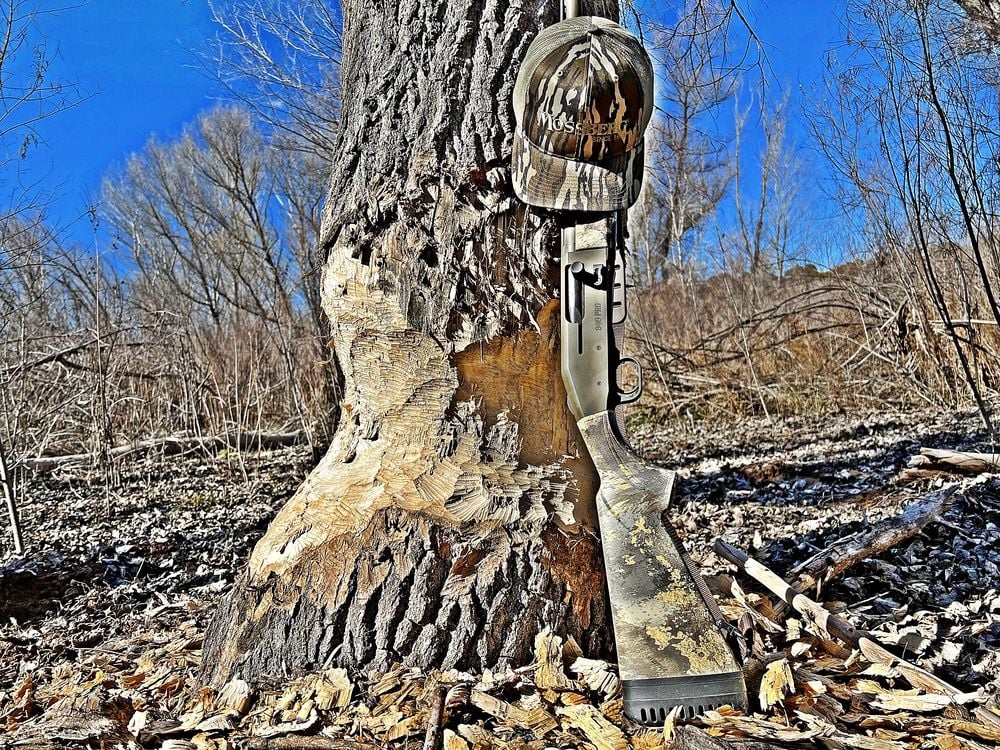 Performance
The first thing you should do with a new shotgun (after cleaning off preservative oil and assembly) is shoot some test patterns, right? Well, that didn't exactly happen… My Mossberg 940 Pro Waterfowl test gun arrived early in January, near the end of the waterfowl season, but just at the beginning of the outdoors show season. Cutting attendance at the Dallas Safari Club convention short by a day, we made the 950-mile drive home arriving after midnight. The next morning, I grabbed a box of my favorite waterfowl loads, and was settled in a local duck marsh with the new 940 before daylight!
When ducks arrived, I found the gun shouldered and came into my line-of-sight naturally, just like an old friend. The result? That first pair of passing gadwall folded before my conscious mind registered that I was shooting a brand-new gun! Reloading the 3-inch Apex tungsten/steel Habitat Blend loads was "butter" – even with gloved hands. An unexpected goldeneye whizzed by, and I was on it so quick that I questioned the 7-3/4 lb. weight of this gun, which seems lighter. Frankly, the 940 just feels right – thanks in part to ergonomic design of the contoured forend with Mossberg's somewhat aggressive, signature texturing, and the adjustable synthetic stock. With just a few shells spent, I was soon leaving the marsh with a limit of ducks… and a big smile on my face!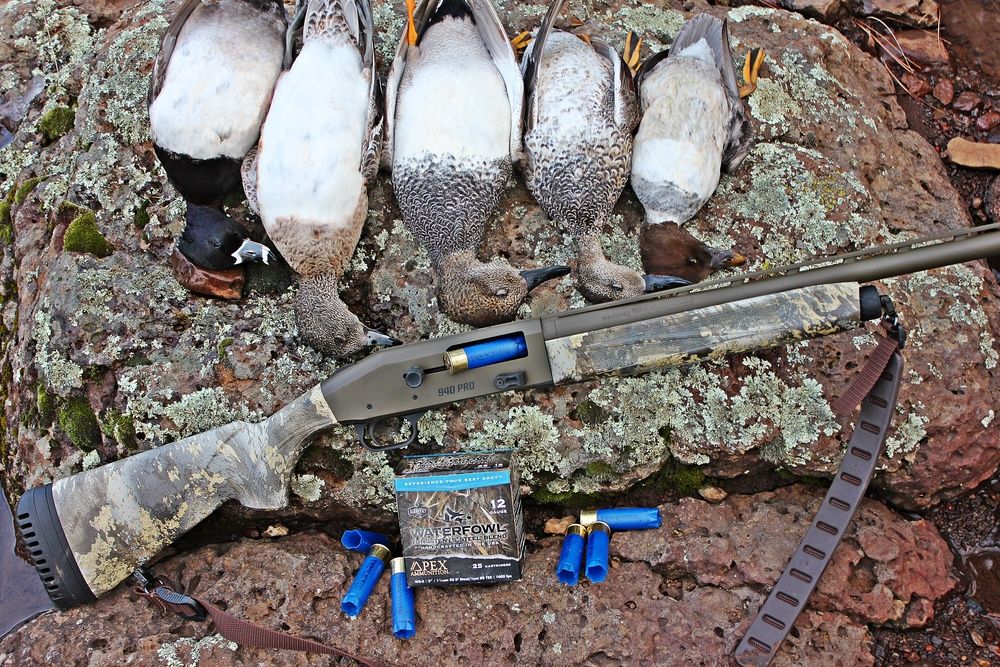 A couple of trips to the range to pattern a variety of loadings were revealing. First, I shot 40-yard patterns with several popular high-powered factory hunting loads, through the X-Factor modified choke. These included the 3" Apex blend mentioned above (1-1/16 oz. steel + 1/4 oz. tungsten @ 1400 fps), 2-3/4" Kent Fasteel 2.0 (1-1/16 oz. steel @ 1550 fps), Federal's Premium 2-3/4" Hi-Bird upland loads (1-1/4 oz. lead @ 1330 fps), and Remington's 2-3/4" Game Loads (1 oz. lead @ 1290 fps). Ideally, a hunting shotgun should print a 50/50 pattern – meaning half the pellets impact the target above the horizontal center line, and half below – and a 60/40 pattern with high-powered loads is preferred by many hunters. Each hunting load tested met this standard, printing uniform and tight patterns. The Apex blend placed a remarkable 90% of the pellets inside a 30-inch circle at 40-yards. No wonder those first ducks I shot folded dead!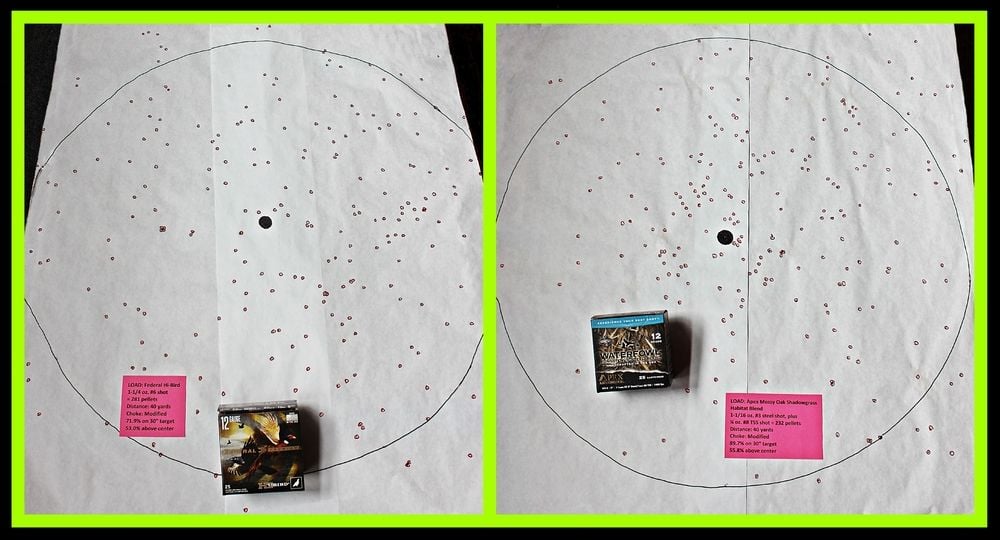 Additional patterning was done later with a variety of 2-3/4" lead factory target loads, and a couple of light lead handloads, fired through the flush-mount full and improved cylinder chokes. Factory loadings included 3 Winchester AA's, Heavy Target (1-1/8 oz. @1200 fps), Super Sport Sporting Clays (1 oz. @ 1350 fps), and Xtra-Lite (1 oz. @ 1180 fps), and Remington Premier Nitro Sporting Clays (1-1/8 oz. @ 1300 fps). Handloads included two light target loadings – 1 oz. @ 1300 fps, and 7/8 oz. @ 1375 fps. Both chokes met pattern density benchmarks (full = 70% or greater at 40 yards, improved cylinder = 70% or greater at 30 yards). Patterns were all uniform, except for the light 7/8 oz. handloads fired through the IC choke, where clay target sized holes were sometimes evident in the pattern.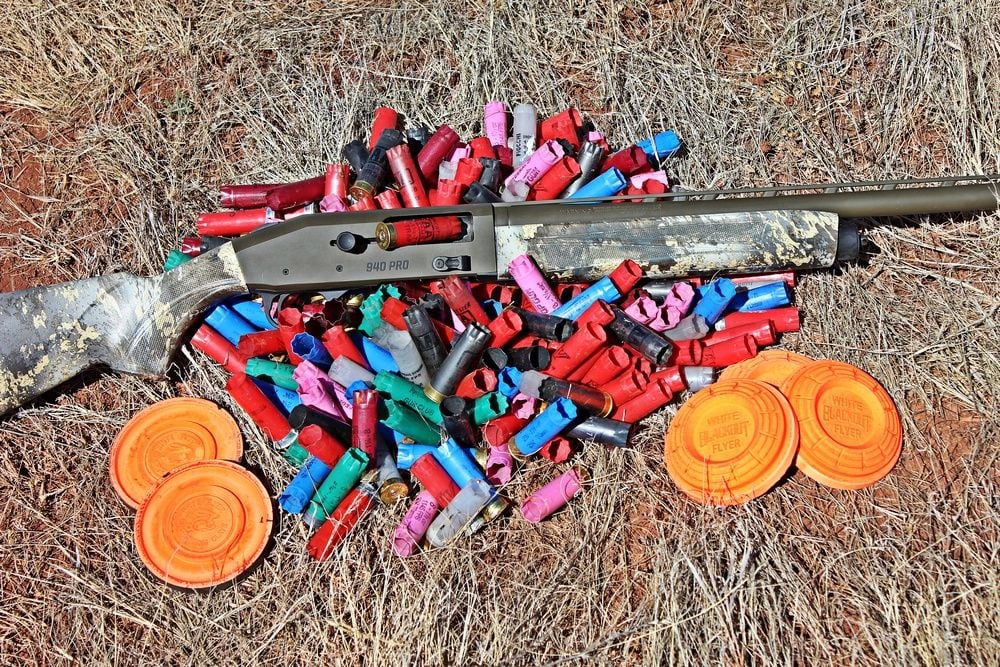 Performance on both the skeet field and the sporting clays range was excellent. Sporting Clays scores of 70+ were recorded on two separate 100-target shoots (one during a wind storm!), with all targets shot as doubles. Stopping the swing, especially on doubles, is a common fault that causes missed targets. The weight and balance of the 940 Pro, and it's smooth shouldering characteristics, help to minimize this fault – also an advantage while hunting birds! And, my skeet scores were just one or two birds lower than typical scores with my competition skeet gun.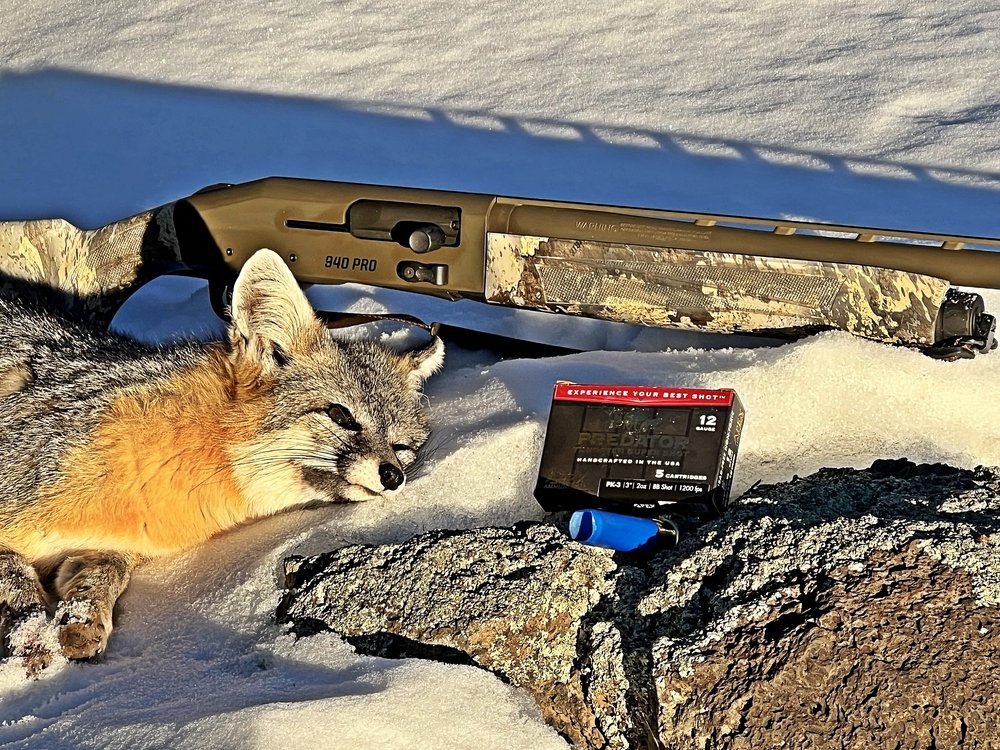 A few words about versatility. While the Waterfowl model would likely not be a top choice for avid clay target shooters, it poses no handicap for hunters who also enjoy busting clays. Furthermore, this 940 Pro model is not just a fowling piece. After waterfowl seasons closed, we took it predator hunting with great success. Foxes and coyotes were called-in and taken with both Apex Predator Tungsten Super Shot (2 oz. #2, and BB shot), and Federal's Hevi-Shot (1-1/2 oz. B shot) out to 70 yards. Turkey killer? No problem! Just look at those 40-yard patterns above. (Note: Two 940 Pro Turkey models have shorter barrels for handling in tight quarters like ground blinds, however.) And, I suspect that some deer hunters will be firing saboted slugs through this do-it-all shotgun this fall.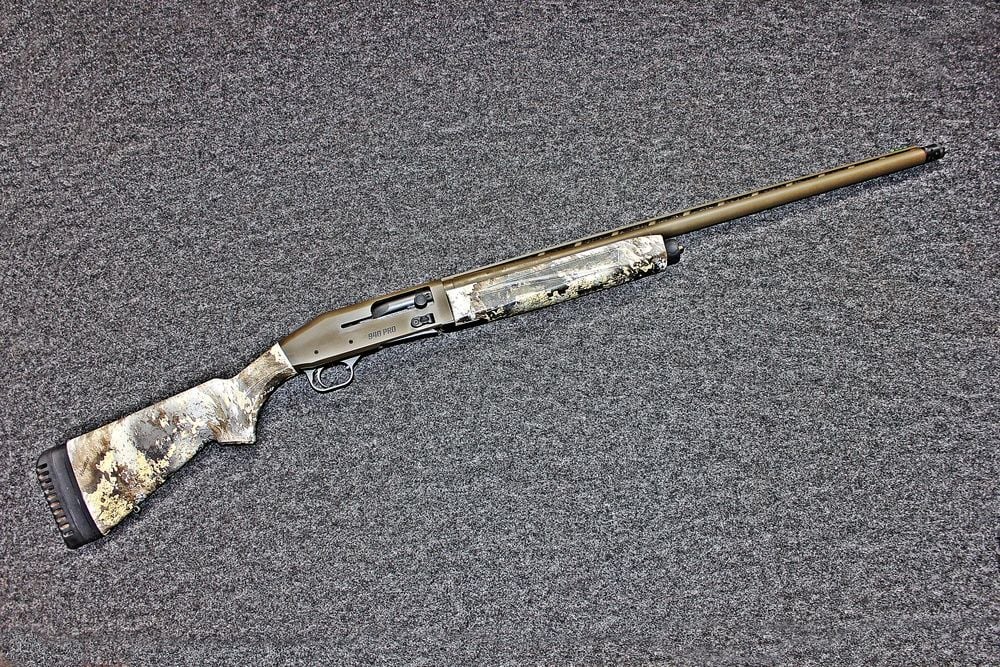 So…what's not to like? Not much. Mossberg 940 Pro Waterfowl is a wonderfully capable, versatile shotgun, especially considering the price. However, I would be remiss in not mentioning the fail-to-cycle issue that prompted a return of my test gun to Mossberg for evaluation/repair. On my second duck hunt, the gun failed to cycle a high-velocity factory shotshell… twice. On my first 100-target sporting clays round, firing high-quality factory loads, the gun failed to cycle twice. An exhaustive internet search yielded virtually no fail-to-cycle issues for 940 Pro models, available to consumers for more than two years at the time. My second Sporting Clays round was two months later, and I intentionally used my own 1 oz. handloads with Red Dot powder, a powder that is notoriously dirty, particularly with light payloads. The gun failed to cycle 4 or 5 times.
At this point I had run 350+ rounds without cleaning the gun. Mossberg said to return it without cleaning. Their evaluation stated the gun "did not require service" and that the "issue could be ammo related." They test-fired with commercial 3" waterfowl and 2-3/4" field loads, and returned the gun. On arrival, inspection revealed they had also cleaned it thoroughly. Hmmm… Frankly, when I first saw the marketing claim that the 940 Pro could fire 1500 rounds between cleanings, I was skeptical. When I review a gun, I also test it as thoroughly as I can. I intended to fire many more shells prior to the first cleaning to assess the marketing claim. Here's my assessment: 1500 rounds between cleanings is a stretch. In fact, the owner's manual for 940 Autoloading Shotguns states on page 25: "Mossberg recommends thorough cleaning of your firearm after every 500 rounds. However, unusually dusty, dirty, or harsh weather conditions, or use of ammunition which leaves significant powder residue may require more frequent cleaning." Is this issue a deal breaker? Not at all.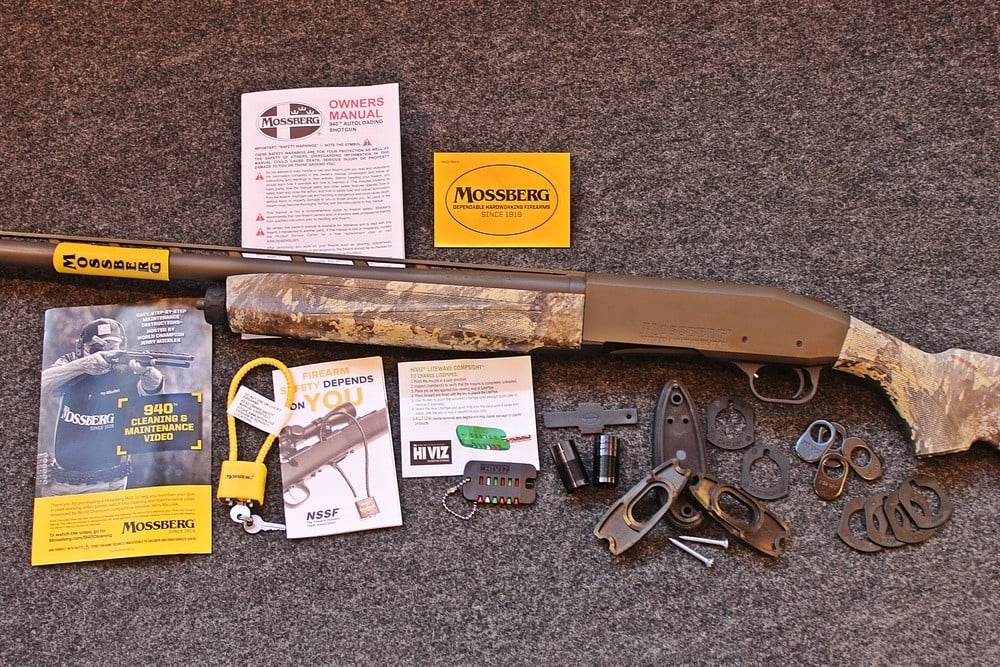 Mossberg 940 Pro Waterfowl
Action Type

: Gas Operated, Semi-Automatic

Gauge/Chamber Size

: 12 ga. / 3 in.

Usage

: Hunting / Sporting

Capacity

: 4+1 rounds (12+1 in Snow Goose model)

Barrel

: 28 in. Vent Rib, Cerakote finish in Patriot Brown

Chokes

:

X-Factor Extended Tube (M) + 2 flush mount tubes (IC, F)

Sight

: HIVIZ TriComp, Fiber-Optic LitePipe bead insert

Overall Length

: 48.75 in.

Weight

: 7 lbs. 12 oz.

Stock

: Synthetic, True Timber Prairie camo; adjustable length of pull (13" to 14.25"), drop at heel, cast & pitch

Receiver

: Aluminum, Cerakote finish in Patriot Brown

Mfg. Stock Number

: 85151

MSRP

: $1,161.00
Accessories Supplied with Gun: Chokes (1 extended-Modified + 2 internal F/IC), choke tube wrench, drop adjustment shims (4), retention plates (4), retention plate holders (2), cast adjustment shims (2), length of pull spacers, recoil pad screws (2), LitePipe exchange kit with instructions, plastic barrel label, cable lock with instructions, owner's manual, and warranty card.
Other Firearm Reviews by Tony Martins: