Last Updated on
Product Review, Field Test & Photos by Tony Martins

Shortly after introduction in 1991, the Super Black Eagle shotgun from Benelli became a legend in the duck marsh, for three main reasons – its ability to handle 3-1/2-inch shells at the beginning of the steel shot era, its touted "Inertia-Driven" semi-automatic action, and its reputation for reliability. Hunting in wet, muddy and often salty conditions that can render a finicky shotgun useless, hardcore waterfowlers demand reliability. So, despite an initial price tag 2-3 times higher than waterfowling favorites at the time, the original Super Black Eagle quickly became a duck blind staple across North America. Introduced in 2003, the second-generation SBE2 boasted technological advances and recoil reduction. Benelli raised the bar again in 2017, with both performance and ergonomic/comfort enhancements in their new SBE3.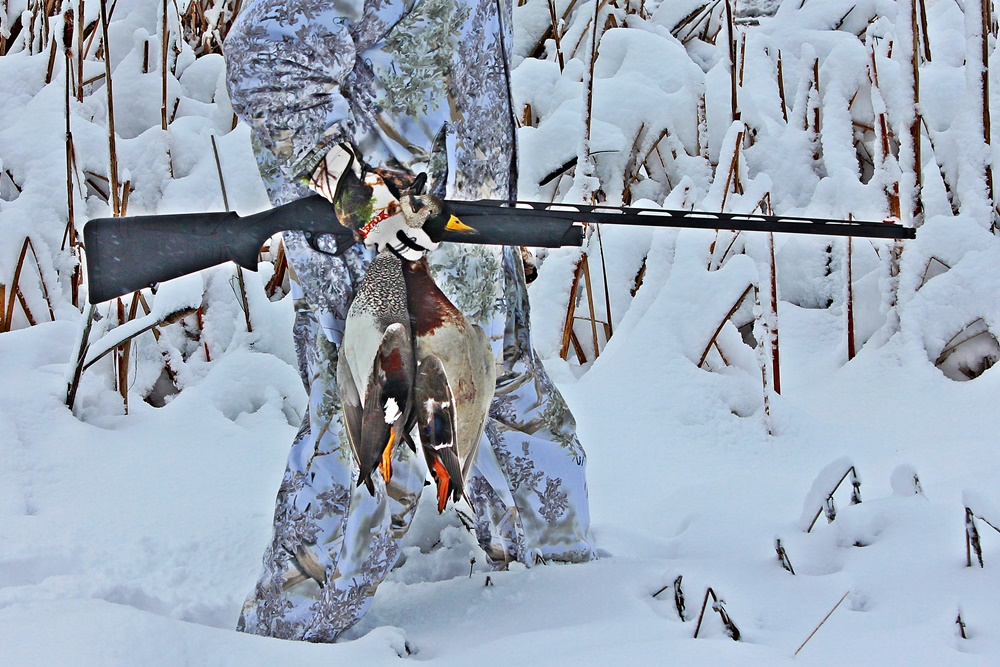 Thanks in large part to improvements in materials and lethality of non-toxic shotgun loadings, the SBE3 line was expanded in 2022 to include a new, 3-inch, 28-gauge model – a near perfect scaled down version of its 12-gauge big brother. It's no secret that although I am an avid waterfowler, and a sub-gauge enthusiast, I am not a big fan of semi-automatic shotguns, and own just a couple. (See GritrSports blog: https://blog.gritrsports.com/beretta-a400-xtreme-plus-review/). But mark my words on this one: Benelli's new 28-gauge SBE3 is another shotgun legend in the making. You heard it here first…
Intent on participating in America's new-found interest in hunting with sub-gauge shotguns, Benelli was set to debut the new 28-gauge SBE3 at the 2022 Shooting Hunting and Outdoor Trade (SHOT) Show. However, none of the Beretta Holdings companies, including Benelli, participated in the Covid-compromised show. Thus, details of the new SBE3 model were a little slow in reaching consumers – but not slow in reaching gun writers, who clamored to get one for hands-on review and testing!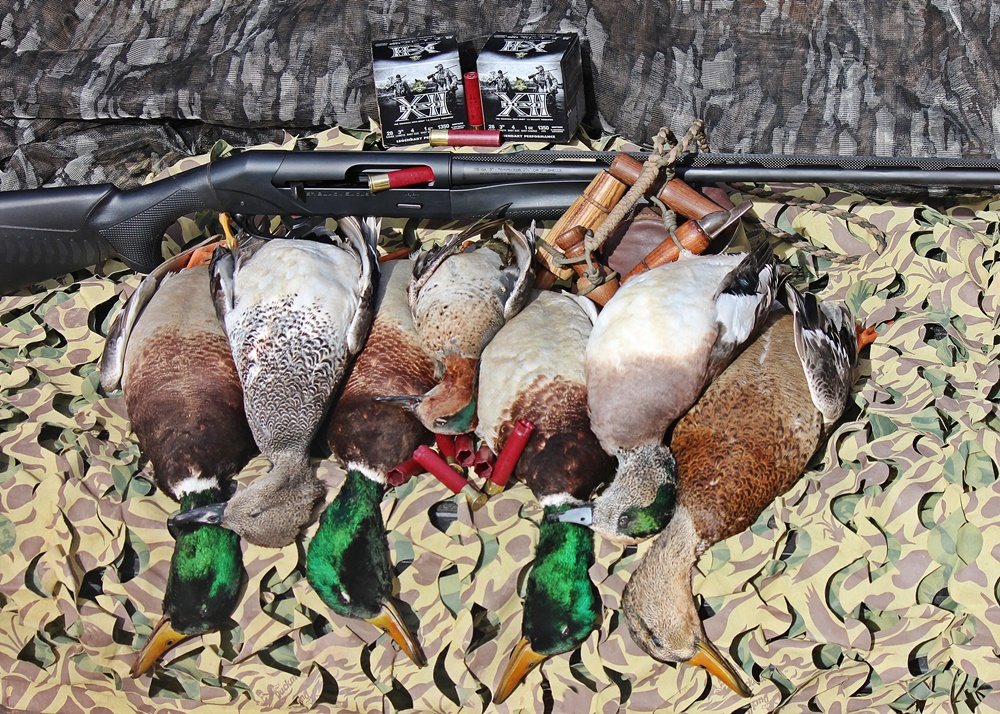 My test gun arrived in late November, while I was helping a friend from out-of-state with his son's first elk hunt. We were so anxious to try the new SBE3-28 that we took a midday break from elk to jump a few high-country stock tanks. Fitted with the extended modified choke – labeled "steel shot OK" – and loaded with 3-inch HeviShot #6 Hevi-XII, we approached the first pond. Suddenly it occurred to me that I had never fired a Super Black Eagle shotgun. We flushed a half-dozen birds, and I folded a widgeon and a gadwall crossing the pond about 35 yards out. On our next stop I missed a departing mallard passing high overhead with my first shot, but folded that bird with the follow-up. "Wow!" my buddy exclaimed. Four shots, three ducks. No familiarization, no prior testing… no problem!

Features & Functionality
The latest version of Benelli's Super Black Eagle is packed with features designed to enhance functionality and comfort, while delivering aesthetic appeal as well. Before digging into these, let's first take a look at features that made the SBE famous. Its heart-and-soul is the "Inertia Driven" (ID) operating system (fancy term for action) that dates back to 1910 patents, and was re-invented by Benelli engineers in the 1980's. The genius of this recoil-operated action is its simplicity, with just 4 main parts – bolt body, rotating bolt head, inertia spring and return spring – making it fast, reliable, and remarkably clean compared to gas-operated actions. The lighter and less bulky ID System allows a sleeker and better balanced package to be fashioned around it, and these have become hallmarks of Benelli semi-auto shotguns.

Besides cleanliness, another advantage in blowing ignition gasses and carbon residue out the barrel with the payload is the action's ability to handle any combination of loadings without adjustment – from the heaviest magnums to the lightest field loads. This is a great feature of the new SBE3-28, which cycles everything from 2-3/4-inch target to 3-inch "magnum" field and non-toxic loadings. Designed and intended for waterfowling and harsh conditions that come with the territory, this is nevertheless a 28-gauge shotgun that can do it all, and do it all well!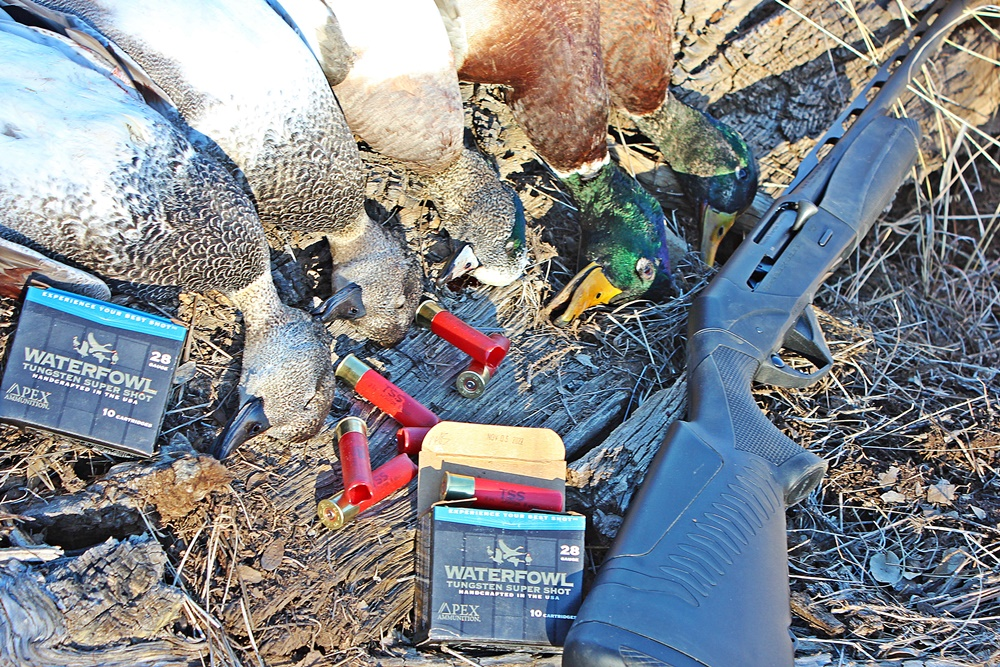 Despite all the advantages of the Inertia Driven system, light recoil is not an attribute. Although transferring less felt recoil to the shooter than a fixed-breech double or lightweight pump gun, the energy released from a 3-1/2-inch, 2-1/4 oz. 12-gauge load has been compared to the jolt from a big-bore elephant rifle! Frankly, it is remarkable that original SBE owners willingly absorbed that physical abuse! The new SBE2 release in 2017 addressed this issue effectively, with introduction of the ComforTech stock. Designed around 22 internal chevrons made of high-tech synthetic material, the stock flexed to absorb recoil. Coupled with a new "gel" recoil pad and comb to dissipate energy, reduction of felt recoil up to 48% was claimed. ComfortTech3 is the latest iteration of this system resident on current SBE3 models, which include a more effective cheek pad, called Combtech. These features virtually eliminate felt recoil with the new 28-gauge Super Black Eagle 3.

Both 26-inch and 28-inch barrels are available. Barrels and chokes feature Benelli's "Crio System Technology" whereby the steel is cryogenically treated with extreme cold to relieve stress caused by hammer forging and yield a smoother, more uniform surface. Benelli claims this process produces "superior patterns" and that barrels require less frequent cleaning as a result of lower resistance. The former is difficult to validate, but I can attest to my surprise at the comparative cleanliness of the barrel after burning 200+ loads through my test gun! Barrels are topped with a carbon fiber ventilated rib, which is attractive and saves weight. The rib ramps up 7/16-inch just two inches down the barrel, tapering to 1/4-inch in height at the muzzle. Here a "Red-bar" fiber-optic tube is attached, providing an alignment sight that is quick to acquire. Prior to shimming adjustment, I could see only the high rise at the back of the rib when locking the gun into shooting position, and did not see the fiber optic-sight at all (more on this later). My test gun came with the longer 28-inch barrel, and balance is ever-so-slightly biased to the front of this sleek, nearly 50-inch-long sub-gauge.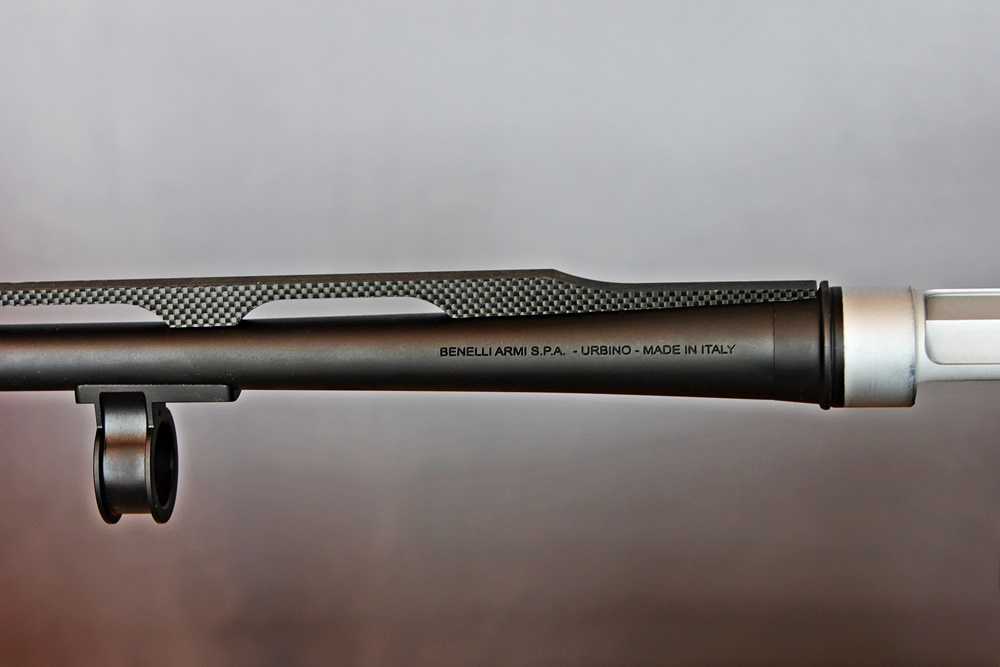 The aluminum frame is sturdy and beautifully finished. Stock grip and forend are synthetic polymer and feature "AirTouch" dimpled checkering. Quoting Benelli on this pattern: "It provides a superior gripping surface in all weather, without being overly rough to the ungloved hand." Operating the SBE3-28 in weather ranging from sweaty-palm desert heat to heavy rain, as well as snowstorms in single-digit temps at high elevation, I can wholeheartedly concur. Purchase, and thus control, is excellent, even through heavy Gore-Tex winter gloves.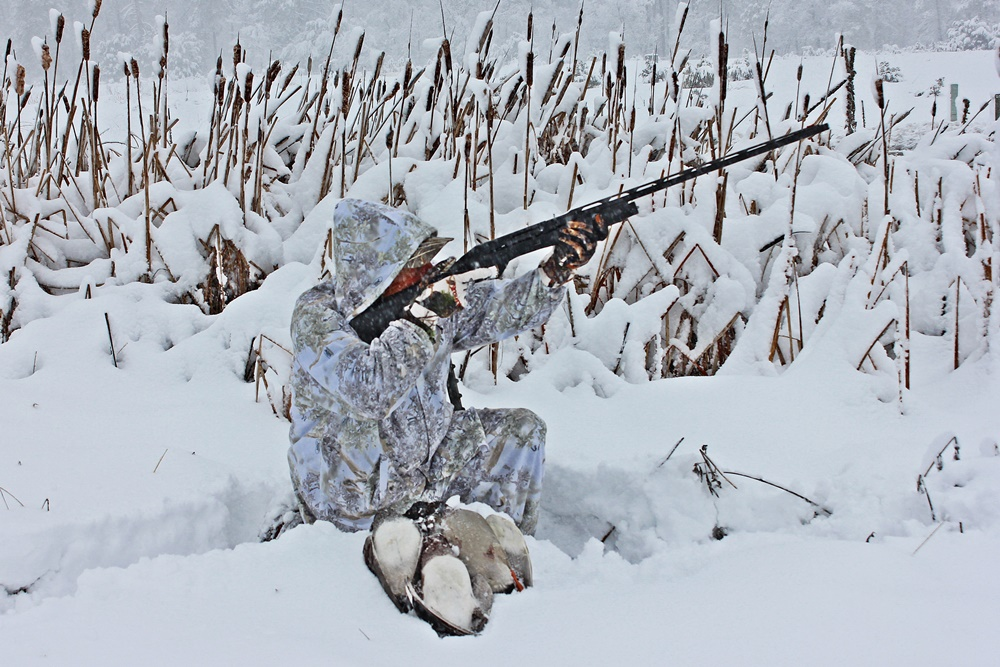 Control Features: Every fire control feature has been well thought out and executed. Each is oversized to facilitate gloved operation, and perfectly positioned – from safety release button at the rear and shell drop lever with red dot at the front of the uniquely shaped, oversized trigger guard, to bolt handle and elongated bolt release button immediately below it. Trigger was smooth and consistent on the test gun, averaging 6-1/2 lbs.
Other Features: One that SBE aficionados will appreciate is the Easy-Locking Bolt System. Original SBE shotguns require some force to close the rotating bolt head and place the bolt in battery. Gently closing the bolt often precipitates the infamous and dreaded "Benelli Click." Pulling the trigger with the bolt out of battery causes the hammer to strike the back of the bolt body and not the firing pin. The gun does not fire, but makes a loud click followed by noise from activation of the magazine release – enough to scare birds, particularly a wary gobbler. The new system requires less force to engage, making a soft click as the bolt head rotates into battery. I love this feature, as I often swap loads and shot sizes while hunting waterfowl.

Another favorite feature is the "Easy-Loading System" with its 2-piece carrier latch and wide, beveled loading port, which begins at the front edge of the trigger guard. A groove that runs from the trigger guard to the rear of the loading port, and transitions to a groove in the carrier, funnels shells directly against the red anodized magazine follower for insertion with minimal pressure. This greatly facilitates loading shells without looking! Although 28-gauge shells with their smallish diameter can test dexterity, this system works well even with gloved hands.
Also worthy of mention is the "Easy-Tightening Ergonomic Mag Cap." It's large (1-1/4" by 1-1/4"), with a rounded triangular shape and spiral grooves to facilitate removal with gloves. It works as advertised, but there's one minor problem – the concave face precludes the use of sling hardware wider than 5/8-inch. I prefer synthetic sling hardware over metal for corrosion resistance and quietness, and these are typically too wide to attach to the fitting that extends from the concave face of the cap.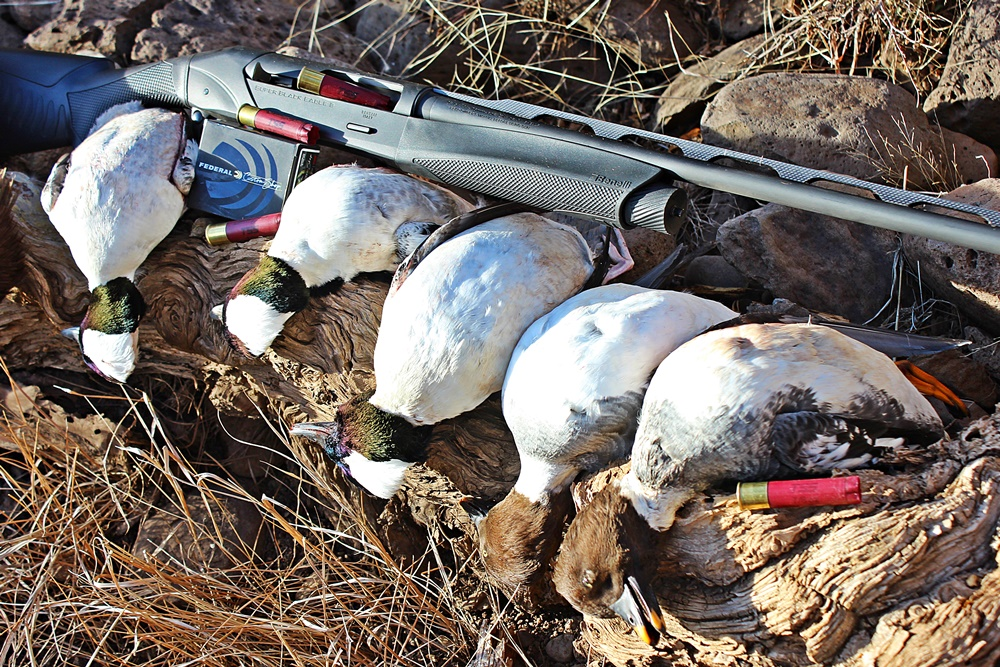 Performance
Excluding antiques and rare collectibles, the true value of any gun is how it performs – and the new Benelli 28-gauge SBE3 performs exceptionally well. To date, I have run several hundred rounds – from handloaded and factory 2-3/4-inch 3/4-oz. light target loads to "magnum" 3-inch factory field and custom non-toxic loads – and the "Inertia-Driven" system has flawlessly handled everything. Soaked in rain, dropped in mud, buried in snow and frozen in single-digit temperatures, it didn't matter, the gun fired and cycled each and every time.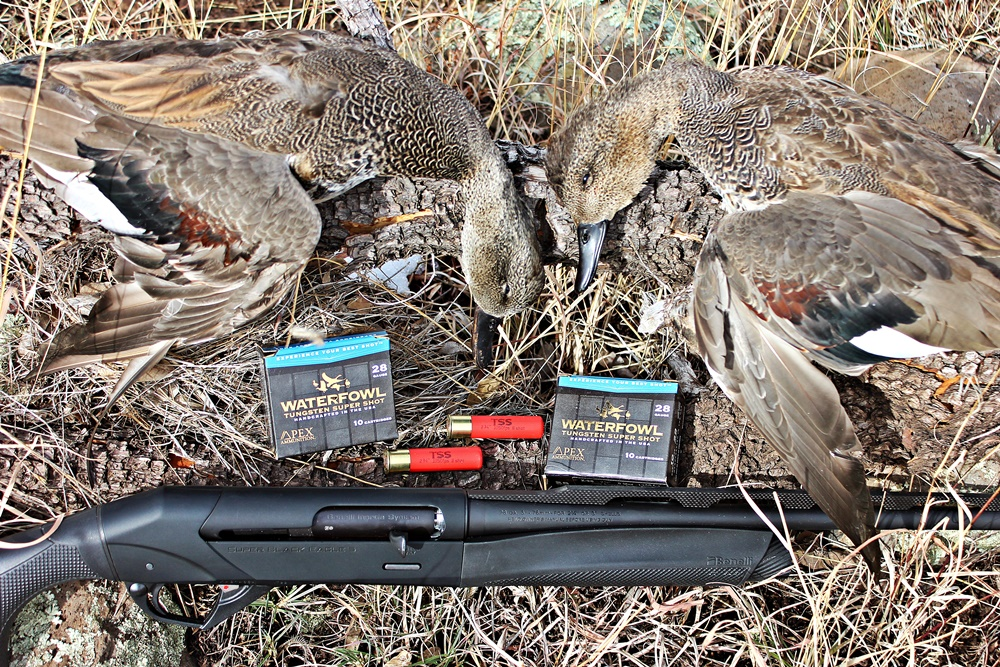 This 5.6-pound sub-gauge is a dream to shoot. Recoil is negligible. It mounts effortlessly, can be adjusted to fit perfectly with the QuadraFit system – which offers a range of length-of-pull as well as drop and cast adjustments – and it swings smoothly despite its light weight. Frankly, it handles more like a symphony conductor's baton than a magnum waterfowling piece. And, it is deadly. Forget that it's a 28-gauge. With state-of-the-art ammo like Tungsten Super Shot (TSS), the SBE3-28 will fold waterfowl and pheasants out to the limits of your shooting ability.
So… what's not to like? There are a couple of comparatively minor issues, like the extended choke tubes loosening even after tightening with the supplied wrench, and sharp-edged notches for said wrench at the leading edge of these tubes, which rip the lining in soft cases. Simple fixes (precautions) include periodically checking and finger-tightening chokes, sanding to remove sharp edges, and/or unzipping soft cases fully before inserting the gun. Price also comes to mind. $1899.00 or $1999.00 (MSRP's for black matte and camo finishes, respectively) is a lot of bread, but have you checked the price of bread, or eggs, or poultry lately? Quality and uniqueness typically influence price. Can you show me a more reliable, do-it-all 28-gauge that is more pleasurable to shoot?

There is an 800-pound gorilla in the room however, that SBE3 reviewers often gloss over. This remarkably capable shotgun does everything it was designed to do, including delivering its shot pattern well above the point-of-aim. In other words, every Benelli SBE3 produced shoots high, and for some shooters with some loadings, unacceptably high. This is a deal-breaker for many, particularly those who do not pattern their guns and/or those who expect shotguns to print a 50/50 pattern (meaning half the pellets strike the target above the point-of-aim, and half strike below). Thus, a little more detail on this confounding revelation is warranted here.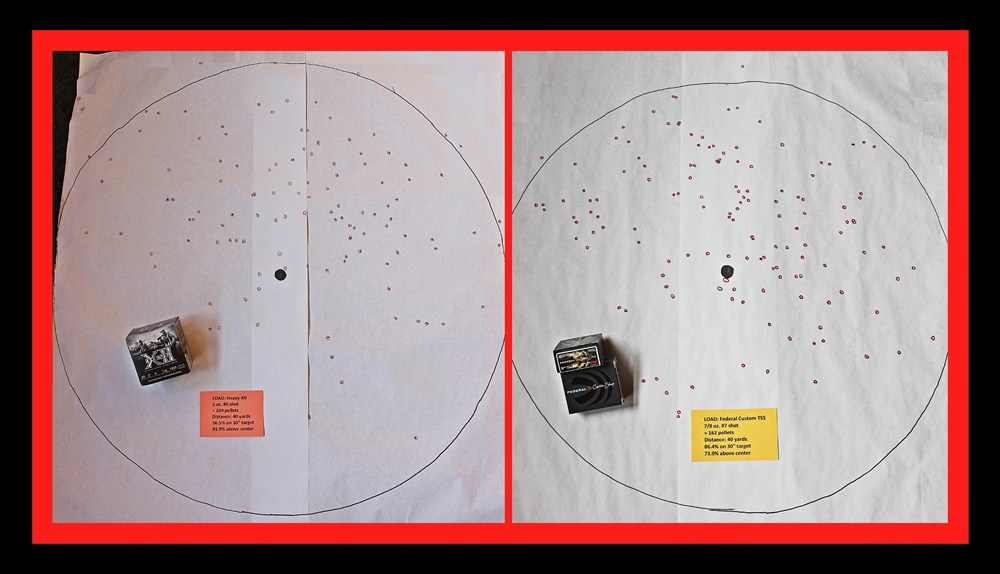 A quick internet search on something like "SBE3 shoots high" yields pages of testimonials and scores of "fixes" for this well-known "problem," which Benelli has repeatedly refused to recognize as a problem. Benelli specifications indicate the 28-gauge Super Black Eagle 3 is designed to shoot 0 to 6 inches high and within 4 inches of the horizontal center, at just 21-yards. This extrapolates to 12 inches high, or a 90/10 pattern at 40-yards, the distance at which hunting shotguns are properly patterned. This is high enough to miss a passing duck, or the head of a standing turkey. And true to its design, my SBE3-28 test gun shot 90/10 patterns – about a foot high, out of the box and prior to any adjustments – with high-powered loads like 3-inch HeviShot Hevi-XII. Less potent loads, like Winchester AA's, printed 80/20 patterns, shooting about 9-inches high. Factory handloaded TSS (the finest hunting loads money can buy) from Federal's Custom Shop and Apex Ammunition patterned better, averaging 75/25 and 65/35 respectively. According to Benelli USA, the M2 shotgun (and by extension, the SBE3 which uses the same ComfortTech3 stock) is "designed to be shot with the target floating just above the front bead for better visibility." Aware of this history, I was able to kill ducks effectively on that first outing, prior to pattern testing and adjusting fit of the test gun, that was delivered new in the box.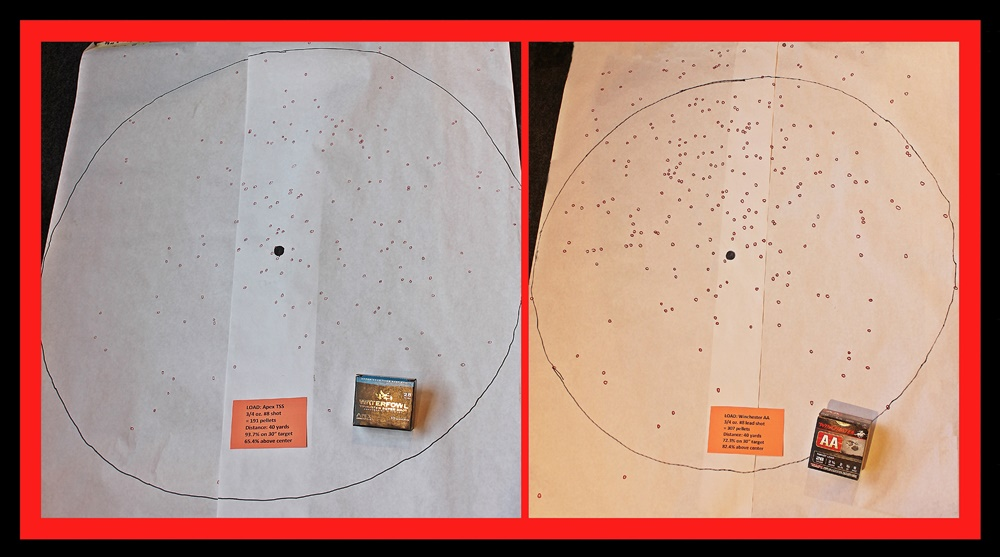 It is important to understand that Benelli cannot fix the high-shooting issue, which can be traced to the extreme flexibility of the ComfortTech3 stock coupled with the near instantaneous collapse of its internal gap, which dampens recoil. This explains why the more potent hunting loads shoot higher than less potent target loads. Haters would call this inconsistency – or something else unfit to print here. Frankly, killing birds effectively (and breaking clay targets consistently) with the 28-gauge Super Black Eagle 3 is not a problem for most shotgunners, but likely will require a little practice and mental adjustment for those unfamiliar with its design characteristics. And of course, physical adjustments to ensure proper fitment using drop and cast shims supplied with the gun are highly recommended. The above underscores the importance of knowing your gun and how the chosen load performs in that gun.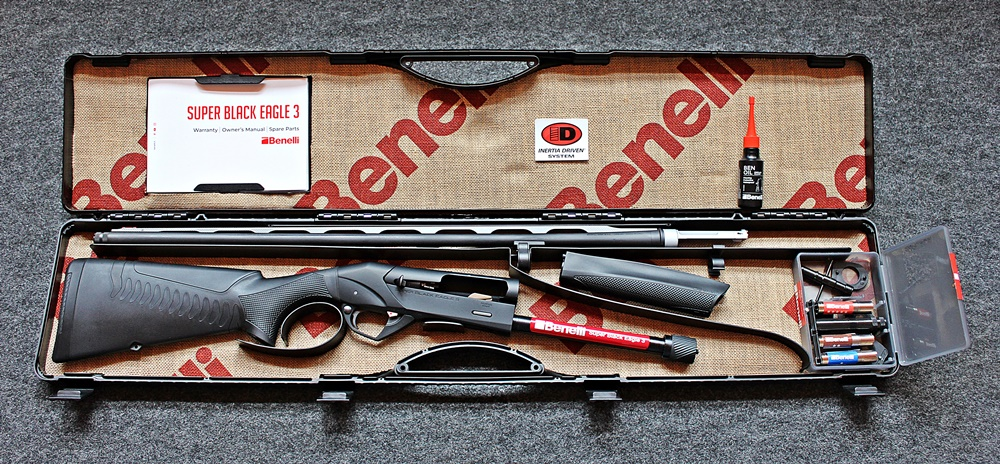 Specifications & Accessories – 28-gauge Benelli Super Black Eagle 3
Action

Inertia-Driven, semi-automatic

Gauge

28 gauge

Chamber Length

3 inches

Barrel Length

28 in. (as tested) – 26 in. (available)

Overall Length

49.5 in. (28 in.) – 47.5 in. (26 in.)

Weight

5.6 lbs. (28 in.) – 5.5 lbs. (26 in.)

Length of Pull

(LOP)
14-3/8 in.

Drop at Heel

2-1/8 in.

Drop at Comb

1-3/8 in.

Magazine Capacity

2+1

Sights

Red-bar fiber-optic, front

Stock

ComfortTech3 – recoil reduction stock

Chokes

(3 flush)
Crio – F, IM, C

Chokes

(2 extended)
Crio – M, IC

Stock Finish

Black synthetic (as tested)

Receiver Finish

Anodized, black (as tested)

Barrel Finish

Matte, black (as tested)

Optional Finishes

Realtree-Max-7

GORE OPTIFADE Timber
Mossy Oak Bottomland

Mfg. Product No.

10331 (tested)

MSRP

$1899.00 (black synthetic, as tested)

$1999.00 (camo options)
Accessories Supplied with Gun:  Plastic luggage case with burlap interior, plastic storage box with magnetic closure for chokes (4 + 1 installed in barrel), choke tube wrench, drop adjustment shims (3, plastic), and stock locking plates (2, steel), 50 ml. bottle of Ben Oil, plastic barrel label, owner's manual and warranty card.