By Pete Rogers
Ask any outdoorsman or woman to make a list of the essentials they carry on every hunt, whether they are hunting squirrels on the back forty, or backpacking into a remote area of the Bob Marshall wilderness. Chances are high that this list will include some kind of knife. Usually more than one knife.
Let's take a look at some of the qualities we need in a good hunting knife and some of the better choices to pack along with us on our next hunt.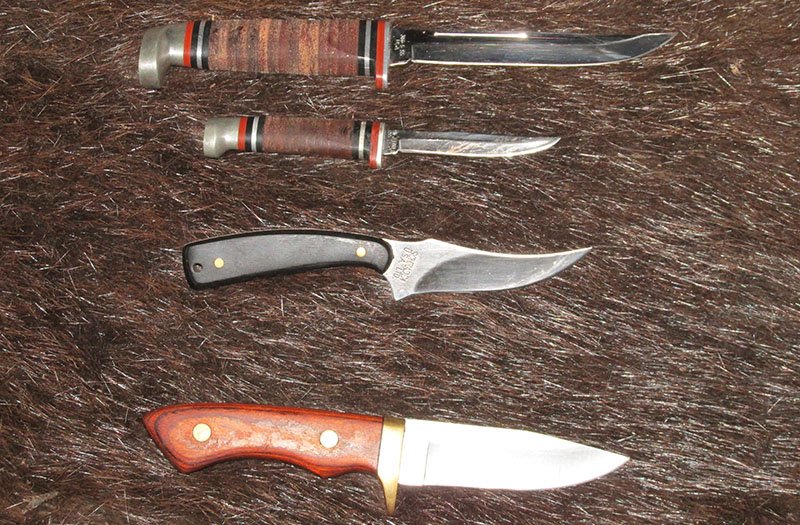 Basics
As a matter of full disclosure, I have to admit, I have an affinity for knives and cutting tools. I have, as my wife says, "far too many" knives, hatchets, axes, and the like. I just like them. Therefore my biases are well established. That being said, I have always been open to advances and how these benefit the outdoorsman.
When heading into the woods, especially on a remote trip, it is wise to have several knives with you. As much as we might like to admit it, there is not really one knife that can do it all well. Some can do a lot well, and some can do a little. But for the sportsman in the backcountry, you need to be prepared. This is partly precaution, and partly addiction. Setting aside my addiction to fine functional knives, let's look as some of the qualities you should look for in the hunting knives you should carry on your next adventure.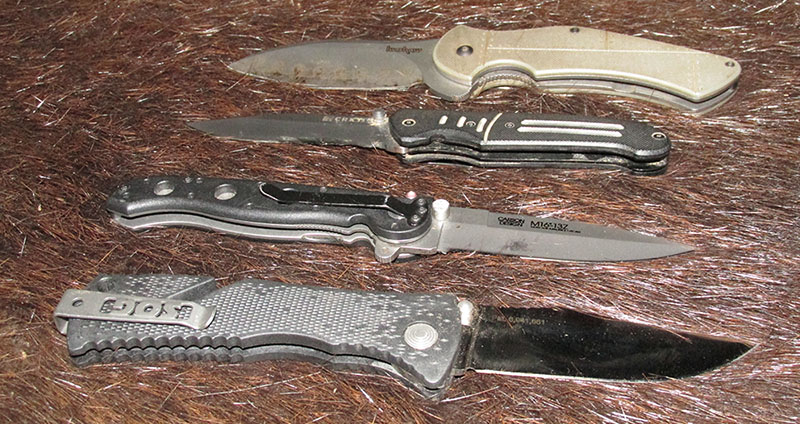 What To Look For In Hunting Knives
First, the knife must be able to care for your game animal when it is called on. Whether you are hunting rabbits or elk, your knife needs to be able to clean your animal and cape your trophy. Small game hunters can get away with an excellent pocket knife or small folding knife to handle this task. But the big game hunter needs something bigger, stronger and better. At a minimum, your knife needs to be able to handle the task of field dressing, capeing and butchering your trophy. Many knives can dress and cape but are not up to the task of butchering.
For this task I personally prefer a fixed blade knife. A clip point knife, for dressing and a sweeping point knife for skinning with a minimum of a 3.5" cutting edge and a maximum of a 4.5" cutting edge are good combinations. Anything too large and you risk losing control of the cutting edge and either cutting the paunch or ruining the pelt. There are many fine knives out there that perform this task. All of the top brands, from Buck, Benchmade, SOG, Schrade, Gerber, Kershaw, Case all make excellent knives for this occasion. The SOG multi blade option is a great choice for some hunters. The ability to swap out blades for the different needs is an option many outdoorsmen like. For skinning a smooth edge as opposed to a serrated edge is a better choice. It gives you a bit more control, when slicing through tender and tedious areas.
The Case Leather Hunter two knife set. The Case set features a standard 4" leather hunter fixed blade knife with leather handle along with a smaller 2.5" replica. These knives are superior for skinning and cleaning game. I can't count the number of animals I have skinned with these two knives. As a trapper, the small Case is my 'go-to' knife for skinning and capeing animals caught on the trap line. As a hunter, this knife has field dress dozens and dozens of animals all across the country. If I have to carry only one knife, (Because they are carried together, I am counting them as one) I will carry the Case Twin set.
The relatively new innovation of replaceable knives has evolved and admittedly at first I was not a fan. However after trying the Havalon and Outdoor Edge knives for a few years now, I must admit they have earned a place in my pack. For one, they are very light. One knife with a dozen blades weighs less than a pocketknife. This alone earns in a place. When backpacking five to ten miles in the Rockies, keeping your weight down is essential. The Havalon Piranta has gutted and skinned dozens of deer and hogs without fail and will find a place on all of my trips. The blades are a bit difficult to replace, which is where the Outdoor Edge has an edge (pun intended). You need pliers to replace the blade on the Havalon, while the Outdoor edge is a simple push button. The Outdoor Edge also has a bit more backbone for leverage.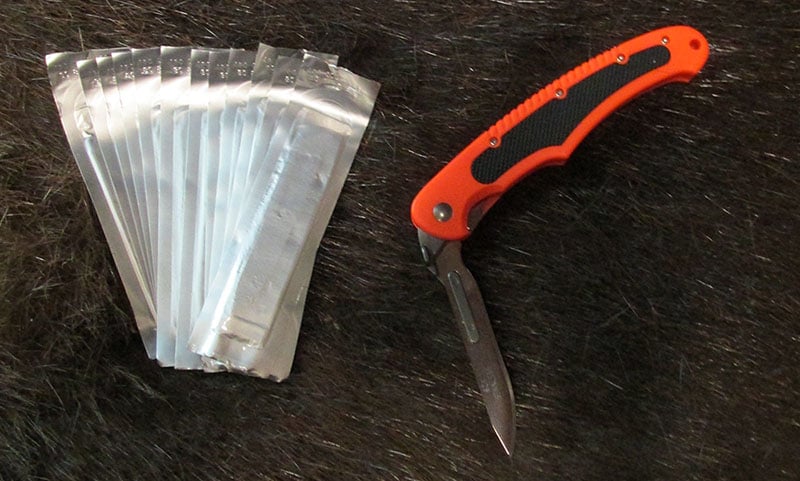 One thing that is certain, when using a knife that is as sharp as a scalpel, there is a difference in technique of skinning. The knife is so sharp, there is very little pressure needed to get the job done. I cut through several skins before I learned how to use these knives.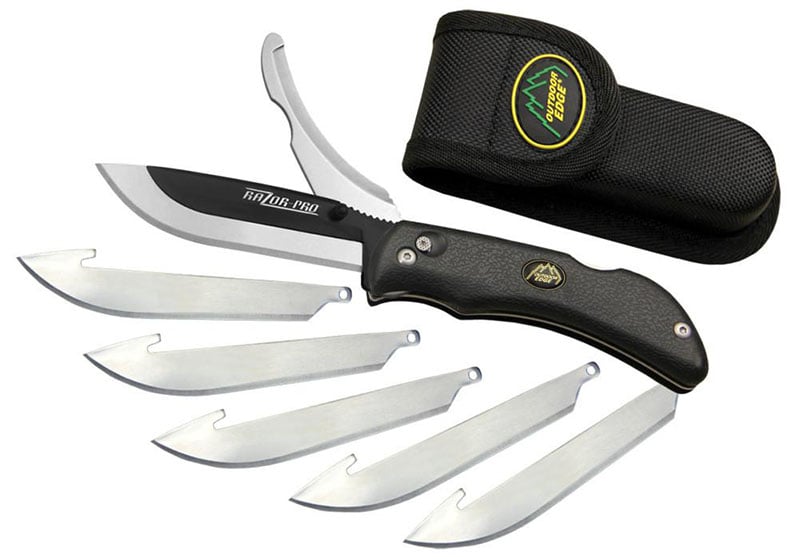 A second knife all hunters should carry is a good folding knife. Whether it is a multi-blade pocket knife or a single blade. A smaller folding knife that is quickly accessible is a valuable tool for all hunters. The three bladed pocket knife has had a home in my pants for over forty years. If I have pants on, there is a knife in my pocket. Back in my day, no self-respecting young man would be caught with his pants on and without a knife in his pocket. From the age of ten to the present, I have a knife in my pocket all the time. For some reason, I gravitated to the Old Timer 34OT a three blade pocket knife that has had several versions in my pocket for over forty years. From cutting rope, to notching a tag and fine cutting the pocket knife is a must have on every hunt.
I know many sportsmen who prefer the single bladed folder with a serrated blade over the three bladed version. The serrated edge makes this knife effectively two different blades in one. Most of the serrated edges are so sharp little effort is needed to cut things. We all know that a sharp knife is a safe knife.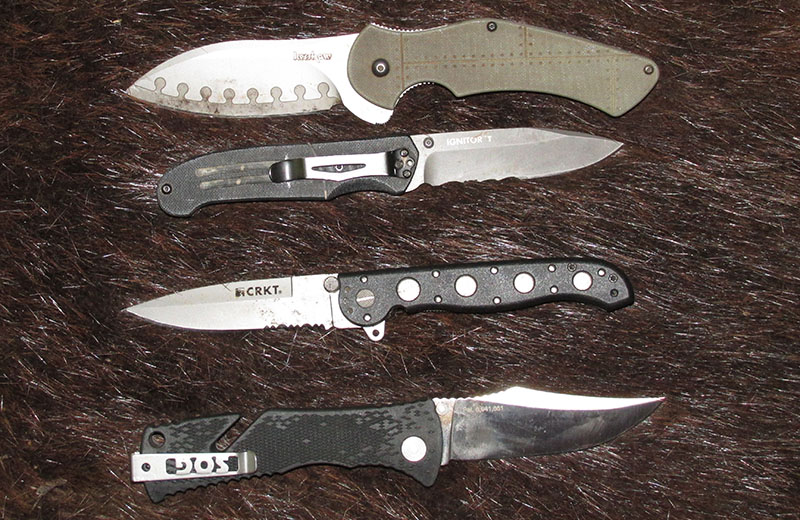 The last knife every hunter should carry is really not a knife at all, rather a multi-tool. Even before the advent of the Leatherman, the long heralded king of multi-tools if you looked in my pack you saw a Swiss Army knife by Victroinox complete with a saw, scissors, screwdrivers and the like. The Swiss army knife was the original multi-tool. If you are new to the multi-tool arena it can be overwhelming with the choices available today. After trying dozens there are certain items that should be included in every tool a hunter takes with him afield. The most important is the saw. A small razor sharp saw in your pack is essential. Choose a tool with a saw, secondly is a file. When in a pinch, you can use the file to sharpen your other knives, axes etc. These two items are a must for the outdoorsman. I never thought I would use these two tools as much as I do, but when field dressing game on the side of the mountain, having a saw to get limbs out of your way without dulling a knife to do it is essential.
Last Word On Hunting Knives
Knives for the hunt are essential. When packing for your big game hunt, choose a knife that is sharp, holds an edge and can handle the task at hand. Skinning and gutting a deer, elk, bear or moose is going to dull your knife. Choosing a knife of quality steel that can hold it edge and get the task completed or nearly completed is essential. A dull knife is a dangerous knife. Here is where the variety of knives in your pack is a good choice.
In summation, when I leave for my elk hunt in a few weeks I will have in my pack, the Case twin leather hunter set, a Havalon Piranta with a dozen extra blades, a Victorinox tool and a three bladed pocket knife or folding single blade. With this assortment of knives, I can field dress my elk, butcher the animal and if necessary spend the night in confidence that I have the tools I need to survive. Making the choice for good knives on your hunt is one of the better decisions you can make. One thing is for certain, if you make a poor choice, you will regret it for years to come. When choosing good knives for your hunt, a good choice makes the hunt so much easier, while a poor choice will haunt you for weeks and months to come.