Last Updated on
By John Buol
Shots afield are always freestyle. Provided the hunter hits, there is no wrong approach. In contrast, shooting positions are dictated in many forms of organized shooting. In some competitions, specific distances and strings of fire will direct what position to use and when. Little variability is allowed, even if, in the real world, a different choice might be better.
Let's look at NRA High Power competition. The SR target used at 200 yards is a thirteen-inch bull (6.5 MOA) that extends out to the nine ring with a seven-inch (3.5 MOA) ten ring inside. Given one minute for each shot fired (ten for the National Match Course, twenty for the Regional Course) only the best competitors would be displeased with a 95% average or so Standing. Sitting rapid fire is ten rounds shot in sixty seconds fired on the same target at the same distance. Even with only a tenth the available time, that pleasing 95% score from Standing is a train wreck from Sitting Rapid for a higher level competitor. Similarly, the SR-3 at 300 yards uses the same scoring dimensions as the SR but extends the bull out to the nineteen-inch eight ring to present the same apparent size bullseye. Despite a fifty percent increase in distance, scores from Prone Rapid are similar to Sitting Rapid.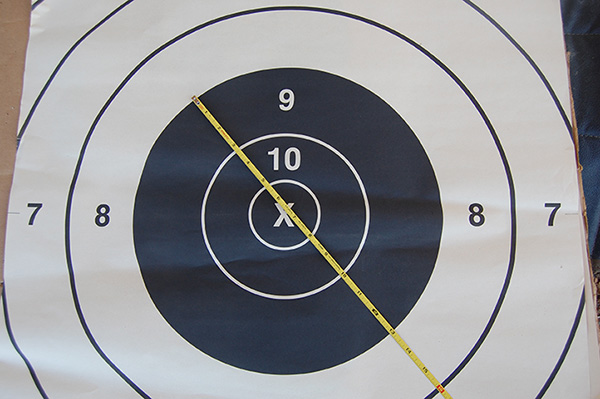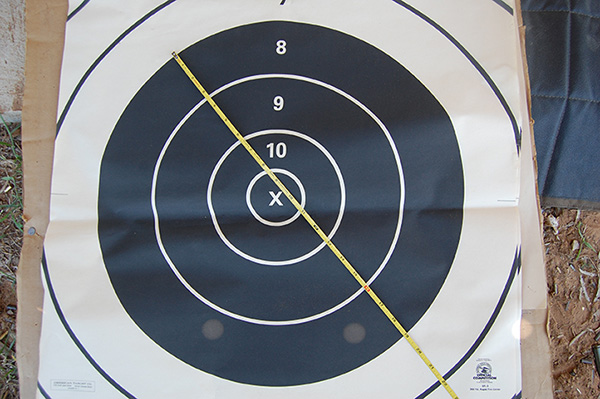 The benefits of conventional competition outweigh any negatives, artificial position requirements in the rulebook included. At least the mandated shooting positions develop the skill to hold the firearm when hitting targets with it but these artificial requirements don't exist in hunting. The hunter is free to shoot as desired. With freedom of choice comes the requirement to choose.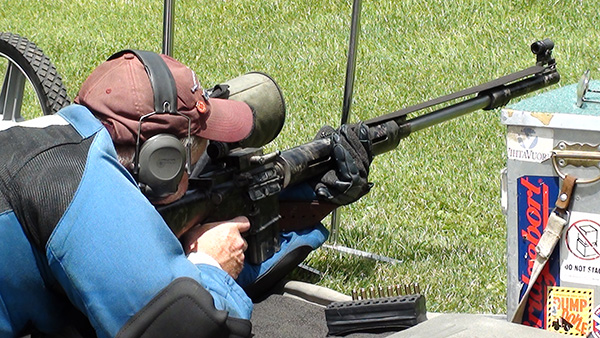 For too many hunters, their initial approach when spotting game and wanting to shoot quickly, unfortunately, is to whip up into a standing position and blaze away in "awful hand." An example of how this might not work occurred during a carbine shoot-off stage I held as a side match following a HunterShooter event. The course of fire was based on the old FBI Duel, with both shooters shoulder-to-shoulder, self loading carbines at high ready, and walking toward identical reactive steel targets. At the start whistle the shooters were free to engage anyway they saw fit with as many rounds desired. First person to score a hit took the bout with best two out of three winning. Jeff and Pat Varney, regular, local shooters with a friendly but intense sibling rivalry, made ready.
Starting near the back of the Green County Rifle Club's 200 yard range, I gave the command to advance and shortly after sounded the first start signal. Jeff tore into offhand and loosed a volley of shots at his target while Pat dropped to prone and hit his target on the first shot, winning the bout. Making ready for the second time, I had the pair advance a good distance to let the tension mount. On the second start signal, Jeff went offhand again, convinced he could score a fast hit at the closer distance with a volley. Pat went kneeling and his first shot won the second bout.
It was a good lesson for all involved. Both shooters were of equal skill and capable marksmen by anyone's measure. Pat's only advantage was enough patience to set up for a more stable shot and not let a desire for speed overwhelm him. This doesn't mean a quick offhand snap shot is always a bad choice. Had we started those bouts at a much closer distance, Jeff would have won with his approach. The question is, at what point? Where does the stability loss out weigh the speed advantage?
Let's set up put a nine-inch target with the goal of hitting it as fast as possible. To use an extreme example, at 10 yards (90 MOA) a snap shot from offhand is obviously ideal. At 300 yards (3 MOA) a stable hold will be a much bigger deciding factor. In fact, more time will likely be wasted trying to tame the wobble of a less stable position then will be saved by more quickly acquiring it. At some distance in between is the break even range.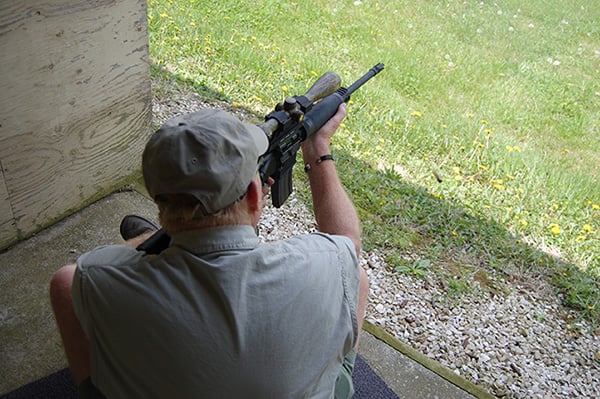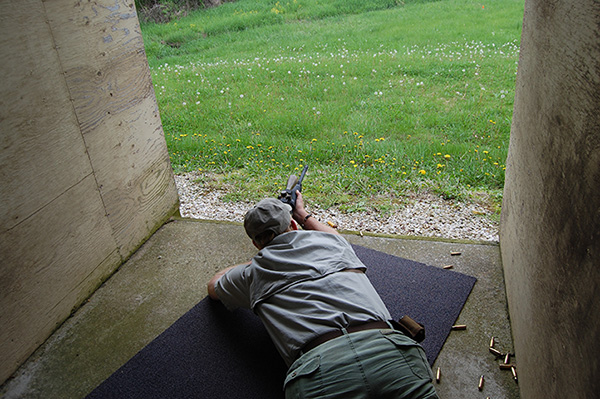 Some steps for determining this. First, avoid the bench. With the exception of formal benchrest competition shooters and frail or infirm people, it has no place. Unless you have a benchrest that you take on hunting trips, you'll have to actually use your own body to hold and support a firearm while hunting. It's more productive to spend your range time learning to shoot better that way.
Next step is learning your maximum distance from position. Without a time limit and under ideal circumstances, how far can you reliably hit? Use any position, likely improvised rests and/or field-portable accessories (sling, shooting sticks, bipods, etc.) you prefer in as many combinations as you care to try. The quickest way to assess this is establishing an initial distance with a scaled vital zone target.
Certain useful positions, such as squatting, aren't used in conventional competition while field-useful positions like sittting, as used in Four Position and High Power, might not be much higher than prone in flexible competitors, potentially reducing their utility. Slings are common in conventional competition but typically use a slow-to-acquire full loop. Bipods are usually seen only in F-Class and shooting sticks only in Black Powder Target Rifle. As a field shooter you're free to use anything you like. Find what works best for you.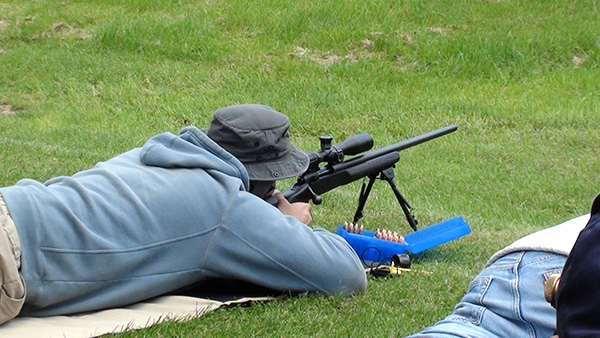 Note this is a true accuracy test and not just precision. Groups small enough to hit the vitals but placed poorly still miss the mark. Different positions and/or supports may cause point of impact changes. Finding this out on a range against paper targets is preferable to finding out with errant shots on game.
While testing this, start each shot from standing up with all equipment stowed and carried as if walking the woods (bipod and shooting sticks folded, sling off your arm, etc.) and note the elapsed time it takes to set up and fire the shot. Don't try to shoot fast and don't use a time limit, just determine how long the set up takes to fire an accurate shot from each position. With hunting we're interested in the time to acquire a position but not concerned with the time to leap out of it. Cover isn't a factor either.
While you should try as many options as you can think of, there is no need to maintain a battery of positions. Offhand (because sometimes you have to) and an intermediate position that agrees with you (because prone won't work everywhere) along with prone covers many field shooting situations. Note that the basic format of most conventional rifle shooting disciplines follows this approach in dictating Standing/Offhand, Kneeling/Sitting, and Prone positions because they were developed to teach real world shooting. Eventually, rulebooks began dictating "correct" positions while overlooking other potentially-useful options, but we aren't so hampered.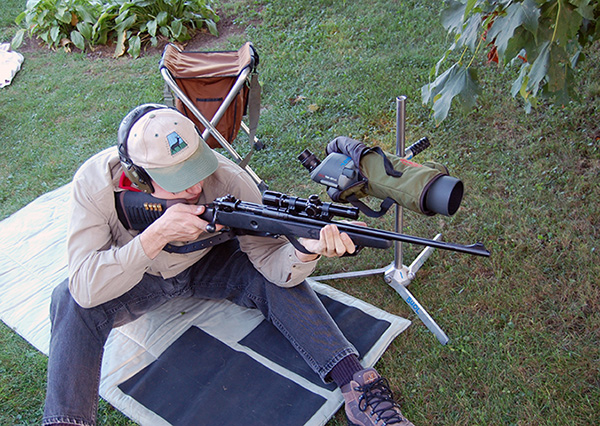 After giving it an honest try, a shooter that lacks the legs to pop down into a squatting position probably shouldn't bother with it. If it takes just as long to get into kneeling as cross leg sitting but sitting yields better accuracy, then kneeling can be scrapped. If shooting sticks from a sit prove to offer only a slight benefit over sling-supported sitting, but getting into a speed loop with a Ching, Safari or Pronghorn sling is much faster, why bother with the sticks? Any shooting position and/or support that yields a consistent and significant point of impact change over others will give accuracy problems afield, even if the precision (group size) is good.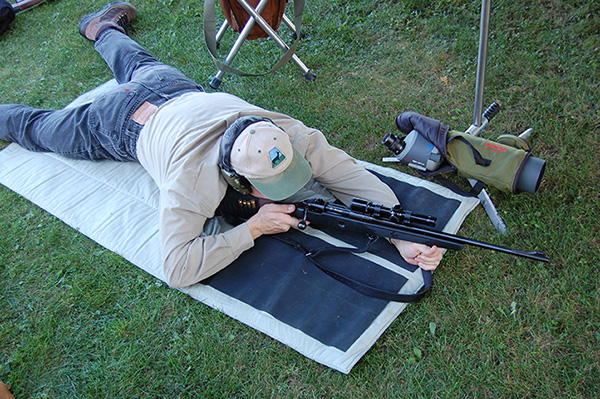 This data, which can be acquired and retested over a series of range sessions, helps determine your most suitable options. Now let's find the break even range between each. "Range" here indicates the effective distance where one position becomes less effective than the next and is a range of limits which variation is possible. It isn't an exact point.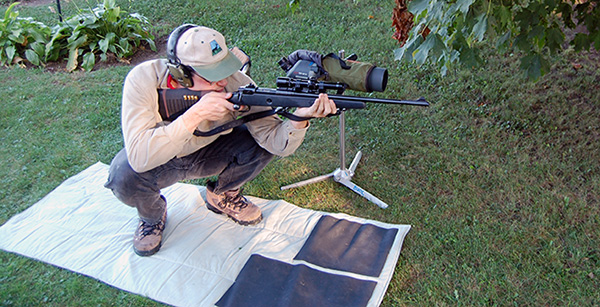 Starting with your fastest and least stable option, set up a target at your maximum effective distance from that position and engage it for time from your next quickest option. A self-resetting steel target of an appropriate size works best here. If target hits are more than 20-30 percent slower, your break even range starts here. If, instead, hits are routinely achievable from the slower position with less than a 20-30 percent increase in time, cut the distance in half and try a few strings from both positions there. If at this reduced range the faster position is less than 20-30 percent quicker, your break even range is here. If not, split the bracket between the two distances for your break even range. Repeat this for each position.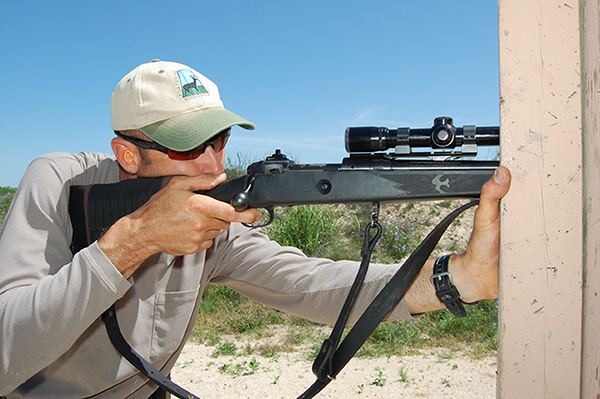 For example, say a shooter determines that his offhand maximum effective distance is a twelve inch plate at 150 yards (8 MOA) and this takes about six seconds per shot. For him, getting hits at 150 yards in six to seven seconds from squating, his next position, is no problem so he retries both at 75 yards. A less spry shooter whose next position is sitting, which takes him well over eight seconds to acquire, would set his break even range from offhand to sitting at 150.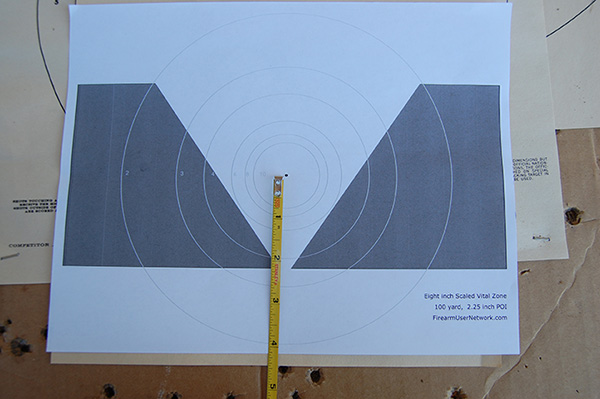 Download the vital zone target PDF here: 8-inch-scaled-vitals-landscape-60-gray
Some caveats. This is far from an exact science. The idea is to break down a multitude of options into the most efficient approach. A target in the field appears and there are many ways to shoot at it, any number of which might be effective. While this is nothing more than an application of position shooting fundamentals, it is more advanced than most hunters can handle. For the hunter still stuck at a bench, with inconsistent position shooting ability and clueless about his effective ranges, worry about break even ranges does him no good. For the skilled field marksman, understanding of break even ranges and determining the best options by measured test takes us a level beyond being an effective hunter to becoming a highly efficient hunter-shooter.