Last Updated on
Every part of an AR-15 rifle can be upgraded to an extreme degree. And the easiest and most affordable way to upgrade your AR-15 is to change a charging handle for a new one.
And of course, like every other AR-15 part, you have millions of options to choose from and that can be a little overwhelming. To help you out a little bit, we gathered the information that might help you to choose the right AR-15 charging handle for your needs.
An upgraded AR-15 charging handle can significantly improve your shooting performance in many ways. What are they? Well, the upgraded charging handle will:
– Enable the shooter to get a better grip on the handle;
– Allow the shooter to get a better grip angle;
– Accommodate a glove hand;
– Deflect gas, oil and dirt from the face when shooting.
WHAT TO LOOK FOR IN AN AR-15 CHARGING HANDLE?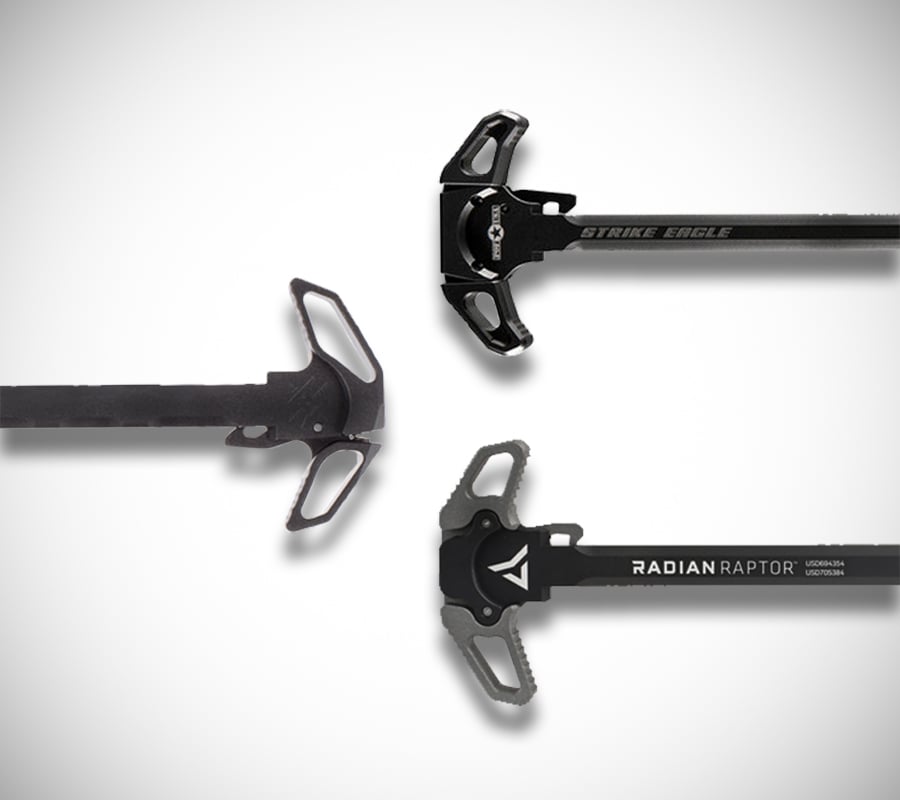 There three common features to consider when looking for a custom AR-15 charging handle.
AMBIDEXTROUS HANDLES – One of the main reasons why gun owners would upgrade a handle is if they are lefties. Most of the stock charging handles only come as right-handed pull-backs. But nowadays the market offers lots of affordable, high-quality ambidextrous AR-15 charging handles that can be used with equal proficiency with either hand. Ambidextrous charging handles give you a great level of convenience regarding the accessibility of your rifle.
EXTENDED LATCHES – A charging handle with an extended latch is a godsend when you are running an optic that comes close to the rear of your rifle. It will also make it easier for the shooter to engage the charging handle in areas where they might not be using their bare hands. To put it in another way, an extended latch gives you plenty of real estate to grip and rip as the situation demands.
GAS BUSTER SYSTEM – This feature is great when a shooter is using a suppressor or when shooting rimfire AR-15s. The gas buster version of the charging handle is designed to redirect gas blow-back away from the shooter's face when firing.
WHY INVESTING IN A QUALITY AR-15 CHARGING HANDLE?
Smooth Firing Cycles
Fire off as many follow-up shots as possible and have a reliable rifle all the time. Custom AR-15 charging handle will provide you with the ability to fire your shots with smooth cycling.
Long-Lasting Quality
Custom AR-15 charging handle will last you a long time and provide you with the best performance and experience because it's made from the best quality material such as 7075 T6 aluminum.
Ease of Use
Most high-quality AR-15 charging handles will not discriminate against you, whether you are a right-handed or left-handed shooter, meaning you can release the latch from either side, with either hand.
All that mentioned above add great functionality to your rifle.
WHAT IS THE BEST AR-15 CHARGING HANDLE?
There is no right answer here. When choosing what charging handle is right for you, the main thing to keep in mind is to consider the intended use for your firearm.
To start with you can pay attention to the following AR-15 charging handles:
Radian Weapons – AR-15 Raptor Charging Handle 5.56
If you want a good ambidextrous, high-value option for a charging handle – Radian Raptor AR-15 charging handle is a good choice.
Main Features:
– Made from 7075 aluminum
– Mil-spec anodized for ultimate strength and durability
– The original Raptor in the series
– For use with A-15 and M16 rifles
– Ambidextrous
BRAVO COMPANY 5.56mm/223 Charging Handle With Mod 4B Large Latch
If you want to keep things simple, this small and compact BCM Gunfighter MOD 4B is the option for you.
Main Features:
– Super affordable
– High quality and durable materials used
– Machined lip protects from rearward gas discharge
– Redesigned to eliminate stress on roll pins
Or HERE you can find plenty of options for you to choose from – pick the one that suits your AR build best.