Last Updated on
Choke tubes represent one of the most important tools for getting the results you want, especially for turkey hunters. Those who understand how they work and how to use them will have an advantage over other turkey hunters this season!
To anyone who hunts with a shotgun, especially turkey hunters, the invention of the choke tube represents one of the most significant achievements in the history of firearms. This simple little device gives hunters the ability to optimize their shot pattern and range to almost any shooting scenario. Experienced turkey hunters know that choosing the choke tube can mean the difference between a fine turkey dinner and a long, empty-handed ride home.
A Quick History of the Shotgun Choke
Although the first shotgun choke patent was granted in 1866, it wasn't until the early 1980s that all shotgun makers began releasing the highly-effective, screw-in choke tubes used today. Winchester's "WinChoke" interchangeable choke-tube system was the first to gain wide popularity in the early 1970s. Mossberg followed with its "Accuchoke" system in 1978, and Weatherby joined the competition with its "Multichoke" system in 1982.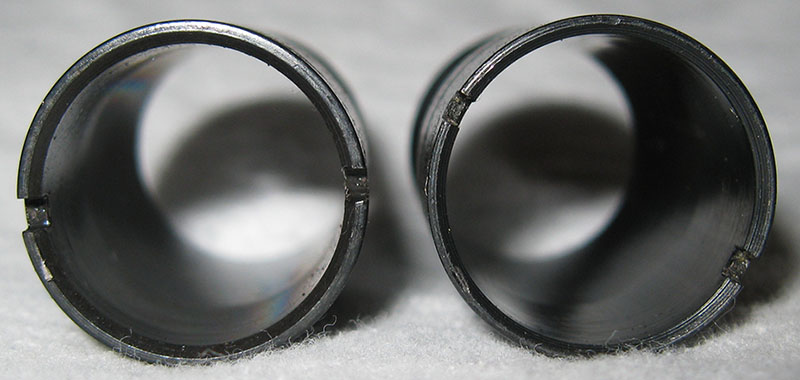 Before the invention of the choke tube, all shotgun barrels were simple straight tubes with a 25 to 30 yard effective killing range. Any shot beyond 30 yards was more about luck than skill. Although it took decades for choke tubes to gain wide acceptance from hunters, this invention made shotguns much more versatile. It also eliminated the need to purchase extra barrels for different situations.
Common Choke Tube Types
A modern choke tube works by constricting the shot charge to keep the shot together for a longer distance before spreading out. This results in a more focused shot pattern at a certain range than a shotgun without a choke would produce. This same effect plays a major role in a shotgun's effective range. As the choke constriction gets tighter, the effective range increases, and each type of choke tube features a slightly different constriction level.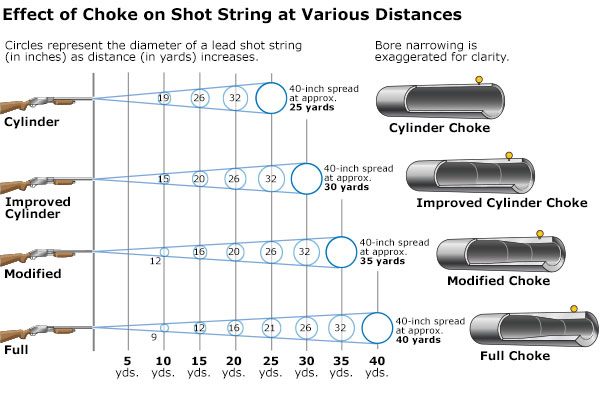 Cylinder
A Cylinder choke applies no constriction to the shot charge. It places about 40 percent of the total pellets of the shell within a 30 inch circle at a range of 40 yards. Since the lack of constricted provided by a Cylinder choke greatly reduces the shotgun's effective range compared to the other choke types, it is not common in hunting. It is more commonly used in law enforcement applications.
Improved Cylinder
Applying approximately .010 degrees of constriction, the Improved Cylinder represents the first of the common, restricted choke types. At a range of 40 yards, the Improved Cylinder choke typically places about 50 percent of the shot within a 30 inch circle. It performs well in close-range waterfowl, pheasant, grouse, quail and dove hunting applications. Rifled shotgun slugs also work well with an Improved Cylinder choke tube.
Modified
With about double the constriction provided by an Improved Cylinder choke tube, the Modified choke distributes about 60 percent of a shell's total pellets within the same size circle and at the same range as the Improved Cylinder. This choke type is popular in general waterfowl hunting, longer distance upland bird hunting, varmint hunting and more. Most competition trap shooters also use Modified choke tubes.
Full
With approximately .035 degrees of constriction, the Full choke tube is one of the tighter options. It delivers a dense pattern of about 70 percent of shot within a 30 inch circle at 40 yards. Some trap shooters, long distance waterfowl hunters and turkey hunters use Full choke tubes. Buckshot loads also perform well with this choke tube type.
Super/Extra-Full
The Super-Full and Extra-Full choke tube types are sometimes referred to as the "gobbler getters." When it comes to turkey hunting, the tight constriction provided by these choke tubes is ideal. They offer .045, .055 or sometimes even tighter degrees of constriction to provide the densest possible shot pattern to pack the punch turkey hunters need. They can place 80 percent of more of a shell's pellets within a 30 inch circle at a range of 40 yards.
What You Should Know Before You Choose a Choke for Turkey Hunting
While extra power at a distance is great, and necessary, for turkey hunting, it is also important to remember that the super-tight patterns supplied by the Super-Full and Extra-Full choke tubes also make it much easier to miss the gobblers! Choke selection is all about balancing a larger pattern size versus killing power, but experienced turkey hunters know that, when hunting these big birds, it's a good idea to lean towards power.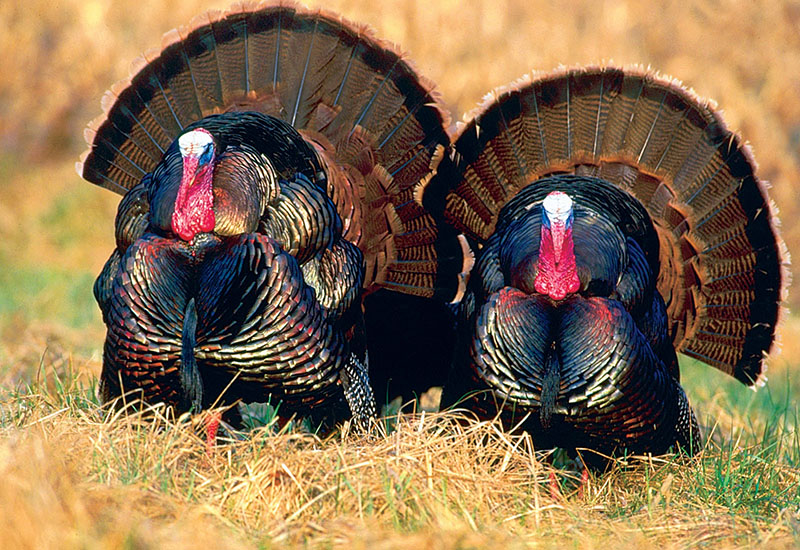 To become a great turkey hunter, you will need to compile a lot of experience and skill. However, some of the problems and missed opportunities that occur for beginners can be attributed to a poor choke tube selection. After all, it is quite difficult to kill a big tom if you're using a Cylinder choke.
Top Shotgun Chokes for Turkey Hunting
Turkey choke tubes have evolved from the integral fixed choke styles to the highly-effective tools they are today. They play an essential role in the extension of the shotgun's effective turkey hunting range, and deliver dense pellet patterns to the neck and head areas of turkeys.
Remington Turkey Choke Tubes
Remington produces many of the top affordable shotgun products in today's market, and the company offers a wide selection of quality turkey chokes. Remington also offers a specially-designed, 26-inch barrel that, when paired with their factory turkey choke tubes, can place up to 90 percent of a 3-inch shell's load into a 30-inch circle at 40 yards.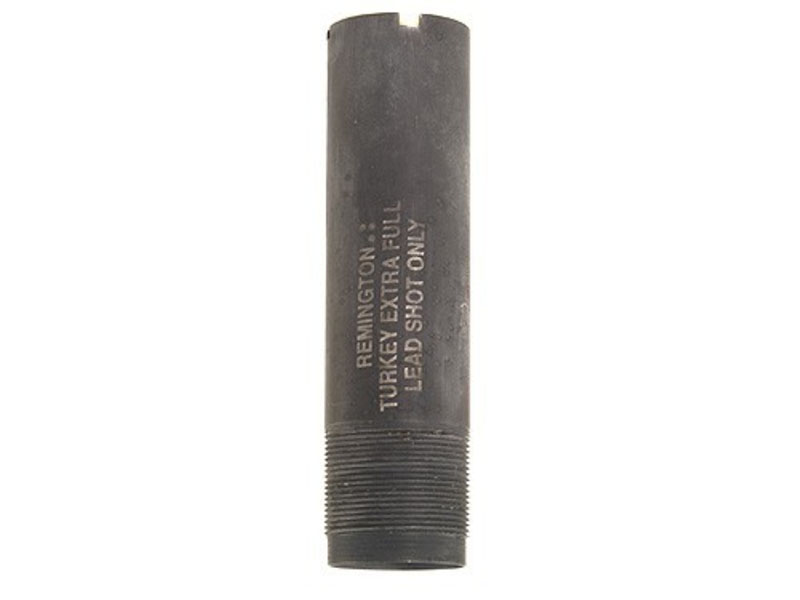 Remington's "Full Rem Choke" features a constriction of .691" and distributes about 70 percent of the shot with a 30-inch diameter at a 40 yard range. It is a great option for turkey hunting at medium to short range. The company's "Turkey Extra-Full Rem Choke" offers a .687" constriction for an 80 percent shot distribution at the 40 yard/30-inch diameter standard. It performs well for medium to long range turkey hunting. For longer shot distances, the "Turkey Super-Full Rem Choke" constricts to .665" and distributes 85 percent or more of the shot at the given standard.
There are a thousands of different options for turkey choke tubes available today. Some manufacturers may offer higher quality than others, but as long as you understand how choke tubes work, you will have a head start when choosing the right one for you. Once you've found that perfect turkey choke, you are almost guaranteed to bring home more gobblers this season!