To say the striker fire pistol market is highly competitive with hundreds of manufacturer / model combinations available would be a gross understatement. Ever since the 1990's, one name is clearly reigned supreme above all others, giving the classic 1911 a true challenge for the title of "America's pistol." That company has been none other than Glock. This company has led sales in the military, Law Enforcement and civilian categories regularly each year. As Glock rolls out new variations of current production models or introduces new sizes and options, fans of their products line up to help gun shops sell out for months.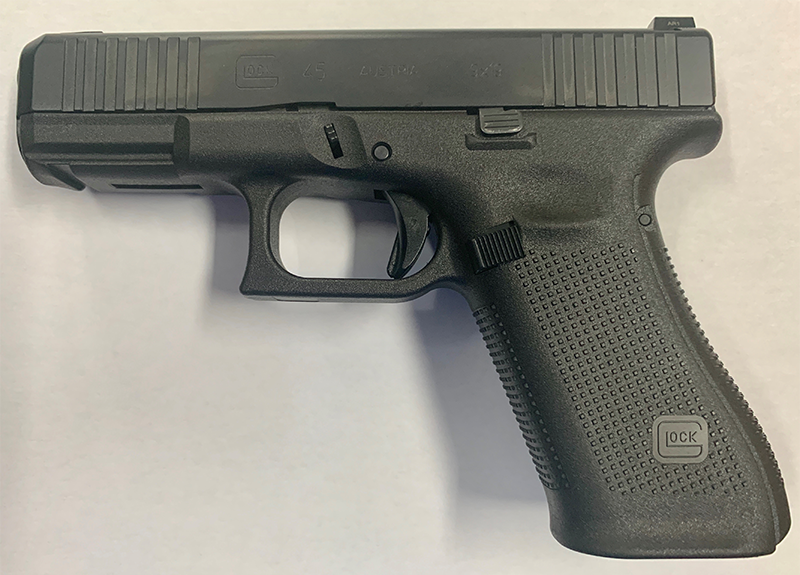 In the fall of 2018, Glock announced a new model to follow on heels of the wildly successful Glock 19X called the Glock 45. To avoid confusion from the start, this G45 is NOT chambered in .45 GAP or the American classic, the .45 ACP. (The later would have been the obvious choice, right?) Instead, the G45 would be chambered in 9mm to mirror that of the G19X. At first glance, many "reviewers" rushed to print and online publication without doing their due diligence in research. These arm chair reviewers claimed the G45 was merely a G19X finished in black rather than the military requested coyote brown for field trials.
Instead of following the masses and reporting before Christmas like many others, our Swanson Media Group staff decided to take our time on the range working with the G45 and even getting a chance to speak with Glock representatives at SHOT SHOW about the new model. What we learned helped ensure this product report would give our readers the full story and not general assumptions they may have encountered previously.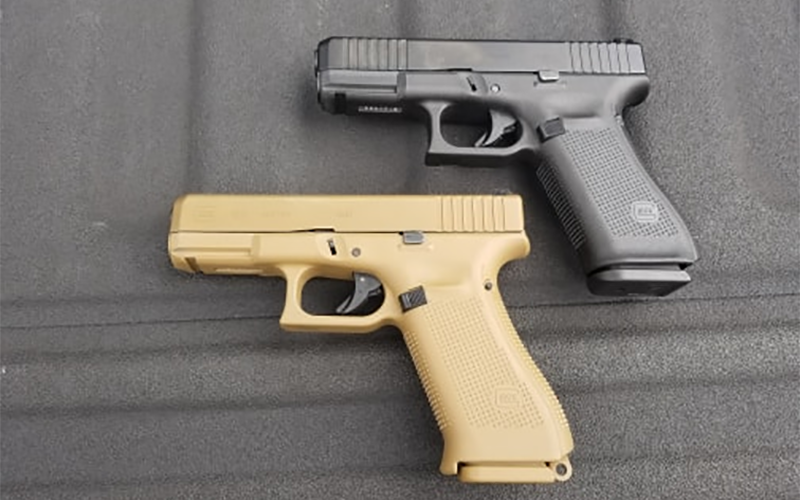 First Impressions
I must admit, when Glock dropped an advertisement back in late September about the G45 as a teaser for the industry, my first thought was, "Oh look, the G19X now comes in black." This wasn't a bad thing, as I reviewed the G19X very favorably over the summer. Even at first glance, my gut told me there had to be more to the new model to bring it to market as the G45 rather than something such as G19XB or G19X-Black. Immediately, I submitted a request for a T&E sample to be sent for review. Not long afterwards, Glock responded, and we were set to receive one straight from the Smyrna, Georgia manufacturing plant.
Soon I got a call from my good friend, Preston Mishikaiwa at Legion Defense Industries stating the G45 was ready for pick up. Inside accompanying the pistol were three 17 round magazines as well four back strap options to build the grip thicker for large hands. Glock has started shipping these with Gen 4 and Gen 5 models, although I usually leave them in the box. Even so, I do applaud Glock for including these back straps as well as an extended pin and a pin push tool for installation. The pistol also ships with Glock propaganda, an owner's manual and cable lock, and a caliber-specific synthetic bore brush. Either Glock has great civil attorneys, or the company really does think of everything.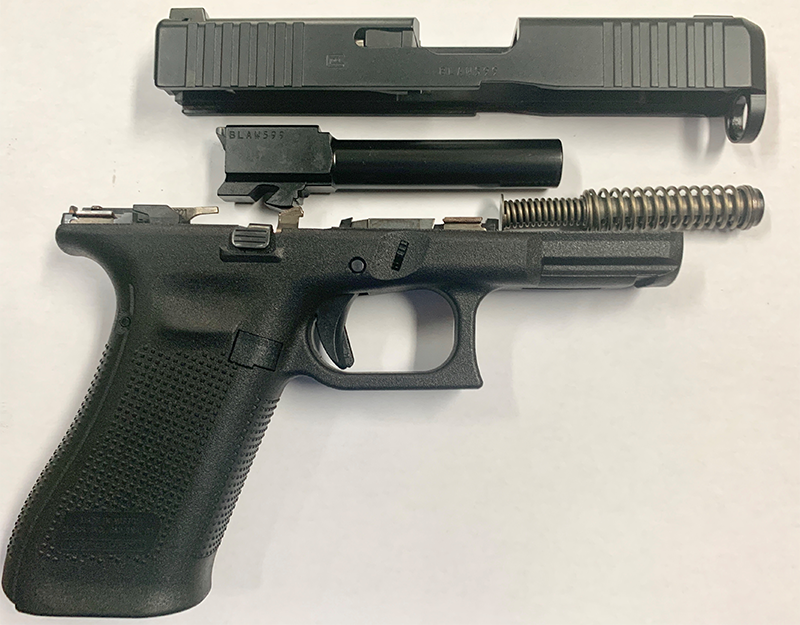 Differences With the G19X
Upon close inspection of the G45 pistol, I started to notice subtle differences between the new pistol and the G19X. While it still essentially mates a full size G17 frame to a compact G19 slide, it offers a combination of Gen 4 and Gen 5 details. Obviously, the color is the first noticeable thing about the pistol. Unlike the Flat Dark Earth mismatch of color on the G19X, the black finish of the G45 is a relatively new nDLC coating that is currently used for Gen 5 series pistols. Unlike the Gen 5 pistols however, the G45 does not include the U-shaped notch cut into the front strap near the magazine well. Fortunately, the new pistol does have the slight mag well flare unlike the G19X and its small magazine cut for a pseudo flush fit. Most importantly, the overall texture of the grips felt (thankfully) less aggressive than the 19X's extreme polynoid texturing. Don't forget the absence of the rarely used lanyard loop grip plug of the 19X as well. This should be an available option from Glock for any of the pistols if this is a necessity.

New G45 Features
There were a few additional items I really liked about the G45 during its initial inspection such as the Gen 5 style ambidextrous slide stop. For clarification, this is NOT a slide release according to Glock. The company recommends to always use the sling shot method of charging the pistol to allow for full spring tension and range of motion to fully seat the round into battery. I get it, I fully understand it and I teach it to my students, but let's be honest, we're going to do it anyway, right? Having the slide stop accessible from both the right and left sides is only a plus in anyone's book. The Gen 5 17-round magazines were also a huge plus with their orange followers for two major reasons. The first is that I can quickly tell at a glance if a magazine is empty or not. Secondly, the magazine quickly aids in showing if a pistol is clear or not if the slide is locked back.
3-Dot Steel Night Sights
Finally, I really liked the fact that Glock shipped the G45 with their 3-dot steel night sights. I have been running these sights for a couple of years now on several of my daily carry guns. Glock offers most models including the G45 with three sight options, their plastic "U-shaped" notch and dot sights with white outlines, the much more durable steel 3-dot sights and of course the steel 3-dot night sights. Its been my experience throughout my law enforcement career that if you are going to carry a pistol day or night for self defense or on-duty professionally, you need sights that can be clearly visible even in extreme low light. They also need to be able to take a hit and still work. I have often seen the standard Glock plastic sights get completely knocked off the pistol slide during training sessions.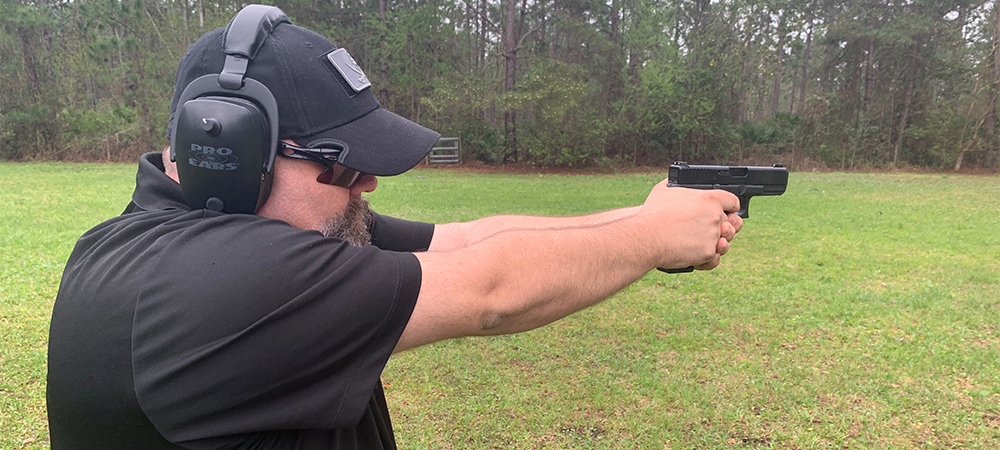 G45 Specs
Caliber: 9×19

Length: 7.44"

Slide Length: 6.85"

Height: 5.47"

Width: 1.34"

Slide Width: 1"

Barrel: 4.02" Marksman Barrel

Weight: 24.98 oz. (Unloaded)

Finish: nDLC black

Sights: Available with polymer, steel 3-dot, or steel 3-dot night sights

Capacity: 17

MSRP: $698
Range Time
Range testing would primarily be broken up into three locations consisting of both indoor and outdoor locations with several eager field testers with a wide range of experience levels and opinions. First, I started at On Target Sports, my local indoor range in Orange Park, Florida. This very modern training facility managed by my good friend, Tyler Smith. Fellow firearms instructors Jerry Moody and Clint Steele arrived early that morning to lend their valuable thoughts to the range session.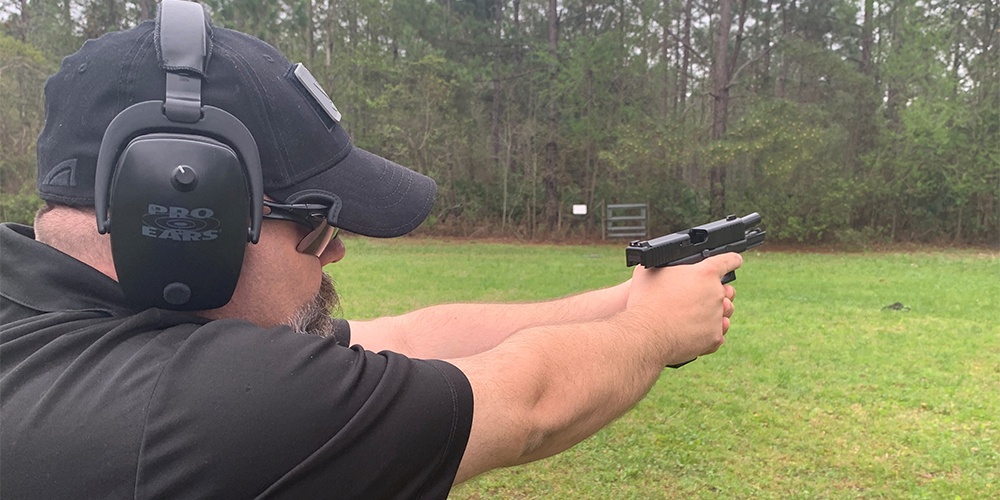 Indoor Range
Each shooter took turns running their first strings of fire through the G45 at 7 yards using an assortment of Winchester, Remington and Hornady 9mm ammunition. Rounds were mixed into each of the three magazines randomly to test functionality as we worked through both hollow point and ball ammunition. Although you could feel the recoil impulse change with each variance in load as well as shots striking slightly higher or lower than the next, these would be the only noticeable clues to not running the same ammunition. Just like the reputation Glock is world famous for, the G45 chewed through over 100 rounds in less than a couple of hours without so much as a hiccup!
Next we focused on Remington 115 grain FMJ loads and slowed down for consistent groupings. Again the "marksman" barrel of the Gen 5 series did well feeding rounds into chamber and performing exceptional scores. While Jerry was focused on trying to only one hole for all rounds if possible, Clint's shots started breaking faster and faster while still destroying the reduced 8 ring until it started to sound like he was running a G18 full-auto rather than the G45. Personally, I noticed the Gen 5 trigger used for the G45 may have been designed and set up like the Gen 5 models G17, G19 and G26 that I currently own, but it is much smoother and felt more like my preferred Gen 4 trigger with lower mounted trigger spring. Both the Gen 4 and Gen 5 triggers are rated to be 5.5lbs and according to my trigger gauge, they usually range between 5.1 lbs. and 5.4 lbs. This wasn't enough real variance in weight to cause any issue during this first range visit.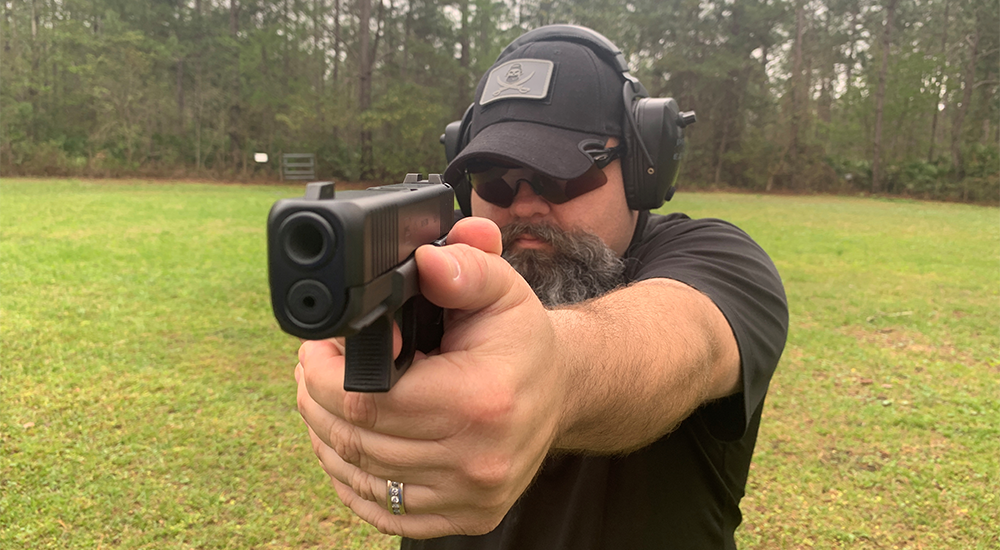 Outdoor Range
The next range trip would be to the private training grounds affectionally known as "The Swamp" meeting again with Clint and Jerry. During this session of training, I really got a feel for the balance of the gun. Both my daily carry G19 and the G17 I often use for teaching students have a perceived slight barrel-heavy balance in my hands. This is due to the length of barrel in direct relation to the length of the grip and how much control I have over the gun. With my custom Gen 4 G17 being retextured with now fingerless grips and comfortable relief cuts to allow my hand to choke up better on the pistol, the balance between it and the G45 isn't nearly as different. Both Jerry and Clint agreed the G45 offered a better overall balance and control of the gun during fire than the G19 model. As valued as my fellow writer's thoughts are, it was then time to widen my resources by visiting a local chapter of an all-women's shooting organization called The Well Armed Woman.
Well Armed Woman
As many readers who follow my articles may know, my wife, Candace and I volunteer as instructors for this national not for profit organization often simply referred to as TWAW. These ladies are very visible at events such as the NRAAM, SHOT SHOW and USCCA events sporting their royal purple colors with pink highlighted script proudly stating their chapter and state on them. Some even go so far as to paint their nails purple, wear purple jewelry and yes, even dye their hair PURPLE. It's truly impressive to see these ladies' bond of sisterhood and 2A lifestyle pride. Through using many of these ladies involved in the TWAW Shooting Chapters North Jacksonville chapter, I have learned a wealth of information regarding how women perceive products, training and the firearms industry in general.
At a recent TWAW meeting, I offered for any volunteers to stay after the classroom portion to stay and shoot Dot Torture drills with the G45. I asked them to give me an after-action report (AAR) immediately upon completion for the 50 round course of fire. As each shooter took their turns, the feedback was diverse as the ladies who made up the group. For some older shooters, the slide was a bit too stiff for them to cycle the action, but they loved how the gun shot. One lady fell in love with everything about the gun and wanted one immediately. I then noticed her black T-shirt with a Glock Girl logo across it. Fan girl or simply right about Glocks being the best all-around pistols on the market. You decide.
All but one lady liked the trigger or the felt recoil of the G45. This lady normally shoots a SIG 238 chambered in .380 and hasn't had a wide range of experience yet outside the SIG brand. The SIG model mentioned is a relatively heavy pocket pistol sized gun with an overall soft recoil due to caliber compared to weight. The larger G45 pistol chambered 9mm was a new experience for her. Overall, these ladies had a great time and really appreciated the opportunity to work with the new Glock.
Final Thoughts
A huge factor in Glock's continued success is in their unique mindset and approach to the industry. Despite offering different models in various sizes and calibers, Glock is still essentially the Ford Model "T" of the firearms world. Glock basically makes only one product and does it extremely well. Their catalogue of firearms doesn't include shotguns, AR-15's, revolvers or anything other than relatively the same shaped frame, topped with the same slide and barrel. This dedication to one basic design is very reminiscent of the AK-47 design. Both are simple in design, very cost efficient and extremely durable enough to outlast cockroaches and even Keith Richards of the Rolling Stones by the end of time.
To say the best thing about the new G45 model is it's "a Glock." This is not a slight to any improvements and special features the pistol boasts. It is a testament to the overall design and their ability to produce different variations of a fantastic duty ready pistol. The new model G45 specifically is a great choice for Military, Law Enforcement or Private Contractors where a full-size duty pistol is needed put operations may be in either non-permissive areas or simply require covert, plain clothes operations. As Clint mentioned with the 19X, the shorter barrel and full-size grip allow for maximum round capacity while still being short enough up from not to dig into the user's thigh when concealing the pistol via appendix carry.
Moving forward, I believe a MOS version of this pistol would be the only positive addition to an already great package in order to allow for civilians and tactical shooters to run optics on the gun in conjunction with an already great set of iron sights. For now, this new model seems to offer an attractive carry package for professional and civilian alike. I highly recommend training a Glock model 45 for yourself soon. Until next week, Train Hard. Continue the Fight my friends.