By David Link
I was in the middle of a challenging scree field when I stopped to take a deep breath. A few hundred yards remained until I could step out of the scree and onto the nearby glacier, and my 65 lb. pack was really starting weigh on my shoulders. One of the big dangers with a large scree field like this is every step is uncertain. It only takes one loose boulder to upset your balance and send you tumbling, and trust me, you do not want to get pinned between these large granite boulders miles from the trailhead. This is just the scenario where your boots make all the difference. Inferior tread, poor support or even just the wrong model can mean a rolled ankle, or worse. Fortunately I had selected the very boot perfect for this type of demanding trek – the Garmont T8 Extreme GTX Boots.
Garmont Tactical
Founded in 1964 in Northern Italy, Garmont has been a leader in mountaineering footwear ever since. More recently Garmont Tactical has applied their wealth of design knowledge to a tactical footwear, and armed forces in Europe quickly took notice. Today the US Military trusts Garmont for their outfitting needs as well, and there are some impressive models in their tactical lineup. From the affordable, hard hitting Garmont T8 Bifida Boot to the innovative infiltration 6″ boot in the Garmont Nemesis, there is something for every mission available. Today we're going to look at an insulated full-size model in the Garmont Tactical T8 Extreme GTX Boots.
Garmont T8 Extreme GTX Boots Basics
The Garmont T8 series is their flagship tactical boot, and it is available in three different variations. The Garmont T8 Bifida is an uninsulated summer boot, the Garmont T8 NFS is a tactical boot / running shoe hybrid with a soft rubber sole for rapid movement, and the Garmont T8 Extreme is similar to the Bifida but includes Gore-Tex insulation. Given that my chosen environment is the Rocky Mountains, I opted for a model with added insulation, but if you live in hotter climates or want to cover ground at a quick pace, you should consider the other models.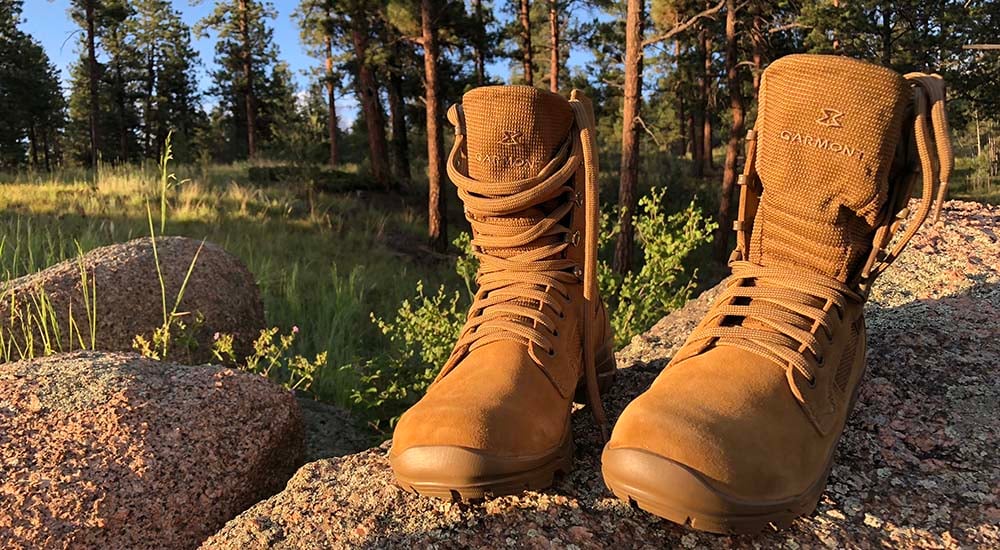 The Garmont T8 Extreme is built around a suede leather upper with 600D nylon and nylon webbing accents. The upper is quick drying and is extremely breathable. As I mentioned, it features Gore-Tex insulation to compliment the quick drying performance. A rugged Vibram sole matches the upper, and if you're familiar with Vibram at all, we're talking maximum grip, stability, and shock absorption in a lightweight, durable design. Metallic eyelets with closed hooks and ball bearing hardware is a nice feature set for the lacing system, and of course there is zero optical reflection with each and every element on the boot. Perhaps best of all, each boot weighs about 1.5 lbs. (measured for size 8).
Specs
1.6mm – 1.8mm suede leather with 600D nylon and nylon webbing.

Durable upper construction with fast-drying and breathable performance.

Gore-Tex Insulation.

Texon and canvas reinforcements.

Vibram sole for maximum traction and shock absorption.

1.5 pounds per boot (measured for size 8, will be slightly heavier with larger sizes).

Zero optical refraction hardware.

Coyote finish.
Testing
Let's get back to the scree fields and my testing and evaluation of the Garmont T8 Extreme GTX. As I mentioned this is the perfect boot for tackling rugged terrain while carrying heavy loads. In my time trekking between remote alpine lakes in Wyoming, the Garmont T8 Extreme performed admirably. First and foremost, this boot is extremely lightweight, and while my back may have been aching from the pack, my feet felt great at camp each night. Even though they are likely the lightest tactical boot I've ever worn, their grip on uncertain terrain was never in doubt. Vibram tech is pretty much all over the place these days, but the unique sole pattern for the T8 is reliable, and my intact ankles after the trip are evidence of this.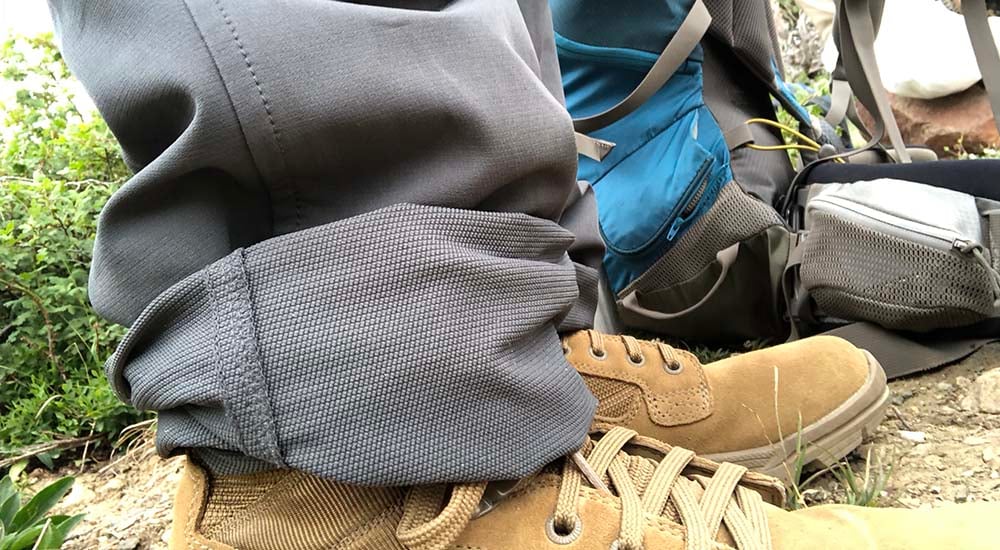 Tackling Water
As I hiked over mountain saddles and down through marshy areas around mountain streams, it was common to get the Garmont T8 Extreme boots wet. When you're hiking with a heavy pack, this is even more the case as you're less inclined to hop around to avoid puddles and shallow streams. Fortunately water never leaked into my boot once, and mere moments after crossing a wet section of trail, I looked down expecting the boot to be soaked. Instead, I was surprised to see the boot almost bone dry. A big question with some tactical boots is whether they're approved for wet work or not. This is not a concern with the Garmont T8 series.
Breathability
Next on my list is breathability, and I will admit I was a bit concerned how hot my feet would get with the added insulation in the T8 Extreme model. Instead I found the boot well suited for both phases of an alpine environment. First the hot summer sun at 11,000 feet can warm you up quickly, even if you're not in 100 degree temperatures. At this phase, the boots breathed well and I actually never noticed a sensation of overheating once, even during periods of high exertion. At night around the campfire, the boots kept my feet warm when the temperatures dipped, even without sock layering beneath. In both scenarios, the T8 Extreme passed with flying colors.
Durability
After my early break-in hikes and my long backpacking trip, I look at the boots today, and they still appear brand new. That's right after splashing through muddy mountain streams and navigating large scree fields, they look like they just came out of the box. In addition, there was no issues of sharp rocks impacting the bottom of my feet as I covered mile after mile of rugged trail. All these factors lead me to believe the Garmont T8 series will last for years to come, even under heavy use.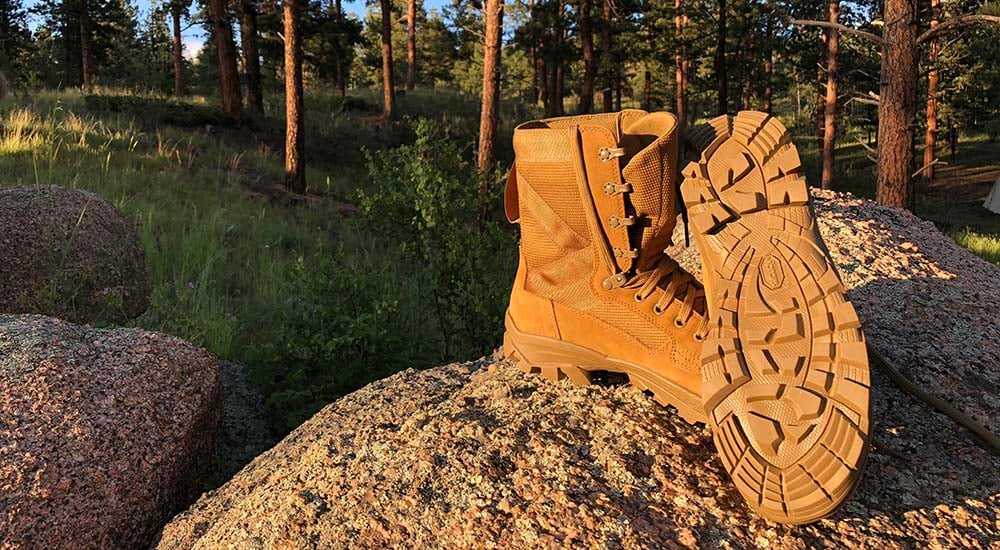 Lacing
One last feature I'd like to touch on is the lacing system. The Garmont T8 sports all-metal eyelets with a cleverly designed ball bearing system to make lacing smooth and exact every time. The eyelets are completely enclosed, which means there is no fumbling with open loops when you're trying to lace up quickly. This holds all your key lacing points in place, and it is without a doubt the best tactical lacing system I've ever seen in a boot. Big points to Garmont on this clever, durable design.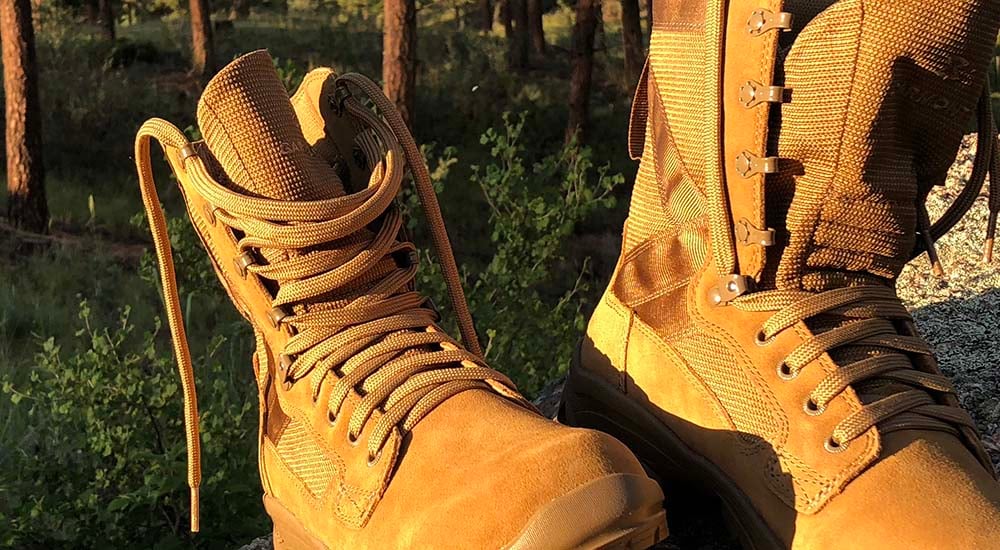 Determination
It's no secret the tactical boot market is a bit crowded these days, but the Garmont T8 is an excellent, do-it-all option for service members and civilian users. I would recommend this boot as a great starting point, especially if you desire some insulation in your tactical boot setup. I personally am not a member of the military, but I do find myself tackling long hikes that require superior grip and ankle support. I always like to have a tactical boot in my gear arsenal for scenarios like this, as well as for any potential bug out or emergency situations.
The lightweight but rugged design performs excellent in the field, and the lacing system is superior to any other tackle boot I have used. Even the general look of the boot itself is slick, which is a nice refresher compared to some of those "ugly utilitarian" looks in competitor models. At $189.99, the Garmont T8 Extreme is very affordable compared to the feature set you receive. As I mentioned before, the Garmont T8 Bifida is another great option to consider at just $99.99 with less insulation. Whatever your individual needs, Garmont Tactical has the boot to match your mission.