By David Link
Minimalist footwear is one of the big trends in the outdoor industry these days, and you see it in everything from "barefoot" shoes with individual toes to lightweight, flexible running shoes. The idea is simple really. The human foot is designed to run a specific way, and our development of shoes and boots generally is not built with this natural motion in mind. Spend your entire life hiking, running and walking in heavily padded footwear, and chronic injury and physical issues start to mount.
The thing is, and I'll admit to this myself, I looked at those ridiculous toe shoes and thought: "No way that can be good for your feet." Full disclosure I am biased, my feet have always given me trouble. I was born with one flat foot, so I've always felt like I'm only half-equipped for proper walking and running. Sure I stay active, but I pay for it with fatigue at the end of the day. When Belleville introduced their minimalist "Mini-mil" series, I was curious how they would combine a concept like a toe shoe with a duty boot. Luckily testing the concept was a little eye opening to me.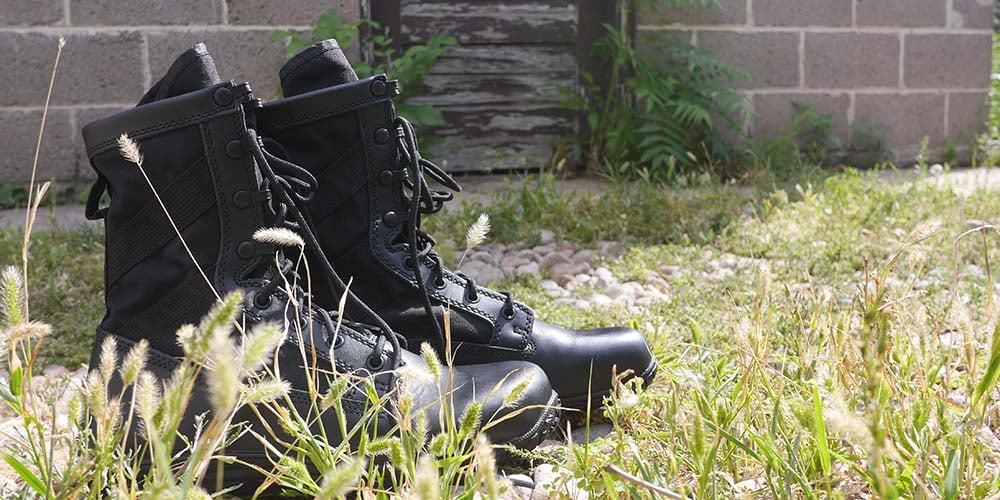 A Word On Natural Foot Motion
So before we go any further, there are a couple things to consider when you're testing minimalist footwear. One is this footwear is designed to help you land on the ball of your foot. Some of us don't realize that landing on your heel is not how we're supposed to run. The heel is more of a balancing agent than a shock absorber, and putting it through miles of shock absorption can be really trying on it physiology. Since large duty boots, work boots and backpacking boots have substantial heels, it is hard to avoid landing on the heel often in a strenuous hike or day on the job. I've been doing this pretty much all my life, and I've never thought much about it. When the trail gets really hard for example, I can really lean on my heel to take the brunt of punishment.

In addition to this, landing chronically on a large padded heel can throw your Achilles tendon out of proportion, making it more prone to injury, or at least minimalist footwear experts say. Minimalist shoes look to reduce both these factors by lowering the heel so your foot is in a more even configuration (as opposed to higher heel that tapers down to lower front portion of the shoe. But how does this work in a duty boot?
Belleville Tactical Research Minimalist Training Boot Basics
The boot I've had the pleasure of testing for this review is the Belleville TR102, also known as the Belleville Tactical Research Minimalist Training Boot. Now a key point I want to make is you don't just transition from normal duty wear to minimalist wear overnight. These things take patience, and if you rush it, you're going to have a bad time. Belleville recommends wearing a transition boot, or a training boot as this model is called. You can then move to full minimalist duty footwear (2 millimeter drop) if the concept is working for you. Over a period of weeks when you first get these boots, they recommend only wearing them 1-2 hours to adjust. Your foot will strengthen overtime to adapt to this concept, and you may be a little sore after training with them.

The boot itself is not unlike the Belleville Tactical Research QRF Boot I reviewed as far as style and appearance go, but there are plenty of differences as well. The upper is mostly nylon, and it's not very rigid at all. I generally like more rigid ankle support out of my tactical boots, but I'm generally concerned about rolling an ankle while carrying a pack. The Mini-Mil series really isn't built to be a heavy load carrying boot. So take note of this as you shop. What this boot does excel at is mobility. Even the first day I tested these, you can really get up and go in them, more so than any 8″ boot I've ever worn. So if you need to cover some ground quickly in your duty boot, definitely take a closer look at this boot. Increased rubber Achilles support is the feature Belleville has added here to protect from ankle damage, and it mostly works from my impressions.
The outsole is non-slip with a signature Vibram Tarsus sole, and oil and slip resistance has saved my hide a few times, so pay attention to this in a boot. The rubber toe is stiff and durable, almost to the point of feeling like steel or composite toe, but it is not rated for any substantial impact as far as I can tell. Duty boots really aren't meant to be to stylish, and I won't really weigh in on this much, but in this category the boot looks fine, and that's all you can ask.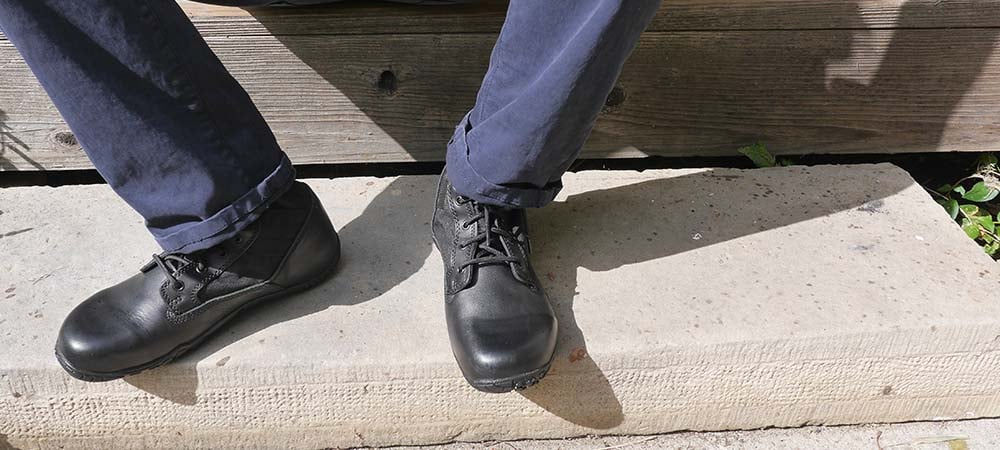 Specs
Materials – Leather and Nylon.

Boot Height – 8″ (standard military configuration).

Upper – Combination of 100% cattlehide leather and 1000 D Cordura nylon.

Outsole – Rubber exclusive Vibram Tarsus sole with oil and slip resistance.

Heel drop – 6 millimeter drop (most normal boots have 15 mil drops).

Stitching – Double and triple stitched seams for long boot life.
Testing
Let's hit the big question right out of the gate – is the minimalist approach worth it? Well first, kudos to Belleville for turning their attention to this concept. My impression is very few if any other manufacturers are creating minimalist duty boots. I think it is well worth exploring even if it doesn't work for everybody. I love the feeling of mobility that these boots give me, and I was surprised to learn just how much a 15mm heel was weighing me down.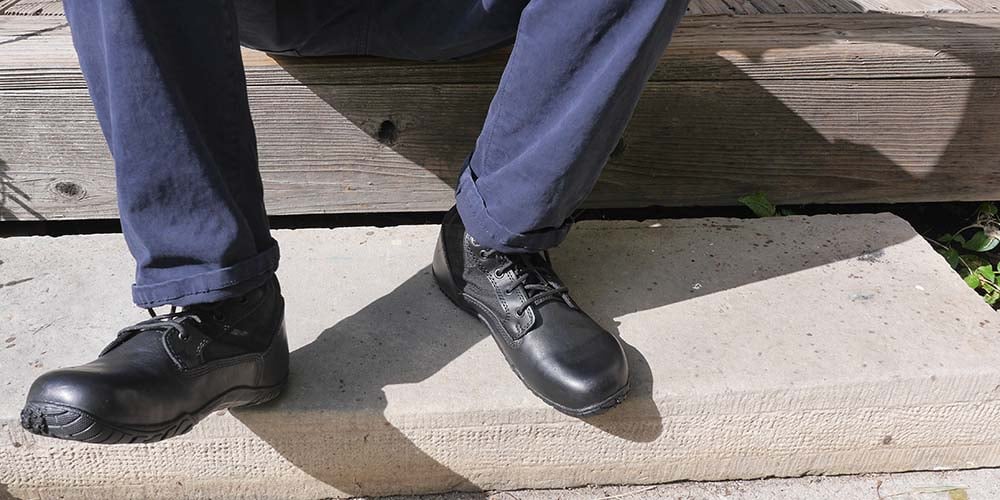 The testing period itself was kind of tough for me, because when I head out on photo shoots, hikes or other evaluation periods, it's usually several miles on my feet over several miles. I tried to stay true to Belleville's recommendation to take it slow, and there were a few situations where I left them behind because of scale. This will be a challenge for a lot of users I bet, and I imagine people have overdone it, even without meaning to do so.
After a few weeks it did feel like I was settling into these boots, even if I honestly did miss a few daily sessions here and there. In my humble opinion (I'm not a first responder), I think there is definitely something to this concept, and I'm interested to see what a full transition to a 2mm heel would be like. For those that need to avoid fatigue and injury in their daily work, this boot is absolutely worth investigating.
Determination
Will the Belleville Tactical Research Minimalist Training Boot be the only duty boot in my arsenal? Probably not, but it's certainly the one I'm spending the most time with these days. There in lies another trick, you kind of need to pick one or the other style. Alternating back and forth after you've established a routine with the minimalist shoe might be jarring to your feet (sorry I can't weigh in on that concept much, just speculation).
I think we have to be realistic here, not everyone has the opportunity to switch out their boots a couple times a day to accommodate for the training period either. But if you can commit to it, and you're serious about good footwear and wear duty boots regularly, I 100% recommend you try this training boot. It could change the way you buy footwear for years to come, and minimizing future injuries is well worth giving it a shot. The Mini-Mil training boot retails for $139.99, so it's not a huge hit as far as boots go. Give it a shot, and if you have more detailed questions on anatomy and minimalist boots, I absolutely recommend contacting the folks at Belleville for more info.