By Tony Martins
Back in the day, the typical "early season" hunting outfit was a pair of blue jeans and a camouflage t-shirt. As seasons progressed and temperatures cooled, a flannel shirt and finally a jacket were added. Adaptation of technology and design specialization in the clothing market, along with development of new camouflage patterns, has changed all that. This past summer and now into early fall, my hunting outfit has been a set of brand new high-tech, camouflage, Performance Apparel from Eberlestock.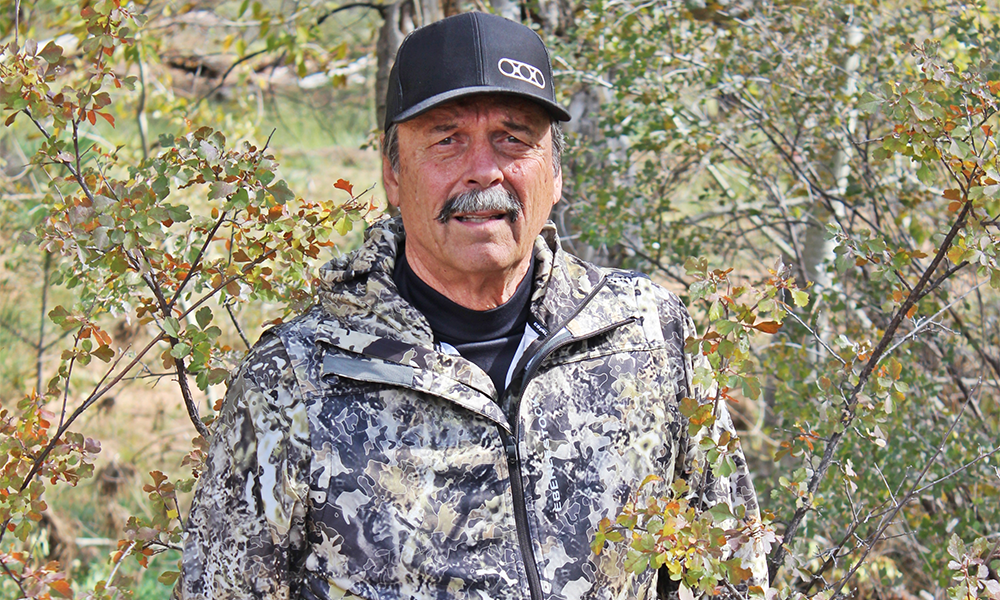 Eberlestock introduced their new illusionary Doppelganger camo pattern at the 2017 SHOT Show, reported by blog editor, David Link. This pattern uses high-tech imagery and works by forcing eyes to focus on one layer among many in the pattern – some are sharp, and some appear to be out of focus. In fact, some cameras have difficulty producing clear images of the pattern in auto-focus mode! It wasn't long before I had an Eberlestock F1 Mainframe ultra-light pack and accessories in this amazing new pattern, which I reviewed for this blog late last year. In January 2018, two new variations of the Doppelganger pattern were introduced at SHOT: Mountain and Skye. Prototype garments were displayed, and CEO Glen Eberle revealed they were working on a clothing line to rival market leaders Sitka and Kuiu!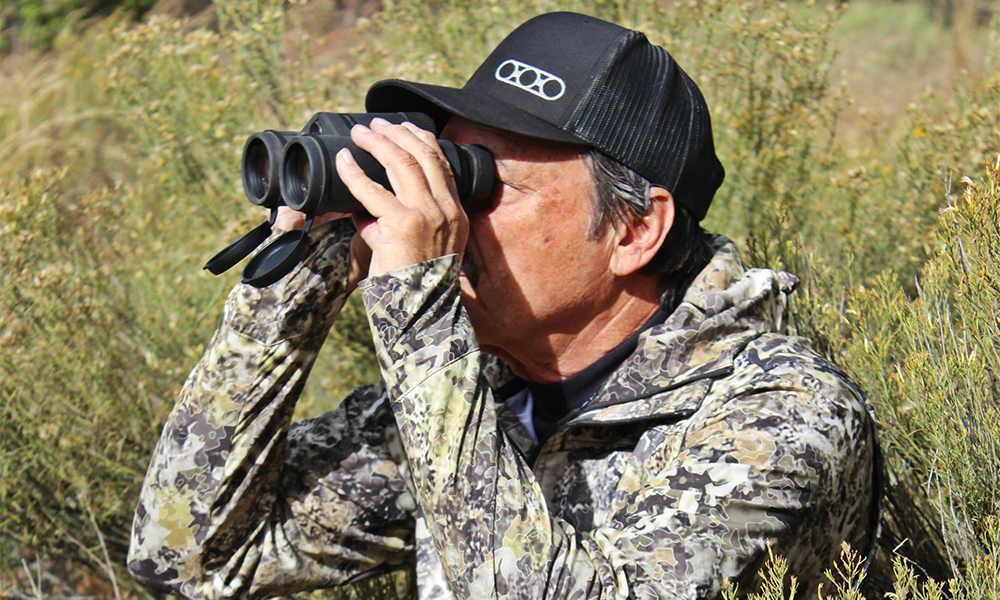 Fast forward to August 2018, and the long awaited set of Eberlestock Performance Apparel in the Skye camo pattern arrived. The outfit included a Bruneau SPF Hoodie, Afterburner Pants, and Bennett Mountain Vest. A Cache Peak Jacket was added when summer turned into fall. The first thing I noticed about the high-tech polyester material was its super-light weight, followed quickly by the perfect fit of each garment in my usual size. The outfit was thoroughly field-tested during an early season archery pronghorn hunt, and elk hunts that followed. Worn over a silk base layer, I was comfortable in low-40's morning temperatures, and remained comfortable shedding the vest when afternoon temperatures climbed, topping out past 80-degrees – remarkable performance… Comfort? Honestly, this outfit feels like you're wearing pajamas! And, concealment? I was able to sneak within bow range of eagle-eyed pronghorn in groups of up to 30 animals on multiple occasions. Let's take a close look at the features and performance of each of these garments.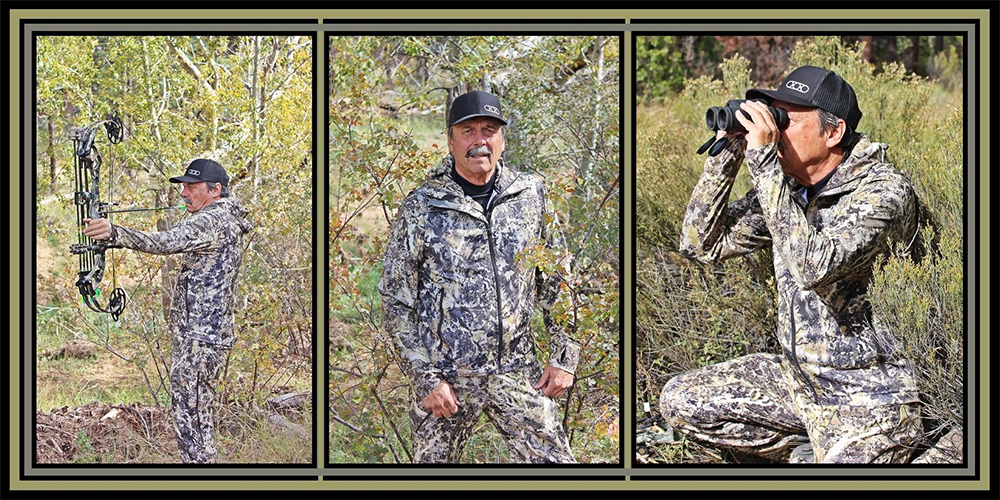 Bruneau SPF Hoodie
This could very well be the ultimate early season all-purpose shirt. Constructed of lightweight 4-way stretch polyester fabric, the Bruneau SPF Hoodie provides a Sun Protection Factor of 30+ as the name implies, for those bright/partly cloudy days afield. There is greater awareness concerning sun protection today, and for good reason. Hunters in the west often sit behind optics for hours in the sun, and all-day sits in treestands are common for whitetail hunters across the country. Extra protection from the sun is particularly important at higher elevations – where I live and hunt regularly – as the thinner atmosphere absorbs less of the potentially harmful ultraviolet radiation. The stretchable material facilitates movement – whether climbing in vertical terrain or swinging a shotgun on incoming teal – and affords a high level of comfort at the same time. In fact, I look forward to wearing the Bruneau Hoodie on my next fly-fishing outing, as it's perfectly suited for this activity. I suspect that Eberlestock may have considered the needs of active fishermen as well when designing this garment, as it is available in two non-camo, solid colors; Dry Earth and Phantom Grey.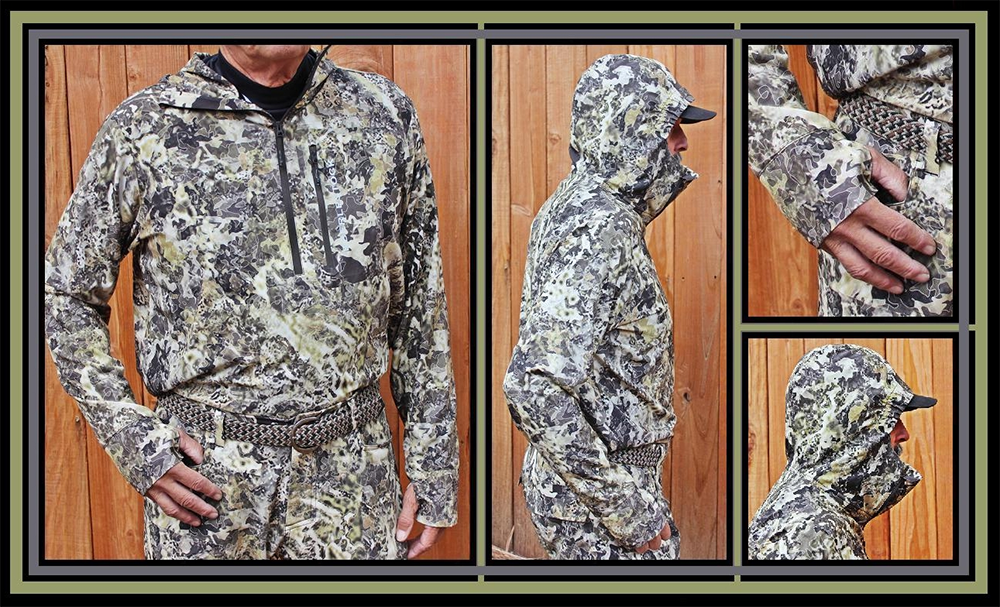 One feature I was skeptical about but have come to love is thumbholes in the long sleeves. These are simple slits in the fabric, in contrast to the small loops of soft cord used by other manufacturers for the same purpose – which is to prevent sleeves from riding up the arms during active movement. I anticipated some level of interference when handling a bow or shotgun, reaching in a pocket, or digging in a pack, but have experienced no such problems. Another nice feature is the fitted hood with half-face zipper. The hood is generously cut and easily accommodates most headgear, yet stays in place with minimal restrictions to lateral visibility. The zippered left-side chest pocket is large enough to hold a facemask, pair of gloves or package of field wipes, and even the new grossly oversized Arizona big game carcass tags! This is an excellent design, and exactly what you would expect from Eberlestock! MSRP = $139.00, and well worth the money in my opinion.
Afterburner Pants
According to Eberlestock, these pants were "designed to provide year-round performance." They are an engineering masterpiece, and after a full month of field-testing, I'm confident their objective was achieved! Like the Bruneau Hoodie, Afterburners are made from 4-way stretch polyester, treated with a Durable Water Repellent (DWR) coating. These features proved their worth while crawling through dew-laden, foot-tall ground cover during my recent archery pronghorn hunt. I can personally attest that the high-tech material is durable and dries quickly, after twice being caught in a Monsoon downpour. Twelve days of extensive hiking, and hours of stalking, crawling into position and squatting behind low cover, brought great appreciation for the freedom of movement afforded, and "close riding, athletic fit" of these pants. Knees are constructed with "motion-bias" which truly facilitates climbing, as well as the spot-and-stalk bowhunter's nemesis… crawling! The "gusseted" crotch design provides comfort and adds durability, and a tapered cuff effectively keeps debris like rocks and dirt – and even snow – out of your boots.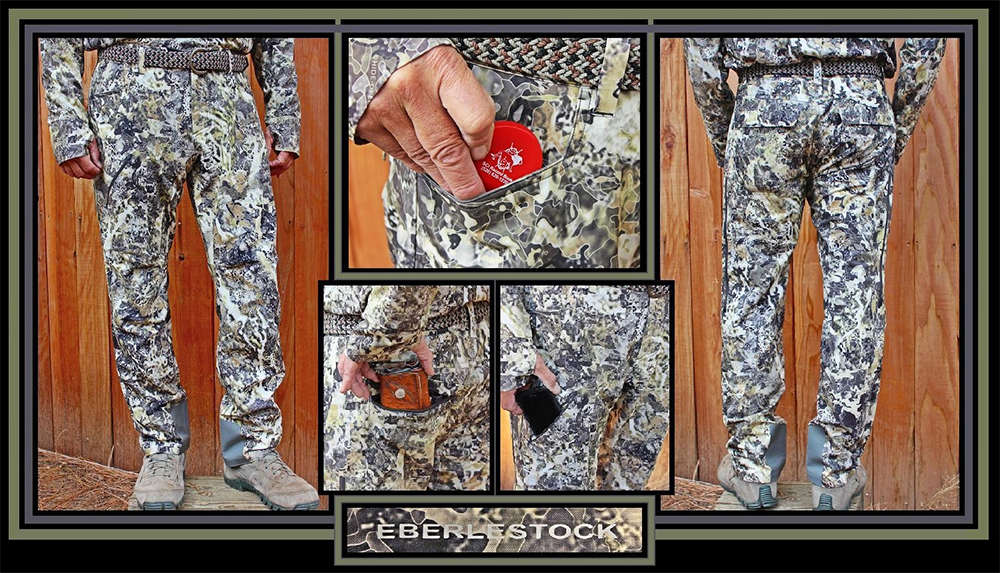 One feature I particularly like is the front pocket design. They are deep and ergonomically designed to keep items from falling out with a horizontally cut opening. Trust me, there's nothing worse than having to retrace movement in the wild to locate lost truck keys! Dual cargo pockets ride the right thigh, one vertical and one angled, perfect for keeping your cell phone and/or GPS at hand. Other features include large Speed Vents with fine mesh "bug screens" that zip upward along the hamstrings. These are a great source of ventilation as the temperature warms, particularly while climbing, and facilitate the year-round functionality of these pants. Belt loops are generous, and hip pockets are zippered and topped with overlapping flaps for security. And, "skid-plates" that resist muddy build-up are incorporated into the pant leg cuffs for added durability. The modern design, comfort and functionality make these pants highly suitable for everyday use. Afterburner Pants are also available in the solid Dry Earth and Phantom Grey colors, as well as Skye and Mountain camo patterns, in regular and long. MSRP = $169.00.
Bennett Mountain Vest
It's no secret that I love vests. They allow arms to move freely while warming the core – two things that are paramount in most outdoors activities. The Bennet Mountain Vest is an ultralight fleece garment that is perfect for those cool early season mornings when you need just a little more insulation than a shirt will provide. I wore mine every morning of my recent pronghorn hunt. As the temperature warmed midday, the vest was folded into a tight little package that was easily stowed away in my pack for later use. The 4-way stretch outer material is fortified with a lightweight fleece inside that provides just enough warmth for early season outings. Cut to wear over the first and second layers, with a "close-to-the-body" feel, this vest will also work comfortably as a third layer under a jacket during later seasons when the temperature drops.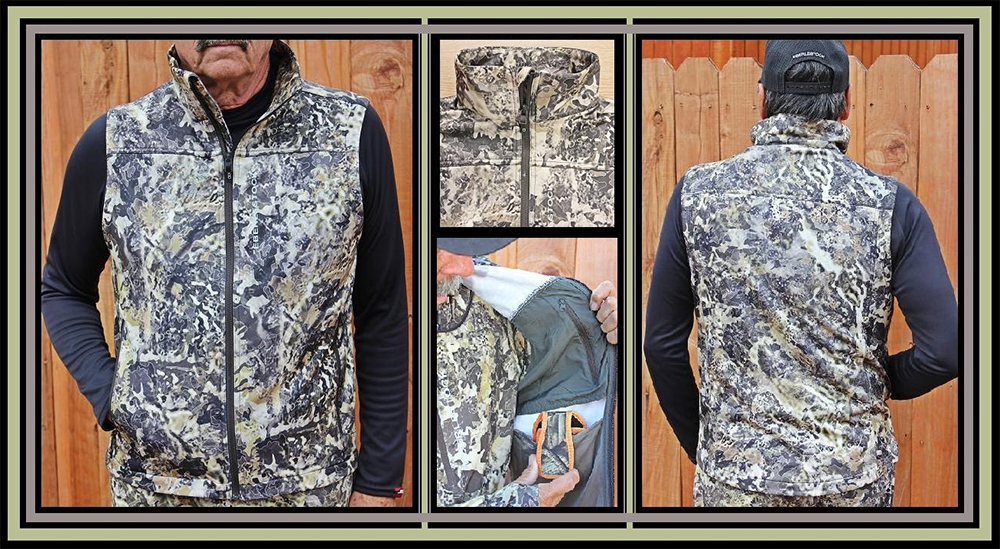 Lots of attention to detail went into the Bennet Mountain Vest. For example, there's a little flap of material at the top of the full-length zipper to shield the zipper from contact with items worn around the neck. And, a tiny rubberized pull-tab facilitates locating and operating the zipper. Other features include two large open-top flank pockets inside, two zippered hand-warmer pockets outside, and another zippered pocket with partial unzip access positioned inside left breast. The 3-inch stand-up or fold-down collar warms and cools, as needed. Available in both camo patterns as well as solid Phantom Grey, MSRP = $129.00.
Cache Peak Jacket
A late but welcome addition to my early season outfit – arriving soon after a surprise snowstorm blanketed our mountain the first week in October – is the Cache Peak Jacket. With a high-pile fleece interior and excellent warmth-to-weight ratio, this jacket was designed to keep you warm without weighing you down. It's ergonomic cut and 4-way stretch outer soft-shell allows full freedom of movement, and unlike other fleece jackets, the Cache Peak features a proprietary, water-resistant membrane. This is an excellent all-purpose jacket, with clean lines and a full-length zipper to facilitate layering. [Note: I would recommend ordering this jacket one size larger than normal for layering.] And, like all Eberlestock Performance Apparel, it's durable yet remarkably light in weight. The Cache Peak Jacket – the lightest of 3 new Eberlestock jackets – is available in all four colors, camo and solid. MSRP = $189.00.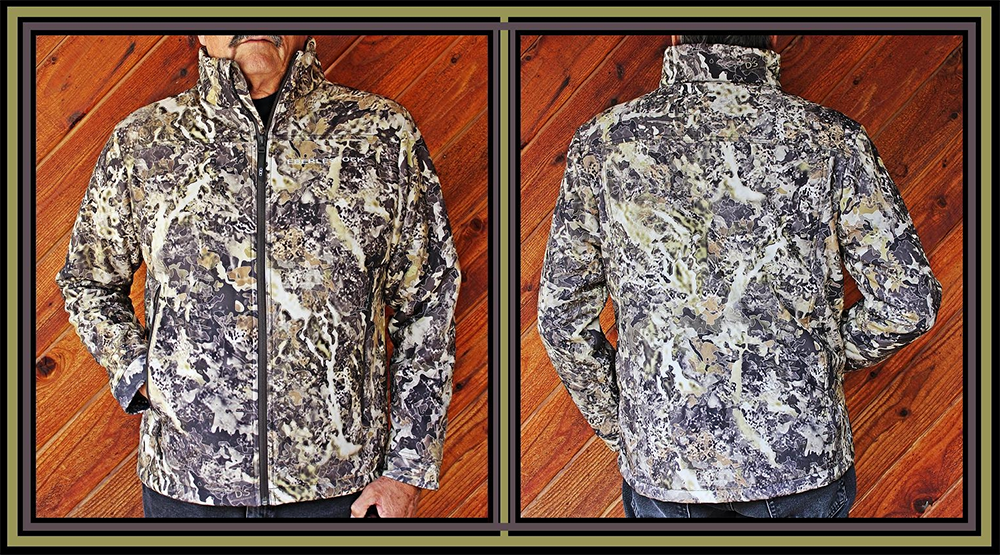 Long known for innovative and highly functional designs, hours of testing, evaluation and alteration have gone into producing the new line of Eberlestock Performance Apparel. It's been my great pleasure to field-test some items from the new clothing line. Eberlestock is unquestionably serious in their stated quest to design and construct "the most advanced hunting clothing on the planet." I will venture out on a limb – albeit a pretty solid one – to predict that they will be highly successful.