As a life long outdoorsman, I have had the good fortune to enjoy hunting and fishing for almost four decades now. Since I was 4 years old, my dad, Rick Swanson and Grandpa, Charlie Swanson had me catching fish for dinner, camping, hiking and joining them on some very memorable hunts. As with any sport, hunting requires quality equipment to be successful, such as effective camouflage that will break up your silhouette and of course, an accurate and reliable firearm from a trusted manufacturer to ensure a fair and humane kill. Over the years I have had the opportunity to test out a wide range of equipment both for personal use and professional reviews. Some worked very well, some not so much.

Two items I have come to regularly rely on in addition to my camo and trusty Ruger firearms have been the Vortex Optics Ranger Laser Rangefinder and the Vortex Optics Viper HD 10×42 Binoculars. Like all their products, the glass quality, performance and awesome lifetime, no fault warranty have been the key reasons why I keep coming back for more Vortex Optics products for my outdoor adventures. Unfortunately, as any hunter will tell you, the more equipment you carry, the heavier it gets; fast! As previously listed, a typical deer hunt consists of four items before adding hunting boots, a good knife for field dressing game, game tags, gloves, a flash light, keys, wallet, GPS, four leaf clover or anything else the average hunter would choose. Sometimes compromises and sacrifices simply must be made.
A few months ago, I discovered the Vortex Optics Fury HD Laser Rangefinder Binoculars. This product combines two key components of my hunting gear, quality binoculars with an effective, easy to use long range rangefinder. With a pending alligator hunt at the time as well as the start of deer season just around the corner, I couldn't wait to try the Fury HD out as soon as possible.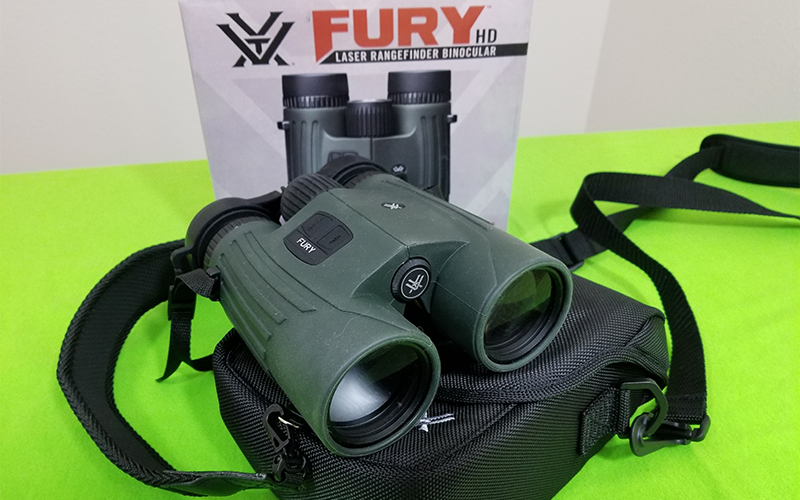 First Impressions
As I unboxed the binoculars from the detailed Vortex package, I was taken back by how compact the unit was in size. Like my Viper HD binoculars, this unit featured a fixed 10x power with 42mm lenses and despite also being a range finder, it was relatively the same size as the Viper HD. Overall dimensions were 5.5" by 5.9" with a total weight of 32.8 oz. I would say the difference between my old binoculars and the new unit was less than a half inch in width or length. I did however, notice a slight difference in weight. The Fury HD was roughly 8 oz heavier than my Viper HD binoculars due to the rangefinder hardware. During in the field use, naturally I am preoccupied by my environment rather than focusing on the equipment. I can't say the weight was noticeable until after an extended amount of time using them.
I also noticed how impressively clear the lenses were due to the High-Density, extra-low Dispersion (ED) glass used in the Fury HD. The unit is listed as being nitrogen purged to ensure being both waterproof and fog-proof. These are two highly important features in the regularly wet and highly humid hunting environments in Florida. According to Vortex's press release on the Fury's multicoated lenses, the proprietary XR coatings allow for maximum light transmission. The high resolution and true color gained from viewing through the Fury HD unit is due to the prism-specific dielectric phase correction coatings additionally applied to the lenses. So, what does this mean for the average shooter who doesn't have a mechanical engineering degree from MIT? The Fury HD laser rangefinder binoculars are built to allow a hunter to glass for game earlier in the mornings and later in the evenings using less available light. They are able to detect better color and details during those times better than lesser quality units.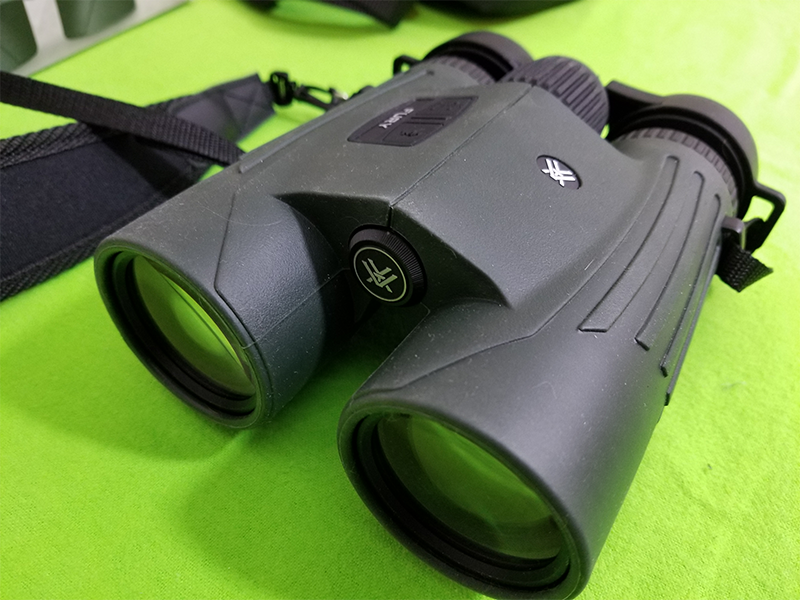 There are two top mounted buttons on the right-side barrel for ranging and cycling through the menu with one hand. With the quick press of the buttons, I could cycle from three brightness settings for the red LED display and select three different modes: Line of Sight (LOS) for direct ranging, Horizontal Component Distance (HCD) to get angle compensated distances if you want to know how much to holdover, and SCAN for constant range updates as you glass the horizon. The distance is measured in either yards or meters depending on preference. Effective range of the laser range finder is listed by Vortex as 10 – 1600 yards on hard targets and 10 – 1000 yards on soft targets such as deer.
In addition to the actual unit, a CR2 lithium battery, an instruction booklet, lens cloth, carrying case and rubber lens covers are also included. The rubber ocular lens covers clipped to the carry strap and are easy to quickly cover the eye pieces when the wind kicked up dust or a flask rain storm appears. While the carrying case ended up being great for storage and keeping all the accessories together, I found the unit alone with its neck strap were all I used in the field regularly.
SPECS
Magnification 10 x

Objective Lens Diameter 42 mm

Eye Relief 16 mm

Exit Pupil 4.2 mm

Linear Field of View 314.4-6 feet/1000 yards

Close Focus 20 feet

Interpupillary Distance 54-69 mm

Height 5.75 inches

Width 5.9 inches

Weight 31.8 ounces

Power Source CR 2 Lithium battery

MSRP $1599
Field Testing
Aside from glassing around my home when I received the Fury HD, the first real field test for the binoculars would be during a weekend alligator hunt on Lake George located in central Florida hosted by the great folks at BullGator Outfitters, the creators of the highly effective BullGator camo. The owner, Tom Martin invited my father, Rick Swanson, my brother, Scot Grove and me for an intense 2-day, three hunt adventure. These hunts consisted of two early mornings attempting to catch the alligators still in deep water before returning to land and one evening hunt that ran well into the night trying to catch the alligators as they ventured back to the deep water for feeding.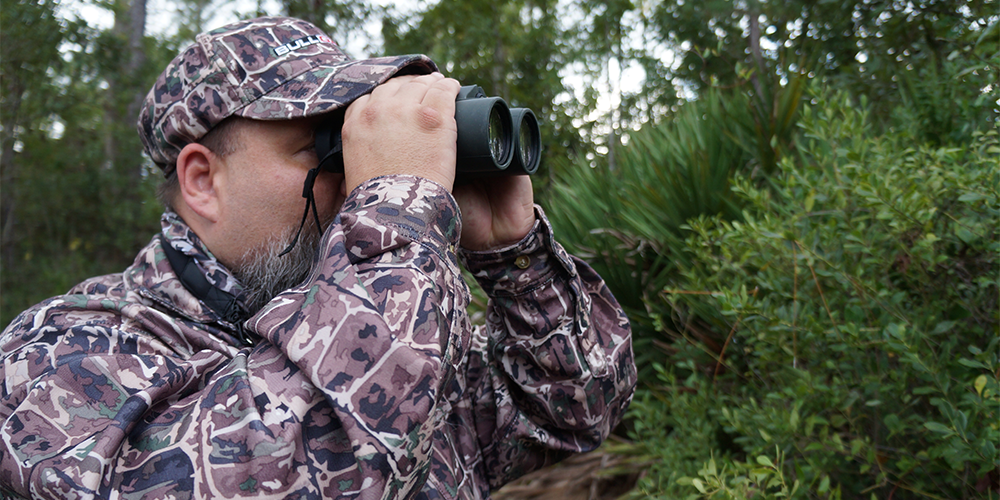 Most of the hunt was spent in low light while trying to spot the alligator's head protruding from the water line. Once spotted, we tried to hook the gator with large treble hooks on a rod and reel to wear him down in order to harpoon and later finish the beast off with a pistol cartridge equipped device known as a "bang stick." Needless to say, the ability to clearly see small portions of alligators on a large lake is crucial.

Steven, the captain of the 25 foot boat, worked up and down the lake in the deep channels as we spotted back towards the shore. Using the rangefinder function, I could estimate an average distance of around 500 yards off shore as we worked the lake. From the known distance, I could estimate what percentage the alligator may be between shore and the boat and get a rough idea of where to mark his location when he decided to go underwater. I was very impressed when, despite rocking back and forth on the boat in choppy water, the rangefinder was able to reflect signal off a couple of larger alligators to give us an exact distance out from the boat. I was not entirely expecting those sorts of results, but I gladly took it!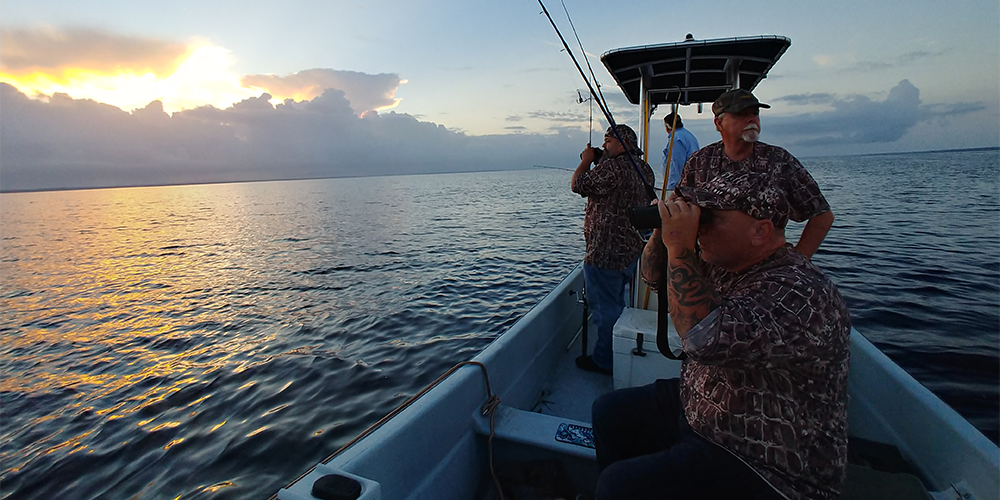 Through a brief rain storm and the water spray from the boat, the Fury HD was exposed to a good amount of moisture but functioned as it should. The LED display was easy to read on the middle setting, even when the sun was in full light. I did not notice as much glare coming from the water looking through the Vortex binoculars as other models we were using. Over those two days hunting, I learned a lot about how to get the most from the Fury HD binoculars such as dialing in the eye cups to work with and without my sunglasses. To use the Fury HD with my shades, I simply turned the cups inside out to shorten them. The Fury HD offered twist adjustments to bring the rubber protective rings rearward towards the eyes while still maintaining full protection of the lenses. These adjustments were relatively stiff, which I appreciated, because I did not have to worry about accidently knocking them out of adjustment from pressing my face too hard into the eye pieces.
Once I returned home from chasing modern day dinosaurs, I was eager to test out the other features the Fury HD had to offer such as the built-in angle compensator (HCD) for ranging targets. With Florida being relatively flat in terrain, I opted for a tree stand and ranged objects from 20 to 100 yards. The compensator mode automatically adjusts for standard drop due to angle and reads what range to adjust to in real time. In high angle shooting in places like Arizona and Utah, long range shots can be off as much as two feet due to angle. When this feature isn't needed, simply switching to Line of Sight (LOS) mode puts you back to receiving true distance information with the press of a button.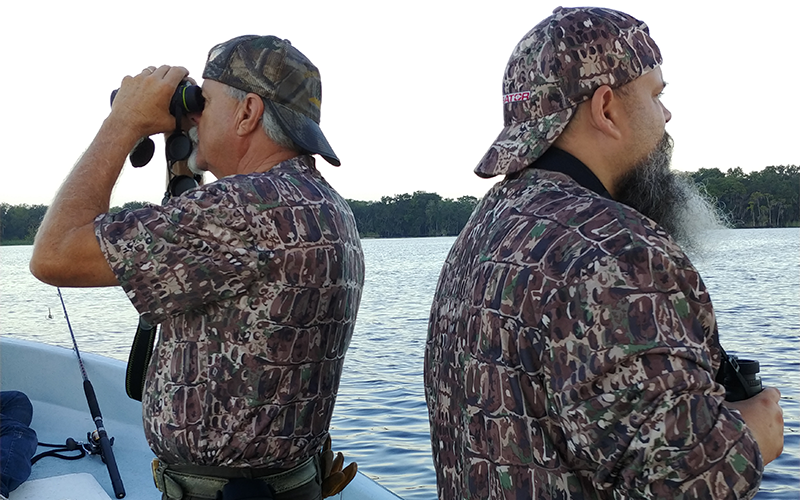 Perhaps my favorite mode is the SCAN feature. By holding down the range button and glassing the area, I received constant range updates. Even at longer distances, the color and detail was very impressive for a 10×42 binocular. Just as impressive was the feedback time. Returning data was noticeably fast on engaging the range button and receiving a reading. I would estimate the lag time to be roughly half that of my Vortex Ranger. The following couple weeks were more of the same with great results.
Final Thoughts
All too often most "combination" products have the same downfall, they are either too big or too small to reliably do the job it's intended for. Usually to fit two products into one, sacrifices in quality are made or the price point becomes too high. The best example of this would be a $300 Swiss Army knife. With the Vortex Fury HD, this simply isn't the case. While the binocular aspect of the Fury HD is on par with my mid to low $600 range Vortex Viper HD unit, the laser rangefinder portion FAR excels my $449 Vortex Ranger.
With an MSRP of $1599, the Vortex Fury HD isn't a simple purchase, its an investment in your success in the field. When I add up what I spent on my previous rangefinder and binoculars, both by Vortex, I would be in the ball park of what the Fury HD would run. A trade up to the Fury HD also offers benefits like increased ranging distance. The fact I can now see what I am ranging at a crystal clear 10x magnification is awesome!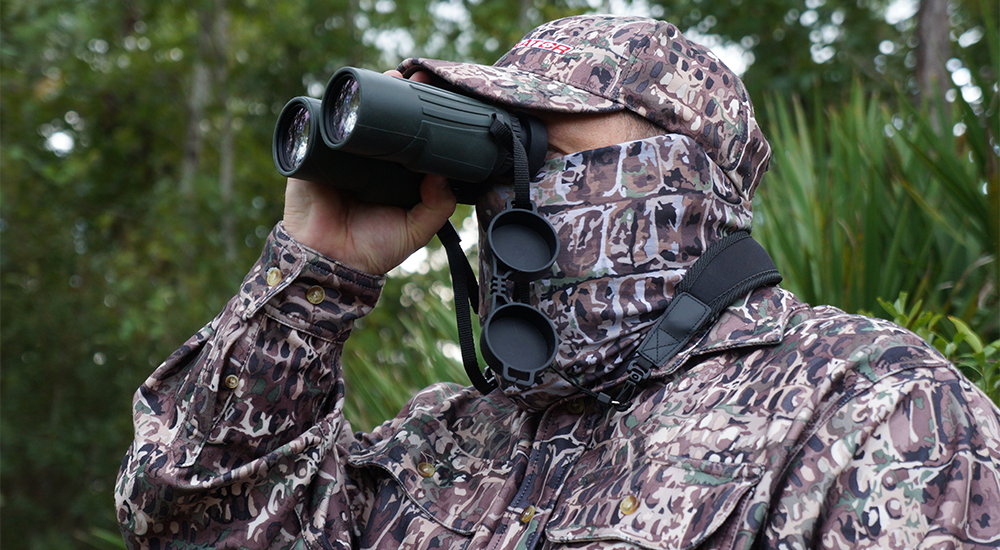 The addition of a Vortex Tripod Adaptor for the Fury HD is a worthy upgrade to get more stable holds at the rifle range or in a ground blind. I found the laser rangefinder to be spot on even in unstable conditions such as rocking back and forth in a boat. I could even get range estimations based off an alligator's head as he swam across the lake. Everything about the test unit seemed to impress me from the clarity of the glass to how much detail I could see at distances of 300 – 400 yards as the sun was just beginning to break the horizon over the lake.
Overall, I really enjoyed the time spent with the Vortex Fury HD in the field. The added weight of the combo unit did show its affect after four hours of carrying the unit around my neck suspended by its carry strap. A good quality chest harness will be a much-appreciated addition for any serious user. If you are looking to condense gear or just looking for a solid performing laser rangefinder / binocular combo, I highly recommend the Vortex Fury HD. I would pack this unit with confidence on any North American big game hunt planned as well as any future long-range shooting classes I teach.