By David Link
This year marked the 40th anniversary of SHOT Show, the largest industry convention centered around firearms, ammunition and outdoor gear. From the first SHOT Show in St. Louis to the now established home of the show in Las Vegas, the convention has showcased countless developments in the firearms and gear industries over the years. Many of the most established brands in the industry have showcased their products at all 40 shows, which is quite a feat in itself. The show isn't open to the general public, but we've got extended coverage of all the newest products for 2018 this week and early next week.
Sitka Gear Waterfowl Waders
Once again Sitka Gear was one of the most popular booths at the show, which is really saying something at a convention dominated by firearm and ammunition brands. Often it was so busy in their booth you could hardly move around without bumping into someone else. This year Sitka had several new products on display including a new ESW (early season whitetail) line in the Elevated II pattern and a new Training, Travel and Workwear line. The Workwear line is especially appealing as it brings renown Sitka functionality to a casual wear line, so you can enjoy their apparel on off days as well. The Workwear line, as opposed to the existing logo line, is only lightly adorned with the Sitka Gear logo.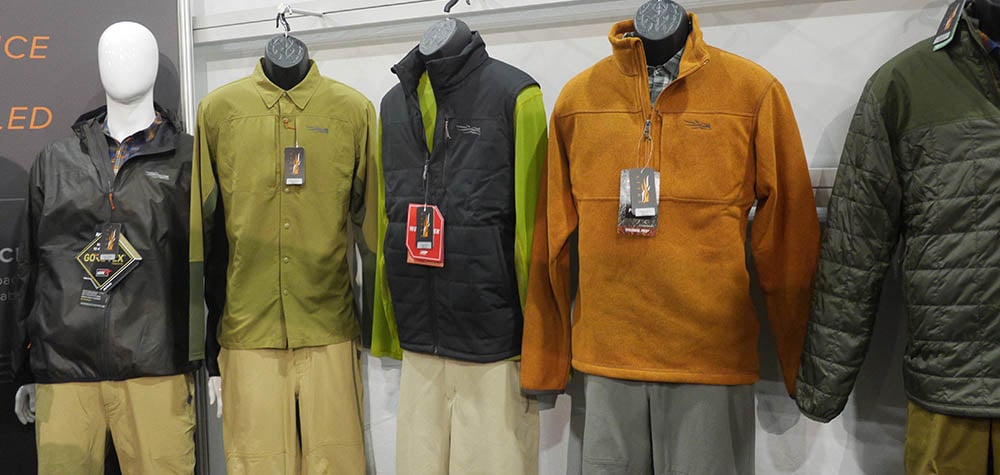 However the official Sitka Gear announcement at SHOT was Delta Waders in Marsh and Timber patterns. These dedicated chest-high waders are one solid piece waders and boots, and they're available in both of Sitka's popular GORE Optifade waterfowl patterns. Now waterfowl hunters can hunt in standing water and retrieve ducks and decoys without having to remove the Sitka Waterfowl patterns that they rely on morning after morning. The Sitka Delta Wader comes in zip and solid construction varieties depending on your preference and environment. They do require a bit of an investment at $849-$949 MSRP, but like anything else Sitka makes, they'll last for years to come and are worth the investment.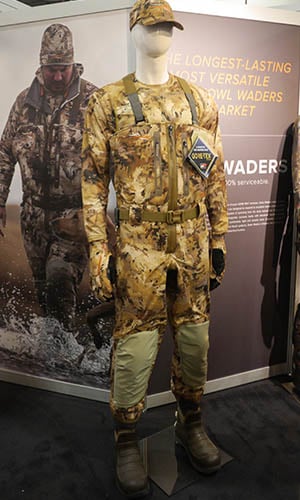 Leupold VX Freedom
While there are plenty of optics companies on my list, Leupold is my favorite place to start given their legacy of crafting each and every riflescope right here in the US. All you need to do is witness an American craftsman machining a Leupold scope tube and you'll get a sense for just how well built their riflescopes are. Leupold had several exciting new products on the SHOT floor including HD versions of their popular thermal scouting devices (LTO Tracker HD and LTO Quest HD) and a complete new line of powerful rangefinders. It would be easy to list the Leupold Mark 5 riflescope as the top product for 2018, and it is another pinnacle of riflescope design, but the new Leupold VX Freedom has the potential to make just as big of an impact for the brand.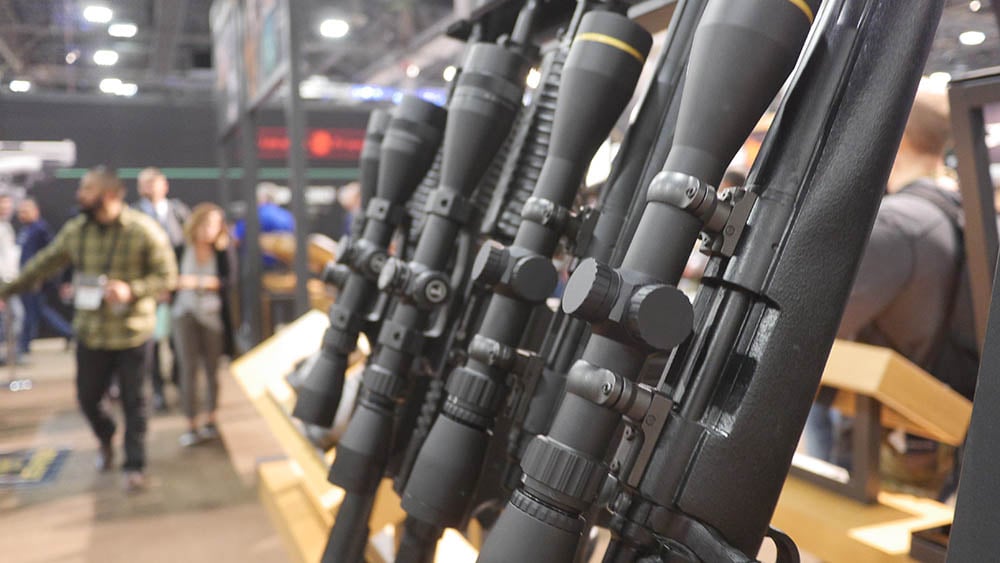 The VX Freedom is the culmination of everything Leupold designers have learned from their VX-1 and VX-2 lines, and it now features the renown Leupold Twilight Max Light Management System. Starting at just below $200, the VX Freedom is the perfect entry point for new hunters and shooters who desire the Golden Ring quality of Leupold but aren't quite ready for a more advanced VX-5HD or VX-6HD scope.
Kestrel 5700 Ballistics Weather Meter
Over the past couple years, Kestrel has made great strides to become the premier weather meter and ballistic calculator combo on the market, and serious shooters have paid attention. Now everyone from military personnel to casual long range shooters trust Kestrel as their go-to device. The one problem with Kestrel has been the overwhelming complexity of their ballistic devices. Now I'm not saying this is a bad thing, complexity is good and you get extreme value when you invest in a Kestrel device. However if you don't have hours to learn about and test a Kestrel Ballistics Meter, operating one can seem a bit intimidating.
This year Kestrel has addressed this by releasing the 5700 Ballistics Weather Meter (as opposed to the more advanced 5700 Elite With Applied Ballistics Weather Meter). The new 5700 has a little less of the more advanced features in the Elite series, but it comes at a more affordable price point ($399) and it has a new mode that uninitiated shooters will love. The new Easy Mode allows first time users to get accustomed to the device without too much research before use. As new users begin to explore the device with Easy Mode, more custom uses will be easier to do long term. Of course the more advanced 5700 Elite meter is still available for those that want every top tier calculation available for their needs.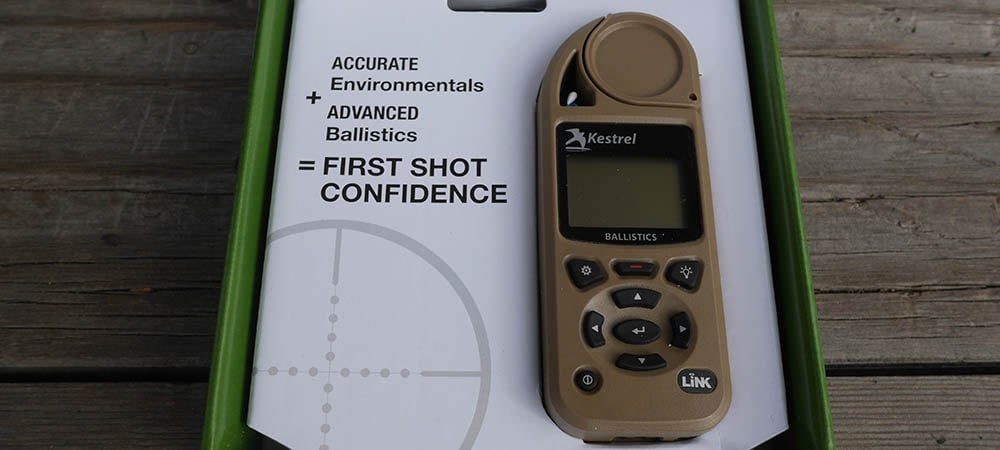 Nikon
Nikon has always provided top tier glass in their sport optics alongside innovative designs, and these facts keep hunters and shooters of every level coming back again and again. This year Nikon has a lot to offer in 2018 including a complete redesign of their popular P-223 and M-223 series (now called the M-Tactical and P-Tactical) and brand new red dot sights in the Spur Reflex Sight and SuperDot Red Dot Sight (SuperDot coming later this year). But the two products I want to highlight are true game changers in the Nikon product line.
Last year the Black Series riflescopes were a big hit on the consumer market, and Nikon has added a true match-grade FFP (First Focal Plane) Riflescope to the already rich line. The Nikon Black FX1000 is a FFP variety of last year's popular SFP (Second Focal Plane) Black X1000 Riflescope, and it comes with specialized FX MOA and MRAD illuminated and non-illuminated reticles and a true Zero Stop feature not offered in the X1000. Starting at $649.95 MSRP, this is a whole lot of professional-level scope at a unheard of price point.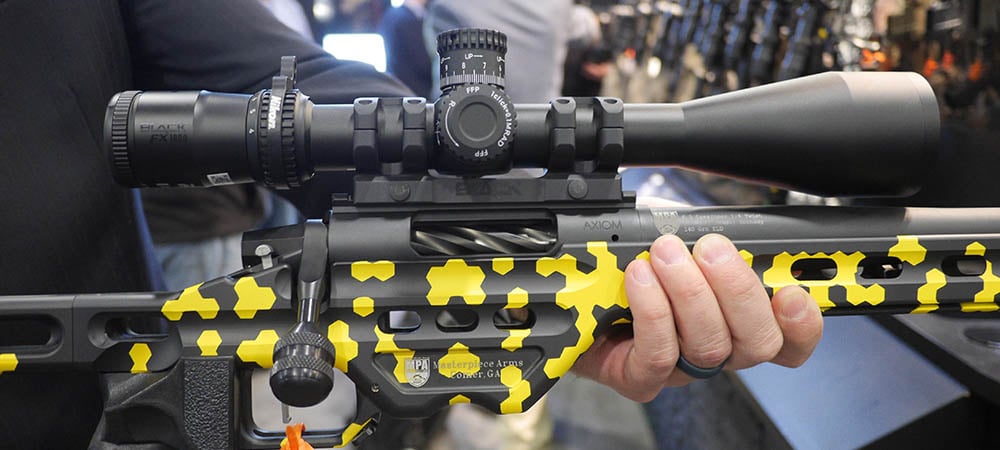 Last year Nikon's VR-7i Rangefinder was a best-seller and a big hit with users all around the globe…but wait, it is already discontinued this year?! That's because Nikon has upped their rangefinder game again with the new Monarch 3000 Stabilized Rangefinder. This version improves upon the VR-7i in every way with increased ranging distance (now 3000 yds. on reflective targets), a faster ranging computer (0.3 second response), and innovative display features to keep you more informed in the field. Of course the biggest selling point is Nikon's patented image-stabilized technology, and those who have used this technology in the field know there is no going back to rangefinders without it once you've tried it. The price point is extremely friendly too at just $419.95 MSRP.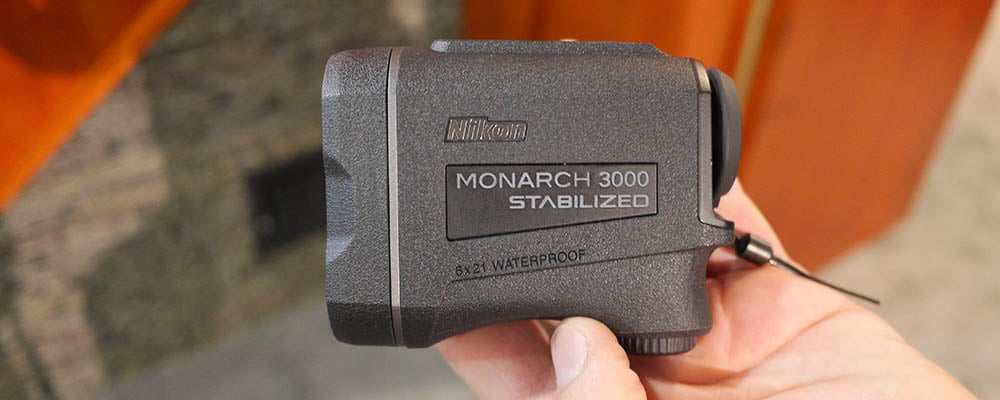 Vortex
It never a complete SHOT Show without a stop by the Vortex Optics booth, and this year they continue to build upon their tradition of offering new and unique optics that wow new and established users alike. This year Vortex has a new spotting scope line in the Viper HD (I think for the price point Vortex absolutely kills it with their spotting scope designs), a new redesigned Crossfire Red Dot, a new crisp Razor HD Gen-II E 1-6×24 scope, and a new compact rangefinder line in the Ranger 1800 and 1300. Yet my favorite products came in the additions to the Strike Eagle Riflescope line and the new Kaibab HD high magnification binoculars.
One area where I've felt Vortex has always excelled is in the remarkable magnification range of some of their riflescopes. This year Vortex has added 3-18×44 and 4-24×50 riflescopes to the existing 1-6×24 and 1-8×24 Strike Eagle scope line. These Strike Eagle scopes are already known for their durable yet lightweight design and premium performance without an extreme pricepoint, and now shooters can enter the medium to long range market with these wide range of magnification scopes.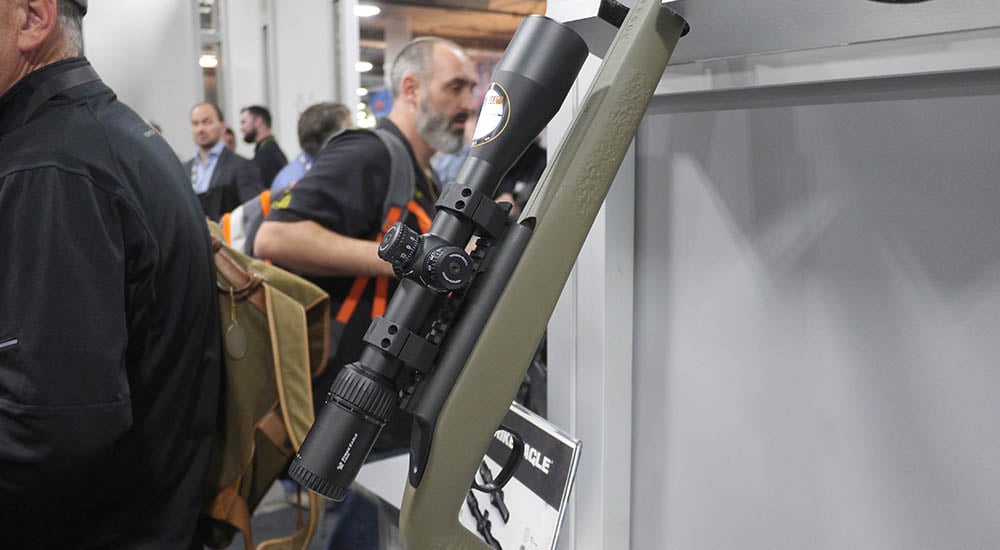 In a somewhat down year for new binocular designs with most manufacturers, Vortex has rolled out something new and unique in their collection. The Kaibab HD Binocular is a true western hunting binocular with eye popping 18×56 specs. While some users simply scoff at the idea of an 18x binocular, something really shines when you pick up a pair of Kaibab HDs – they don't feel like huge, overweight scouting binoculars. The Kaibab is still designed to be used with a lightweight Vortex tripod in the field, but as far as the western scouting binocular design goes, these don't feel as cumbersome as their counterparts in other brands. Of course a nice bonus comes in the crisp, clear optics inside the binocular. Personally I can't wait to try these in the Rockies later this year.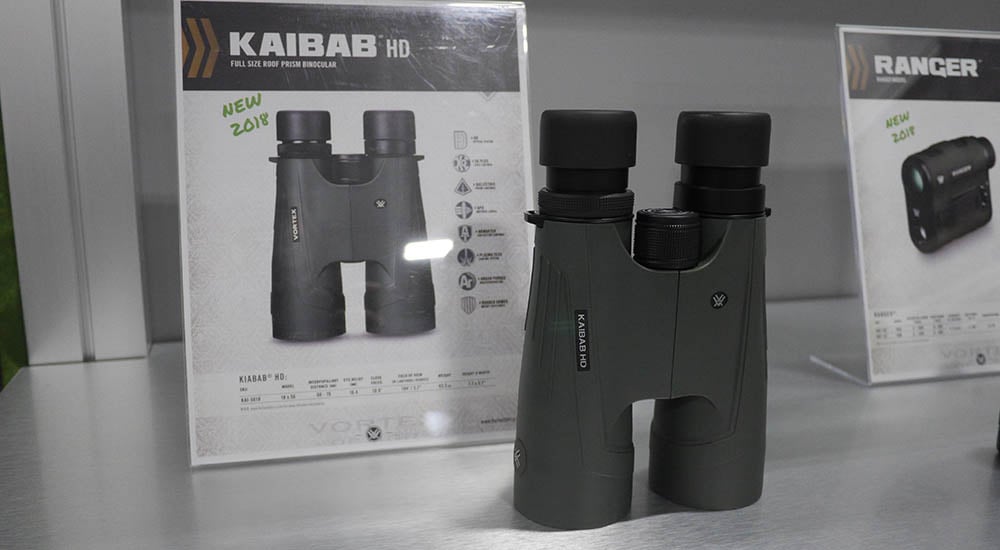 Steiner
Steiner's reputation as a premier optics brand precedes the company, and this year their 2018 line doesn't disappoint. The majority of their products are either manufactured in state of the art German factories or built by American laborers in their Greeley, CO plant. There's a lot to like in the 2018 line, including new crisp and clear Shadowquest 10×56 binoculars and a H4Xi Riflescope line with light transmission rated up to an astonishing 96%. Speaking of Kestrel, Steiner has also produced a dedicated bluetooth adaptor for the 5700 series that works with the Steiner M830r LRF. However my favorites for the show come in at a remarkable price point for the performance you're getting with the Steiner name on the side of the optic.
First, the ultra-compact Steiner MM1025 10×25 porro prism binocular is definitely appealing for users of all varieties. This easy to handle binocular is so tough a tank can run over it and it will still function, and it carries a remarkable $229.99 MSRP price tag. This binocular is perfect for hunters or hikers that want to keep their gear light but need 10x scouting ability wherever they go. Let me tell you these don't function like $200 binoculars, I would've guessed them at double the price.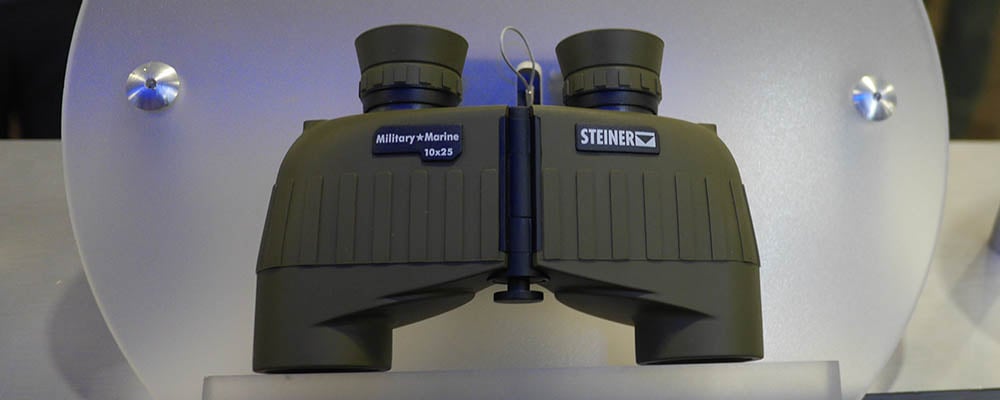 Another big highlight from Steiner in 2018 is the TOR Series weapon mounted light, laser and light and laser combos. These compact devices are machined completely from aircraft grade aluminum (as opposed to competitor models which may be part aluminum and part composite materials), and they look and feel tougher than your normal WML or laser. My personal favorite is the TOR Micro, a rugged yet tiny red or green laser sight that is easy to operate and takes up minimal space on your rail. You can expect the TOR Micro to work seamlessly with many popular holster brands as well. This is another score for the well-established German optics manufacturer.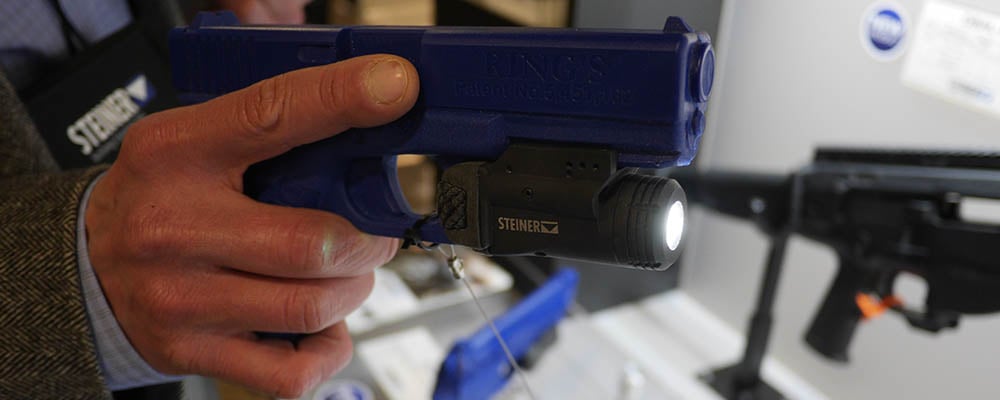 Still need more 2018 SHOT Coverage? We've got four more articles coming from top writers on our staff including tactical and hunting focused Best of SHOT Show articles. Stay tuned!