Last Updated on
In anticipation of a new season and more great memories to be made.
By Tony Martins
There is something really special about sitting in a marsh waiting for sunrise. The cartoonish daffy duck-like soft quack of the mallard drake looking for companionship, the boisterous reply of the mallard hen acknowledging then rejecting his invitation, the whistling calls of pintail and widgeon jockeying for position in the gray sky overhead while a gentle breeze rustles the cattails, the antics of the ruddy duck drake drumming his blue colored bill against his chest in a feathered version of the Tarzan display, the shudder and soft whimper from the Labrador retriever at your side anticipating the events to come this morning: These are some of the sights and sounds that are responsible for the seasonal addiction that is known as duck hunting.

As duck seasons are opening all across North America, duck hunters are preparing for the annual ritual. Some will break-in a new waterfowling shotgun, and there are many to choose from. Following are a few of the top guns – The Mossberg 930, the Remington Versa Max, the Benelli M2 Field, or their new Super Black Eagle II, and the Beretta A400 Xtreme are popular choices. All are deadly on waterfowl when matched with premium non-toxic loadings, like Browning's new BXD Waterfowl, Remington's HyperSonic Steel, Federal's Black Cloud, and Fiocchi's Speed Steel.
My personal shotgun choice for opening day continues a tradition that has spanned more than 50 years. Forsaking a gun safe full of newer, fancier models, I will almost certainly take the Remington 870 Wingmaster Magnum my father gifted to me on my 14th birthday. I have previously written some about this shotgun and other 870's for Gritr Sports in a 2-part series entitled: "The Guns of the Smoothbore Virtuoso" with exhibition shooter Patrick Flanigan. The balance of this photo-essay about ducks and duck dogs depicts some of my favorite waterfowl, and recounts a few highlights from my 25+ years of living and hunting with the Labrador retrievers produced at our kennel, Lakeside Quality Labradors. I hope you enjoy this as much as we have enjoyed making the memories shared here.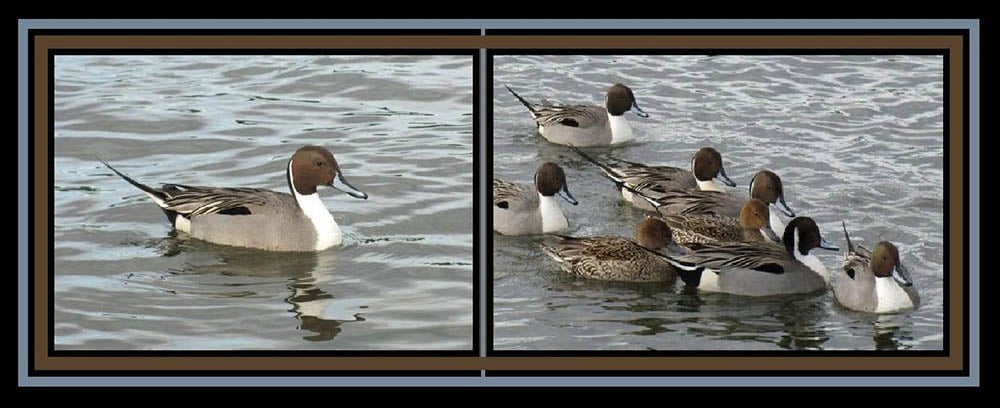 There are many reasons why the Labrador retriever is North America's most popular dog breed, and has been so for 20+ years! Their irresistible outgoing personalities, intelligence and eagerness to please make them great family dogs that are easy to train. Their versatility, born from athletic, muscular physique and strong work ethic, make them an excellent choice for the hunter who hunts any and all game species. Labs were developed in Newfoundland in the early 1700's to assist fishermen with hauling nets and retrieving fish that escaped them. Their skill in the water was later adapted to waterfowling by sportsmen as well as market hunters. Our foundation dog for my chocolate line, Georgia Brown, obviously had fishing abilities in her genes – in fact, she caught 5 striped bass to my 3 one morning, all by herself with no assistance, on our annual outing at Lake Mead in Nevada! Full of personality, Georgia was extremely social and usually the life of the party. She was all business in the field, however. A stylish upland dog and a fine waterfowl retriever as well, she absolutely loved the water and would literally swim for hours on end when not restrained from doing so.

Labs do some pretty amazing things, at home and in the field. I once shot 2 mallards passing the rim of a large, deep canyon – one dropped on top, but the other sailed away with the flock. I noticed it had trouble keeping up with the rapidly departing ducks, and my big, beautiful black lab Sassafras noticed too, racing down the steep canyon wall in pursuit of the wounded greenhead. My "come-back" whistles yielded no response, so after 20+ minutes I reluctantly followed. 500 yards down into the big canyon the dense willows that blanketed the bottom started to rustle, as Sassy approached fighting her way through the brush with "our" duck. Remarkable.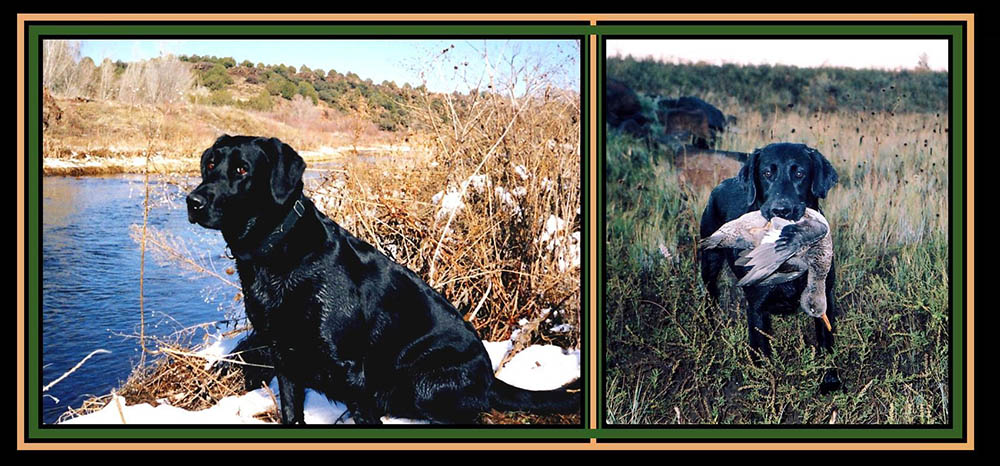 A good retriever makes any hunter look good, and our foundation yellow lab, Magnolia, did this often. Regular hunting partners typically enjoy insulting each other's shooting skills, and I have been known to participate in this prickly ritual. I once shot a mallard flying overhead from a stream-side blind that my two partners let pass as "too high." The green-headed drake flinched with the shot, but sailed off out of sight. I was certain I had hit the duck hard, and judging from her continual but ever-so-slight whimper of excitement, so was Magnolia. After 10 minutes of no further action – except for the constant needling and hee-hawing over my suspected miss – I sent Magnolia up the 30 foot cliff behind us to go look for the duck. The nasty tongue lashing continued. Another 15 merciless minutes passed, and then in a rare moment of silence, we heard a whimper overhead. There was Maggie, standing in a triumphant pose at the top of the cliff with my duck! That exhibition not only warmed my heart and touched my soul, but it also shut those two jokers up for the rest of the hunt! Magnolia's field exploits would easily fill a book, and someday I may write one in her honor. It was a privilege to know her. For 5000 days she faithfully served as this man's best friend.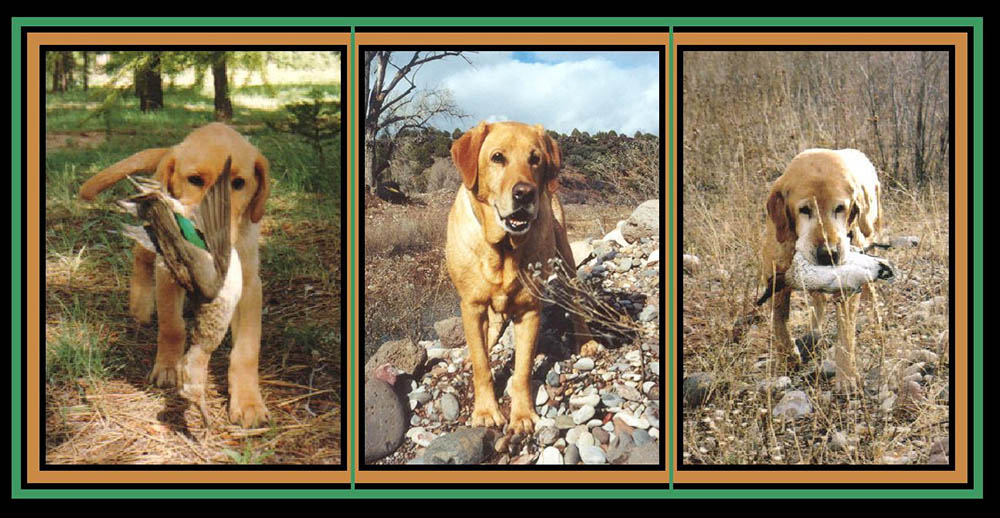 The American widgeon drake (below) is a striking bird, with a mask of green feathers around his eye and a white cap that runs from the crown of his head to his bill. This coloration gives this dabbling duck its other common name – baldpate. Strikingly agile in flight with a whistle that is easily identifiable; these ducks are primarily vegetarian and thus, make excellent table fare.

Not a duck – Canada geese (below) are North American natives. These remarkable birds can fly 3000 miles non-stop at altitudes up to 30,000 feet. They are monogamous, and most pairing couples remain mates for life. Waterfowlers delight in knocking these huge birds from the sky, but "Honkers" sometimes take revenge on aircraft, including the 2009 U.S. Airways flight #1549 that was forced to make an emergency splash landing in the Hudson River. The Tom Hanks movie about the incident "Sully" immortalized pilot and hero, Chesley Sullenberger.

Our beautiful Maybelle was the daughter of Sassafras and mother of our stunning black lab Emme (noted below). Although snow-white at birth her color darkened with age, and I hand delivered her, and her mother, and all of her puppies. A truly special dog, she was the smallest in our pack, yet maintained her role as the feisty alpha-dog throughout her 11-1/2 years. She was gentle as a lamb with humans and particularly children, but fiercely protective against perceived animal threats. Confident in her speed and agility, she fearlessly chased away coyotes and javelina that could have seriously injured her.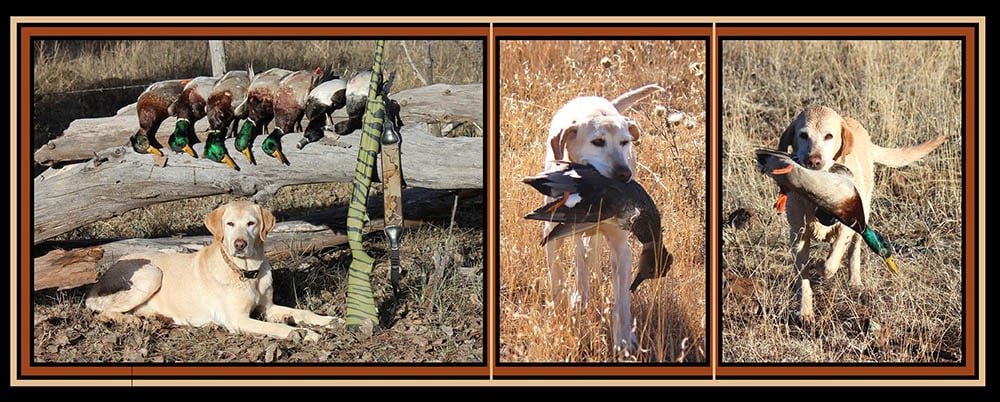 Everyone who meets our sweet Hattie Brown falls in love with her. In fact, customers visiting our auto service center and tire dealership in Eagar, Arizona are disappointed – sometimes even mad! – when Hattie is not there to greet them. She loves body contact, and I often find her lovingly leaning against customers in our waiting room, or sitting on their feet while they pet her. This great-granddaughter of Georgia Brown was born to please, and I honestly believe that she would try to fetch an ostrich if I sent her to do so. A proficient hunter and retriever, her only fault in the field is a high level of excitement that causes her to squeal in anticipation of imminent action. This has on occasion, alerted sharp-eared mallards and pintails to our presence and their immediate danger. Hunting partners lean toward annoyance when this happens, but they know that my love for Hattie is unconditional, and all is quickly forgiven.

We kept a little black female from the only litter that Maybelle produced, and she has matured into a large and stunningly beautiful field-type (also called "American-style") Labrador retriever, named Emme. But the "retriever" part was missing from this Labrador as a youngster. She was totally uninterested in retrieving anything. Neither dog toy, nor ball, nor training dummy (canvas or rubber, scented or not), nor bird wing – all the typical retriever training props – would rest on this young lab's lips for more than a split-second. Though frustrating, we were patient in knowing what was in her genes, and comfortable in our decision to not use "force" training methods.
Duck season opened when Emme was just 5 months old, and I decided to take her along on a stock pond jump-shooting outing. The first duck I shot was a ringneck drake, alone on a pond about 80 yards wide. When that duck splashed down the little black beauty standing dutifully at my side bolted for the water. She swam straight for the duck, grabbed it just as the backwash from her forceful strokes arrived, spun 180-degrees and swam directly back toward me. She did not pause to shake after exiting the cold water – instead, she trotted up the earthen dam and placed that duck in my outstretched hand! This was a remarkable impersonation of a seasoned duck retriever by a young, untrained and totally untested puppy. Since the light bulb switched on that day, Emme has become an excellent and enthusiastic retriever and bird hunter. She has matured at the age of 4 into the spitting image of her grandmother, Sassafras.

Without question, the current star of our kennel is Gracie Brown, our 5th generation chocolate, and daughter of Hattie Brown. At just 26 months of age, Gracie could maintain her top dog position for many years to come. On her first day hunting ducks she retrieved 5 greenwing teal, and expertly delivered each one to hand, at the age of 16 weeks. Even more remarkable; she did not see any of the tiny ducks fall. Each was located by their scent, in mid-thigh deep grass at the edge of a waterhole. The first four were dead but the last was wounded, and it sneaked away through the grass more than 50 yards from where it fell. My "Little Toot" found the trail quickly and followed her nose to the lively bird. About this time I realized that Gracie had never seen a live bird… but that didn't bother her. She loped through the tall grass on the retrieve, holding the teal in her mouth with just the right amount of pressure, while its wings flapped continuously. Despite the commotion, she presented her catch to me just as she had done with the previous four.

Gracie's first encounter with quail was equally amazing. While driving down a rocky two-track into a big canyon, I spotted some Gambel's quail milling around far below. After unloading Hattie and Gracie and loading my shotgun, we made our way down the slope toward the quail. The dogs were on the scent quickly, but the running birds flushed wildly out of range as Gambel's often do. Several flew back up the canyon slope and appeared to land a hundred yards or so above my truck. After fifteen minutes of climbing, two birds flushed just in front of the hard working dogs. I was a little slow on the draw, but folded one bird at some distance, and winged the other just as it cleared the crest of a side slope ahead. Just short of the top, Hattie presented me with the first quail, but there was no sign of Gracie. Reaching the top, I spotted movement far below. It was Gracie… some 80 yards away running toward me at her usual flat-out speed… with the other quail in her mouth! How that Little Toot located that bird so far away, blindly in that vast, cactus-laced, rocky cover and then caught it will forever remain a mystery, while adding to the growing exploits of Gracie the little brown bird dog.

Eight months ago Emme presented us with a wonderful litter of 10 pups, 7 yellows and 3 blacks. We kept a dark yellow female, and she represents the 5th generation of our yellow and black bloodlines. These labs have exceptional noses, and "Frankie" began using hers before opening her eyes – an excellent sign that like her ancestors, she will become a good bird dog. She's a big girl, already taller than her 85-pound mother, and one of the more vocal pups we've produced. Last weekend we took Frankie and the pack on their first duck hunt of the season. She followed her mother Emme and her best friend Gracie closely while they made several water retrieves, showing a great deal of interest, but also reluctance to try it herself. After considerable coaxing and a great deal of patience, Frankie made her first solo duck retrieve. I'm not a betting man, but I would bet almost anything that she will make many more retrieves during her birding career.
That wraps up 25+ years of hunting ducks with some truly great hunting dogs. Now it's time to grab your favorite shotgun, a good duck call , and a bag full of decoys, load up your favorite duck dog, and head for the marsh!