By David Link

These days you can get a lot of bang for your buck when shopping for a rifle scope. To help you narrow your search, we've selected three well-known brands that offer good scope options in the $150 – $250 price range: Redfield, Vortex, and Hawke. Today we are going to compare rifle scopes from each of the aforementioned brands to see what each scope has to offer. There's no clear victor, but each brand offers distinct advantages that some shooters will find useful.
Vortex Crossfire
The first rifle scope in our selection is the Vortex Crossfire 2 series. This affordable Vortex scope line is available in thirteen different variable magnification settings from 1-4×24 to 6-24×50, and several magnification settings are available in both 1 inch and 30mm tube diameters. First off, Crossfire 2 lenses are fully multi-coated for superior light transmission resulting in crisper and clearer images. The Crossfire 2 also features advanced resettable MOA turrets, and it is constructed with waterproof, shockproof, and fog proof resistance in mind. Most Crossfire 2 models come with three different reticule options including the normal V-Plex reticule, an illuminated version of the V-Plex reticule, or the innovative Dead Hold BDC (bullet drop compensator) reticule. The Vortex warranty stands out as the best option of the three with their VIP (Very Important Promise) warranty that offers repair or replacement of a product if it becomes damaged or defective. However, the warranty does not cover loss, theft, or deliberate damage.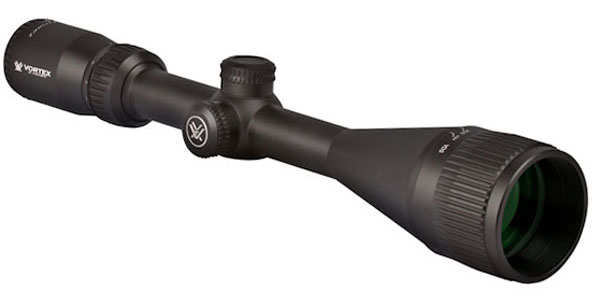 Hawke Panorama
Next up is the Hawke Panorama series of rifle scopes. The Panorama series is designed to provide a wider field of view than other similarly priced rifle scopes on the market, and they are said to offer a 20% wider field of view than comparable rifle scopes of the same price point. The Panorama series comes in four variable magnification models including 3-9×40, 3-9×50, 4-12×40, and 4-12×50. The Panorama series also has fully multi-coated lenses for crisper images, and every model sports waterproof, shockproof, and fog proof construction which can be vital when you're shooting in unpredictable locations. Illuminated reticules also come standard in this series. Finally, Hawke offers a limited warranty that covers defects in materials and workmanship throughout the life of the scope.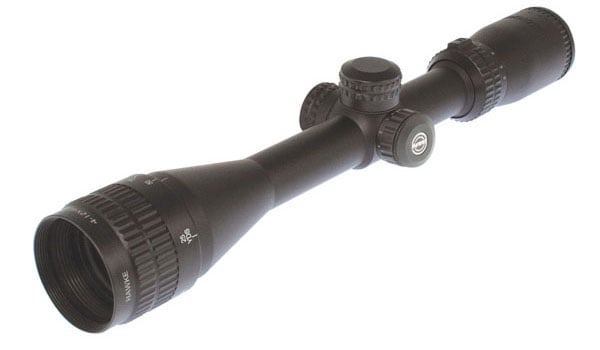 Redfield Revenge
The Redfield Revenge, Revolution, and Battlezone series scopes are all similarly priced around $150 – $250, but for the sake of comparison we'll select the Revenge series to compare against the other two brands. The Revenge series of scopes sports an exclusive Accu-Ranger Ballistic System that allows the shooter to dial up distance in their scope without having to take their eye off the target. Redfield Revenge scopes also feature fully multi-coated optics, and they are designed with waterproof, shockproof, and fog proof resistance in mind. The Revenge series comes in six variable magnification settings from 2-7×34 to 6-18×44. The Redfield limited warranty is similar to Hawke's warranty and covers defects in materials and workmanship throughout the life of the product.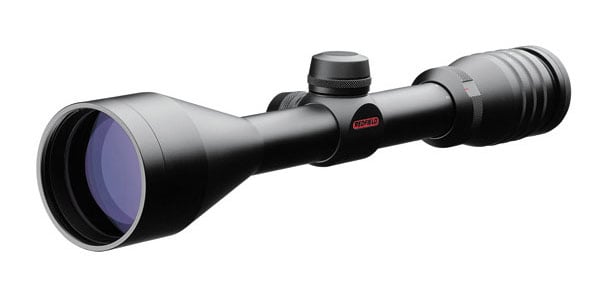 Recap
While there is no clear victor, each scope offers exclusive features that may appeal to one shooter more than another. Therein lies the key to selecting a rifle scope on a budget: select the features that are important to you. All three scopes have fully multi-coated optics that are important when it comes to clarity, and all three are waterproof, shockproof, and fog proof to some degree, which is also a vital part of selecting a scope that lasts. Key differences arise between each scope line when you look at magnification settings. The Vortex Crossfire 2 offers the greatest variety of magnification options while the Redfield Revenge offers six and the Hawke Panorama offers two with two different objective lens sizes. When it comes warranty, Vortex is also the clear victor with their Very Important Promise policy, but Redfield and Hawke stand out in other areas. The Hawke Panorama's 20% wider field of view is appealing, especially if you plan on hunting in thicker wooded landscapes where quick target acquisition can be vital, and the Redfield Revenge Accu-Ranger system is likely to be a favorite with high country or longer range shooters. One thing is certain, there is certainly a wide selection of affordable yet distinct rifle scopes on the market, and the Vortex, Hawke, or Redfield brands are a great place to start your search for a $250 rifle scope.
Curious about the basics on selecting a scope for $250 or less? Read the full article here.