The crossbow is a traditional weapon that is used for hunting and sports shooting around the world. Crossbows were replaced by a firearm some centuries ago, but the ancient weapon has not been forgotten. Nowadays, hunting crossbows still have many fans.
A freshman asks himself the question: how to choose the right model and what is the best crossbow? There's an enormous amount of crossbows on the market. You have to decide for what purposes you need this weapon in order not to make a mistake.
Do you like sports shooting? Are you going to improve your shooting accuracy? Perhaps you want to buy a crossbow for hunting. If you know the purpose, you will be able to understand which crossbow you need to buy so that your purchase does not disappoint you.
We have compiled a list of the top rated crossbows based on expert reviews and reviews from real buyers. We hope our recommendations will help you make the best choice according to your personal preferences and needs. There are many good crossbows on the market, but we have selected the best ones and recommend paying special attention to them:
KILLER INSTINCT Ripper 425 Crossbow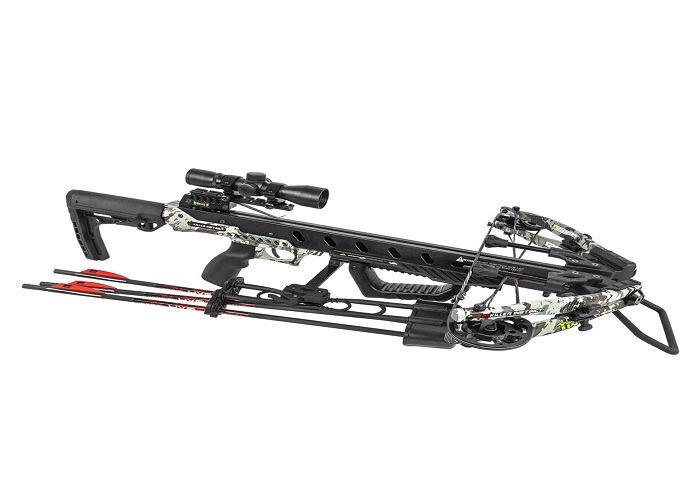 Killer Instinct was founded in 2013 in the USA. They have manufactured leading, fast, and dependable crossbows since that time.
The Killer Instinct Ripper 425 crossbow is powerful, comfortable, and accurate. This model is suitable for both right and left-handed shooters.
The crossbow kit includes rubber string suppressors to reduce noise and vibration, a 5-bolt quiver, and a stick of wax. The Killer Instinct Ripper 425 comes with a LUMIX 4×32 scope. The scope has five brightness settings in red or green for low light conditions. 
The trigger system is safe since it provides good shot control. The trigger itself provides a smooth and crisp pull. Moreover, the trigger has an ambidextrous safety switch and an anti-dry fire. 
The incredible shooting power of the crossbow is what makes this model stand out from others. You can take down any prey, no matter how big and strong it is. As it's clear from its name, the top velocity of arrows can reach 425 fps.
The crossbow is designed in chaos patterns, which makes it look aggressive. We are sure this model will impress you at first sight. 
The manufacturer thought about the shooter's comfort. That's why an AR-style buttstock can be used in 5 different positions and the pistol grip is exchangeable.
TENPOINT Titan M1 ACUdraw Crossbow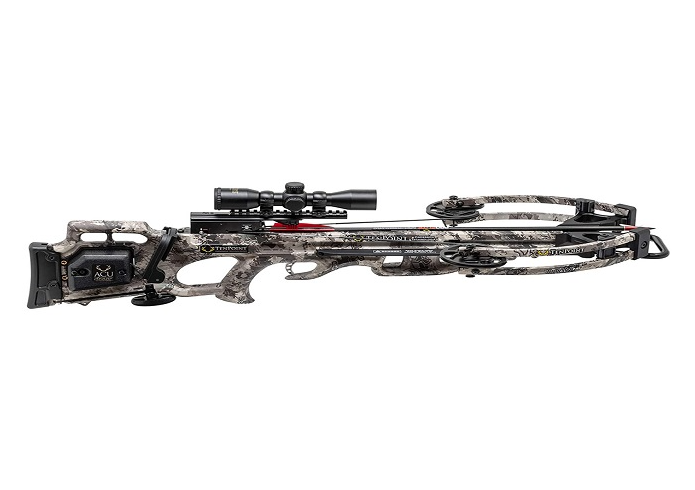 TenPoint is an American company, which has produced the most accurate and safest crossbows for 25 years. 
The TenPoint Titan M1 crossbow is a jack of all trades. It is the lightest crossbow on the market since it weighs less than 7 pounds. The average weight of other models is 10 pounds.
The average arrow speed is about 330-360 fps. That isn't as fast as Killer Instinct Ripper 425, but it's still a good result. The speed depends on the material and weight of the arrow. It's better to choose carbon models. 
The trigger pulls smoothly, as it is designed with an auto-engaging safety system.
The crossbow is designed with a 3x Pro-View 3 Scope, which is mounted on a machined aluminum 7/8-inch fixed dovetail mount. The scope has multiple reticle aiming points and five red and five green illumination settings. 
Package includes:
Neoprene sling

Arrow puller

Microfiber cleaning cloth

3 TenPoint Pro Elite 400 carbon arrows
The camo pattern helps you to blend with the hardwood hunting environment. The coating of the crossbow is scratch-resistant. So, the crossbow will serve you for years.
TENPOINT Havoc RS440 ACUslide EVO-X Elite Scope Graphite Gray Crossbow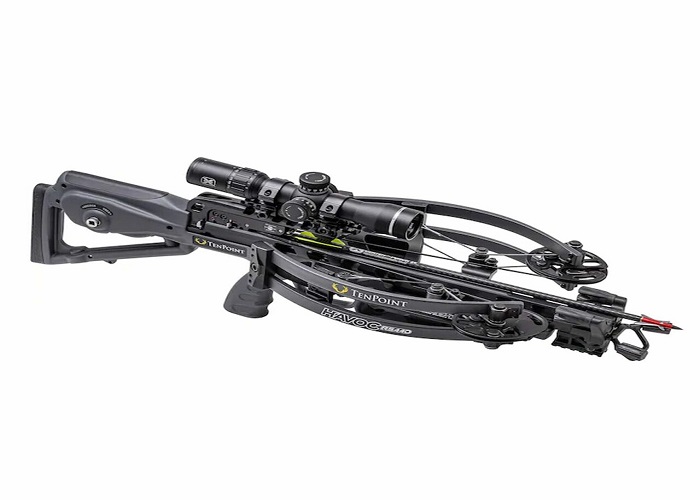 The Havoc RS440 is the best beginner crossbow since it is easy to assemble. You just need to mount the scope, strings, and quiver. It is a powerful, fast, and compact crossbow.
TenPoint crossbow comes with EVO-X Marksman Elite Scope. It's a variable speed scope, with a pretty good performance. However, this model doesn't have any high-tech features. 
This crossbow shoots very smoothly. The highest score of the arrow velocity is 440 fps which makes it the fastest crossbow on the market.
A ready-to-shoot package includes:
ACUslide cocking and de-cocking mechanism

EVO-X CenterPunch16 Arrows 

6 Arrow Tech Quiver
TENPOINT Vengent S440 ACUslide Crossbow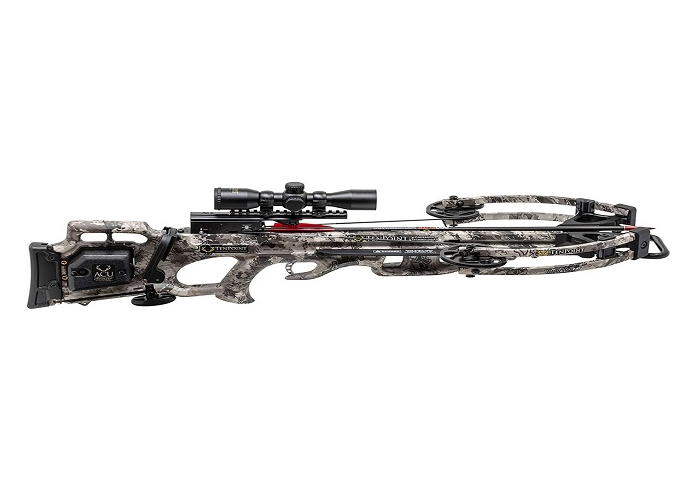 TenPoint Vengent crossbow is the best option for hunters, as it is suitable for all large game. Another important feature is the silent cocking and de-cocking system. 
One advantage that distinguishes this model from the rest is the trigger. Zero-creep triggers have a finger guard, which provides safety and comfort. 
TenPoints produces the scope for their crossbows. So this model is equipped with RangeMaster Scope which is mounted on a machined aluminum 7/8-inch fixed dovetail mount. The shooting accuracy also depends on the crossbow's grip. That's why the handle is comfortable and locks into place well. You don't need to move your arm back until the buttstock is released.
All these features make the TenPoint Vengent crossbow a good deer hunting crossbow.