By Kip Staton
Trijicon really needs no introduction. As a supplier of magnified optics to the military for years, they recently celebrated the millionth ACOG to roll off their production line. Exceptional glass quality, bomb-proof durability and battery free illuminated reticles have made the ACOG a legendary military optic. In many ways, it was far ahead of its time when adopted by U.S forces in 1995.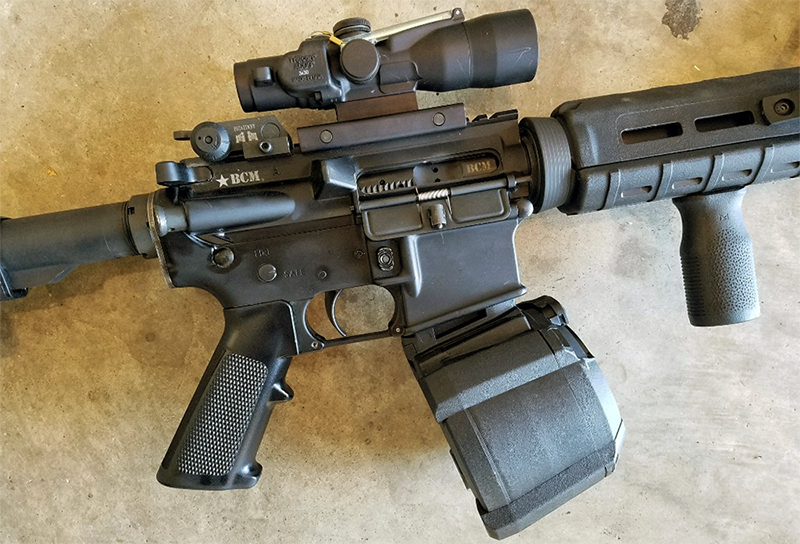 While the 4×32 military Trijicon ACOG is perhaps their most well known product, many of the "little brother" ACOGs have a rather devout, almost cult-like following. And perhaps the foremost example of this is the Trijicon TA33.
TA33 Series Overview
While the TA33 is build on the same general theme as the entire ACOG line, there are far too many ACOG models of various types to introduce here. The TA33, however, is available in a variety of configurations, with the primary differences being reticle style and color.
Reticles include some sort of caliber-specific BDC component, in addition to an easy-to-see primary aiming point. Calibers covered include .223 Remington, 556x45mm NATO, 7.62x51mm NATO, .300 BLK, and 7.62x39mm.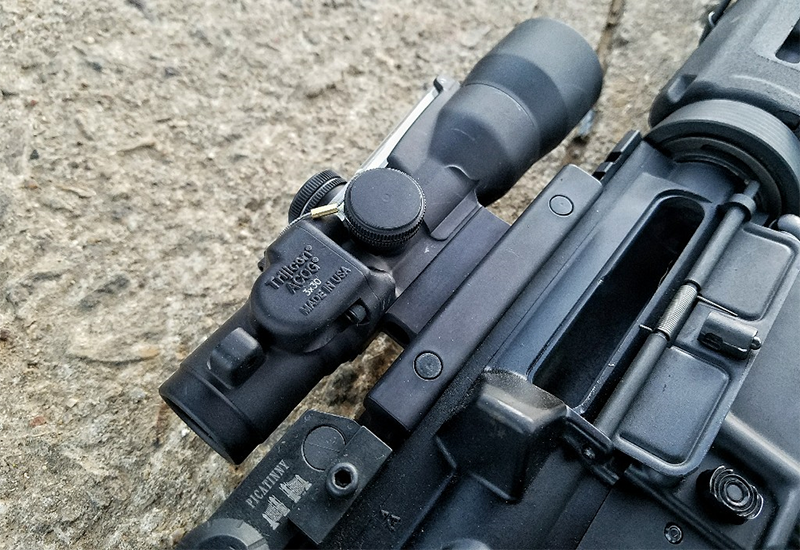 All include a fixed base designed to be right at home on a flat-top AR-15 style rifle, secured with two large Colt-style thumbscrews.
Many Trijicon users have a favorite reticle color, so it's a wise decision by Trijicon to include a variety of options within the TA33 lineup. There is probably a TA33 model designed for your particular rifle and caliber.
Unboxing and Physical Description
There are no real surprises upon flipping the latches on the familiar Trijicon plastic case and swinging the lid open. The TA33 is nestled in a nice bed of egg-carton style foam, along with a scopecoat, instructions, lens pen and a decal.
The TA33 itself isn't really anything unusual to look at. It follows the decades-old ACOG design perfectly, with the exception of smaller overall dimensions and a reduced size objective lens. It does retain the mounting bosses for an RMR over the ocular lense.
Specifications
Magnification: 3x

Objective Size: 30mm

Length: 6.1"

Weight: 7.7 Ounces

Illumination: Fiber optics and tritium

Reticle: Horseshoe/dot with BDC

Reticle color: Green

Eye relief: 1.9" (but really, infinite)

Exit Pupil: 8.4mm

Field of view at 100 yards: 19.3'

Click values: ¼ MOA

Housing: Forged aluminum

In addition to the included mount, the TA33 also includes a neoprene scope cover, lens pen, instruction manual, and a hard plastic case.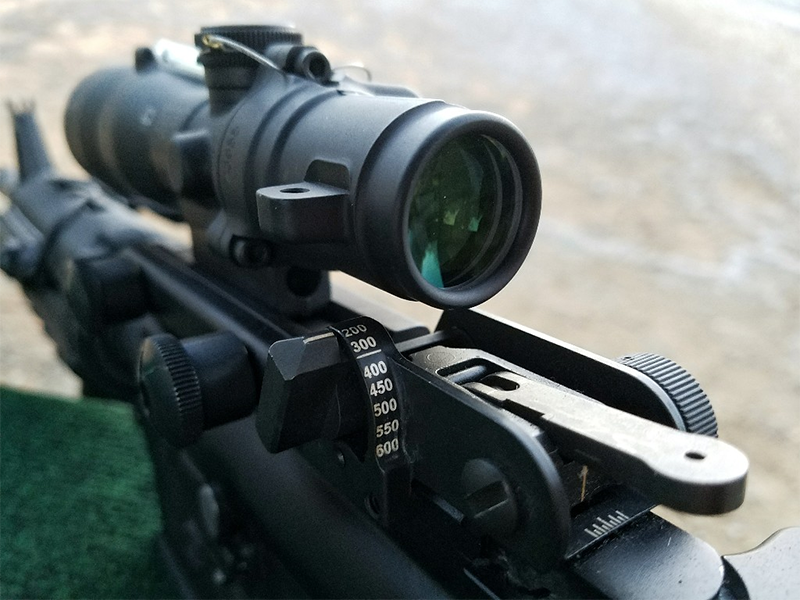 It may appear to be unremarkable on the outside, but the inside is where the magic happens, and this is most of the reason the TA33 is so popular. The little scope has practically unlimited eye relief, while maintaining a 3x magnification range. This phenomenon can largely be attributed to the Bindon Aiming Concept, combined with the relatively tight field of view.
The BAC and the Magic of the Trijicon TA33
You're probably already familiar with the famous Bindon Aiming Concept, popularized by Trijicon. If not, the best way to understand the concept is by watching the company's extremely informative explanation video:
The TA33 design takes full advantage of this concept, but brings it to another level with its relatively narrow field of view. Normally, a narrow viewing field isn't considered to be a positive. But in the TA33's case, it allows what you are actually seeing through the optic to be somewhat limited, especially when targets are close and you want it to function more like a red dot sight.
This phenomenon is complemented by the enormous eye relief and eye box range. The entire package really works well both as a near and far optic.
Consider these practical benefits, combined with the compact format, and you can begin to understand why the little TA33 is so popular.
This is also a good place to make a quick note about glass quality: Like all ACOGs, it's flawless. It's better than many popular high-magnification scopes, and it's easy to become spoiled by it. Resolution is so good, that you often forget that the TA33 is on the lower end of the magnification scale. It's everything you could ever want in a fixed 3x optic.
ACOG glass quality is legendary, so we'll just leave it there. As usual, you get what you pay for.
Illumination
It wouldn't be an ACOG without the famous battery-free illuminated reticle. If you're not familiar with the design, ACOGs showcase a long fiber optic strand embedded in a clear, acrylic-like medium on the exterior of the optic body.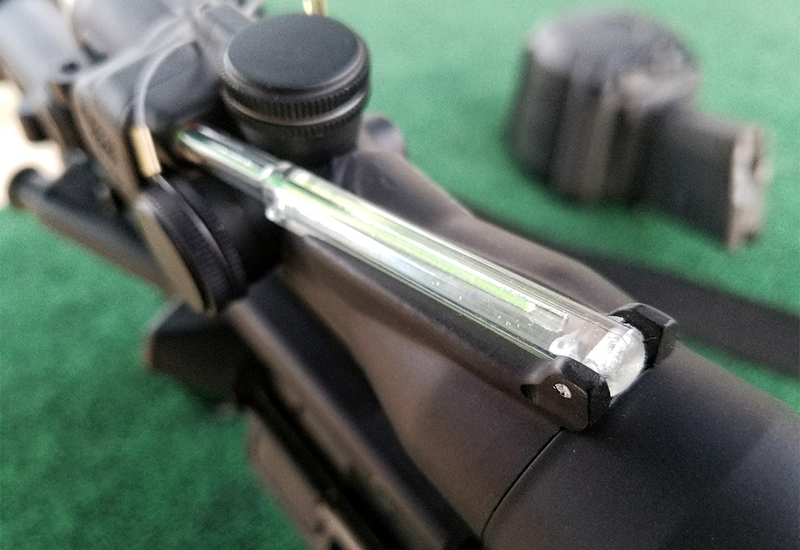 This light-gathering element feeds ambient light to the reticle and provides bright, illumination that requires no batteries. Better still, it auto-regulates depending on the lighting conditions. The brighter the sun overhead, the brighter you reticle.
It's also lit within, via tritium. This illumination only kicks in when total darkness is present, and your eyes need to be dark-adapted in order to truly see it.
Trijicon TA33 Reticle
The primary aiming point on my particular TA33 is a wide horseshoe shape that contains a finer dot. This horseshoe is excellent for coarse aiming on large, close targets, and the dot provides a crisp reference for more precise work. It's a tried and true system, and it really shines in the TA33.
I can usually get fairly decent photos of scope reticles, but the TA33 just wouldn't play. Thankfully, Trijicon has clear depictions on their site. One thing I would note about the reticle is that it doesn't take up much room in the field of view, and is isolated to the center.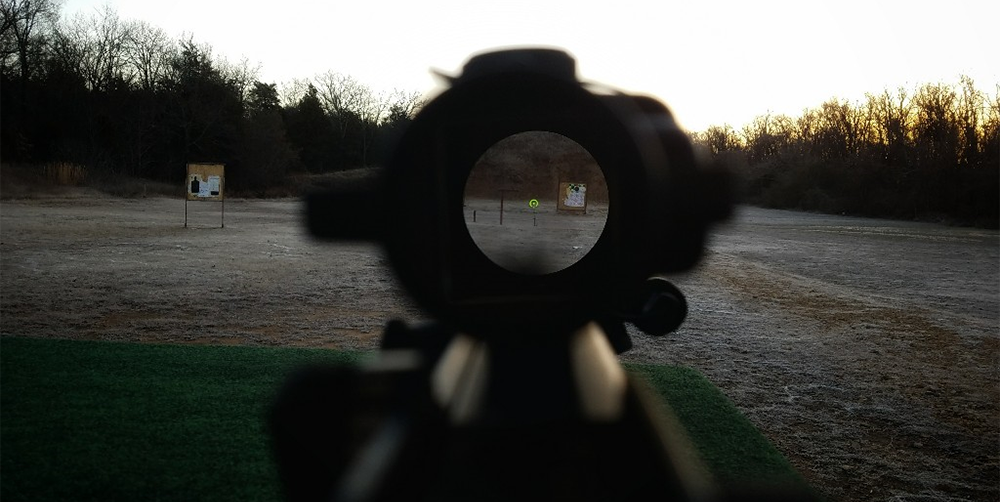 This makes for a very clear, uncluttered sight picture that's gently illuminated in all but the harshest of lighting conditions. At the same time, it offers a useful ballistic reticle in the pattern of traditional ACOG scopes.
Mounting and Zeroing
Like most ACOGs, the TA33 includes a rugged integral mounting boss. Interestingly, this mount will bolt right into a standard AR15 carry handle. However, since nobody uses a carry handle these days, the scope includes a flattop mount with dual thumbscrews. This mount has enormous bearing surfaces, and is right at home on a flattop AR15.
Once you've found a location on your upper receiver that provides a happy eye relief (an easy task with a TA33), simply tighten the large M16-carry-handle style thumbscrews to where they stop, then torque them another quarter turn with a screwdriver or coin to snug everything up. That's all there is to it!
The factory mounting system is extremely robust. With that said, many improved aftermarket options exist that are lighter and offer quick-detach features.
Like most high-end optics, zeroing the TA33 was a non-event. Clicks are standard ¼ MOA values, and finger adjustable once you remove the tethered turret covers.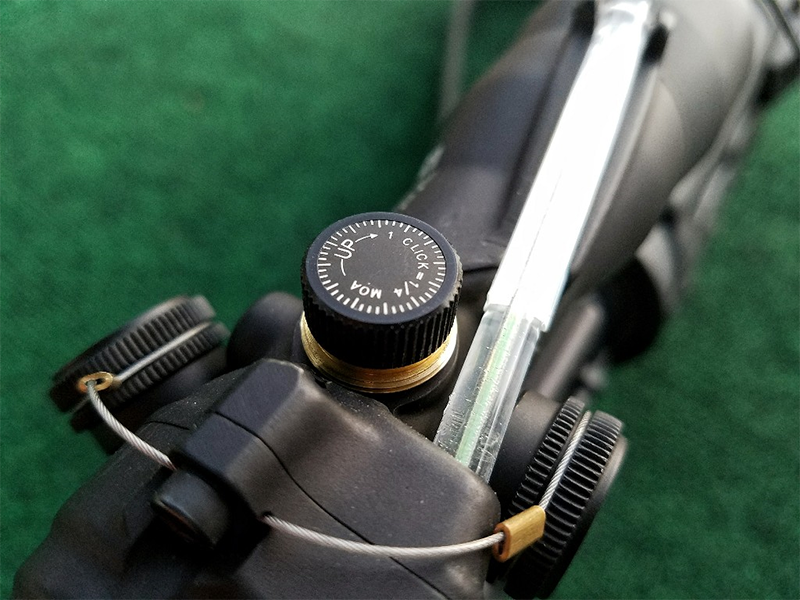 The turrets do not track, but this is normal with an ACOG. Once an adjustment is made, it takes a shot or two to bump the adjustment into place. Alternatively, you can tap the optic with a screwdriver handle or similar tool.
I don't fully understand mechanically why this happens, but "lagging" clicks are just part of owning an ACOG. The important thing is that once the optic is zeroed, it stays that way.
Warranty
ACOGs include a lifetime warranty against defects stemming from workmanship. If it fails and it's not your fault, they will replace or repair it. Honestly, I can't imagine being capable of doing anything to this optic that would damage it. It's just a tank.
Tritium products do have a limited life to their "glow," and Trijicon warranties the TA33 tritium for 15 years from the date of manufacture. From what I understand, if you have had an ACOG long enough for the tritium to die outside the warranty time period, it's a simple process to send the optic in and return it to factory specifications for a fee.
TA33 ACOG In Use
Once everything was mounted and in place and zeroed, there were no issues with the optic. It held zero over the course of around 500 rounds, and performed well on steel targets out to 200 yards.
My use with the TA33 lasted over ten or so range trips, with lighting conditions from 30 minutes before sunrise to high noon. The self-adjusting reticle performs as-advertised, which really isn't a surprise I suppose. Like I've mentioned, the ACOG concept has been around a while.
Standard close-range drills (like my favorite 10 shots fired on an NRA B-8 center at 25 yards, for time) were within a second or two of using my Aimpoint PRO. This "in use" section is pretty short, but there really isn't much to say other than "it works." Overall, this is an incredibly versatile optic that's right at home on an AR-15.
Downsides to the TA33
Many of the cons tied to the TA33 are simply inherent to the ACOG design. It's a fixed power scope, and comes with all of the associated advantages and disadvantages to that design. And like all ACOGs, the reticle will either bloom obnoxiously in crazy sunlit conditions or not be lit enough if shooting from a shaded position.
A reticle that's too bright can be fixed with good old-fashioned duct tape over the fiber optic, to limit how much light enters the scope. More elegant, purpose-built covers are also available with zippered openings, but I don't have any experience with them.
Of course, since it's an ACOG, it's also rather expensive. The same money can get you a very nice, more modern variable magnification optic, while of course trading in the tiny weight and size of a TA33.
There are better optics available, for certain tasks. There are also worse scopes you can equip your AR-15 with. Like many things, it's a balancing act.
Is the Trijicon TA33 for You?
AR-15s are cheap these days. It's not difficult for many shooters to put together a handful of guns or uppers, each dedicated to a certain purpose. Short range or long range, the AR-15 really can do it all – and we're seeing somewhat of an Enlightenment-era of optics to match.
But not everybody has such diverse needs. Not all shooters even really know what they want their rifle to do. Is it for competition? Defense? Offense? Hunting? The 16" rifle with an adjustable stock and free floating handguard has largely become the gold standard of rifles, but what about optics? How does one decide, if one wants a good option but doesn't want to compromise too heavily in one direction?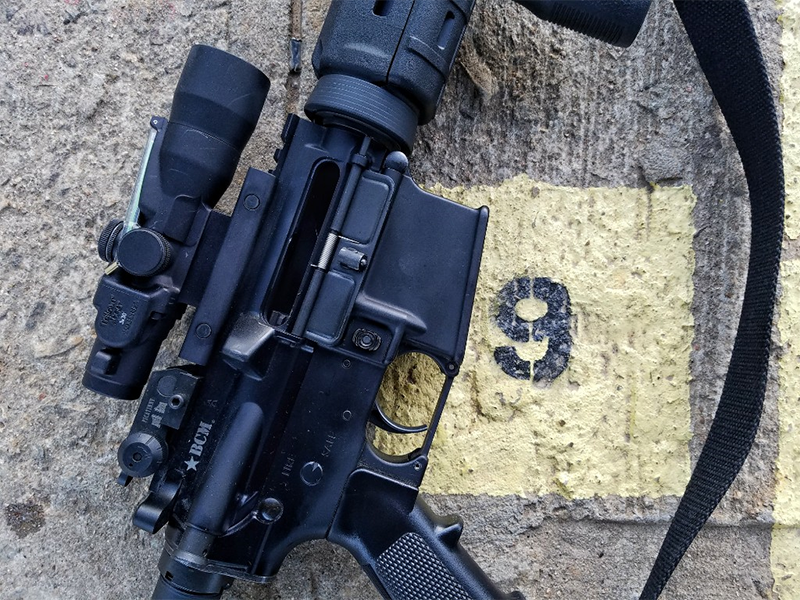 I think that's where the TA33 can help. It isn't the "best" at anything. It's a good short range optic, and a passable longer range scope on forgiving targets. But it lacks the absolute quickness of a red dot, or the undeniable long-range capabilities of an optic with some real magnification.
What the TA33 does provide, however, is an absolutely bomb-proof 3x sighting system in a length that isn't any longer than an AR15 receiver, offers (practically) unlimited eye relief, and is comparable in weight to a red dot.
The TA33 is the perfect choice if you want an AR-15 optic that can handle a little bit of everything, and be equally at home on a SBR or 20" rifle. I would say that in general, it's just as versatile as the service-style rifles it's meant to be used on.
Trijicon TA33 Review Final Thoughts
I think that in today's world, we can often forget that the AR-15 is at heart a slim, lightweight, "space-age" rifle. I know I've been guilty of over-scoping small carbines in the past, and while there is certainly a time and place for that, I think it can be overdone.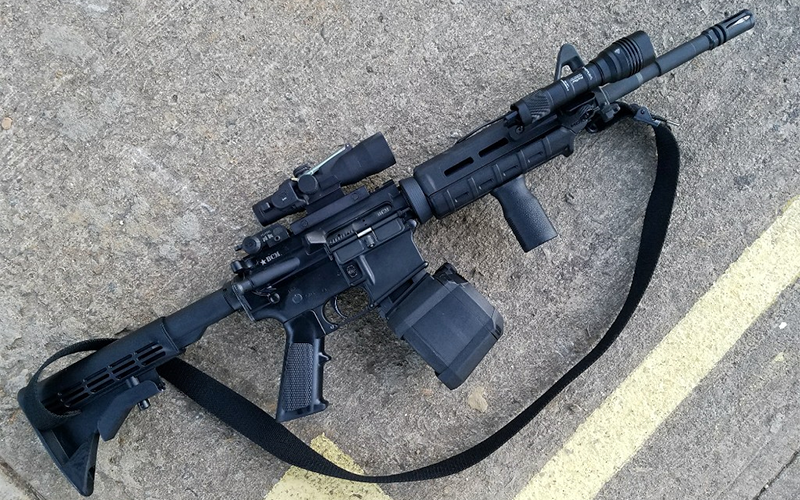 The TA33 just feels at home on a carbine. It doesn't weigh much, and (this is key) doesn't extend beyond the dimensions of the receivers. It's also made of a similar material to the receivers, and matches the standard anodizing quite well. The integral mount clamps to a standard flattop like it was made for it… probably because it was.
An ACOG is as close as you can get to a "factory perfect" optic for an AR-15, while preserving the true universal nature of a general-use carbine. It's not perfect, but for many purposes, it's pretty close.